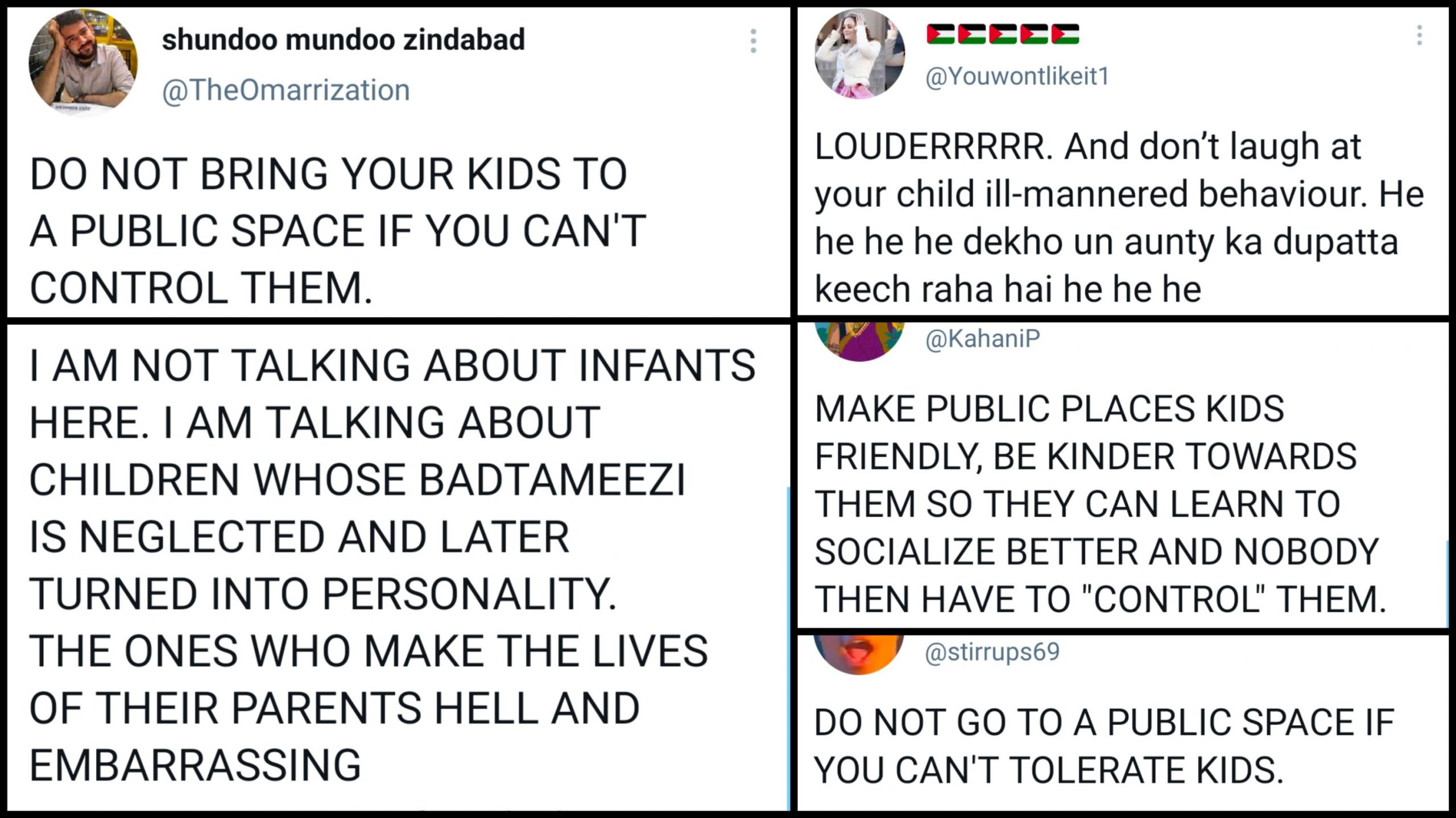 Kids will be kids, no matter how well you educate and discipline them, they can definitely stir things up at public places. Probably caught up in the same situation where he had to witness an ill-mannered kid, a guy on Twitter shares how misbehaved and uncontrollable kids shouldn't be at public places:
DO NOT BRING YOUR KIDS TO A PUBLIC SPACE IF YOU CAN'T CONTROL THEM.

— shundoo mundoo zindabad (@TheOmarrization) June 26, 2021
The guy also went on to clarify that he's talking about a certain type of kids:
I AM NOT TALKING ABOUT INFANTS HERE. I AM TALKING ABOUT CHILDREN WHOSE BADTAMEEZI IS NEGLECTED AND LATER TURNED INTO PERSONALITY. THE ONES WHO MAKE THE LIVES OF THEIR PARENTS HELL AND EMBARRASSING

— shundoo mundoo zindabad (@TheOmarrization) June 27, 2021
And the netizens are divided!
Are you talking about crying kids or kids who scream and run around badtameezi se not listening to their own parents? Disagreeing if it's the first one, fully agreeing if it's the second one

— ghaura (@ghauraghaura) June 27, 2021
People also added how parents shouldn't laugh at their kids' badtameezis:
LOUDERRRRR. And don't laugh at your child ill-mannered behaviour. He he he he dekho un aunty ka dupatta keech raha hai he he he https://t.co/H7SwXmo1ii

— 🇵🇸🇵🇸🇵🇸🇵🇸🇵🇸 (@Youwontlikeit1) June 27, 2021
People had strong opinions:
DONOT BRING A KID ON THIS PLANET IF YOU CAN'T HANDLE THEM. https://t.co/2Mqs3bjWaJ

— Big Mouth (@RantsofStoner) June 27, 2021
People understood that kids will be kids, but insisted that they be taught manners:
There are people who wouldn't literally even stop their children if they're doing something inappropriate for other people. Sure they're kids but you sure gotta teach them manners. https://t.co/Q5NOdiJOk5

— 🐼 (@jigggaaarrr) June 27, 2021
Uh oh!
alsooo true for taking them to someone's house. aglay ke ghar ka hashar kar detay hain maa baap murr ke dekhte bhi nahi hain ?? https://t.co/hw5Gr8G1O9

— mahnooryear (@sohaaari) June 26, 2021
Fellow parents too agreed!
How hard can it be to teach your child the difference between a play ground and a dining area? Between a playground and a mall? If we can do it, so can others.
My eldest is 10 and we haven't introduced screens.
Parents, please start taking responsibility.

— Sehrish Saqib (@SehrishSaqib9) June 27, 2021
Yes… My daughter is only 20 months old and up till a few months ago, I hardly went anywhere cuz she would cry so much and it annoyed me so I'm sure others would be annoyed too. Now she's way better, laughs and plays so I always take her out

— keshef (@kashmirichai__) June 27, 2021
People wanted it to be heard louder!
Agreed 100%.

— jeannie (@2014jaennie) June 27, 2021
LOUDER https://t.co/ANeDVvn1HI

— Astrophile✨ (@skfsjkshskak) June 28, 2021
👀
YES PLEASE. That hehe chhota hai koi baat ni behaviour is annoying as fuck. Im gonna slap some kids some day. They have no idea of minding their own fucking business, no manners, no shame. Or mazay ki baat k maa baap same to same hotay hain.

— Gobi Faizi (@Gobi_Faizi) June 27, 2021
People were sharing how boundaries and behaviour shall be defined:
Couldn't agee less. Behavior & boundaries shall be well defined. https://t.co/N7cMtgI5aq

— Husnain Tariq (@MrHTariq) June 28, 2021
Some weren't amused at his choice of words:
Kids are not meant to be "controlled". Yes, they should be disciplined, in public as well as in private spaces. https://t.co/YgSMwOCrZv

— Saj U (@sajsonite) June 27, 2021
do u people think . kids r like highly trained pets or something ? "Control them " mf YOU dont go to public places if you cant put up with the public https://t.co/4cbh7WlsOV

— spidey (@imaliabilitty) June 27, 2021
And while some sided with the guy, others begged to differ:
MAKE PUBLIC PLACES KIDS FRIENDLY, BE KINDER TOWARDS THEM SO THEY CAN LEARN TO SOCIALIZE BETTER AND NOBODY THEN HAVE TO "CONTROL" THEM. https://t.co/fXOqIbraCU

— Rabeea (@KahaniP) June 27, 2021
People were sharing that he should avoid being at public places if he's annoyed by kids:
Don't go to public places if you are annoyed by Kids Mr. Shundoo mundoo ! Stay home. https://t.co/FB66GkhoSN

— 🇵🇸زنیرہ (@YouAreFlover) June 27, 2021
People were sharing how kids today are different and that parents shouldn't be judged so critically:
Omar, this generation is not like how we were .. kids nowadays are a different breed and imo it's not right to judge parents or prohibit them from bringing them out in public..
I see how parents struggle with them and even then some don't listen .. it's okay, they'll grow up https://t.co/ABa94oVa5I

— انعم (@baezaariat) June 27, 2021
People weren't happy:
Uhm do u own public spaces that ur making up these rules. Shut up. https://t.co/4zo2AYy07D

— Sobi (@sobiaa95) June 27, 2021
Some were calling him bitter:
Some of you talk like that miserable 60 year old found in every masjid that can't physically tolerate kids running and playing around. They're kids. Ease tf up. https://t.co/Rj2ETtEDqz

— faizan 🇵🇸 (@Broiler_Choocha) June 27, 2021
Simple as that:
DO NOT GO TO A PUBLIC SPACE IF YOU CAN'T TOLERATE KIDS. https://t.co/RbPPrzcLHK

— State Asset (@stirrups69) June 27, 2021
People wanted others to be kinder to parents:
Kids are NOT meant to be controlled. They're growing, they're learning things. Please be more kind & accommodating to parents. They're doing the best they can to raise their child. STOP shaming them. Maybe instead of calling them out, engage & ask what you can do to help? https://t.co/TRrR1T8tgq

— Shaheera (@ShaheeraAnwar) June 27, 2021
Makes sense:
Those kids are giving their own mother hell & she hasn't slept ptoperly in months, she's just trying to have a little sth by going out but sure YOU'RE inconvenienced by a kid around you. Grow up, kids are hard to take care of & the parents are doing a lot. https://t.co/95FUgnUdfp

— World's Spiciest Ramen (@dezgostang) June 27, 2021
What are your thoughts on this matter? Let us know in the comments below!