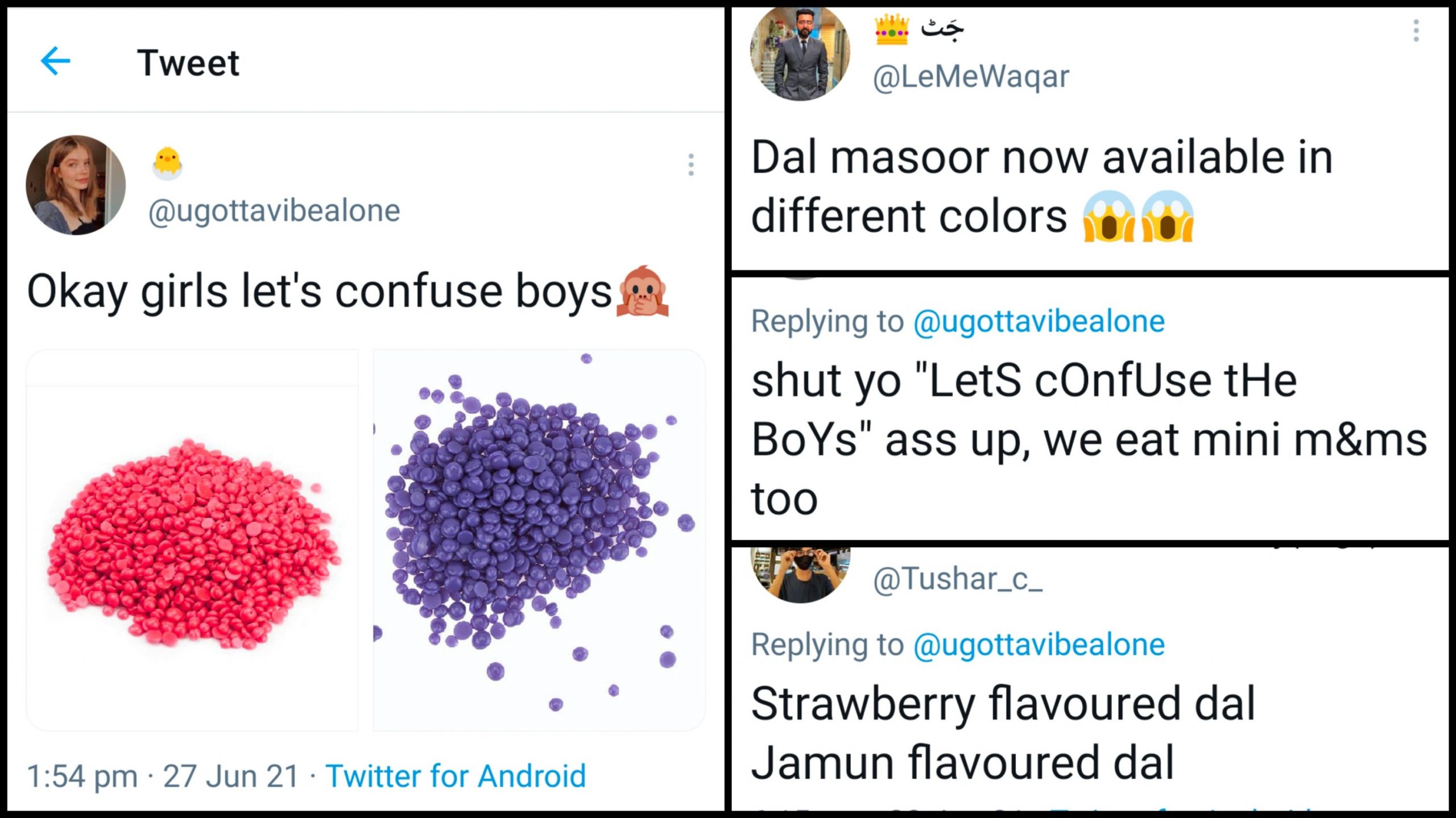 Every few months someone tries confusing the opposite gender with a picture to see what they think it is and the replies are always gold! This time a girl on Twitter tried confusing boys with this mysterious:
Okay girls let's confuse boys🙊 pic.twitter.com/1M4eF9IiyX

— 🐣 (@ugottavibealone) June 27, 2021
And their guesses are hilarious!
Dal masoor now available in different colors 😱😱 https://t.co/X52JbdDFRs

— جَٹ 👑 (@LeMeWaqar) June 29, 2021
No, what m&ms are you eating?
Aren't these m&ms ?? https://t.co/T3HOwfStYS

— Lil Baklava (@jayrdoris) June 28, 2021
Hahaha!
— Himanshu Pandit(Dead for a while) (@itshimanshu214) June 27, 2021
Lmao, need this confidence in life:
shut yo "LetS cOnfUse tHe BoYs" ass up, we eat mini m&ms too

— obaid🇵🇸 (@brobetweetin) June 28, 2021
When biology is your favourite subject in school:
Red blood cells and purple blood cells 😝

— 𝑆𝑢𝑝𝑒𝑟𝑡𝑟𝑎𝑚𝑝 (@Lens_On_Eye) June 28, 2021
Please leave the daal alone, guys!
Strawberry flavoured dal
Jamun flavoured dal

— Dr. IAS CA Tushar Choudhary(engr.) (@Tushar_c_) June 28, 2021
😂
gram-ve and gram +ve daal..

— dr.invincible👨‍⚕️ (@drsubhasis49) June 27, 2021
Only med students will get this:
Eosinophils and Basophils? https://t.co/qClHFnza7N

— Swacch (Uro)Surgeon (@viswas_mr) June 28, 2021
Some thought they were buttons:
One is a pile of Red buttons, the other is a pile of either purple or violet buttons.

What's there to confuse?

— Farzi Batman (@BatmanShiv10) June 27, 2021
🙎‍♀️
Peeli daal aint peeli anymore😭

— haisam | iman syed x stan 🇵🇸 (@NawazNotShareef) June 28, 2021
Yeh bhi theek hai…
We're already living in confusion our whole life

— sazzy (@maybejustsad) June 29, 2021
I mean…
Y'all can't fool me https://t.co/270eX7YhOt pic.twitter.com/27M0kDBcnB

— 𝕁 𝕆 𝔼 𝕃 (@fatlukaku) June 28, 2021
😂😂
guys obviously it's daal maash anyone can tell pfft https://t.co/Rs9F92NYe1

— zb (@zbmkx) June 29, 2021
What does that even mean?
Face colouring? https://t.co/WtLqJbljr8

— Manivarman Subramaniam ♈️ (@manivarman1204) June 29, 2021
Science is my passion:
Protons and electrons https://t.co/dgCIznytrp

— Long 🅱️oi (@LongBoiiiiii) June 28, 2021
Fancy!
advil and bath salts https://t.co/uJcU6MazdP

— Æbdū! (@moesquerade) June 28, 2021
He tried…
my bf guessed seed… SEED… https://t.co/VIhyzPCAYF

— zemira gabriella 🥀 (@kavishree__) June 29, 2021
Exactly!
how do y'all not know what this is😞😞😞😞😞😞 it's only the most satisfying thing ever https://t.co/EYnGMnL5TR

— milfzana💒 (@NitzanaAnn) June 28, 2021
Some girls got confused too!
Girls hi confuse hogyi h😭😭😭

— kiran🐼 (@kkkkkkkkirann) June 28, 2021
Mai khud confuse ho gyi, unko kya confuse karu.. 😑

— Anvi Mishra (@AnviMishra13) June 28, 2021
Can you guess what this is? Let us know in the comments below!