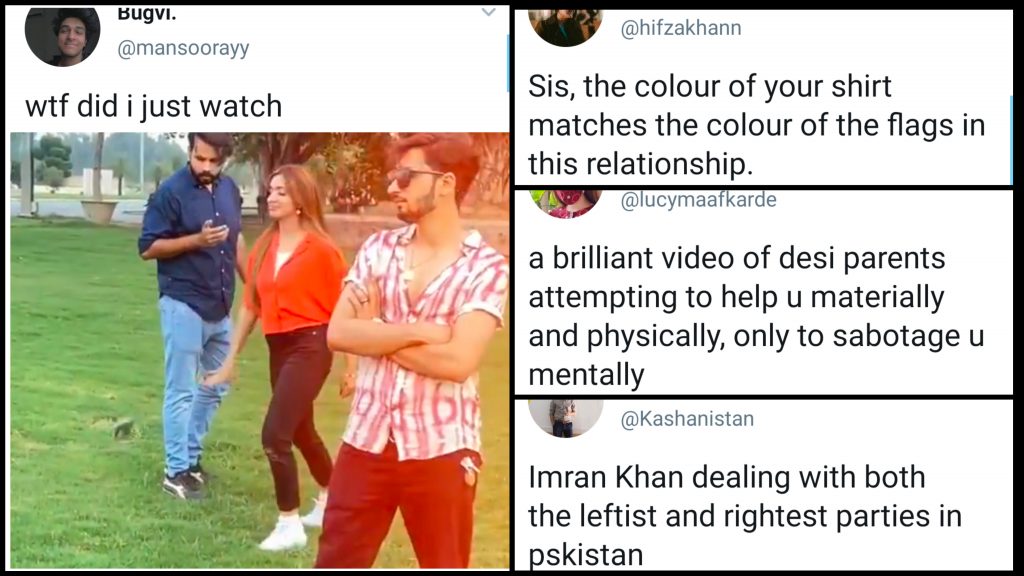 Every now and then you see videos from Tiktok being shared to other social media platforms and today was no different:
wtf did i just watch pic.twitter.com/fZQu4mBhik

— Bugvi. (@mansoorayy) August 10, 2020
What seems like a harmless video at first glance has so much more to it as the netizens reveal:
Yeh kis qisam ki aashiqui hai. Agr pichy waly ki jgah mein hoti lrki or lrky dono k moonh pe chppair Marti

— nAdiA (@napwithnadia) August 10, 2020
BIG RELATE!
a brilliant video of desi parents attempting to help u materially and physically, only to sabotage u mentally https://t.co/W398MpFXQq

— #JusticeForBramsh (@lucymaafkarde) August 11, 2020
Wheezing! 😂
Imran Khan dealing with both the leftist and rightest parties in pskistan https://t.co/Xe8aBqFtCZ

— Kashan (@Kashanistan) August 11, 2020
Okay wow…
A brilliant tiktok depicting how Pakistan offended the Soviet Union in the 1950 by accepting and then rejecting an official state visit to get the US's attention. https://t.co/LDYUF4aqjl

— Amna Khan (@amnaukhan) August 10, 2020
People were pointing out the red flags already:
Sis, the colour of your shirt matches the colour of the flags in this relationship. https://t.co/3kS4rkdQeP

— Hifza Khan (@hifzakhann) August 10, 2020
The real meaning:
This video was made to depict the current Pak-Saudi-China relations. https://t.co/4aP1yvSX08

— Arhum (@arhuml92) August 10, 2020
This is what keeps us up at night:
Every time I come across these videos, I wonder what is the thought process behind them, like what lead to this execution?

"haan bhae Frere Hall k park pohanch jana 4:30 baje full tayar ho k, ek mast idea aaya hai, Farzana pehle tumhara mobile uthae gi, phir wapis phenk degi" https://t.co/n13V9sRhjl

— Ibrahim (@IamIbrahimKhan) August 10, 2020
Can't deny:
Wtf so being disrespectful and having 0 manners is attractive?These tik tok people are too insecure pic.twitter.com/C0FsuTwZOL

— N. (@Nay__t) August 10, 2020
It comes naturally:
Kahan se latay hain Itni creativity??? https://t.co/veFXuDmv29

— uzma (@uzmaashoaib) August 10, 2020
That's when you know you've been watching way too many tiktok videos:
I thought she was going to leave with the other guy https://t.co/x2hF16tBiA

— Mariam Bari (@bari_mariam) August 10, 2020
Okay…
If she did that to my phone, she'd lose a few daant, fosure. https://t.co/uzcL6C4rmH

— Sana of Chaos (@SananaSal95) August 10, 2020
Jaldi!
Calling the police on everyone in this video https://t.co/NHzzEDDSne

— Sabah Malik (@sabahbanomalik) August 10, 2020
Even the teachers were disappointed:
Moral: badtameezi will help you score.

Sahi. Hum teachers Ki saalon bhar ki mehnat pe baha dou baaltiyaan. https://t.co/gLCsdWIIiu

— رے (@RaboRamblings) August 10, 2020
Do boondh humain bhi:
https://t.co/15ZLHrdLeR pic.twitter.com/9zCHsoKkdU

— Habeeba Arshad (@phabaykutni) August 11, 2020
LIVING!
CONTENTTTT https://t.co/1H2DRoHZ7A

— abbayo (@abbaychal) August 11, 2020
🤷‍♀️
"be an asshole or your immature boyfriend will sulk" is the only lesson we can see https://t.co/RBFEsbedd4

— TPR Pod (@TPRPod) August 10, 2020
RIP BASIC MANNERS cuz your bf a jackass… https://t.co/JxzXfe7aax

— Gurl (@FastAnddCurious) August 10, 2020
People were throwing shade at the content creators:
Appreciate tiktokers, they are content creators..

Content : https://t.co/Ze6bPiI7zG

— Creative Khadija (@kkCreativeMind) August 10, 2020
LOUDER!
A humble request to all living beings out there, if your partner acts like the way this dude did, leave them and RUN as fast as you can.

They are bad news, and toxic for you. https://t.co/NJx8wodRaq

— Dr. Sumaira Rabbani (@SumairaRabbani) August 11, 2020
Please!
Stop romanticizing having a toxic partner. https://t.co/rFSecdpPGC

— A. (@woruksha) August 11, 2020
People quickly pointed out everything wrong with such videos:
On a serious note, what kind of expectations we are setting for young generations. Brown dudes are already extreme and over possessive when it comes to relationships and such toxic shit will make it worse. https://t.co/ex9nIZ1JEp

— ins-e-yazdan 🦄 (@BaeBuss) August 10, 2020
That's one way to look at things:
he got angry because he's gay n he wanted to flirt w the guy but ofc the girl didn't let him but us larki ko laga woh cute shona baby type boyfren hou raha hai, haye bicharay https://t.co/6XzlhfIXD1

— dunya madarchod hai (@hadhharam) August 10, 2020
Disgusting!
lmao the worst thing about these videos on tiktok is how they've given hashtags of "standwithkashmir" to get more views https://t.co/arG2Mws5cZ

— sulz (@sulaimaadil) August 10, 2020
What do you think about the video? Let us know in the comments below!