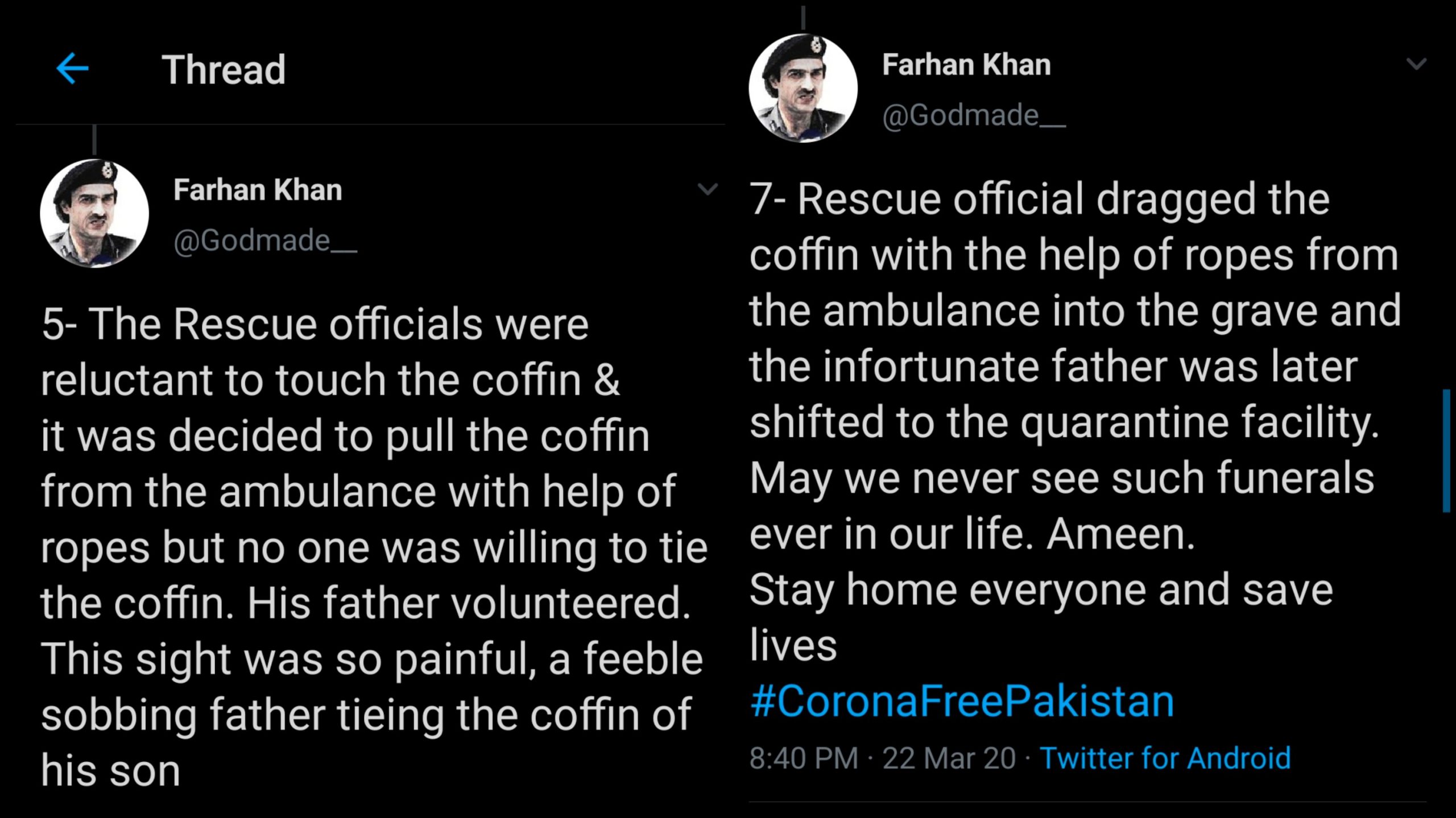 For most of us corona virus might just be in numbers, but here's the grave reality of it, not being able to say your final good byes, not being able to lower your loved ones in the grave, this thread from a funeral of a corona victim in Hungu will send shivers down your spine:
Thread: Funeral of the corona virus victim #CoronavirusPandemic
1- The scenes of burial were terrifying. How can one imagine a burial taking place without the presence of your loved ones? Practically, no one. No one around to recite the last prayers as the body was lowered to the

— Farhan Khan (@Godmade__) March 22, 2020
2- resting place. No soft murmurs and slow sobs.
It was horrific, the air filled with fear & terror. The fear of an unseen & unfelt enemy that evade every barrier, respects no border, regard no age, gender or religion

— Farhan Khan (@Godmade__) March 22, 2020
3- The coffin of the deseased along with the ill fated father were shifted through an ambulance from Peshawar. It was parked at a distance, away from the mourners & they were not allowed to go beyond a specific point. The father, who was layered in protective gear was not

— Farhan Khan (@Godmade__) March 22, 2020
4- allowed to get off the ambulance
To bid farewell and offer the Namaz e Janaza, there were only five people other than the Imam and they wept helplessly in pain and sorrow through out the prayer. The burial process was itself heart wrenching,

— Farhan Khan (@Godmade__) March 22, 2020
5- The Rescue officials were reluctant to touch the coffin & it was decided to pull the coffin from the ambulance with help of ropes but no one was willing to tie the coffin. His father volunteered. This sight was so painful, a feeble sobbing father tieing the coffin of his son

— Farhan Khan (@Godmade__) March 22, 2020
6- with all his relatives, neighbours, mourners standing there as mere spectators. That's the story of how the final goodbyes were said amidst pain and trauma. It appeared as if the impalpable tiny virus was powerful enough to annihilate them all.

— Farhan Khan (@Godmade__) March 22, 2020
7- Rescue official dragged the coffin with the help of ropes from the ambulance into the grave and the infortunate father was later shifted to the quarantine facility.
May we never see such funerals ever in our life. Ameen.
Stay home everyone and save lives#CoronaFreePakistan

— Farhan Khan (@Godmade__) March 22, 2020
From no one being able to say their last good byes to being lowered down in the grave via ropes, the account had everyone's heart breaking as they urged people to take corona seriously:
The extent of helplessness and grief where you can't even mourn and bury your loved one without risking your life is unimaginable. How lonely and broken one would feel. Heart wrenching. https://t.co/dOBj3TM9V2

— Fatima 🕊 (@moonlitcemetery) March 22, 2020
People were urging others to read the thread and stay safe:
Please read this thread and realize how important it is to take this seriously and keep yourselves and your loved ones safe! https://t.co/AqjzmN0nE7

— Javaria (@JavariaWaseem) March 22, 2020
On point:
Heartbreaking thread. How many such funerals will we witness? It's easy to reduce victims to numbers and percentages, but there is a very real cost to writing off 3% of patients. https://t.co/HiUDu65f04

— aliya imran (@aliyaim35254438) March 22, 2020
Many were worried how this thread will become our collective reality if we don't take precautions:
This thread. This will become our collective reality, only worse, because soon thte will be no one left willing to tie those ropes.

For crying out loud, please come out of the bubble you're living in and take this seriously. https://t.co/mHvr0RjRXH

— Hurmat Majid (@MajidHurmatKhi) March 22, 2020
It was heart breaking:
….. Breaks my heart… https://t.co/xztPri5YD4

— Fahad Malik (@Fahad4014) March 22, 2020
Heartbreaking! https://t.co/PCPHolTziR

— Farhat Javed/BBC (@FarhatJRabani) March 22, 2020
It moved people to tears:
I genuinely haven't cried this much in ages – my heart is absolutely broken. May nobody ever has to bury their loved ones this way. https://t.co/awMgDLo1MM

— DoodleBob (@MereMortal01) March 22, 2020
Nothing has made me cry more than this in a while. https://t.co/bAwjvRhpPa

— Ariba Shahid (@aribbae_) March 22, 2020
Some actually felt what it must have been like:
This thread it took me to that place,as if I'm witnessing it & it's petrifying…
this evoked the kind of emotions one never wants to experience… https://t.co/vC9Tnyp8p3

— Ãk (@Ak_han1) March 22, 2020
People were requesting others to socially distance themselves:
If this doesn't scare u & make u stay home- dn even a govt enforced lockdown can't help. U wana stay alive & keep your loved ones safe? Then stay home. Everyone is given a choice to choose from, stay home & live or go out,die +be the reason of taking lives of others intentionally https://t.co/LTrrxCLYz5

— مَریّم شا ہین (@MarieShaheen) March 22, 2020
Please!
This have me goosebumps, before your careless stupid ass leaves the house thinking nothing is going to happen, read this and get your shit together. Astagfirullah, May Allah forgive us all and end this tragic time for all of us, InshaAllah https://t.co/SCx49TBQ2X

— Nawabi (@Salar_Nawabi) March 22, 2020
Very painful indeed:
Extremely painful
May the demised soul be blessed with higher rank in jannah
May Allah protect us all https://t.co/Ravt1sulML

— Zamah Bukhari (@ZamahBukhari) March 22, 2020
People were scared:
Ohh My God 😭😱
This is scary. Ya Allah reham.
Plz everyone read this whole thread its bone chilling. I'm not going out now. Noooo wayyyyy.
Worst way to be departed from this world. Ufff
استغفراللہ https://t.co/5fvTuRRJdM

— Haider Shafqaat AHC. (@haidershafqaat) March 22, 2020
If only everyone could realize the seriousness of the problem:
This is how serious the problem is. Please please PLEASE stay in your homes for a while.
Insaan bun jayen sub. You can have your picnics, birthdays, weddings later. Kuch din ghar bethne main kya maut par rahi hai? https://t.co/O1zwZZFZdQ

— Ramblingsofalazygirl (@iqrasasa) March 22, 2020
Physically painful to read, absolutely:
Inna lilahey wanna ilayehay rajiyun. This was physically painful to read. On a molecular level.

For once, I don't know what to say. Allah sabki hifaazat keray aur lougon ko itna dimaagh de kay khud bhi apni hifaazat kerain. https://t.co/Oo8jl9XUwF

— Rijah Naseem (@rijaahf) March 22, 2020
Some were calling it an azaab:
This thread tells how this pandemic caused by a vvvvv little creature is nothing but Allah ka azab on us. Say Astaghfirullah folk more and more https://t.co/pkGm6mKuns

— Noor Inam (@noorinam1) March 22, 2020
People wanted everyone to read the thread and learn from it:
Everyone please go through this thread and forward to anyone who is not willing to isolate and not accepting the #SocialDistanacing.

May Allah blessed his soul. Pray for his family as well. https://t.co/ChWseV6WUW

— Ali (@AliMumtaz92) March 22, 2020
Some feared that victims in future might not even get a proper namaz-e-janazah:
This is so so painful 😭😭😭
But i fear in the future many of the victims might not even get a nimaz e janazah if the deaths increase like in italy. Ya Allah raham oka rabantai. Dair gunahgar khalak yu maafi ghwaru taana 😭😭😭 https://t.co/EZ5n2UaCEv

— Allergen (@WaterLileee) March 22, 2020
Beshak:
This is heart wrenching. You don't even get to grieve. The most testing time of our life right now. https://t.co/8iBPZrrpnl

— Hassan Cheema (@Gotoxytop1) March 22, 2020
Aameen!
Allahu Akbar. To bid farewell to your child like this, to never see him again. May Allah SWT protect us all 🙁 https://t.co/dKnokpPExd

— halal type (@rabeyo_) March 22, 2020
An eye opening reality:
A heart breaking and an eye opener thread, must read and spread the word. Dnt take #coronavirus lightly please 🙏 https://t.co/mbdG0Bs3w0

— Fawaz Chaudhry (@F_Sohailzafar) March 22, 2020
If this thread doesn't chill you to the bone and compel you to stay at home then we don't know what will, please practice social distancing and avoid stepping out of the house until and unless its necessary, stay safe!