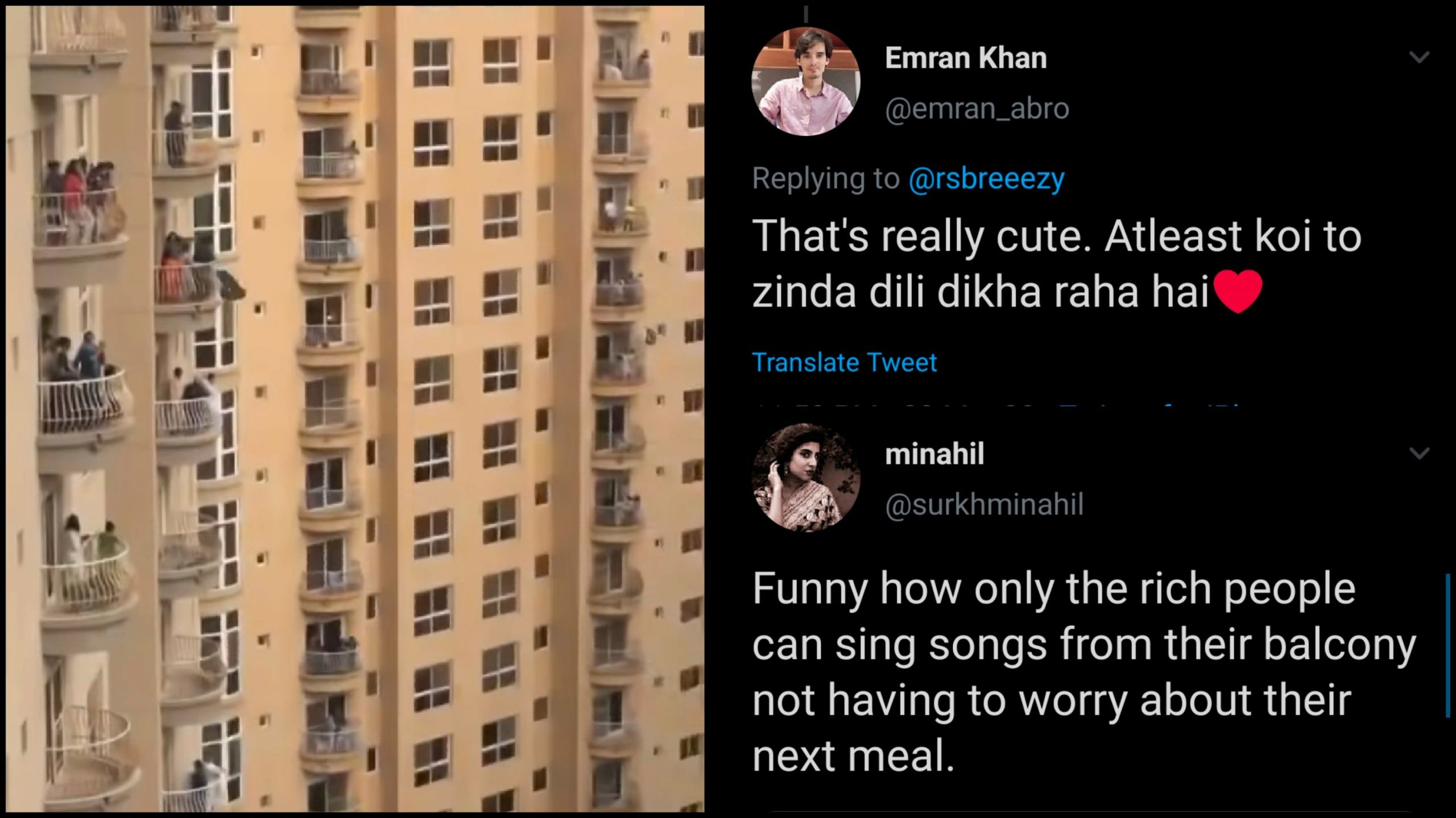 Many people have been practising self-quaratine for days now and yesterday where the country observed a non-elaborate Pakistan Day, this neighborhood in Karachi broke the internet with their one of a kind celebration!
The video was loved and appreciated by many: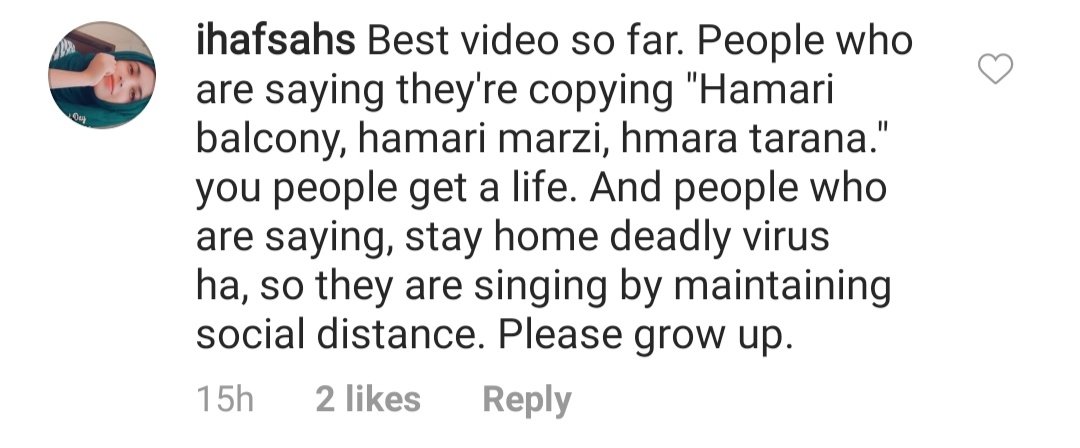 Faiza Saleem and Fouzia Aman too loved it!


People also shared the video to twitter:
VISTA PEOPLE HAVING A RAGER RN pic.twitter.com/iCiyRKK9iD

— Rabeeya (@rsbreeezy) March 23, 2020
People loved the idea:
Good way to keep the company and yet maintaining social distance… good way to entertain yourself for 2 weeks 👏🏻👏🏻👏🏻👍🏼

— khan (@ooruj_khan) March 23, 2020
Some suggested that they do it everyday:
they should do this every day, seems like such fun 🤪

— 𝘒. (@carbonbuns) March 23, 2020
Hmm?
Hahah cute. Waise it's prolly the first time they've seen each other's faces

— Rozina Bhutto (@bhutto_rozina) March 23, 2020
Some pointed out how this was inspired by Italy:
People weren't lively before its Italy effect lol

— Shazè (@Shazorasious) March 23, 2020
Haha, cute!
I'm offended that the video ended before they could say "hey tumhara" 😐

— f. (@blasphemousfx) March 23, 2020
People just couldn't get enough!
I want the next part of the songggggg

— Chalghoza 🇵🇰 (@DeeJayIKB) March 23, 2020
People found the video cute and heartwarming:
Its cute and heart warming

— Maleeha Khawaja (@maleehaomarkh) March 23, 2020
This is so cute and i wish we could so something like this too

— anosha (@prettypaki) March 23, 2020
People were lauding their zinda dilli:
That's really cute. Atleast koi to zinda dili dikha raha hai❤️

— Emran Khan (@emran_abro) March 23, 2020
Can't wait!
Wait till videos from Gulistan e Johar comes up https://t.co/tKuy10BOuv

— Moochar (@AsliBinLaden) March 23, 2020
People were living for the vibe!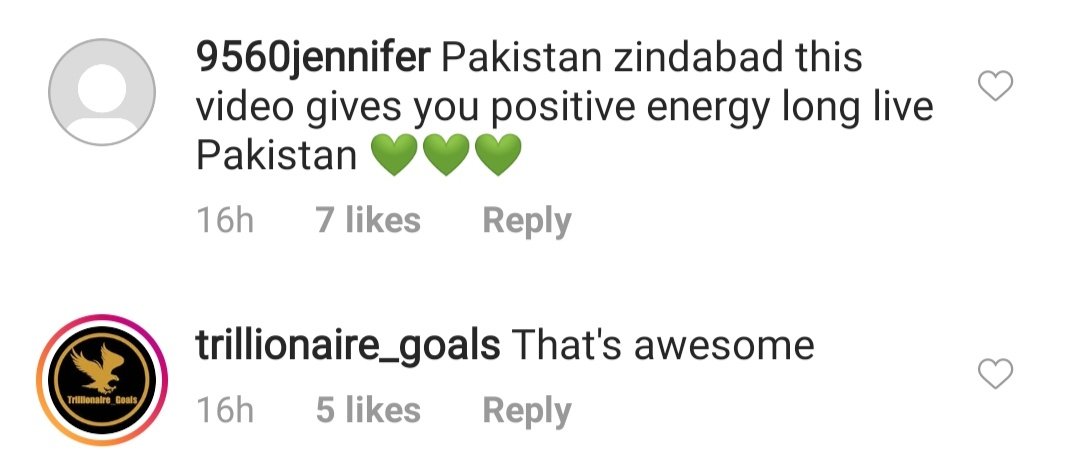 Same!
I love karachiites man https://t.co/1TtcdLvRvG

— ⏳ (@sabkuchrip) March 23, 2020
People were very fond of the video:
This is Pakistan 😍Pakistanis in Karachi, self quarantining & singing Jazba Junoon to inspire each other 😊❤🇵🇰#OneNationOneDestiny https://t.co/fNZvWl2U65

— Esafzai (@EkYousafzai) March 24, 2020
The kind of wholesome content we signed up for:
Y'all deserve to watch some wholesome content amidst this chaos💕 https://t.co/8tE6dmmj6o

— garlicbread 🥖 (@yarbhooklagihai) March 23, 2020
And while there was a ton of love for the video, it received quite the hate too:
Rich brats united to sing Pakistani national song after investing their whole life spreading hate against Pakistan and Pak Army. Beautiful https://t.co/TjCOhi2bxy

— Ahmed (@AhmedDamn) March 23, 2020
Many were sharing how only the rich we're privileged enough to do this:
Funny how only the rich people can sing songs from their balcony not having to worry about their next meal. https://t.co/kQ8almsbZ3

— minahil (@surkhminahil) March 23, 2020
"rich can sing songs from their balconies during lockdown having no worries about their wages and meals, while the poor has no place to stay, eat, medical healthcare or most important .. no escape from the eternal suffering and misery".#CoronavirusPandemic #lockdown https://t.co/SCtrsMOb6U

— Waqas Aalam انگاریہ ☭ (@WaqasAalam) March 23, 2020
Some were wondering what there was to celebrate:
Only the elites of #Pakistan who dwell a comfortable existence in their high-rise luxury apartments of creek vista will sing a patriotic song in a lockdown, but the poor masses starve & go jobless with no health insurance. What's there to even celebrate about #Pakistan? https://t.co/4P3XXBoumq

— Salman Khan سلمان خان सलमान खान 🏳️‍🌈 (@ImGreenGuru) March 23, 2020
Matlab…
i hate rich peopIe https://t.co/hQ42o5fTAe

— mose (@COVlDXIX) March 23, 2020
Some weren't amused at all:
Lmfaooo, they actually thought they did something
Go back 😂😂 https://t.co/oU1CWDpLlx

— Syed Khizer Abbas (@syedkhizerabb14) March 23, 2020
People were calling them out on copying Italy:
karachi elite copying italy https://t.co/0mFbc4NLvL

— Abbas Raza (@Abbas_Raza1_) March 23, 2020
Pakistanis trying to be Italians🤦🏻‍♂️ https://t.co/i2lO40Rtug

— Azmar Khan (@UNTaKhan) March 23, 2020
They are all copying Italy. 👎 Even in India people came to the balconies to cheer emergency workers. https://t.co/8bjOh4prnV

— Allia Bukhari (@alliabukhari1) March 23, 2020
Some wondered if it gets annoying for others:
Doesn't this get annoying for people who aren't well and trying to sleep, or those who are putting babies away for a nap, or the elderly or the anxious or or or https://t.co/63B8Knws19

— Maliha (@malihahasan2) March 23, 2020
There was a lot of hate:
Creek Vista, letting down Karachi as per. https://t.co/i6xSJhVSJ4

— Asad (@mesuturbation) March 23, 2020
I hate hate hate hate hate the rich so much https://t.co/kpBUFwGT0w

— Safi Ullah Khan (@safinotullah) March 23, 2020
Umm?
Elite class is ignorant and selfish everywhere.. https://t.co/FqPQQsyRVc

— undone (@shaat_up) March 23, 2020
Rukhsana aunty needs to chill:
If i start doin this with my amigos aunty Ruksana from house no idk gonna say "kia ye tarbiyat ki hai apke maa baap ne" sed lyf :/ https://t.co/XE6mLNp1ob

— Saud (@antidote505) March 23, 2020
Some couldn't really understand the reason for so much hate:
I see lots hating on them and I dont get the reason. Instead os crashing the bed all day they are having fun in this dreadful situation. Shove your hate far up your ass. https://t.co/OlqwJhx9vT

— Raazberry (@Casiofam) March 23, 2020
I see people getting butt hurt because some people are enjoying and trying to make the best of the situation. https://t.co/lYRbN7GVuh

— Sobz (@thesonofArsene) March 23, 2020
Exactly!
You guys just can't see people happy. That's simply it. So what if they are copying Italian citizens? At least they are enjoying their time in quarantine whilst many of you sit here bitter and angry. https://t.co/laSCu9Biww

— A. (@sunshine_162) March 23, 2020
Yeh cheez!
Why people are hating on this saying "it's just been a day since the lockdown" – it's Pakistan Day. Let them celebrate however they want to. Khushi manao, we have exceeded our 2020 limit of gham hours. https://t.co/nFgnxgES9z

— Sara | Stay Home 🌍 (@sarahaseebb) March 23, 2020
What do you think about the video? Let us know in the comments below!