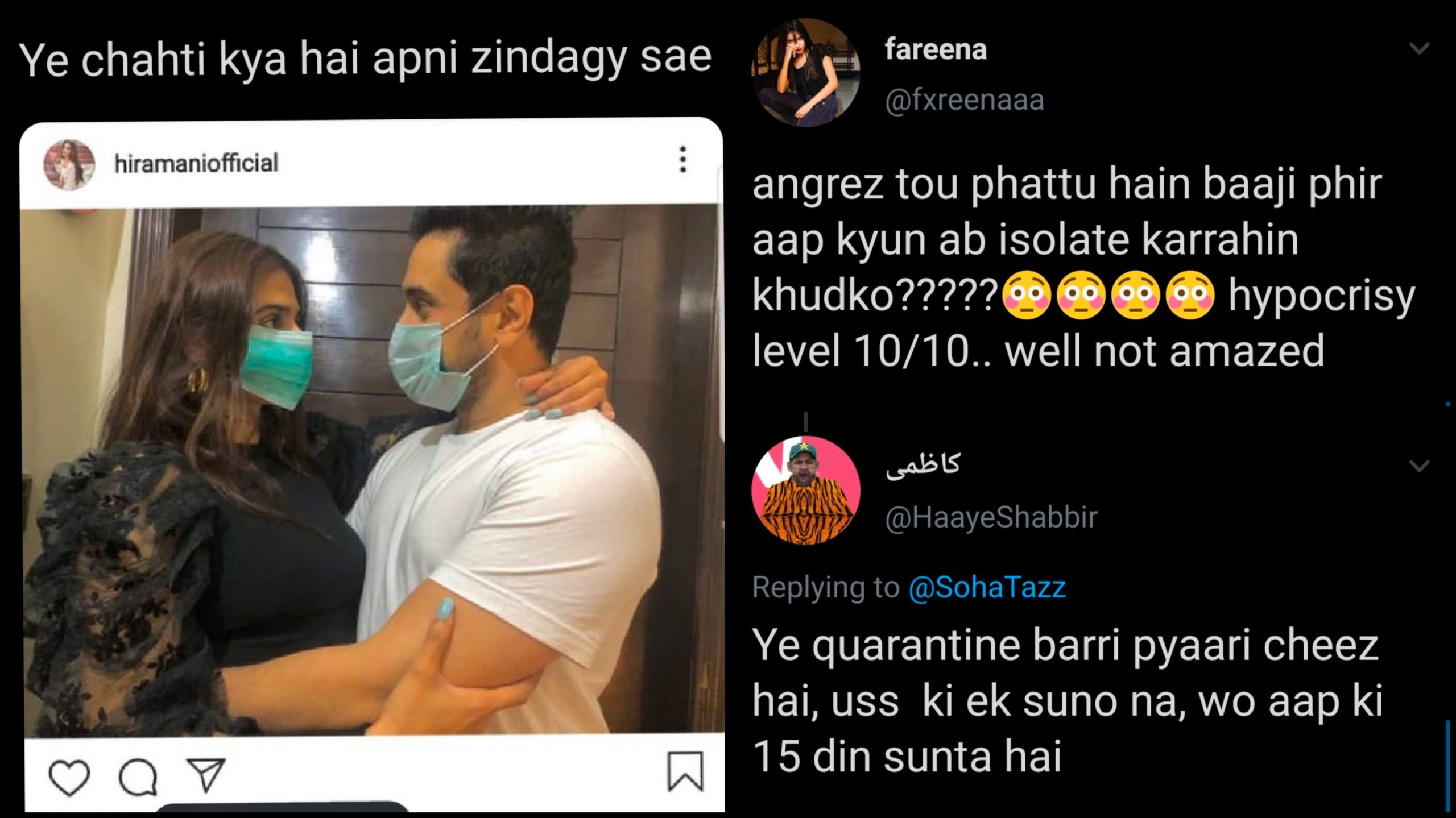 A few days back Hira Mani got quite the backlash for calling the Americans 'phattu' for wearing protective gear to combat corona, the actress is under fire yet again for a picture she uploaded to Instagram:
In the picture Hira is preaching everyone to practice self quarantine and people are schooling her:
Ye chahti kya hai apni zindagy sae pic.twitter.com/qn9AoRXTsn

— Soha (@SohaTazz) March 22, 2020
Her fans were urging her to socially distance herself:




Some put it in Hira's own words:
Ye quarantine barri pyaari cheez hai, uss ki ek suno na, wo aap ki 15 din sunta hai

— کاظمی (@HaayeShabbir) March 22, 2020
It's the same Hira Mani:
Wasn't she calling everyone who stayed home 'phatto'?!?? https://t.co/sgbgmmpOZP

— Stay Home, Stay Safe😤 (@maryamm_kamran) March 23, 2020
Some had questions:


Some were relating it to Meray Paas Tum Ho:
Didn't this (insert adjective here because I'm practicing restraint) just get tested for the virus? Or is she hoping for Danish to come back from the dead so she's hoping to send her current husband in is place? https://t.co/TgacIu11wO

— Nusair Teli (@NusairTeli) March 22, 2020
That's the word!
We can call it "Corona Romance" ? https://t.co/Lih8HGgcHc

— Rija.🇵🇰 (@rijayyyyy) March 23, 2020
People were lauding her dedication:
she painted her nails to match the mask… dedication bruh https://t.co/yyVIEy8tGv

— SkinnyCanWrite ✍ (@TwoTwoAlys) March 22, 2020
Many were calling the picture uncalled for:
This is so cringeworthy lol I usually don't engage with all the hatred she receives online but this is so untimely and uncalled for 🤭 https://t.co/OO1nz8GT4q

— HafsaS (@thebusybean_) March 22, 2020
People were asking her to stay away from her family:

Many thought she was seeking attention:
Attention https://t.co/3PXnauJsmY

— Salman (@SupreemeLeader) March 23, 2020
Attention. https://t.co/GXViMgU8pR

— Maryum (@quarantinedday6) March 23, 2020
Mard bari pyari cheez hai:
Mard bhot pyaari cheez hai , isey muhabbat se maro https://t.co/xwGtucMFit

— Azeesh (@lakapakhtundey) March 23, 2020
Some were calling her a hypocrite:
angrez tou phattu hain baaji phir aap kyun ab isolate karrahin khudko?????😳😳😳😳 hypocrisy level 10/10.. well not amazed https://t.co/EevGCrjfXj

— fareena (@fxreenaaa) March 23, 2020
Some noticed how she wasn't even wearing her mask properly:
Aik tou sahi se mask bhi nahi pehenti hai ye mera OCD trigger ho raha hota hai bhae https://t.co/yE0BvmhEeF

— Narjis Zehra (@NarjisBlah) March 23, 2020
Yar 😂
Corona ko bhi tu samjho… Usko bura hum khud bnatay hain https://t.co/LyRnbFkegO

— Majid khan (@Itsyourkhan) March 22, 2020
People were praying ke Allah aqal dein:
Allah aqal dey bas https://t.co/J1ZCunwBFL

— Ayesha-عائیشہ 🇵🇰 (@Ayesha_ZaYain2) March 22, 2020
Some had lost hope:
Jo Self isolation krne walo ko phatuu bole is se kia tawako krngy https://t.co/jcae0FGrWN

— Hassan (@Puff_Pastryy) March 22, 2020
Many were of the opinion uska mard, uski marzi and umm?
Uska Husband uski marzi#WhoAreYou https://t.co/9Xm3Q9vQUP

— Ali Raza (@alirazamalik) March 23, 2020
What do you think about people trolling Hira? Let us know in the comments below!