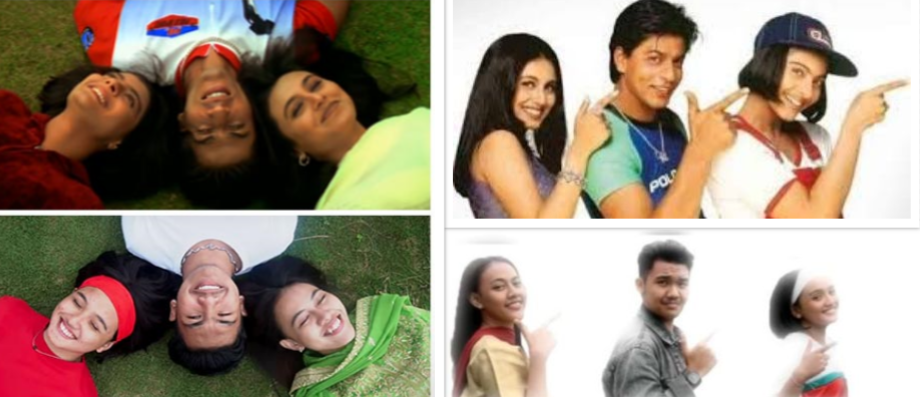 We all still love the iconic Kuch Kuch Hota Hai even after 21 years. The movie gave us nothing but iconic songs and dialogues that we still love using in our day to day conversations… Kuch kuch hota hai Rahul, tum nahi samjhogay *sigh*
And who doesn't remember the most iconic trio of all time? Rahul-Anjali-Tina!
Featuring the king of romance – Shahrukh Khan, Kajol and Rani Mukherjee, the film is still one of Karan Johar's many wonders! Three young actors from Indonesia have re-made the song Kuch Kuch Hota Hai and the on-screen chemistry therein. And to be very honest, WE LOVED IT! Check it out for yourself:
Not only are they dressed exactly as Rahul, Anjali and Tina but have also recreated the song shot by shot:
if there was a TikTok World Cup, this would be the champion. pic.twitter.com/RsbCYSAhDJ

— Ahmed (@azkhawaja1) March 28, 2019
The video surfaced on the internet when the user Fathan Malik uploaded it to his instagram account and it has been gathering all sorts of feedback from Indonesians and the Bollywood fans.
The remake even reached Karan Johar and he loved it!
While we are on the title track of Kalank!! Here's a fun tribute to the title track of KKHH which i totally loved!! ❤️❤️ https://t.co/pMe7AdWm1b

— Karan Johar (@karanjohar) March 30, 2019
Now that you've seen both the songs, what do you think about the remake?