Desi parents are everything! From shaping our personalities with their super chhitars to actually giving us heart attacks with their exaggerated lies – utho 8 baj gaye hain when it's actually 6:30 🙄
A guy on Twitter posted a thread to twitter explaining why desi kids have trust issues and we bet you'll relate so hard to each and every point he made!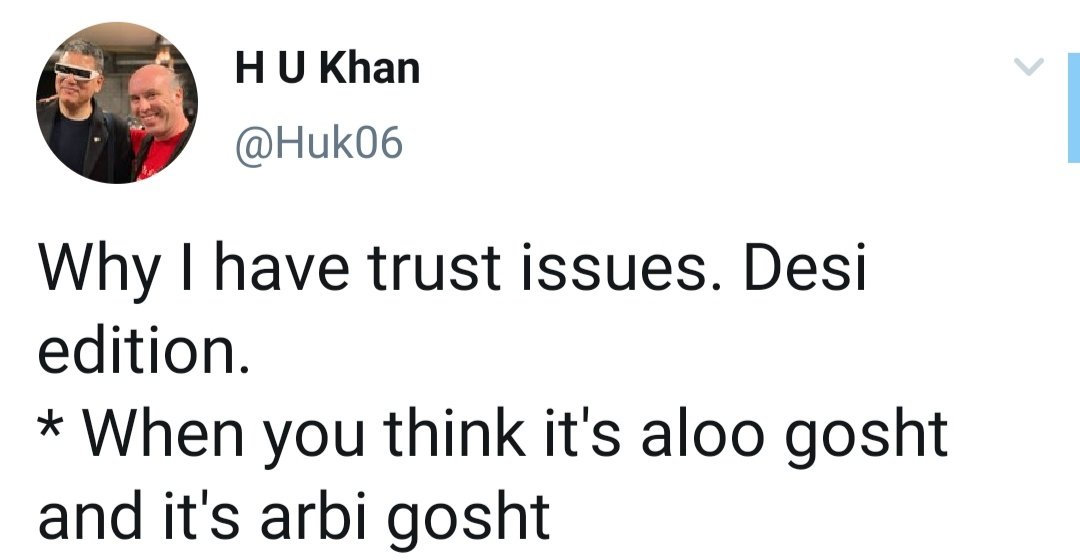 Oh, the amount of times we've been tricked into eating arvi gosht as aalu gosht 😒 and when you complain, you get told 'arvi bhi toh aalu ki behen hai.'
The betrayal here is real and gets us everytime…

Huehuehue when you've been dreaming to steal the ice cream but find frozen daal instead, the heart break is real folks.

Seeing our eidi money disappear was a great sport!

Now this hits us really hard, khana thanda ho raha hai while the khana is still on the choolha and the rotis are in process of being made 🙄
Uh oh… From bhaijaan to jaan in no time 🙈
And fellow netizens added more:
* Uth jao! It's 6 O' clock already *
When it's 5:30 & school starts at 8

— E-Mom of peace (@MohtarmaG) October 22, 2019
This has probably happened with every single one of us:
* When the Danish biscuits tin is full of sewing supplies instead of biscuits

— asad (@sadizid) October 22, 2019
Also the fact how our moms never missed the target:
And even if you weren't convinced by" kuch nhe kahon g" then so had a flying chappal

— Khadija Niazi (@KhadijaNiazzi) October 23, 2019
Ooof, pie vs paye was the real dilemma:
Also paey vs pie. I want a nice baked dessert, not trotter curry 🤢

— Maria K. (@mariaccino) October 22, 2019
Bus yeh last sum hai – every mathematics teacher ever!
Lol seriously 😂😂
In addition to that also because of instructors n teachers who always said "Last one"

— Zertaj Kashif (@ZertajK) October 22, 2019
Can relate a 100%, bus O levels clear kerlo life set ho jayegi, bus A levels clear kerlo achi university mei admission ho jayega, bus bachelors ache se kerlo career ka sawal hai, bus masters mei mehnat kerlo life ban jayegi… It's a vicious cycle:
"بس میٹرک میں اچھے نمبرز لے لو, زندگی سیٹ ہو جائے گی "

— Pakistani Burger 🍔 (@BurgerPakistani) October 23, 2019
And it put us in the correct headspace…
Aalus were round and cute enough to look like arvies.
Mom was right, she never SAID anything, she just slapped

— ShaGgy 💤 (@khankakarzai) October 22, 2019
OH. MY. GOD 😂
Beta "mehman" aye hain, a k salam karo. The morons turn out to be rishta walas

— Mariam Bint-e-Hassan (@Bintehassan) October 22, 2019
It hit us too man:
Hahahahahhaha😂👌 aloo gosht hit me

— Naveed (@doctorsaeen) October 22, 2019
I think we all did:
Felt a couple of these on a personal level

— Zakaria Agha (@ZakariaSAgha) October 22, 2019
And what's fascinating is that our mothers don't seem to recall any of it 😏
I can totally relate to "when your mom says idher aao kuch nahi kahoon gi" and 5 mins later you get slapped"

— Shahbaz Taseer (@ShahbazTaseer) October 22, 2019
How well can you relate to the betrayal? Let us know in the comments below!