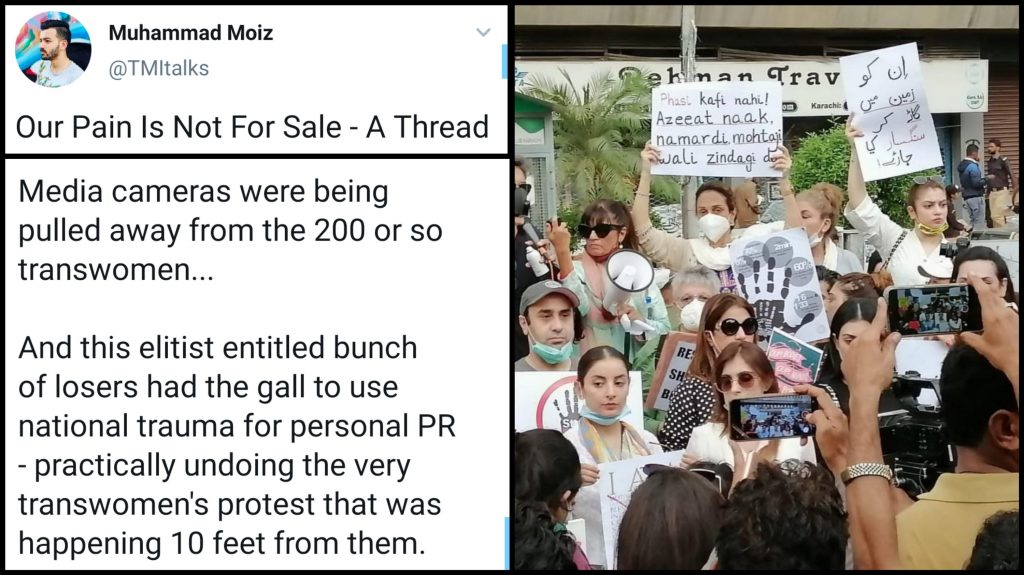 In the wake of the motorway incident, a second protest was held at the Karaci Press Club where majority of the Karachi based celebrities were present raising their voice, and they're being heartily lauded for it too!
However, a guy named Moiz a.k.a our very own Shumaila Bhatti on Twitter has a totally different story to tell exposing the ugly protest-for-PR culture, here's what he's got to say:
Our Pain Is Not For Sale – A Thread#TransLivesMatter #ChemicalCastrationForRapists #EndRapeCulture#InsaafDoChoonaNahin#TheRevolutionWillNotBeTelevised pic.twitter.com/CqDn1zg7ZZ

— Muhammad Moiz (@TMItalks) September 15, 2020
He starts by sharing how the usual vendors were pushed back because they were too ugly to be in the press shots:
The entourage begins arriving in "cars"…@FriehaAltaf moves the water stall and limo soda vendors back from the road (one of the two was giving everything on discount to the protestors but was clearly too ugly to be in this celebrity protests press shots)…

— Muhammad Moiz (@TMItalks) September 15, 2020
He then shares how their presence had the media chasing them, leaving the ordinary citizens alone:
The celebs formed their pretty little protest teeming with their personal PR handlers and photographers…

Naturally all media went to them because over 200 poor transgender women and khwajasiras weren't worth it… And because celebs voices > protestors'

— Muhammad Moiz (@TMItalks) September 15, 2020
The celebrities also refused to join the trans' protest where they too were marching against rape and violence:
Celebs refused to join in the trans" protest which is literally ON RAPE AND VIOLENT MISOGYNY and YES this includes @sarwatgilani y'all's latest feminist icon (limited only to BBC interviews performism > solidarity)…

— Muhammad Moiz (@TMItalks) September 15, 2020
People from the trans protest had to leave because of zero media coverage:
They make BS rhetorical fluffy comments about good touch and bad touch, and whatnot…

The trans women leave because all coverage is now gone to cover the pretty celebs in their pretty little "protest"…

The pretty little celebs' pretty little protest ends…

— Muhammad Moiz (@TMItalks) September 15, 2020
He then continues to expose the hypocrisy:
They all go back home in their chaffeur driven vehicles.

Next they post their selfies with probably 2 transgender fans @TheMahiraKhan and joke about being "pro-protestors"

— Muhammad Moiz (@TMItalks) September 15, 2020
He then shared how the celebrities are being lauded since then:
And are now being "lauded" for their bravery by the bandwagon liberals (with zero understanding of representation and who gets seen as saying what and to what end)

10 feet away two transgender women were being threatened with violence AT THAT MOMENT…

— Muhammad Moiz (@TMItalks) September 15, 2020
He shared how heart breaking it was:
Media cameras were being pulled away from the 200 or so transwomen…

And this elitist entitled bunch of losers had the gall to use national trauma for personal PR – practically undoing the very transwomen's protest that was happening 10 feet from them.

— Muhammad Moiz (@TMItalks) September 15, 2020
He then shares how classism is still one of Pakistan's core issue:
Pakistan's core issue will remain classism – and all struggles – all of our struggles must be on dismantling this classist hegemony on rights and safety! And these social climbers now masquerading as the ultimate manifestation of our culture (celebs) better be the first to go.

— Muhammad Moiz (@TMItalks) September 15, 2020
He explains his point further:
They are NOT allies – and do NOT confuse their opportunism with support. We did it with the NGOs before and look where it has led us.
We are repeating the same mistakes. Again.

All that glitters is NOT gold.

— Muhammad Moiz (@TMItalks) September 15, 2020
And repeats that our pain is not for sale:
This fake fuckery has gone on for far too long and the last thing we can leave to corporate elitism is our pain.
Our pain is NOT for sale.

— Muhammad Moiz (@TMItalks) September 15, 2020
He also adds a little fun fact at the end:
Fun Fact: Bushra Ansari RANDOMLY walks by and tells Zehrish Khanzadi (a trans leader) and me not to sway too much or else the cameras will catch us and delegitimize our protest by saying we're dancing.
Sure Ma'am. Sure.

— Muhammad Moiz (@TMItalks) September 15, 2020
His thread has been going viral on twitter and people are disappointed:
Pakistani "celebrities" are the fakest, most PR-hungry leeches our there. Read. https://t.co/JOEgZN0LOL

— ثمرہ (@DurFittehMu) September 16, 2020
People were sharing how some celebrities have been attending several protests without making a show of it:
Important to note celebrities who don't make protests about themselves show up at protests organised by activists. I often see Samia Mumtaz standing silently at the back & never taking over but always supportive. https://t.co/446XrIhjMW

— Nabiha Meher Shaikh (@NabihaMeher) September 16, 2020
People had lost respect:
Not that I had special fondness for Pakistani showbiz actors but whatever little respect I had for them is lost for good. https://t.co/8YcZdGtwzm

— Omair Bhat ➐ (@OmairBhat) September 16, 2020
People were calling the thread the BTS of the protest:
The actual "behind the Scenes." https://t.co/tNlLjYwARL

— Rai M. Azlan (@Mussanaf) September 16, 2020
People were comparing them to the CCPO Lahore:
Frieha Altaf wants positive coverage only. Behind the scenes she is no better than CCPO! https://t.co/SgCvoTVl1P pic.twitter.com/yQFWwX3iSI

— Alina Shigri (@alinashigri) September 15, 2020
Many wanted the stan fans to read the thread:
Celebrities ONLY care about one thing and that's their image. They'll violently cast aside anyone trying to "ruin" it and they'll jump on any protest or cause that'll make them more popular with their "fans".

Ab tou stan karna chorr dou?! https://t.co/Aw0QN95Vnl

— acab (@queerwolfie) September 16, 2020
Some were curious to know why the celebrity protest was held on another day:
Curious to know why the celebrities protest was held on a different day? There was a large protest on Saturday, would have made all the difference if everyone came together. Was the problem the Aurat March endorsement on Saturday's protest?

— Alia Chughtai (@AliaChughtai) September 15, 2020
People were seething with rage:
Can't even get my head around this. Seething with rage https://t.co/khYHUoSlAT

— Hareem Sumbul (@HareemSumbul) September 15, 2020
People wanted this attitude to stop!
THIS!
Fuckers won't ever let you raise a finger at them, school you for hating on them, cry wolf with their sob stories about how they weren't free to march on another day.
If Pakistanis don't call this appalling shit out now, things will never change. https://t.co/X3I6tUxURw

— Zahra Nabil (@Zahranabil1982) September 15, 2020
People were finding it utterly disgusting:
I.Cant.Even!!!

This is beyond disgusting. Shame on all these pseudo 'Human Rights, Equal Rights, Equal Rights' activists. https://t.co/3EhEe8cj1S

— Saman Jafriسمن جعفری (@SsamanJay) September 15, 2020
What do you think about Moiz's thread? Let us know in the comments below!