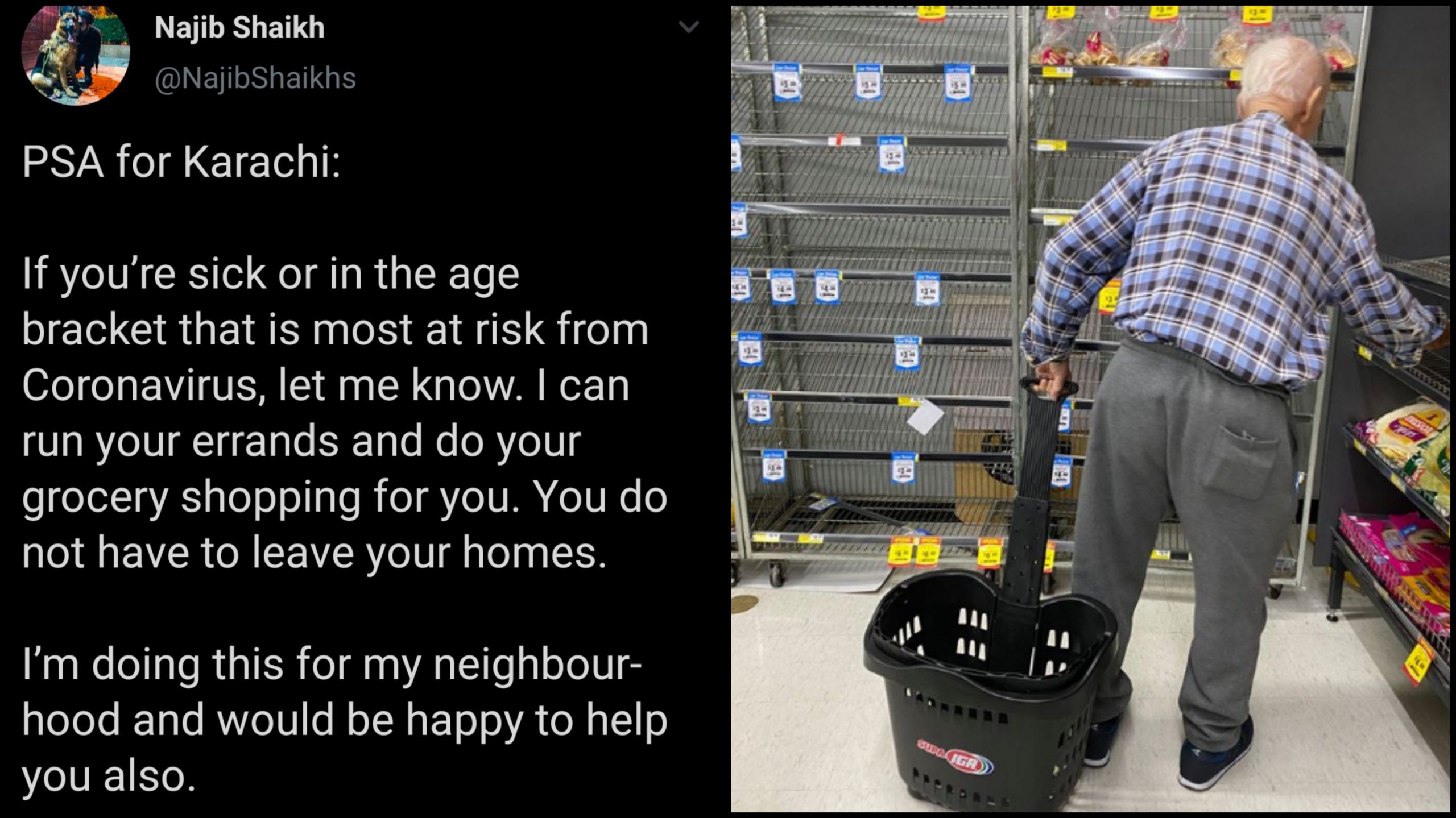 People from all around the world have been sharing heart breaking pictures of the elderly in grocery stores staring at empty aisles, and considering that people above the age of 60 are most vulnerable to contacting the coronavirus.
In an effort to help the elderly in his own city, Karachi, Najib has set a great example of how we should be helping each other in trying times like these:
PSA for Karachi:

If you're sick or in the age bracket that is most at risk from Coronavirus, let me know. I can run your errands and do your grocery shopping for you. You do not have to leave your homes.

I'm doing this for my neighbourhood and would be happy to help you also.

— Najib Shaikh (@NajibShaikhs) March 17, 2020
It's hard to find gentlemen like him these days:
What a wonderful gentleman you are. Keep up the good work. True gems discovered in these critical times. Best wishes your way from Lahore

— Haider Ali Khan Kharal (@HaiderKharal) March 18, 2020
Najib's heart warming offer of doing groceries and running errands for the elderly is winning the internet!
A parade of heroic people will emerge from all corners of the earth during this time of intense #COVID worry.

This is Allah's mercy through human kindness.

May we all be mechanisms of its transmission and benefit from it too. https://t.co/6eUnpJ7QLD

— Mosharraf Zaidi (@mosharrafzaidi) March 18, 2020
People were moved by his kind gesture:
Attention Karachiites: there is a God https://t.co/tPPxmAkYnk

— Azra Naqvi (@AzraHNaqvi) March 18, 2020
We definitely need more people like Najib!
We need more of this. May Allah reward you for this. https://t.co/h7Znlk4Zzt

— Kay Rajpoot (@KayRajpoot7) March 18, 2020
People were really happy:
I don't care if he'd really do it or not but just reading this made me happy. Kind words and gestures. Thank you. https://t.co/KWck2CQNTC

— Adee 🌐 (@JueViole25th) March 18, 2020
He was being blessed with a ton of prayers!
God bless you. https://t.co/PegXWDe0He

— HMNAQVI (@HMNAQVI) March 18, 2020
Khush raho abaad raho

— dark musings (@dark_musings) March 18, 2020
God bless you https://t.co/lpgySBd0OH

— afia salam (@afiasalam) March 18, 2020
It sure is:
There is still light in this world. https://t.co/5Ercd8eQI6

— Hassan Cheema (@Gotoxytop1) March 18, 2020
He inspired many to do the same in their cities:
We shud do this…sector by sector in Islamabad https://t.co/Nd7BKiTEiU

— Uzma Qazi (@UzmaQaziCSPA) March 18, 2020
Yaaas!
The best of us https://t.co/wW1kDe47zG

— Abnoxiuos (@Abnoxiuos) March 18, 2020
A beautiful gesture indeed:
This is beautiful. https://t.co/rU7jLmI3UT

— حاجی اللہ دتہ مسوم (@AemunSh3rwanee_) March 18, 2020
We always have each other's backs!
This is the spirit of #Karachi! 👇 https://t.co/3vfi1pzyf6

— Umer Bin Ajmal (@umerbinajmal) March 18, 2020
Many deemed him a hero ❤
Hero ♥️ https://t.co/wO3FjM0TpX

— Atif Khan (@Lunatic_bloke) March 18, 2020
Waqayi!
Yeh hey cheetah…https://t.co/EkOVIN0hEc

— Muhammad Imran (@emraan200) March 18, 2020
People were lauding his kindness and bravery:
That's very kind and brave on your part ❤️

— Turmoil in a karahi 🥘 (@halwaapoori) March 18, 2020
Many were thanking him for the offer:
Thank you @NajibShaikhs ♥ 🙏

— Sana Jamal (@Sana_Jamal) March 18, 2020
This is amazing! Thank you so much.

— Zahra Salah Uddin (@applescruuuff) March 18, 2020
People were all praise!
Well done Najeeb!

— Sarmad Palijo (@SarmadPalijo) March 18, 2020
There was a lot of love in the replies:
✊🏼❤️

— Nadia Jamil (@NJLahori) March 18, 2020
💜💜💜💜

— Injila Bilal (@__mamamia___) March 17, 2020
❤

— Zarrar Khuhro (@ZarrarKhuhro) March 18, 2020
His kindness had many encouraging him:
What a great act of kindness! Keep going.

— A. (@alpha_falcon) March 18, 2020
We stan a man who has a heart so pure and selfless! What do you think about Najib's heart warming gesture? Let us know in the comments below!