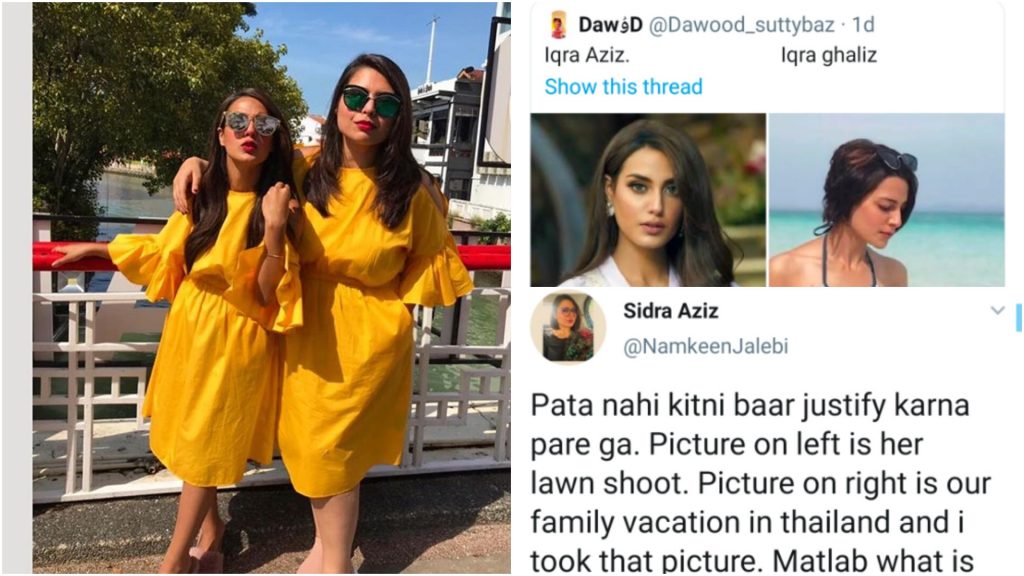 When you're a celebrity, people will almost always find a way to bring in your past at any given moment. Similarly, this guy shared an old picture of Iqra Aziz from 2018 and called her 'ghaleez,' the tweet has now been deleted but here's a screenshot: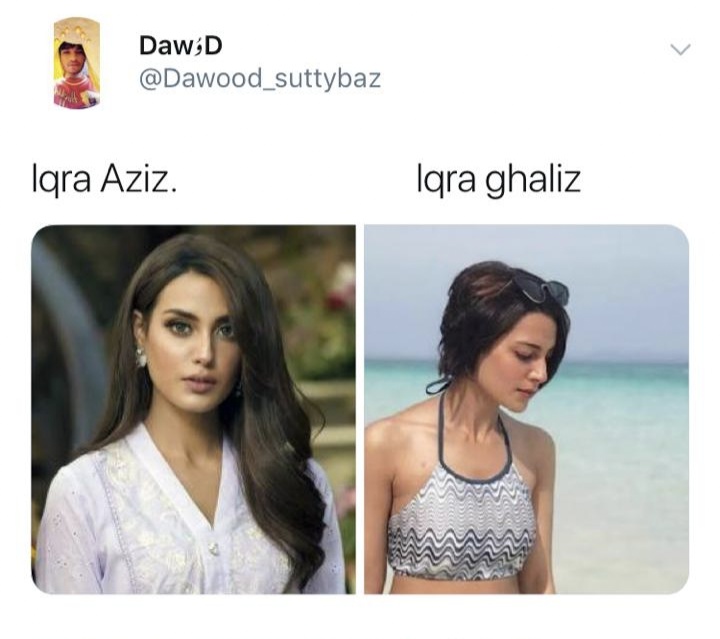 People left no chance to take a dig at Iqra:
Iqraaaw tum to waqai ghaleez ho😐

— Azha fatima (@its_azha) July 1, 2019
Comparing the two pictures, the tweet gathered tons of retweets and feedback:
Ye isk bachpan ka dress hai ab chota ho gya hai phir b jan ni chorti🤣🤣

— Saniiiii♡ (@saniscorpion6) July 1, 2019
Some were shocked, not sure why:
Shocked 😷😞

— ArZoo (@Arzoo__00) July 1, 2019
Lmao, the reference to a turtle coming out of its shell because clearly the turtle and Iqra share the same anatomy:
Only thing we need to understand😶 pic.twitter.com/iCYR4umCtp

— NaSeeb Alii RAjpuT (@AliiNaseeb) July 1, 2019
Paisa kahan se agaya?
In sb ka koi hal ni.. Paisa do koch krwa lo

— Faisal Jarral (@FaisalJarral13) July 1, 2019
People were having a hard time accepting that Iqra Aziz was a different person than the characters she plays in her dramas:
ya bholy wli iqra ha 🤣🤣😱😱

— میرحادی 🇵🇰🇦🇪 (@its_mama_boy) July 2, 2019
And there were some who thought that the guy didn't really need to upload these pictures:
Hr insan ki personal life hoti hai or hme koi haq ni phnchta personl life me ghussny ka

— Waqar Mahi (@MahiWaqar) July 2, 2019
People had questions for the guy:
Tmari q hatt ri? Tmary Abbu ka khati hai??

— m (@HannahBekaar) July 1, 2019
But Iqra's sister, Sidra Aziz, had no chill and came right back at the guy:
Pata nahi kitni baar justify karna pare ga. Picture on left is her lawn shoot. Picture on right is our family vacation in thailand and i took that picture. Matlab what is wrong with people. Apne kaam se kaam rakho yaar https://t.co/QzqoOtMeUF

— Sidra Aziz (@NamkeenJalebi) July 2, 2019
You go, girl!
People quickly came to Sidra's support:
She looks stunning in both the pics. It is sad that celebrities are so negatively scrutinized and criticized for their personal choices here. Mediocrity and low IQ among masses can only spew filth. Damn the price you pay for fame in this society.

— Sumeyye (@TheStarRigel) July 2, 2019
It all makes sense now!
Pakistanio se yeh expect karna kay woh apnay kaam se kaam rakhein is like expecting men to give birth.

— Osama Bin Liaqat Mir (@oblmir) July 2, 2019
Because some woke Muslim brother thinks otherwise:
I don't understand why do people interfere in personal lives. I mean yes she is a celebrity but she is a human being too and she too deserves a personal and private life as she like why exploit it? Ajeeb log hain! Sorry you both have to go through this.

— Sahrish Iftikhar (@isaahrish) July 2, 2019
People shared how everyone will be accountable for their own deeds rather than someone else's:
Why do u have to justify…
I'm not getting into what's right and what's not..
It is your own life and accountable for your actions..
Stay blessed.

— Mir.Y.U (@MYUwrites) July 2, 2019
Baat toh sach hai…
Jis din Pakistani qoum ne kaam se kaam rakh lya, us din adhay masail hal hojanay is mulk kay. Everyone is too busy poking nose in other's matters

— H U Z A I F A (@GoboBoltaHai) July 2, 2019
Haha, free judgments!
Pakistan mai ajkal srf judgments hi tou free miltin hain!! Ignore krein bas people won't stop with this BS 🙂

— 🍕🍩 (@WhereIsDonut) July 2, 2019
Absolutely!
People just don't know how to mind their own business. Fazool mein judge karte hain

— Alina (@AlinaManiar) July 2, 2019
What do you think about people constantly posting old pictures of celebrities to shame them? Let us know in the comments below!