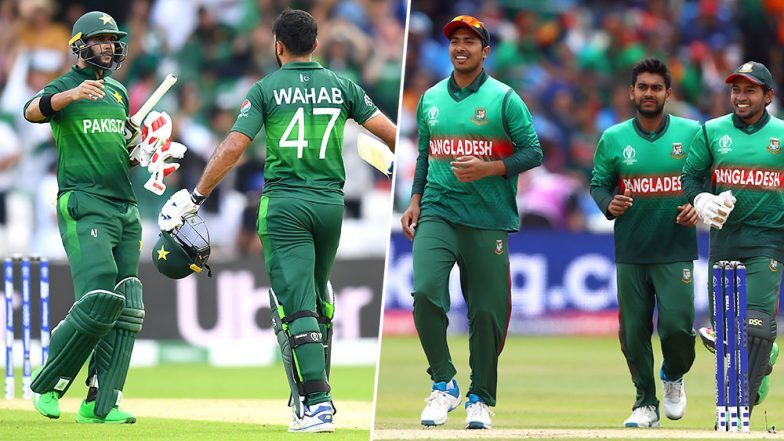 With England winning the match, the chances of Pakistan qualifying for the semi-finals have drastically slimmed down and we know you're trying to do the math like:
Pakistani fans 👦👦👦calculating🎲📱 their chances of qualifying in semifinals of worldcup🏆😂😂#1992MeinBhi#PAKvBAN#PakistanCricket #CWC19 pic.twitter.com/zHTlsgGfFS

— HadeedJalani (@HadeedJalani) July 4, 2019
Pakistan will have to beat Bangladesh today with a margin of over 450 runs to qualify…
So this is what Pakistan need to do to qualify for the semi-finals:

If Pakistan make 350, they need to bowl Bangladesh out for 38
If Pakistan score 400, they need to bowl Bangladesh out for 84
If Bangladesh bat first, there is no chance of Pakistan qualifying#CWC19 #PAKvBAN

— Saj Sadiq (@Saj_PakPassion) July 3, 2019
In a press conference yesterday, Sarfaraz promised the nation to give their best performance and maybe even score 500 runs:
Sarfaraz Ahmed "we will try to score 500" #PAKvBAN #CWC19 pic.twitter.com/JPN3sQ5DR8

— Saj Sadiq (@Saj_PakPassion) July 4, 2019
And people were feeling all sorts of ways:
Never ever criticise someone who believe in himself. Beshak mojzay dekhanay wali zaat us pak rub ki hai. Wo jisay chahay izzat day jisay chahay zilat day.
InshaAllah pakistan will qualify for the semifinal ❤ #PAKvBAN pic.twitter.com/PH26PoUTGb

— Syeda Rida Zehra (@SyedaRidaZehra6) July 4, 2019
There were memes:
Me every time my result is out:#PAKvBAN pic.twitter.com/sk6Ah0ZSDa

— nawa katta. (@xyzmariaa) July 4, 2019
Yar 😂 😂 😂
🤦🏽‍♀️🤦🏽‍♀️🤦🏽‍♀️🤦🏽‍♀️😂😂😂😂 #PakistanCricket #PAKvAFG #PakvNZ #PAKvBAN pic.twitter.com/n1adb11B6J

— Natasha Kundi نتاشا کُندی (@NatashaKLondon) July 5, 2019
11am and we're still thinking the same:
It's 4:53 am and your boi here still thinks that Pakistan cricket team can score 500 and bowl Bangladesh out for 80. #PAKvBAN #CWC19 #wehavewewill

— Rayan (@formerchildn) July 4, 2019
Not going down without a fight!
If Pakistan wins the toss and come to field they need to keep in mind that they are chasing 450+ and start banging the ball rite from the word Go.We won't mind if you try #PAKvBAN #CWC19

— Shahid Tahir (@shahidtahir85) July 4, 2019
You're not the only one!
Am I the only one who still believe that Miracle will happen tomorrow & Pak will beat Bangladesh by 350+ runs & will qualify for Semis#PAKvBAN #WeHaveWeHill

— Azeem (@Azeem_Views) July 4, 2019
Confidence ho toh aisa, go teammm!
If I was the captain, I would make sure boys make 500, if England can score 480, why not Pakistan? I feel @TheRealPCB is going to Play one of the finest cricket against @BCBtigers Today! History will be made Today! I am quite confident! #BleedGreen #PAKvBAN #PakistanCricket

— Saud Bin Nasir (@saudjutt) July 4, 2019
People are really looking forward to support their team in the match:
Standing with my team and hoping they put 100% in to this match. Semi-final spot or not, I'm looking forward to seeing skill, effort and another victory. @TheRealPCB 🇵🇰🏏❤️#CWC19 #PAKvBAN #PakistanCricket

— Fiza Jafri (@FizaMJafri) July 5, 2019
Ab stadium ke beech darakht kahan se layein?
We can and we will 🤣🤣😂😂😂 #PakistanCricket #PAKvBAN pic.twitter.com/6ZXjhzktmA

— veer.raghuari (@KhiladiBajrangi) July 4, 2019
People have also beenvurging others to cheer for their team no matter what:
I really hope every Pakistan fan who goes to the ground on Friday screams and cheers their heart out, back our boys to give one last great performance and just really enjoy the cricket! Let's show the world what the spirit of cricket is! #PakvBan #CWC19

— ⎊ Sia ⍟ (@Sias_Creations) July 3, 2019
Kuch iss bachay ke future ka hi khayal karo, zaalimon!
If Pakistan qualifies to semis, I'll ace all courses in next semester. #PAKvBAN

— Salib Raza Abdi〰 (@ssra_syed) July 4, 2019
People had innovative ideas:
The only way for Pakistan to reach semi final is first score 400, next plant 15kg heroine & have Bangladeshi players arrested😐#PAKvBAN

— Jungjoo Gernail ☪ (@GernailSaheb) July 4, 2019
Hmmm, sounds do-able:
PAKISTAN CHANCES INTO SEMIS:
If Pakistan bats first, scores 400+ runs and lock bengali team up in the dressing room.#PakvBan #ENGvNZ #NZvENG

— Arslan Naseer – CBA (@ComicsByArslan) July 3, 2019
Agreed, no harm in exploring options for the future:
We most probably won't do it, but I would really go for it tomorrow, show proper intent, go out on a high if nothing else

Of that means bringing Asif in and opening with him and Fakhar, then go for it
If nothing else we can explore some options for the future#PAKvBAN

— Fawad's Gaylestorm (@HedzCricket) July 4, 2019
But while there was tons of support for the team, people were also bummed about it:
Sarfaraz: we will try to score 500

Rest of the team and Pakistani supporters#PAKvBAN pic.twitter.com/55XuB5EU5j

— Fasih Uddin (@Fasih_Uddin) July 4, 2019
Ziada nai ho gaya?
My final prediction for tomorrow match against Bangladesh 🇧🇩 we will surprise you ❤️#PAKvBAN 🇵🇰 pic.twitter.com/GAv4wXZfXF

— Arman🖤 (@aliarmankhan2) July 4, 2019
Well…
Pakistan trying to enter semifinal #PAKvBAN pic.twitter.com/OijnzmUYMQ

— sarcastic_ su-myth (@ft_sumyth) July 4, 2019
Kya karein, dil dil Pakistan!
Okay Pakistan is out of #CWC19 but I will watch #PAKvBAN ball by ball and will celebrate when my team will do well.

Call me mad or anything, I don't Care.#PakistanCricket#WeHaveWeWill pic.twitter.com/gZmPInhdSN

— ♡Princess♡ (@life_1239) July 4, 2019
Who do you think is going to win the match today? Let us know in the comments below!