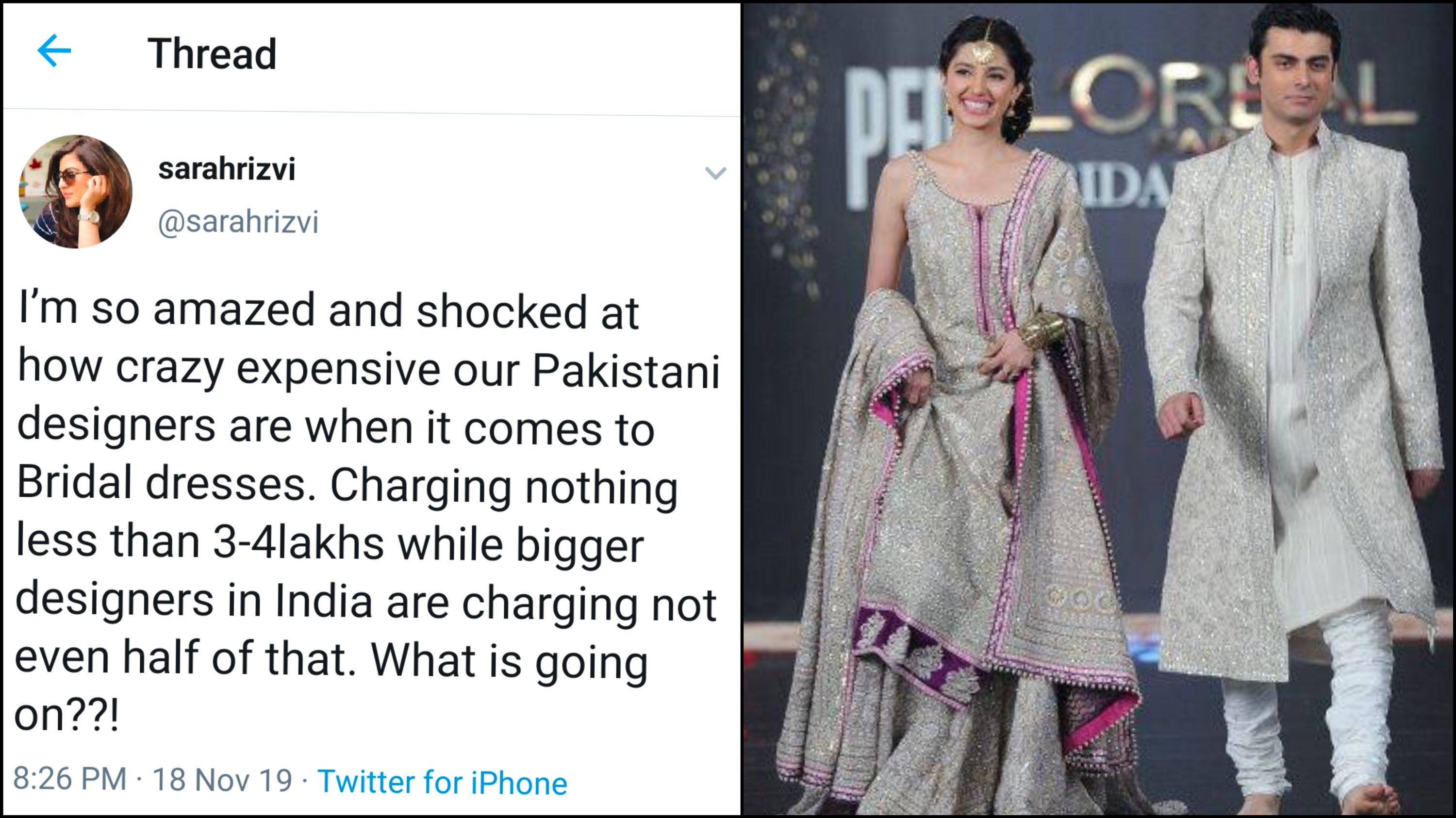 A girl shared on Twitter how the prices of designer clothes are getting way out of hands for no reason. She also tried comparing Pakistani designers to Indian designers:
I'm so amazed and shocked at how crazy expensive our Pakistani designers are when it comes to Bridal dresses. Charging nothing less than 3-4lakhs while bigger designers in India are charging not even half of that. What is going on??!

— sarahrizvi (@sarahrizvi) November 18, 2019
And the internet had her schooled on what the actual prices were for the designer wear:
I doubt if it's 3- 4 lak anymore. This is barely the cost of formal wear now. And I mean 'barely'. https://t.co/6uy1rN6Czy

— . (@khwamkhwah) November 19, 2019
Some wondered what designers she was talking about:
Who are these lovely designers charging 3-4 lakhs Most Designer wedding dresses are 8 lakh & up Plus Indian designers are 20 & up

— Sadaf Haider (@tomtomatoe) November 19, 2019
Tell me as well please , Bunto Kazmi starts at 10… HSY the same range , the 3-4 lakhs are not designers , they are normal "Kaam walay" who make replicas …

— sheems (@sheems20) November 19, 2019
Many shared how finding bridals under 100k is close to impossible:
You can not get a decent bridal dress in less than 1 lac rupees.
Add up gold, other stuff, wedding dinners etc.
Wedding is more of a burden now. https://t.co/wYnVen7BlR

— Sαmαη (@saman305) November 19, 2019
Some suggested that smaller designers be given a chance!
*Boycott Expensive Bridal Dresses*
Give chance to small designers, who make perfect dresses is very less amount. You wear that dress only time in life, why spending 4 lacs on a dress just to look special while you are already special for everyone that day because its ur wedding! https://t.co/8gzTquVUux

— Ali Qasim (@aliqasim) November 19, 2019
People should boycott these unnecessarily expensive designers and have faith in their local Tailor https://t.co/rmHhgSH4Ui

— Rana Shazib (@RmShazib) November 19, 2019
Some shared how they all look the same:
and they all just look similar, now.

— sarah.jpg (@SarahKaSaraah) November 19, 2019
Many pointed out how the currency in India was better:
Indian rupee is better than the Pakistani rupee. Also there are varieties of Indian and Pakistani designers. The budget ones are there as well as the real pricey ones. https://t.co/u3xfgP9iL5

— Mahwash Ajaz (@mahwashajaz_) November 19, 2019
Insane!
Goes upto 25-35lac

— Vérité Seulement.⚜️ (@Khaaksaar__k) November 18, 2019
Some had theories:
This is known as purchasing power and the strength of buyers opinion.

Pakistanis stupidly pay whatever they are asked for, however Indians make sure every penny spent has value for money.

— Marium M. Hussain (@marium_mh) November 19, 2019
Many shared how this amount was still affordable:
um, 3-4 lakhs are considered perfectly 'reasonable' by most. on the lower end actually, if you are going with designer wear… https://t.co/EwxO5Vr50P

— Madiha R (@ahidamzair) November 19, 2019
In khi, 3-4 lakhs is still 'reasonable'. Crazy race here.

— AeyBee (@AnumJaffry) November 18, 2019
Some agreed with her:
I agree. I asked for an estimate from an Indian designer and they were charging less than what Pakistani quoted@me

— Noor ul Huda (@noorrulhudaa) November 19, 2019
People were happy someone said it:
Finally truth has been spoken ❤

— ⓜⓐⓡⓘⓐⓜ (@MariamtahirKhan) November 19, 2019
Finally someone said it!!

— zainab qureshi (@xee_que) November 19, 2019
We love a good bargain:
This is why mum goes to sadar bazaar

— hammad 🇵🇰. (@HF00TY) November 19, 2019
Some shared how they find the prices not even worthy:
Nomi ansaris starts at 6 & this new designer who goes by the name of some Doctor starts his bridal from 10 & they are pure shyt!

— Kween TigerLily (@mia__utopian) November 19, 2019
Some wanted to know if these designers even pay their taxes:
Serious question.. how much tax do these designers pay on their earnings.. is their a way to gauge their earnings? Do they come in the net? https://t.co/gh1synIAA7

— Sherry (@CherieDamour_) November 19, 2019
Some shared how they plan on saving on clothes at their wedding:
Worst part u ain't ever gonna wear that dress … I'm going for a Syrian & Turkish design gown for my Wedding Reception !! Never will waste that much amount one dress .. Benifits of working in Humanitarian field is that life has become to Real for me ..#JustSaying #tuesdayvibes https://t.co/eTSO1ejOtC

— Ziarah Ali 🇵🇰🇮🇹🇹🇷🇦🇫 (@Ziyah_Bari12) November 19, 2019
Yar if i ever get married, I am gonna wear my amma's valima jora for my nikkah. https://t.co/oCH6w2CMTi

— Maryem (@Maryem_Imran) November 19, 2019
Some educated her on how there's a bridal dress that fits every budget in Pakistan:
There's a bridal jora available as cheap as 5k rupees in Pakistan. Sab ko designers say masla hota nai even though they're not forcing you to buy their product. https://t.co/Y8HnndoNRu

— E (@berraghark) November 19, 2019
Many did the math for her and compared the prices:
Sabyasachi ranges from 3.95 lakh – 7 lakh
Which Is Pakistani 8.54 lakh – 15.14.
But since prices aren't converted like currency conversion: cost of living is roughly 10.03% lower in PK meaning sabyasachi is way expensive in comparison to faraz manan, hsy, parwani etc. https://t.co/kcnfMN1y8M

— سک آف یور نانسینس سغراں (@01101100A) November 20, 2019
What do you think about the bridals being this pricey these days? Let us know in the comments below!