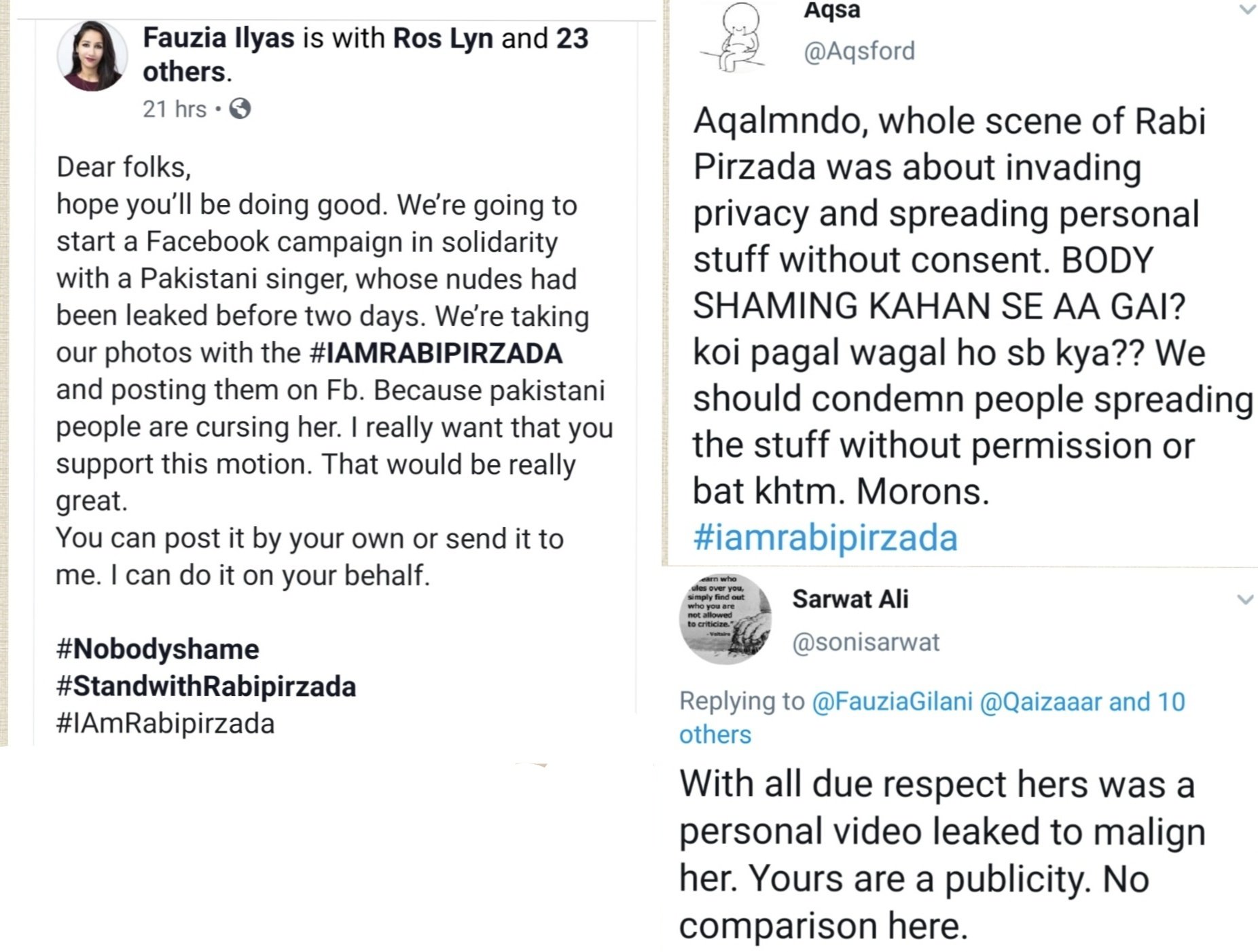 As private pictures and videos of Rabi Pirzada surfaced the internet, many stood by her side calling out the culprits for breach of privacy. And while the internet was all for standing in solidarity with Rabi Pirzada, a girl named Fauzia Ilyas took things in a whole different direction: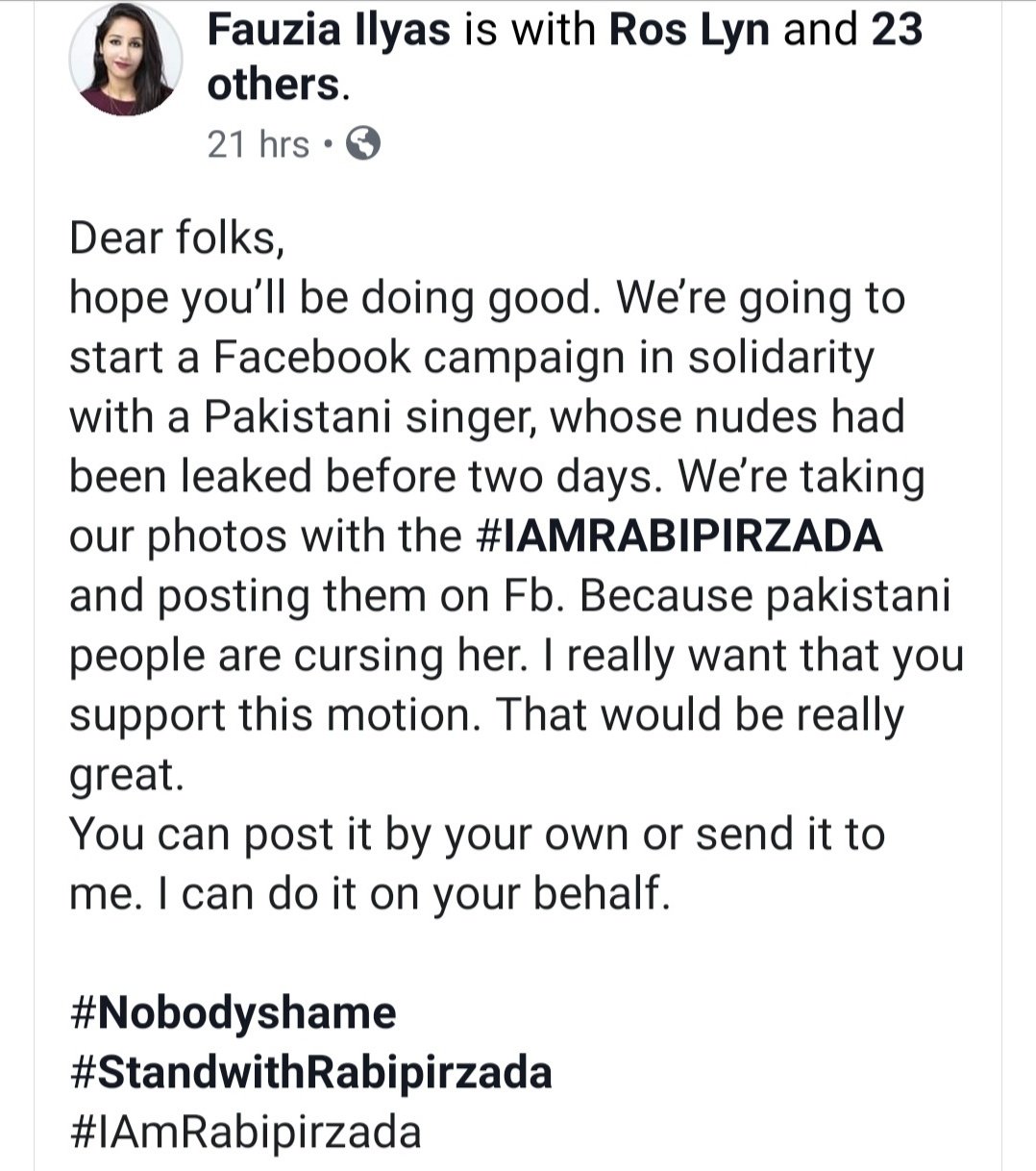 In a post on Facebook, Fauzia urged other women to come forward and share their nudes with the hashtag #IAmRabiPirzada and she began by uploading hers.
There's nothing to be ashamed on your body.I don't understand why always more & more women get bullied just because of their body.
Rabi Pirzada done nothing wrong. Its her life. It's her choice. Shame on those whose cursing her. #IAmRabiPirzada#Nobodyshame#WestandwithRabi pic.twitter.com/kRuwpTy7oY

— Fauzia Ilyas (@FauziaGilani) November 2, 2019
According to Fauzia's logic, it's the nudity that offends people and honestly, we're trying to find logic here. Fauzia also added the hashtag #NoBodyShaming and somehow turned it all about body shaming, closing her eyes to the real issue which remains breach of privacy.
Its my choice to support #Rabipirzada in this way. If people don't get offended by nudity while watching the porn then they shouldn't even get offended to see a naked woman supporting a cause.#iamrabipirzada
Thank you everyone for support.❤️ pic.twitter.com/Y86516CUxD

— Fauzia Ilyas (@FauziaGilani) November 3, 2019
And the internet was just not having it! The hashtag #IAmRabiPirzada was a top trend ever since her Facebook post: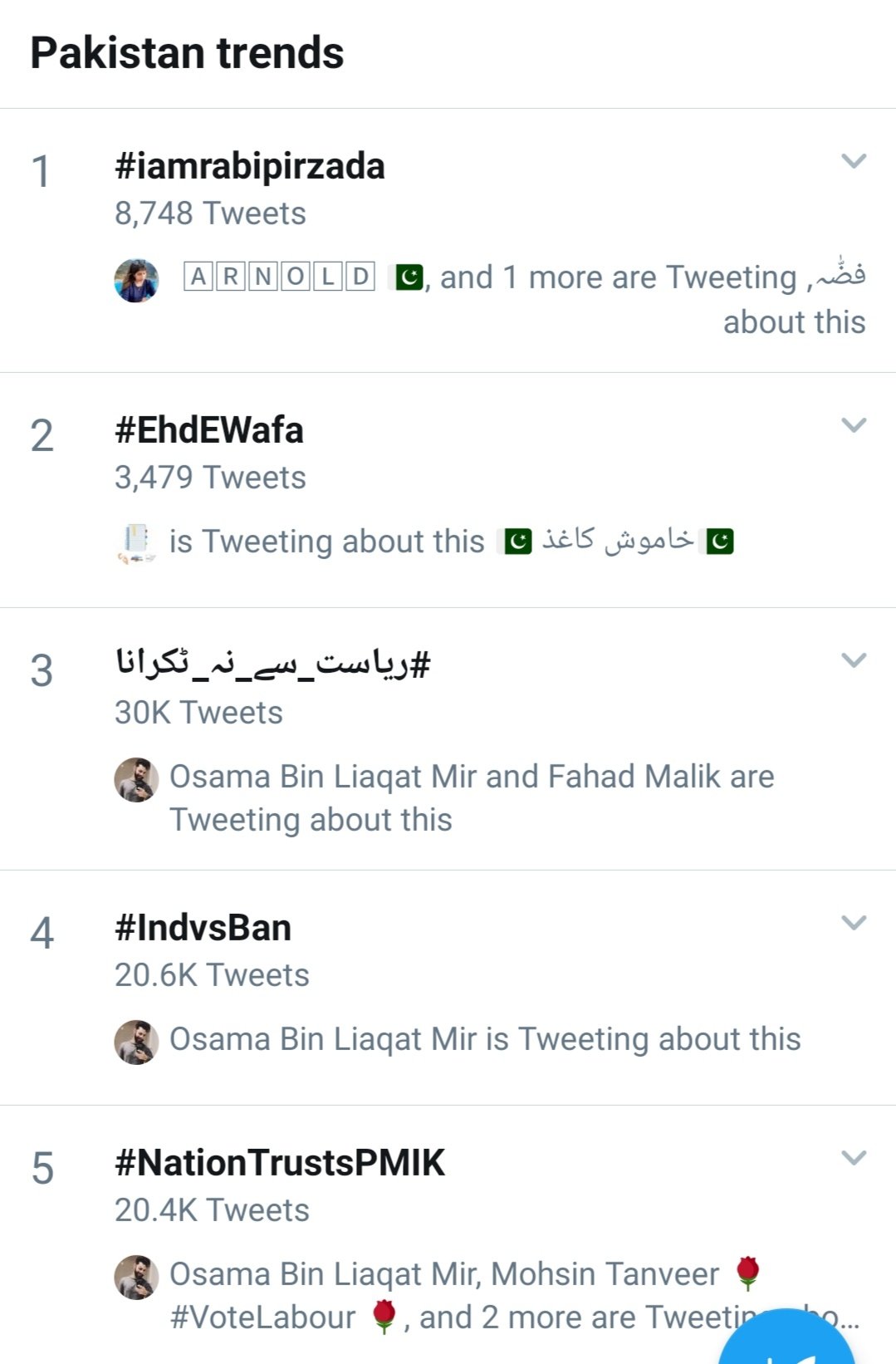 And the internet was going nuts!
And this is the shittiest way supporting her.

— Aisha Jamil (@ItsssAisha) November 3, 2019
People were calling her out:
With all due respect hers was a personal video leaked to malign her. Yours are a publicity. No comparison here.

— Sarwat Ali (@sonisarwat) November 3, 2019
Some thought it was entertainment for the desperate lot out there:
#IAmRabiPirzada
This trend is nothing but more entertainment to the desperate people
there is no other point of it
yes i agree that whatever she did was her own business lekn jo jahil aik bar ksi ki pictures ka low level mzak bna skte hain unko or pictures se sabit kya krna hai?

— 🌼Ꮭ𝔢ᵇᵘ (@perferror) November 3, 2019
People told her how there are sever other ways to stand in solidarity:
there are several other ways to convey the message bro, you are just filling the cup for thirsty beasts lurking about twitter !

— Uzzi (@pindhfloyd) November 3, 2019
People were not okay with normalizing nudity in the name of solidarity:
The girl who started #iamrabipirzada by posting nudes, she's an atheist, runs atheists organisation also has blasphemy charges. I feel ashamed for being part of the society where ppl are following this trend. This campaign will do nothing but normalise nudity. We're a lost nation

— Izma. (@IzmaSiddiqi) November 3, 2019
Many agreed how the idea was simply stupid: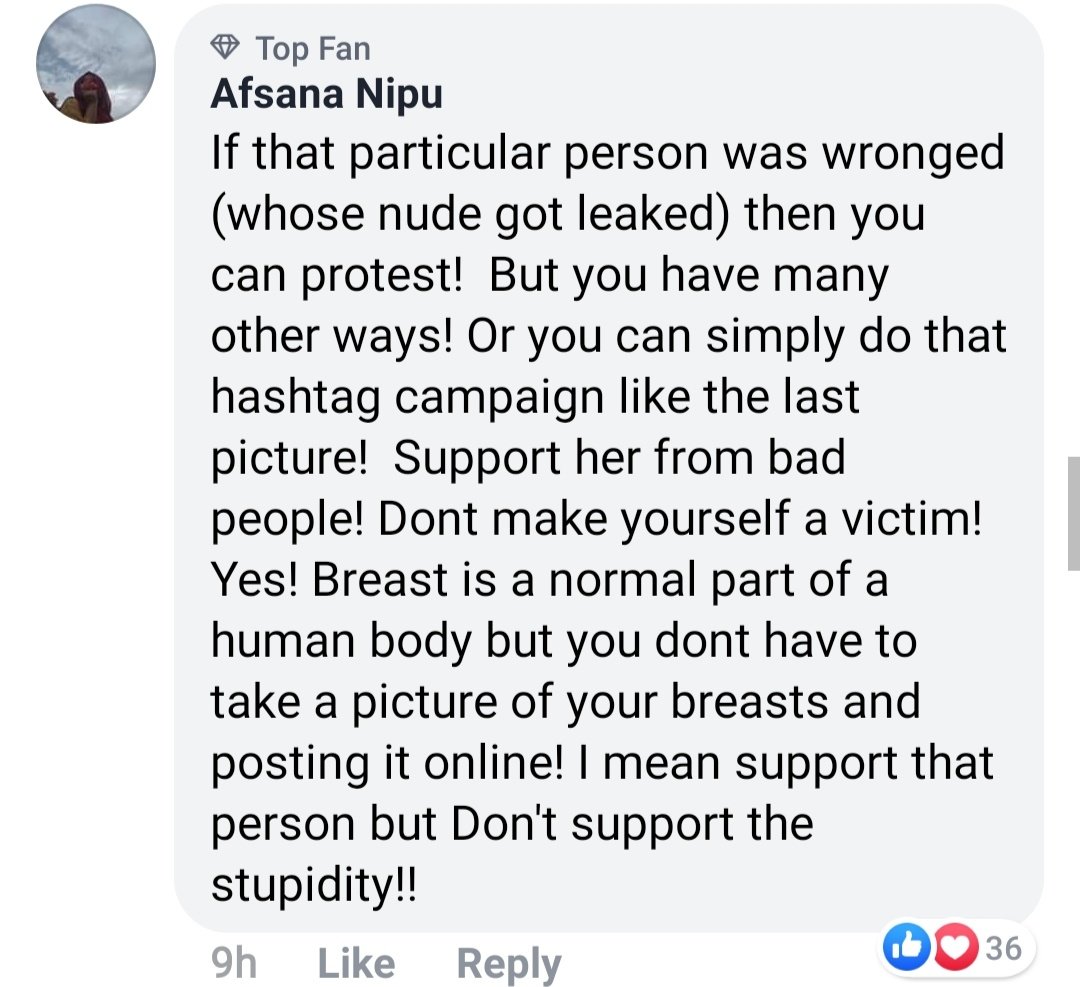 Fighting for privacy by exposing your own is never the right way:
Is #iamrabipirzada movement ne Naya Pakistan ko change karke Nanga Pakistan bana diya hai! Express your solidarity by fighting for privacy not exposing your own! YUCK.

— Badarism (@mbpunjabi) November 3, 2019
People reminded her what the real issue was:
Aqalmndo, whole scene of Rabi Pirzada was about invading privacy and spreading personal stuff without consent. BODY SHAMING KAHAN SE AA GAI? koi pagal wagal ho sb kya?? We should condemn people spreading the stuff without permission or bat khtm. Morons.#iamrabipirzada

— Aqsa (@Aqsford) November 3, 2019
Exactly:
Rabi pirzada DID NOT want her videos to leak, DID NOT want everyone to see her. She wanted her privacy to be gaurded. And guess how are ppl supporting her? By posting their own nudes publicly and turning it into 'Be proud of your body' campaign. Lmao, 4th most intelligent nation!

— Hassan Cheema (@Gotoxytop1) November 3, 2019
And that it wasn't in any way related to body shaming:
A moment of silence for all those people who are posting their nudes under #IamRabiPirzada to show her their support by making this whole thing about body shaming. 🤦🏻‍♀️🤦🏻‍♀️🤦🏻‍♀️ pic.twitter.com/DtW7tITJrB

— Aphrodite (@TheGrumpyDoctor) November 3, 2019
Some were of the opinion that this was more of a #CheckOutMyBody campaign: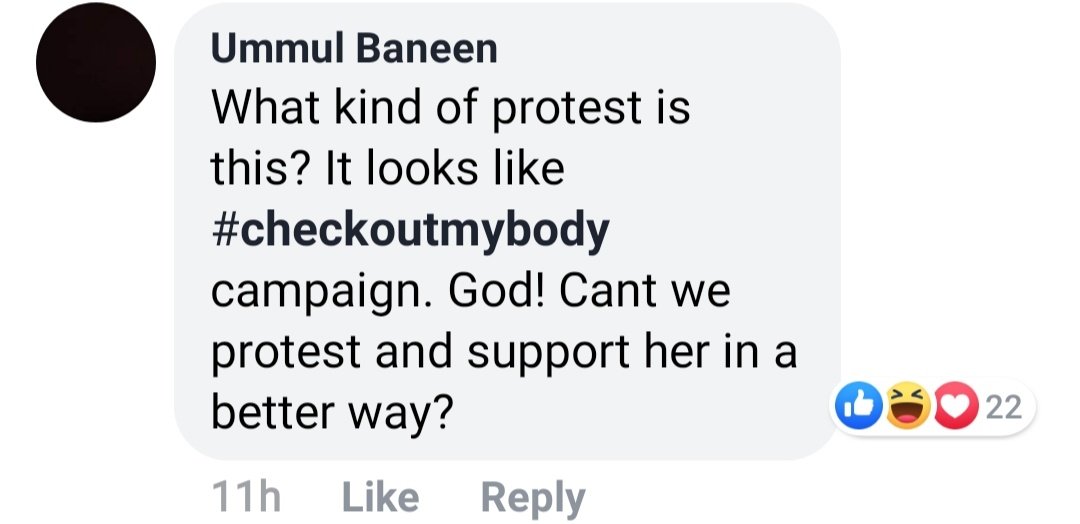 Well:
Feminists RN #iamrabipirzada pic.twitter.com/b1GeBZjAIq

— Usama Suffian (@SuffianUsama) November 3, 2019
All the tharkis on the internet were having a ball:
Peeps uploading their nudes with #iamrabipirzada
Le tharki: pic.twitter.com/WjWROfUXlt

— 🛡️ M01Z🔰® (@MIZ__TER) November 3, 2019
Many were convinced that it was time to leave the planet:
Disgusting #IAmRabiPirzada pic.twitter.com/fAhH6xTfX1

— hade (@TechnosnailH) November 3, 2019
Others compared it to that of being murdering yourself to support the murdered: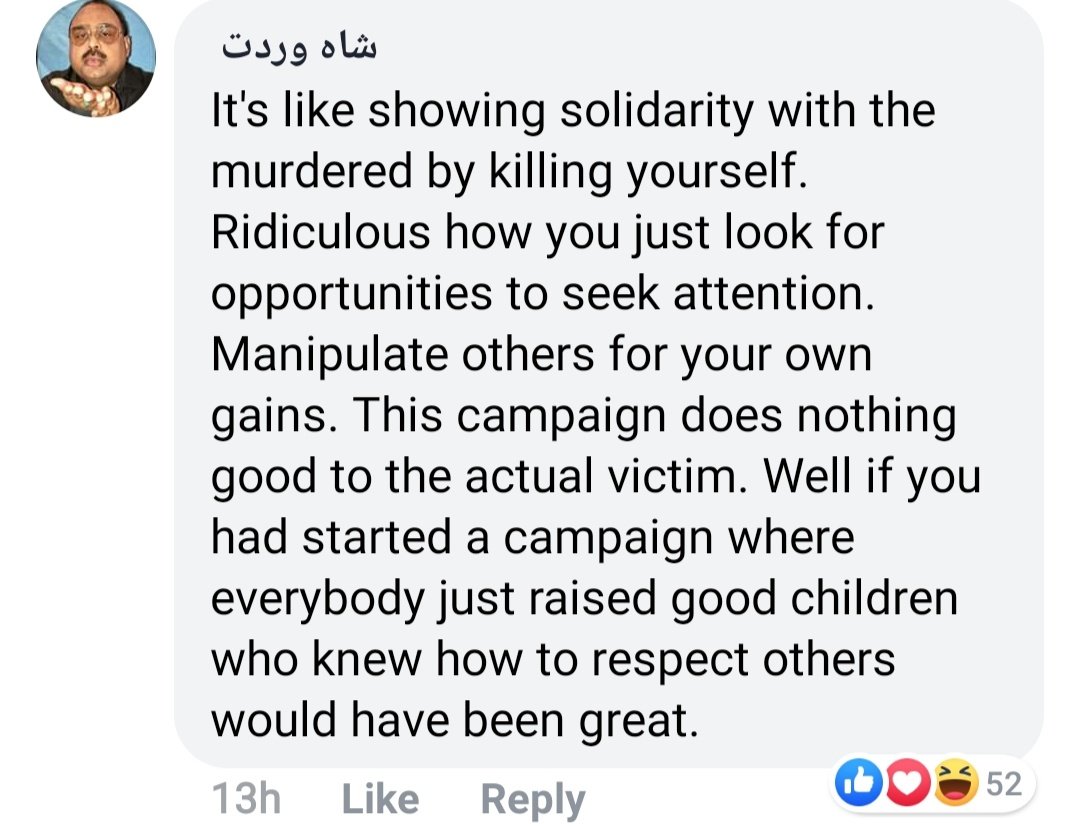 Some told others how posting pictures of their own was making matters worse:
All the liberals uploading their bold pictures with caption #iamrabipirzada #SaveaSoul . You are making it even more worse.

— Arslan Javaid (@Raja_G_) November 3, 2019
Some thought she had an agenda:
Actually, Fauzia is trying to make female nudity a normal thing in Pakistan, which is normal in other parts of the world.. #iamrabipirzada

— Tariq Ahmed (@tariqahmeed) November 3, 2019
What are your thoughts on this matter? Let us know in the comments below!