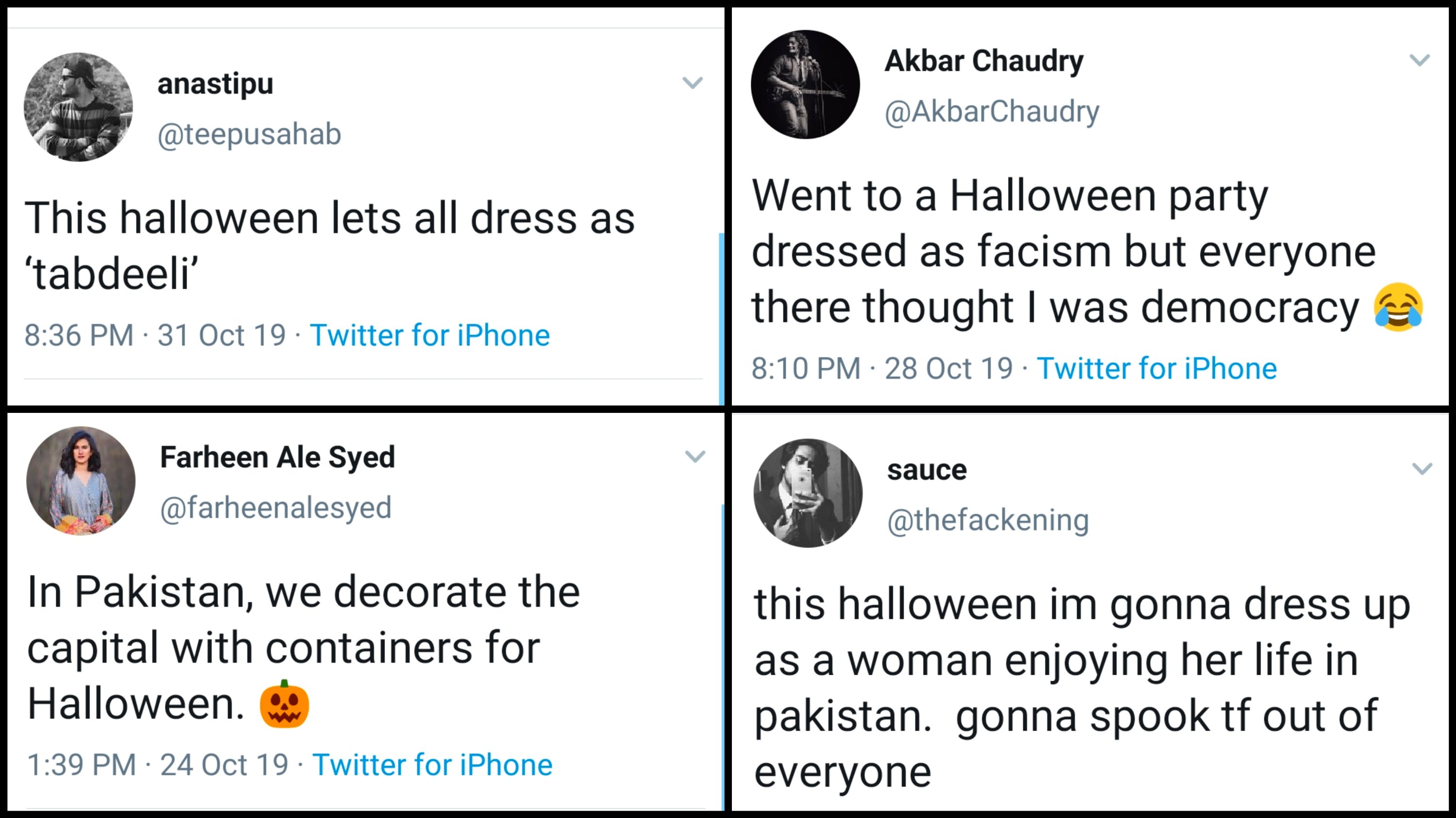 The world just got done celebrating Halloween and while desis were busy arguing if it's Halal or Haram, legends were tweeting out what desi Halloween looks like in Pakistan and honestly, they're absolutely hilarious!
Went to a Halloween party dressed as facism but everyone there thought I was democracy 😂

— Akbar Chaudry (@AkbarChaudry) October 28, 2019
That's how we roll:
In Pakistan, we decorate the capital with containers for Halloween. 🎃

— Farheen Ale Syed (@farheenalesyed) October 24, 2019
The scariest thing:
Everybody is a gangsta until you came home late and your dad's already waiting for you behind the door. Now that's more scary then your halloween shit irl.

— Mustaqeem Bhai (@desiipops) October 31, 2019
Some thought of dressing as Tabdeeli:
This halloween lets all dress as 'tabdeeli'

— anastipu (@teepusahab) October 31, 2019
Now that's one heck of a costume:
this halloween im gonna dress up as a woman enjoying her life in pakistan. gonna spook tf out of everyone

— sauce (@thefackening) October 31, 2019
Ranveer's Halloween costume definitely won the internet:
— hussain. (@mhussainnn) November 1, 2019
Shots were fired:
Every day is Halloween when the spooks are in charge 👻👻👻

— Reem Khurshid (@ReemKhurshid) October 31, 2019
No one can beat desi mums, literally and figuratively!
When your desi mother designs your halloween costume pic.twitter.com/Ezxa6G0b0H

— The Sarcastic Babe (@DaSarcasticBabe) November 1, 2019
😂😂
Went out as myself for Halloween.

Hope I didn't scare too many ppl 🤣🤣😆

— 🌈Zara Khan🏳️‍🌈 !FGM happens in Pakistan! (@whale_sister) October 31, 2019
Isn't it?
Everyday is Halloween in Pakistan.

— Jon snow, Eh??! (@ahadabbasii) October 31, 2019
Halloween in other countries: Spooky costumes, themes, candies.

Halloween in Pakistan (365 days): MOBILE NIKAAL. TAX NIKAAL.

— Fadn't (@dedfad) October 28, 2019
The truth we didn't need to hear:
Halloween is all year round and we're all dressed as adults

— swineryy (@swineryy) October 31, 2019
HEYYY! 😑
This halloween dress as your Bf who's been ghosting you

— Honda Civic 2006 (@slightlyused8) November 1, 2019
Now that was smoooooooth, #HalalPickupLines!
In case you're not sure what you're gonna be for Halloween…you can be mine

— نورین میمن (@naureen_memonn) November 1, 2019
We see them everyday on our timeline!
halloween was yesterday but I still see clowns on my TL 💯

— yikes (@indecisivealysh) November 1, 2019
True that:
this halloween go as a man cuz nothing more terrifying than them

— Atiya Abbas (@AtiyaAbbas_) October 31, 2019
Yar Phupho ka mazaak nai!
This Halloween I might dress up as my phuppo as she's the most scariest being I know. #spookyseason

— jia (@jiaaah10) October 28, 2019
Lmao 😂
So in Pakistan its not Halloween 🎃🎃🎃🎃🎃🎃
Its Molveeen

— n.malhi (@mnMalhi) October 30, 2019
Stop hitting too close to home * mildly offended *
u need a halloween costume cuz u are already wearing a face that isn't yours.

— Abid Raza (@iamabidraza) October 28, 2019
I mean might as well dress for the occasion:
When you're getting married BUT it's Halloween 🎃 pic.twitter.com/YxI5sJLLpO

— M Affan Ayub (@fahnisen12) November 1, 2019
People were really creative with them ideas:
for Halloween I want to dress up as a pregnancy scare

— swineryy (@swineryy) October 28, 2019
Jahan dekho joker:
every moron who is going to dress up like the joker on halloween is the kinda person the joker would have wanted to kill.

— Ranting Pakistani (@RantsPakistani) October 29, 2019
We stan them gulaab jaamuns!
Pakistan main halloween hota to trick or treat main gulab jaman miltay

— Rebecca (@Rab_Aly) November 1, 2019
Have anything to add to the story? Let us know in the comments below!