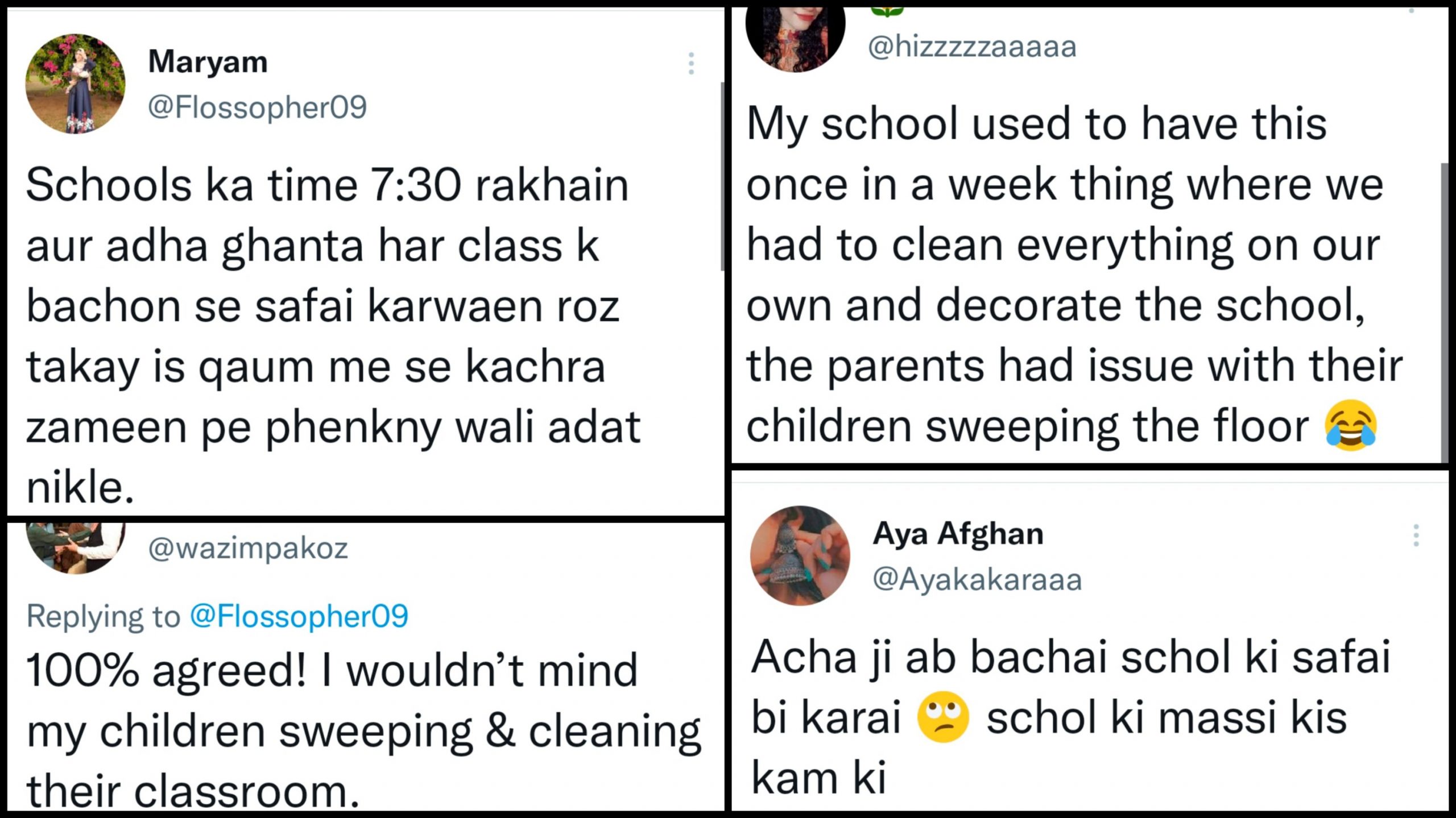 Sick of the increasing pollution at public spaces, a girl has come up with a plan to train students to keep their surroundings clean:
Schools ka time 7:30 rakhain aur adha ghanta har class k bachon se safai karwaen roz takay is qaum me se kachra zameen pe phenkny wali adat nikle.

— Maryam (@Flossopher09) August 16, 2021
But the netizens think differently:
We used to get 15 extra minutes after break time to clean the ground. Each day a different class. There was no improvement even after months. We picked up as much trash on the last day as we did on the first.

— Tayyaba Ahmad 🇵🇰 (@whatsuptee) August 16, 2021
People were also sharing how parents would never agree to it:
Children may do this but parents won't allow. Even if a teacher scolds some kid, his parents are there in school the next day to threaten teacher.

— Abdullah🎗 (@iamabdullyh) August 16, 2021
People were sharing how we need the community service pattern desperately here:
In Japan, students in all government-run institutes up till high school are made to volunteer in community service. We need that here.

— Sheikh Sa'adi (@sidthepathan) August 16, 2021
It sure is:
The saddest thing you see while visiting northern areas is the garbage that the tourists leave behind. It's awful.

— hamna27 (@hamna27) August 17, 2021
Makes sense:
It won't work. It'll just be a futile exercise.Unless the govt removes all eyesores of garbage heaps form the roads of Khi, ppl won't care.What's the point of picking tarah from one corner just to dump it another corner. This gargantuan task can't be done by citizens now w/o govt

— Sana (@sanajamaltasnim) August 16, 2021
People were sharing similar experiences:
Just remembered, how in my village primary school, we were given a weekly scheduled duty of cleaning called "Safaai ki baari" to clean the complete school as there was no peon for this job, back in 2006.

— Hamzah Siddique (@a_khyaalvi) August 16, 2021
People were suggesting that their parents be involved in this too:
I say k in bachon k parents say bhee safae karwayn. bachay to apnay baron say he seekhtay hain! https://t.co/9IiYljSFdH

— 🇵🇸🇵🇰شعیب فاروق (@zulu_9er) August 17, 2021
Agreed!
Better time for this would be before they go back to home. Sara din jo karchra kea us ko utha kar jaao aur baqi ke cleaning & dusting subha sweepers aa kar dein gy. https://t.co/kZHs2SglKq

— Ibrahim | ابراہیم (@SardarIbrahimIK) August 17, 2021
Exactly!
Remember while studying in Touchi Public School Miran Shah, we used to clean our grounds before being allowed to play. Even if their was no litter we used to pick pebbles to clear the ground.
Civic sense is something most of us has forgotten & need to relearn.#Pakistan https://t.co/z3w6UDG1AT

— Faisal Ashfaq (@faisal_qafhsa) August 17, 2021
🤦‍♀️🤦‍♀️🤦‍♀️
My school used to have this once in a week thing where we had to clean everything on our own and decorate the school, the parents had issue with their children sweeping the floor 😂 ye Pakistan ha, yahan ki awaam uth ker paani peena pasand nae karti lol https://t.co/8oW6tnBLyF

— 🌻 (@hizzzzzaaaaa) August 17, 2021
Kya kar saktay hain:
Kuch parents ne bachay school se hatwa lene hain k hmare nazuk bachon se safai krwayi ja rae hai. 🙂 https://t.co/d1kiaWfKfn

— Rabea 🇵🇸🇵🇰 (@rabeayaarbskro) August 17, 2021
People were quoting examples from different countries who follow the same practice:
@DrMuradPTI
Many Japanese schools don't employ cleaners. They ask the children to clean their own surroundings. No wonder, Japanese are amongst the most polite and well-mannered nations. https://t.co/MZPisbGXmL pic.twitter.com/S6lv09yw1H

— Munawar (@2munawar) August 17, 2021
In Japan the kids clean up the schools, cafeteria & even washrooms I hv heard.
We tried to get students to clean up here & their parents came huffing n puffing that our kids r not sweepers. https://t.co/9HTQ1XMMed

— ناجیہ 🇵🇰 (@eleuthromaniac7) August 17, 2021
It's a standard procedure in S Korea, last 30 minutes before break

— Fawad (@Fawad__Ahmed) August 16, 2021
Some weren't exactly on the same page:
Acha ji ab bachai schol ki safai bi karai 🙄 schol ki massi kis kam ki https://t.co/WT2c7pfmkQ

— Aya Afghan (@Ayakakaraaa) August 17, 2021
Do you think following a similar initiative will help? Let us know in the comments below!