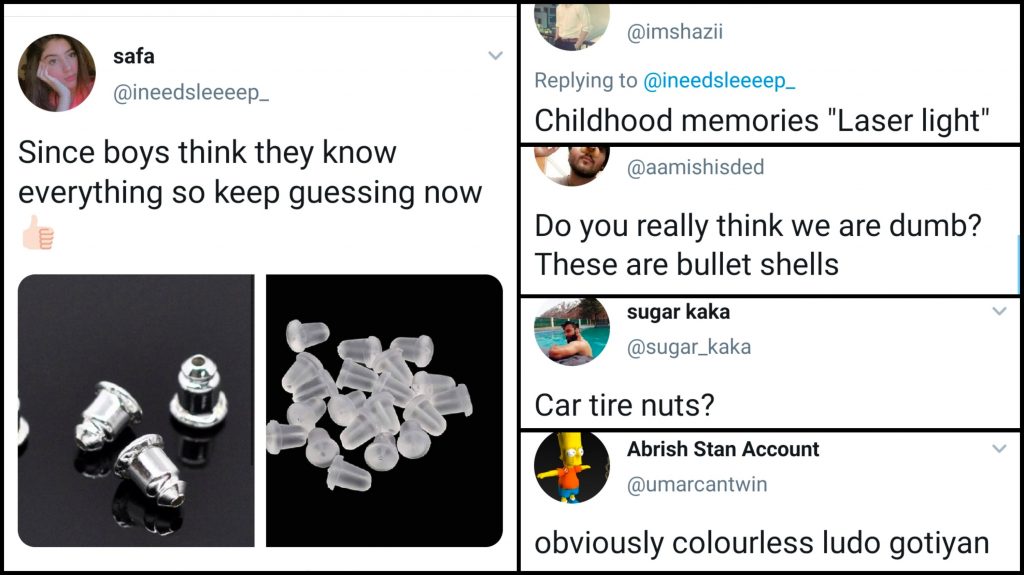 Every few days men and women challenge each other to guess what's in the picture they post, from beauty blender to car tools, they think they know it all.
Keeping up with the trend, a girl challenged all the men to guess what this is:
Since boys think they know everything so keep guessing now 👍🏻 pic.twitter.com/ZHFleRYbeb

— safa (@ineedsleeeep_) July 6, 2020
And it's very easy if you're a girl, but the guesses these men had are wild!
Bullets and rubber bullets. Yes.

— Nousherwan. (@NousherwanKhan) July 7, 2020
Someone thought they were ludo ki gotiyaan 😂
Metal ans platic ludo gittiyan?

— næwaz shareef (@adiyala_jail) July 6, 2020
obviously colourless ludo gotiyan https://t.co/MMSuLxfjuV

— Abrish Stan Account (@umarcantwin) July 7, 2020
You also need a special screw driver to tighten them:
wallah these are screws

— gul 🏳‍🌈 (@bitchlasagnagul) July 7, 2020
Aisa confidence chahiye life mei:
Wallahi y'all act like we dumb or some fr 🙄 this the soft part of the earphones https://t.co/CZFEdR0BlD

— 𓅕 (@iabd31) July 7, 2020
To add to the dilemma, girls kept dropping hints:
Either they are too loose or they are lost without any clue. A constant dilemma

— Brunette (@NotYourDruggist) July 7, 2020
Sir, no!
Nipple enlargements?

— Tayyab Ali (@gunhwk) July 6, 2020
are these used for nipple enlargement?? https://t.co/7dDoJvq2Z3

— Asad Bajwa (@CaptJackChiri) July 7, 2020
Same!
I keep losing them 😭

— Punker Udaas (@PunkerUdaas) July 6, 2020
You wish!
Self tapping bolts?

— PB 620 (@pb6201) July 7, 2020
Finding the perfect ones is sheer luck!
Steel ones are too lose aur rubber wali too tight

— hamnaa. (@namastebeech) July 7, 2020
Ma'am, no!
easy….menstrual cups https://t.co/w5xKuMysk3

— howmanygecs (@alishbalishba) July 7, 2020
Hahahahahaha 😂
beauty blenders , it was easy https://t.co/mJez0gmXee

— 💀 (@zzerotonin) July 7, 2020
Many took a different approach on trying to guess:
Self defense?
Bullets maybe?
But why do they have a hole in between … Maybe a sling shot projectile 🤔

Ajeeb🥴 https://t.co/G2rQ74IbRy

— Mubashir Zia 🛡 (@Green85th) July 7, 2020
Yeh check karein:
Car tire nuts? https://t.co/epQAu5N3wq

— sugar kaka (@sugar_kaka) July 7, 2020
Omg, FACT!
Their two modes:
Loose and lost. https://t.co/OIuMX5hh7h

— neeee aaaashaaaaan (@Ayesha_usf) July 7, 2020
Sure…
the sponges u put in ur earphones https://t.co/8GCc4mezaK

— meer**n (@meerundi) July 7, 2020
👏👏👏
Do you really think we are dumb? These are bullet shells https://t.co/atykYXnbhj

— AAMISH (@aamishisded) July 6, 2020
Yeh toh hai!
It's a thing jisey ap locker ma bhi rkh dein waha se bhi Yeh gayab hojaingey MASHA ALLAH https://t.co/VyMewOVYga

— Faiza Iqbal (@Faiza_Iqbaal) July 7, 2020
Ummm?
Ismein wo jelly aati thi😍 https://t.co/FKUikx4LLF

— ⛔ (@nahhhhseez) July 7, 2020
Haha!
Childhood memories "Laser light"

— Shahzeb Yousafzai (@imshazii) July 7, 2020
Can you guess what these are? Let the comments begin!