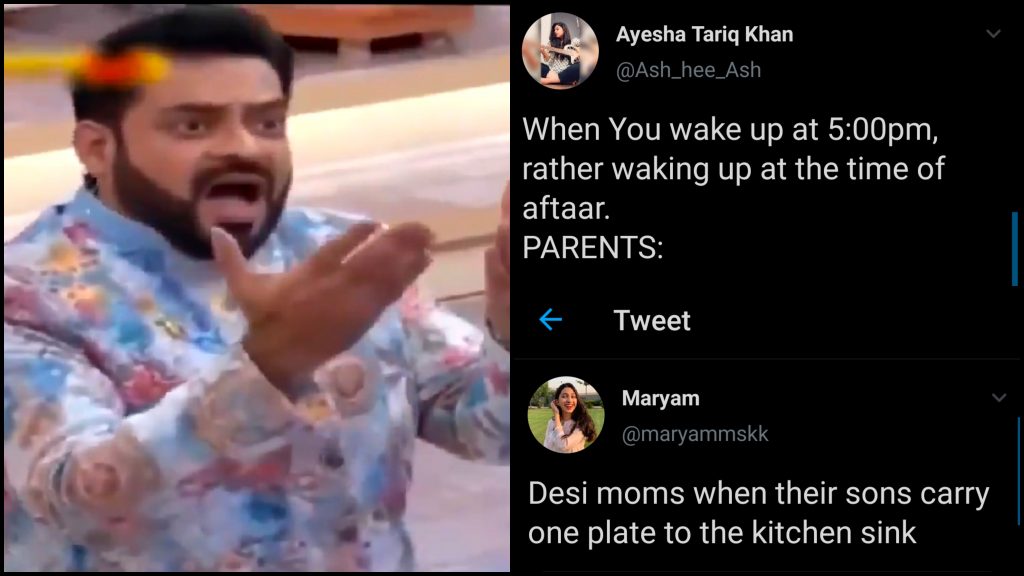 Every Ramzan Aamir Liaquat gives us best meme material, and he hasn't disappointed us this year as well!
Bomboclaat pic.twitter.com/8bZEWXaQ5R

— Asher. (@asherbaigzz) May 9, 2020
After a clip from his show went viral, the internet just can't stop making memes about it:
Me : I'm sad

People : Don't be sad

— Huzaifa. (@HuzaifaQureshii) May 9, 2020
Roza rakha hai ya faaqa kiya hai?
When You wake up at 5:00pm, rather waking up at the time of aftaar.
PARENTS: https://t.co/wL7VlXRC2T

— Ayesha Tariq Khan (@Ash_hee_Ash) May 9, 2020
Been there 😂
*Religious scholar on TV lecturing about walidain k haqooq*

My mom: https://t.co/TvQdYp6kJi

— Ayeshay (@champagne_lassi) May 9, 2020
Ek aur tordoh:
My mum sarcastically after I dropped a plate https://t.co/3dhphUx5RU

— Bilal (@billy2punchss) May 11, 2020
my mom after i accidentally break a glass https://t.co/LQ1TaqWxT8

— aahmnuh (@aaaaaamna) May 9, 2020
Proud parents!
Desi parents when you speak English with someone pic.twitter.com/hTFoViiNS2

— Memes of Pakistan (@MemesOfPakistan) May 9, 2020
Men, take notes!
How ima gas my future wife when she's dressed up all nice for the occasion

— Ludo King SHEEN (@Untheriouth) May 10, 2020
Humara sughar larka:
Desi moms when their sons carry one plate to the kitchen sink https://t.co/XLcJdFnTOH

— Maryam (@maryammskk) May 9, 2020
Ha-ha-ha-ha-ha 😭
*uber driver cracks a lame joke*
me who don't want to get kidnapped : https://t.co/7IwAOKz8Ak

— Ushna (@Oshnaaa) May 9, 2020
Baji ek ek daana meetha hai!
Tarbooz wala cutt lagany ky bad https://t.co/CfsDd4Ddfl

— Haya Suleمan. 🔥 (@EngHayaSuleiman) May 12, 2020
Haha, all the Atif fans raise your hand!
Atif Aslam: Aaaaaaa…………………………
Me: https://t.co/KAL0s1OtcV

— joey (@fahadyousuff) May 9, 2020
*mentions it at the rishta meeting*
Desi mothers when their son washes one spoon https://t.co/1rS8AKoxsl

— McBaŋɠ (@TheMcBang) May 10, 2020
Lmao 😂
twt girls giving fake compliments to each other to get compliments in return https://t.co/J167xvsnxj

— Akrama (@AkramaMianoor) May 9, 2020
Also, the flying chappal that comes after it!
Me talks back in an argument with my mom

My mom sarcastically: https://t.co/TlJ2oRFGPm

— Alysh (@rosefreckle) May 10, 2020
Babar agaya maidaan mei, ho jamaalo!
Pak fans whenever Babar Azam is at the crease. pic.twitter.com/03pahHK2I9

— Ahmed (@azkhawaja1) May 9, 2020
Dad, you so funny 🤑
When dad cracks a lame joke but son needs money. https://t.co/V8LZSYrxG3

— NONNIE 🇵🇰🇳🇿 (@fries_send) May 10, 2020
Yeh top karega!
Examiner: what is the blood supply of stomach?
Backbenchers: sir Aorta
Le examiner: https://t.co/eJJxt7POhu

— hafsa👩🏻‍⚕️💉 (@HafsaHungryy) May 12, 2020
Hahaha, heyyyy, we're trying!
Me: *finally offers namaz for once*

Farishte: https://t.co/vqmUKnkkic

— Moochar (@AsliBinLaden) May 10, 2020
Itni mehnat se banati hai, taareef toh banti hai:
This is how my wife wants me to appreciate her cooking skills. https://t.co/nuWVOSiPn4

— Sc: Daniyal Barry (@daniyalbarry) May 9, 2020
ViRaLlL:
When I see more then 10 likes on my tweet https://t.co/1KscpXbBKh

— mocha (@mochiieeeee) May 12, 2020
Omg, phir kya hua miss?
Me pretending to be interested in a story the teacher is telling so she doesn't teach😂 https://t.co/CSrWb6XNTd

— 🌻 (@laibaeyy) May 9, 2020
Oooohhh:
Sunni girls when they see a shia guy. https://t.co/CAxpxJcrb4

— Saman Zaidi (@ChillplsK) May 9, 2020
Oh yar 😂
Team bulbuly cracks a lame joke
12y/o me: https://t.co/te4nxE30d7

— Toheed Ali (@ToheedSays) May 9, 2020
Wow, byooti:
*a guy calling women unfunny*

same guy in some girl's DM: https://t.co/icN6tABK0z

— zeeshan. (@theshanhaider) May 9, 2020
Aren't these funny? Let us know in the comments below!