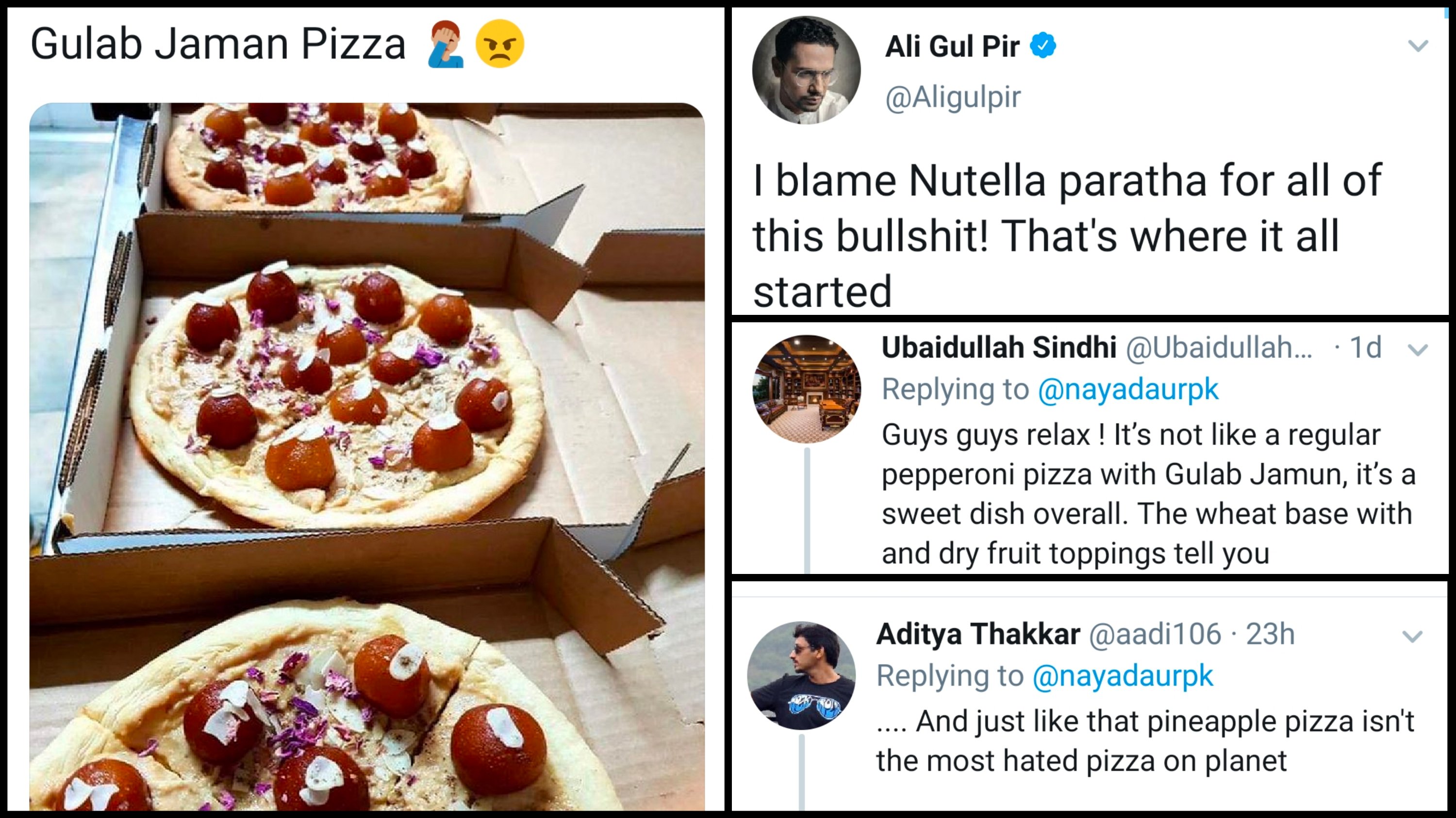 Pizza and gulaab jaamuns are two things we love, but imagine the two together… A picture of an apparent dessert pizza has been going viral all over social media:
Gulab Jaman Pizza 🤦🏽‍♂️😠 pic.twitter.com/9NSkyoi0f1

— NayaDaur Media (@nayadaurpk) November 7, 2019
And the internet is just not okay with it:
This crime against humanity needs to be tried under the Geneva convention.

— Hasnain Haider (@langahwhotweets) November 8, 2019
Comedian Ali Gul Pir found the origin!
I blame Nutella paratha for all of this bullshit! That's where it all started https://t.co/pP6Xf0sEPK

— Ali Gul Pir (@Aligulpir) November 8, 2019
Veena Malik too agreed:
100% Agreed.

— VEENA MALIK (@iVeenaKhan) November 8, 2019
But some thought it was the cheeni wala paratha that started it all:
And I will blame even father of nutella, "CHEEENI WALA" pratha

— Fatima Tanzeem Khan (@FatimaTanzeemK) November 8, 2019
It was simple cheeni wala paratha at home that gave birth to nutella paratha

— Ahmad Bilal Babar (@bilalrao93) November 9, 2019
Some were calling it culinary harassment:
this is called culture culinary harrassment

— Naveed Aman Safi (@NaveedAmanSafi) November 8, 2019
Italy hum sharminda hain:
It is totally legitimate for Italy to attack us now! https://t.co/faqDxDcfs9

— Maida Farid (@maidaFarid_) November 7, 2019
Umm, we'd rather starve:
Ah..would you like some nutella biryani with g.jaman ka terrka

— Ejaz ali (@Ejazali62494476) November 8, 2019
People were concerned about the gulaab jaamuns:
O C'mon ! How can we allow such horrible act to happen to few things which are still original, pure and consistent in this country, like Gulab Jamans ? Think we need a mass hashtag movement to save it. #savegulabjaman

— Ali Shafqat Khan (@alishafqatkhan) November 7, 2019
Wild:
Imagine a Qorma Cake on Birthdays.

— Umair Muhammad (@umairmughal7080) November 8, 2019
We do…
everyday we go farther away from god https://t.co/GkoGfttO5C

— Rushi Bhimani (@Rushibhimani95) November 8, 2019
SEM2SEM:
— pooja (@btmaxxxx) November 8, 2019
People were requesting Imran Khan to fight for this too:
Imran Khan, please! Next time you give a speech on human rights violations pick up this too!!!!! Italy will thank you forever! https://t.co/ozQ9CQfAiM

— FrancescaMarino (@francescam63) November 7, 2019
You can't!
How can i unsee this😑

— Mian Faisal (@mianfaisal56) November 7, 2019
Some had finally connected the dots:
@pontecorvoste Now I understand why the Italian embassy rejects visas in a huge number. Mr.Ambassador next time you can ask for an official statement in writing that the candidate will not alter the Pizza recipe during his stay in Italy and also when he come back to Pak.🤣

— Abrar Hazoor (@abrarhazoor) November 8, 2019
Sir please, no:
you know whats slaps together with this ? yoghurt https://t.co/FbFrGuh1w0

— Prem (@icanhaha) November 9, 2019
Wait, what?
Sir i once buy a Akhrooti Pizza from Gourmet food.. Roo rroo kr Khuda Say Maffi mangta hun us din k liye.

— Archi (@Archimachi) November 8, 2019
Brb, about to throw up:
This would work well with some blue cheese and marinara sauce. *Slorp*

— Epic Rotis (@EpicRotis) November 8, 2019
We hope so!
I'm assuming this ridiculous person is in jail by now?

— Sheharyar Rizwan (@sheharyarizwan) November 8, 2019
We feel attacked:
Now this is outright offensive! https://t.co/zXXGBN1tfz

— Marvi Sirmed (@marvisirmed) November 8, 2019
The end of the world I think:
Today I also saw maggie barfi on Instagram. What the h€ll is happening?? https://t.co/pC1a8yKvWL

— Dr. Jal Kukdi (@Jal_Kukdi) November 8, 2019
And while many were not happy with the dish, some were actually up for it:
You guys are taking this way too literally. Gulab jaman on a sweet pastry with custard or cream could make for a great dessert https://t.co/rRCrfhTbmB

— Glorified Mazdoor (@EdBasheeran) November 7, 2019
Okay:
Guys guys relax ! It's not like a regular pepperoni pizza with Gulab Jamun, it's a sweet dish overall. The wheat base with and dry fruit toppings tell you

— Ubaidullah Sindhi (@UbaidullahSind7) November 7, 2019
It had some salivating:
Like Where can I get this from

— Sadaf Haider (@tomtomatoe) November 7, 2019
Where do I buy this?

— Thucydides (@patvaryzindabad) November 7, 2019
People had the recipe figured out:
Stop overreacting guys, this is actually not bad. Topping isnt of regular pizza with cheese 😂 Meyva is used along with khoya I think. The base might be of some mithai? https://t.co/WCWrl7GVlR

— 🥭🙅‍♀️ (@AmnaKaSamnaa) November 8, 2019
What do you think about this confused Italian-desi cuisine? Let us know in the comments below!