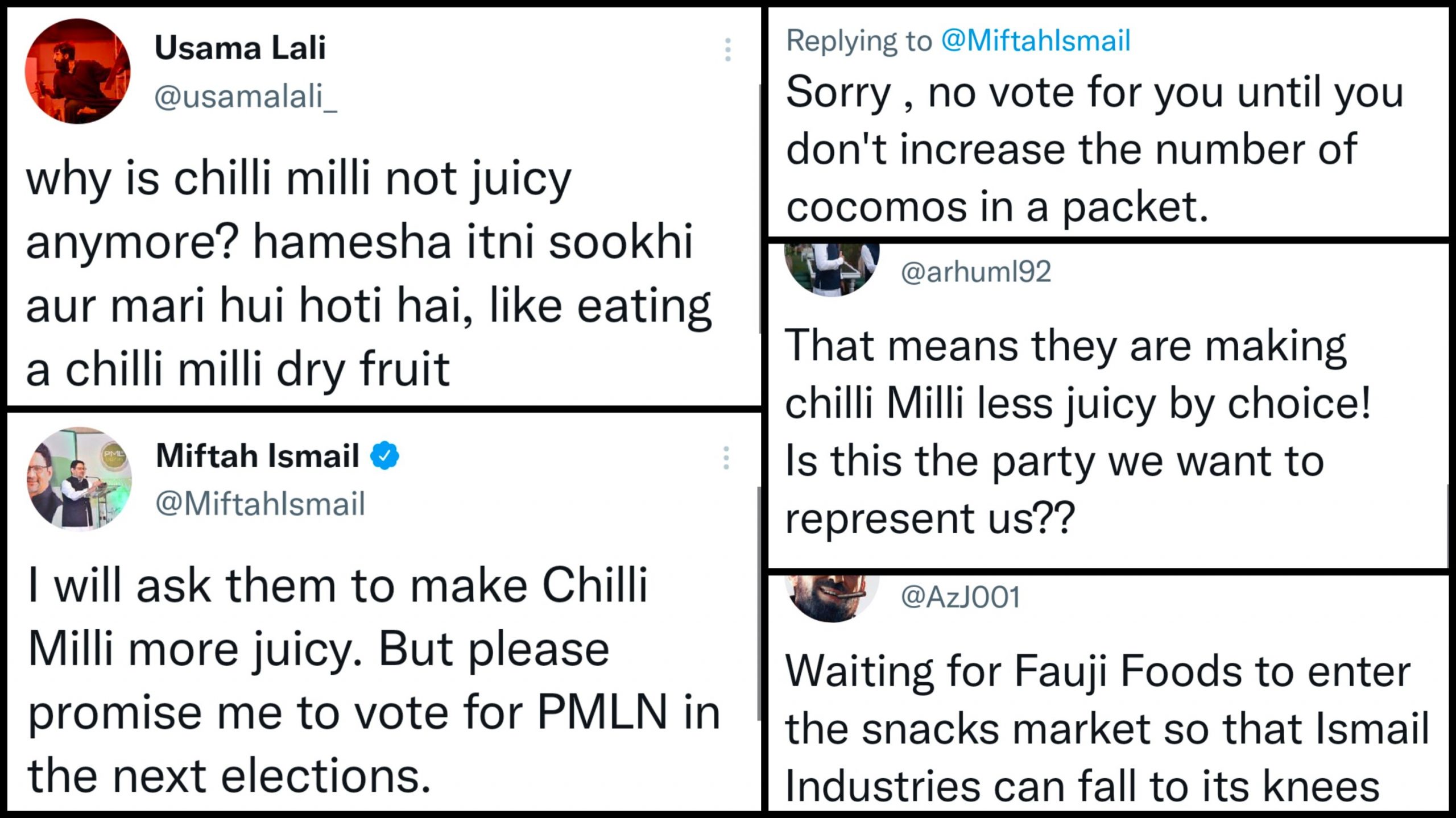 First it was the cocomo crisis and now it's chilli mili, someone on twitter shared how the 5 and 10 rupee packets of chilli mili are not as juicy as they used to be, which, we wholeheartedly agree with!
why is chilli milli not juicy anymore? hamesha itni sookhi aur mari hui hoti hai, like eating a chilli milli dry fruit

— Usama Lali (@usamalali_) August 22, 2021
And as people were retweeting, others shared that the party pack has way better quality and is just as juicy as you'd expect it to be!
The party pack is such a level up from the 5/10 rupee one. It's bizzare that it's the same production line but such a stark difference. And also cocomo, there's always more chocolate filled in the party pack!

— 🍳 (@RimshaTaj1) August 23, 2021
And while netizens were discussing this, Miftah Ismail jumped in himself and promised to work on the quality given that we vote for PMLN next:
I will ask them to make Chilli Milli more juicy. But please promise me to vote for PMLN in the next elections. https://t.co/T3OwKQjuxS

— Miftah Ismail (@MiftahIsmail) August 23, 2021
And the netizens have the most hilarious replies!
I can't say anything about chilli milli but yeah if you increase the no. of cocomos and the amount of chocolate in it, I swear everyone will vote for PML(N)😂

— Osama Ali (@OsamaAliAG) August 23, 2021
Hmmm?
That means they are making chilli Milli less juicy by choice! Is this the party we want to represent us?? https://t.co/Se8JFLuKyW

— Arhum (@arhuml92) August 23, 2021
Clean sweep!
He is a threat for sure. Imagine if offers free cocomos with each vote? 😭 https://t.co/dxvTCoxobd

— Eimaan (@Cynosure100) August 23, 2021
People had questions:
Does that mean you guys are deliberately providing substandard product to paying customers? And making false promises to win votes on top of that. https://t.co/1umukHSjDz

— SocialPariah (@Non_graata) August 23, 2021
Lol 😂
Waiting for Fauji Foods to enter the snacks market so that Ismail Industries can fall to its knees 😤 https://t.co/flqUIaOK98

— Azam (@AzJ001) August 23, 2021
People were bringing in the cocomo issue to light as well:
Miftah bhai Cocomo ka bhi kuch karain. 1-2 mein say tou chocolate niklati hi Nahin.

— Jasir Shahbaz (@LahoreMarquez) August 23, 2021
Hahaha!
From biryani to candies, whatever works, yeh hota hai vision… 🤤 https://t.co/9BOKmInFpA pic.twitter.com/QrQWYYuSxk

— عسکری رینچ (@NaikRooh) August 23, 2021
Some were clearly unmoved!
u guys know i love chillimilli but bro vote sirf khan ka💚❤️ https://t.co/EWw7jYZOv6

— Uɱαιɾα AႦႦαʂι (@chillimilli46) August 23, 2021
Naa baba aap aisay hi rehny dou Chilli Milli ko kyun k jo aap mang rahy wo hum sy na ho payega🙏

— Farrukh (@mfarrukh90) August 23, 2021
Yes!
So They are making it less juicy by choice.
This is cheating https://t.co/k3jLcwuYO9

— Bilal Nasir Khan 🍴 (@BilalNasirKhan1) August 23, 2021
Idhar toh khaata khul gaya requests ka:
Please ask Peek Freans to reintroduce the discontinued "Nice" biscuit and I'll vote for PMLN. https://t.co/KRmOPVA8xW

— Ali Aqa Gardezi (@SyedAliAqa) August 23, 2021
Next up: More chocolate in cocomo https://t.co/XYjZ9686hK

— laiba naveed (@laibanaveed99) August 23, 2021
mujhy b cocomo k pack me 5 cocomo chahie hein

— Bu§hra (@BusheeMalikk) August 23, 2021
han g or thora size bhi barha dain, sath green wala portion thora zyada kr dain 😍

— Mohsin (@timenaihay) August 23, 2021
😭
The journey from 'Biryani' to 'Chilli Milli'

— Dr.SNaeem (@Dr_SNaeem) August 23, 2021
Shots were fired:
When ex Finance Minister has nothing concrete to offer in front of PTI govt's export-led economic growth, current account in surplus, record high LSM growth & other economic KPIs, all he could come up with was garnering votes through Chilli Mili. Desperate times for PMLN! https://t.co/uhE0xX3uv2

— Tehreek-e-Insaf (@InsafPK) August 23, 2021
Are you sold? Let us know in the comments below!