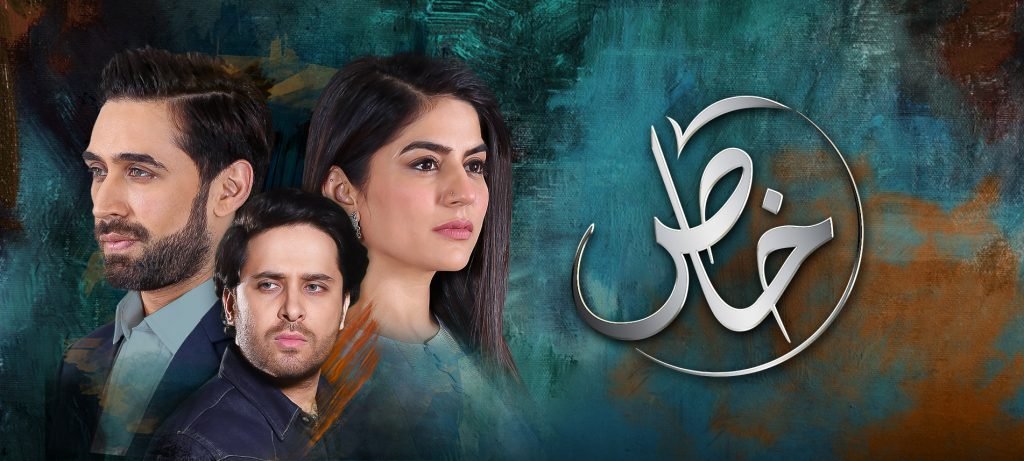 As the drama serial Khaas enters its final phase, we've been getting to see Ammar getting hit in the face by karma, thanks to Salma!
On the other side, the audience is loving the relationship dynamic between Saba and Faakhir which is full of love, respect and mutual understanding, just like it should be. We see our Saba picking herself up after Ammar crushed her self esteem, the little exchanges between Faakhir and Saba are nothing but empowering and melt our hearts!
We see Faakhir encouraging Saba to be her best self and to believe in herself and her capabilities like she used to do before getting married to Ammar. Faakhir is setting up a great example of what a husband should be like and honestly in a world full of Ammars, seeing a character like Faakhir is very refreshing!
Another character that really blew us away is that of Salma's which is executed to perfection by Hira Tareen who is giving Ammar and his family a taste of their own medicine:
The unapologetic Salma has easily become one of the most favorite characters in the drama for the audience due to her strong and independent personality:
Ammar on the other hand is suffering the same way he made Saba suffer and the audience is enjoying it, like really enjoying it! Seeing the narcissist Ammar's self esteem get crushed by Salma is the sukoon we all need!
And its not just the fans but even Sanam Baloch and Ali Rehman Khan love seeing Ammar be at his very miserable: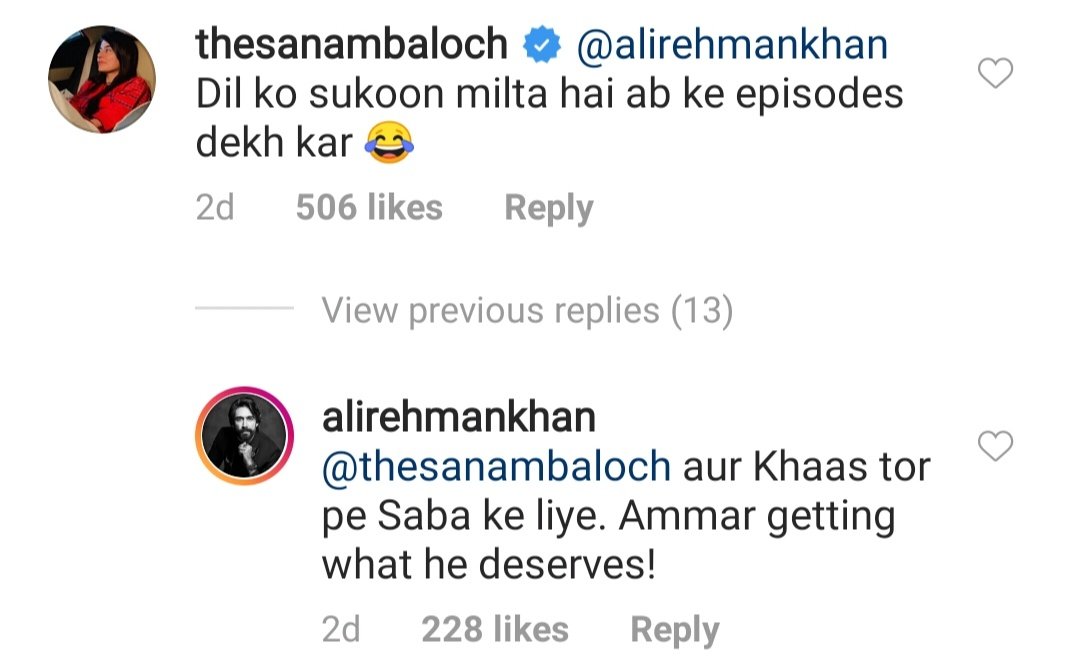 The netizens too have been loving the drama and think everyone should watch it:
Pakistani men really need to watch the drama serial "Khaas". This drama tells how their fragile ego never let them accept their mistakes n how they always try to put the blame on women. This drama is for you guys.

— نیازی صاحب (@MysteriousKay) October 10, 2019
Khaas(Hum tv drama) mein aqal walon ke liye sabaq hai.

So much that's wrong with our society has been addressed still no one talks about this drama.

— K (@_khadja) October 9, 2019
People have been fans of Saba Faisal's role in the drama:
the female actors in 'khaas' are incredible. i'm particularly in awe of saba faisal's acting; she's clearly the other anti-hero besides ammar. takes a while for one to realize the extent to which she consistently wreaks havoc in other women's lives by constantly egging her son on

— Zoya Rehman (@pind_wave) October 9, 2019
Yes please!
Okay, they need to air a few dialogues from Khaas every once in a while.

— . (@muneebamk) October 9, 2019
Marry someone who hypes you up like Faakhir!
In yesterday's episode of 'Khaas' where Saba gets married to Faakhir and they have all those wedding night and walima day romantic scenes. Faakhir is so cheesy and a pure deeply in love aashiq. The way he hypes her up…

Me and my husband watch that drama together.

— Madiha. (@ItsMadDar) October 3, 2019
People even shared clips from the drama on the #WorldMentalHealthDay to raise awareness:
"Khaas E26 Ad" (9-Oct) 🇵🇰

May all spoiled brats like Ammar find wives like Salma. 😄

She really squeezes a guy's nuts doesn't she? 😁

A sharp knife, if I've ever seen one! 😅

Good acting by Hira. 😀#WorldMentalHealthDay
. pic.twitter.com/xNlBAwIvrx

— Omar Ahmad 🎷 (@OmarA_007) October 10, 2019
You go, Salma!
Salma bawling out at Ammar in front of the parents #Khaas pic.twitter.com/CO6UwscmDy

— UziShi (@UzmaRS) October 9, 2019
I know i have always said i love Fakhir from Khaas but Damn Salma 😍. Omg that scene was so epic. Best best best.#khas #hiratareen @HaroonsMusic

— Brown Girl ✨ (@the_desi_dream) October 9, 2019
The love that Hira Tareen has been getting for Salma is well deserved:
The main female protagonist is Sanam in this show but I think you are the heroine in the drama. Salma may have made her share of mistakes but she made sure not to tolerate the bullshit of Ammar and his mum (as she was as guilty as Ammar) integrity before anything. They needed >>

— Ayesha Khan (@le1aveclesailes) October 10, 2019
To hear it and it was no better way to tell them of their faults. Salma was savage. Plus Salma was also repentant of her mistakes about her relationship with Sajid and she is trying to amend them. It shows a progress in her character

More power to you in your reel and real life!

— Ayesha Khan (@le1aveclesailes) October 10, 2019
People had a newfound appreciation for Faakhir:
i also have a newfound appreciation for fakhir. he's no slave to capitalism, or some unprincipled alpha male, unlike ammar. it's nice to see saba find love and happiness with a supportive partner while overcoming the aftermath of ending a toxic relationship. #Khaas

— Zoya Rehman (@pind_wave) October 10, 2019
People were also questioning the toxic phupho in the drama:
Can we say Amar isnt the only villain in #Khaas ? I want to understand why Phupo can get away with so much BS by using religion as a cover & no one calls her out .. Ive spent my life being hushed by People because its not polite to correct an elder even if they r ruining lives

— Sadaf Haider (@tomtomatoe) October 10, 2019
Men like Faakhir>>>
I need to thank Fakhir for bringing the hope that Saba needed and the self confidence she lost in herself thanks to Ammar – because it's the confidence in herself that a woman loses the most when she lives with a toxic man. #Khaas (1/3)

— رے (@Robosamm) October 4, 2019
Unhappy marriages aren't just characterised by unfaithful spouses or troublesome in laws or financial crunches: the most important sign of a unhappy marriage is the loss of self confidence a woman undergoes if she lives with a toxic man. The insult she feels daily. #Khaas (2/3)

— رے (@Robosamm) October 4, 2019
If you cannot make a woman, who's left her entire family, her lifestyle, her dreams and ambitions just for your sake, feel good, comfortable and important – then I'm sorry, please don't get married. Don't ruin her life. #Khaas (3/3)

— رے (@Robosamm) October 4, 2019
People are calling it the drama of the year despite very tough competition:
#khaas may well be one of THE best dramas this year despite tough competition from The melodrama in Alif & Ehdewafa Humor Its caught everyone's imagination not just elites Its not pretentious & ofcourse Sanam Baloch ..

— Sadaf Haider (@tomtomatoe) October 10, 2019
With all that being said, we think everyone should watch the drama and learn from it!
Are you loving Khaas? Let us know in the comments below!