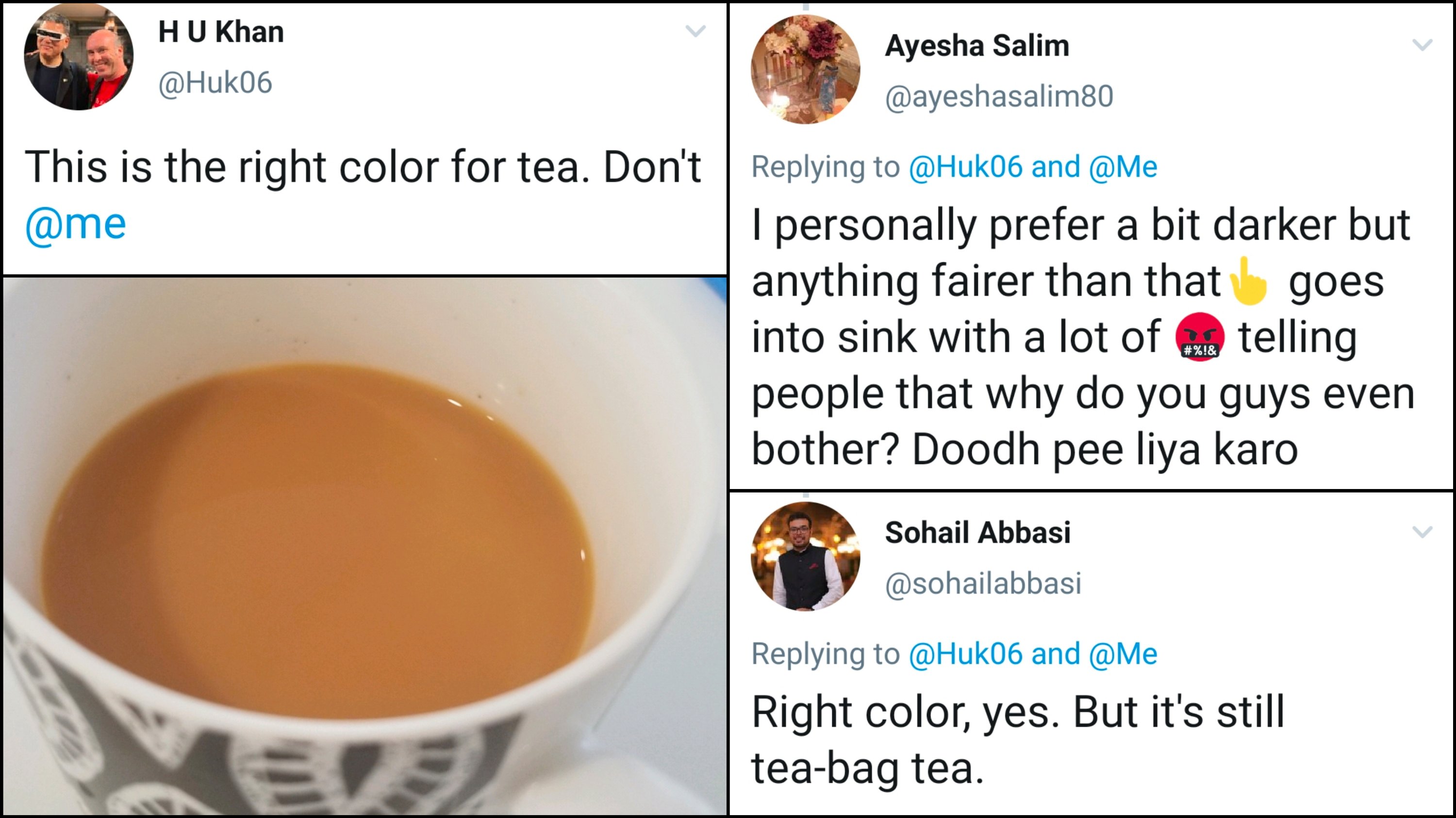 Us desis, we love tea! Be it drinking tea or spilling tea, we're always up for it. And while we all love our teas, a debate that just doesn't seem to end on the internet is about the right color of the tea but I guess its finally settled as the internet unanimously has decided on the perfect color of tea on twitter:
This is the right color for tea. Don't @me pic.twitter.com/PopORIaeU8

— H U Khan (@Huk06) October 9, 2019
And people, surprisingly, agreed!
Definitely the right color

— Sara. (@BauhatSara) October 9, 2019
Yes yes!
Resonated well with me. That's how it should be.

— FurSid ❁ (@fursid) October 9, 2019
One. Hundred. Percent. Yes.

— Zaid Ansari (@ZaidAnsar1) October 9, 2019
Us too, but anything lighter than this is a crime!
I wouldnt mind it, but prefer slightly darker

— Nadia Suleman (@NadiaSuleman) October 9, 2019
Yaaaas!
Oh God it's perfect

— Sehr Pirzada (@SehrPirzada) October 9, 2019
Perfection!
That is perfect

— shah1r (@shah1r) October 9, 2019
Some argued how it still was a tea bag chai!
Right color, yes. But it's still tea-bag tea.

— Sohail Abbasi (@sohailabbasi) October 9, 2019
The stronger, the better!
A bit stronger for me please. #BuildersTea

— Mark Rakestraw (@MarkRakestraw) October 9, 2019
Us when we see our tea coming!
— Azhar M Khan (@AzharMKhan3) October 9, 2019
Exactly!
This is the real deal.

— Zia TALKS 🔄 (@ziatalks) October 9, 2019
Hahaha, that'll be us!
I personally prefer a bit darker but anything fairer than that👆 goes into sink with a lot of 🤬 telling people that why do you guys even bother? Doodh pee liya karo

— Ayesha Salim (@ayeshasalim80) October 9, 2019
Agreed!
That is true. Anything lighter doesn't sit too well with me.

— Muhammad Usman (@usmanwah1) October 9, 2019
There were a handful though, who didn't agree:
It should be a little lighter

— the family disappointment (@bojakced) October 9, 2019
No way

— Awais (اویس) 🍀 (@AwaisSpeakss) October 9, 2019
What colour do you like your tea to be? Let us know in the comments below!