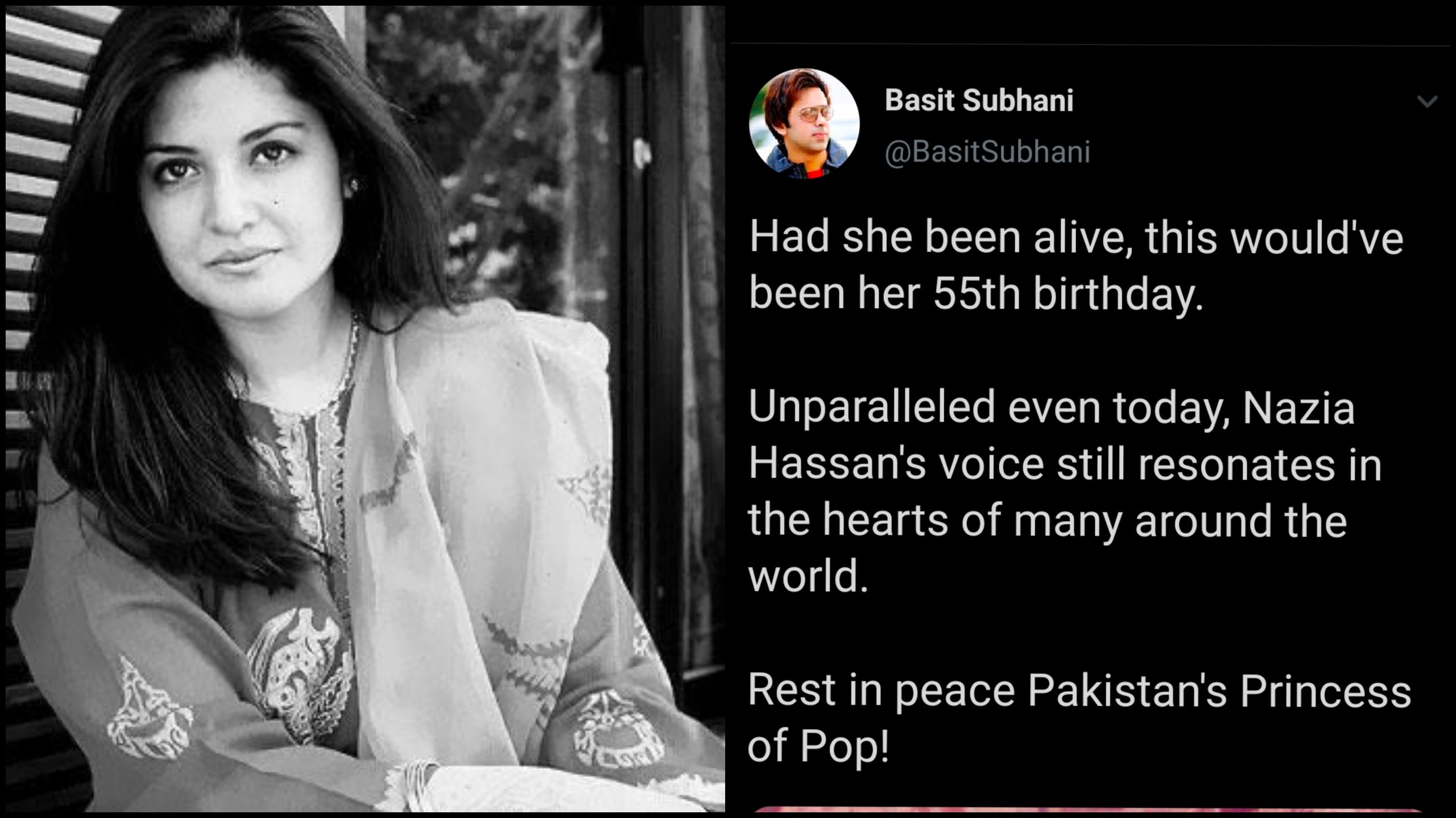 Nazia Hassan has a very special place in our hearts, even though most of us might have been very young when she was around, but her songs still remain treasured with us.
Pakistan's undisputed 'pop queen' Nazia Hassan would have been 55 today and the nation is remembering her with utmost love on her birthday today!
Had she been alive, this would've been her 55th birthday.

Unparalleled even today, Nazia Hassan's voice still resonates in the hearts of many around the world.

Rest in peace Pakistan's Princess of Pop! pic.twitter.com/d1xLFc5uIX

— Basit Subhani (@BasitSubhani) April 2, 2020
Her brother Zoheb Hassan shared a little throwback picture of her and it's the most precious thing we've seen today:
People were sharing her achievements with the world:
Celebrating birth anniversary of late Pakistani singer and Philanthropist Nazia Hassan who died due to Cancer. She revolutionized Disco and Pop Music culture in South-Asia. Her music was equally famous in English speaking world. She was regarded as the Pop Queen of South-Asia. pic.twitter.com/YFtjsR8uQF

— Pakistan (@whatsupPakistan) April 2, 2020
She was way ahead of her time:
Her music is evergreen!
Nazia Hassan was born in Karachi on Apr, 3 1965. It has been nearly 20 years since the pop icon left us, but her music is still fresh & relevant. It's not just her music; one look at her dresses, makeup, & hair styles, & you end up concluding that she was truly ahead of her times pic.twitter.com/3q15GPFycF

— MediaSpring PK (@MediaSpringPk) April 3, 2020
Imagine being this talented at the tender age of 16:
Disco Deewane by Nazia Hassan, she was 16 years old.

It is said to be the best selling Asian Pop album, released in 14 countries.

In India it was released by the Gramaphone Co. in 1981.
It achieved platinum record status within 3 weeks selling more than 200000 copies. pic.twitter.com/9L3hDzjWYt

— Film History Pics (@FilmHistoryPic) April 2, 2020
People from across the border were also remembering how much they loved her:
1982 winters.

Travelling by a Night Super. Going for Winter Vacation. Passing thru many towns in Assam….

Listened to her song for first time. Disco fever had gripped India.

Here's that Boom Boom song 😁https://t.co/ZKOPG4PSNe https://t.co/KOL9QvKLeX

— Arunudoy ভট্টাচার্য (@ArunudoyB) April 2, 2020
#BirthdayGreetings to #NaziaHassan, the queen of #PopMusic. She turns 55. An enigma, she and her brother #ZohebHassan wth #Biddu created history in 1981, with their album #DiscoDeewane that took entire world by storm especially #Asian countries @NaziaHassanFans #music #news 1/3 pic.twitter.com/LqfoknUvtC

— pallab ghosh (@pallabghosh) April 2, 2020
Absolutely!
Happy Birthday, Nazia Hassan! You will always remain alive in our hearts.
(#The_Queen_of_Pop_Music)💙 pic.twitter.com/3qObjIy7it

— PERVEIZ BANBHAN (@PerveizAhmed) April 3, 2020
There will never be another Nazia Hassan:
آپ جیسا کوئی میری زندگی میں آئے،

The greatest ever.
Nobody can be her not now not ever.
Every girl tries to be her or better than her. They can't even be her toenails.
The one and only Nazia Hassan.#HappyBirthdayNaziaHassan@zoheb_hassan pic.twitter.com/qybLWNM7xa

— زُوبیہ خُورشید (@zeee_zoobia) April 3, 2020
Jo baat hai:
She may be gone but her music is eternal. Happy Birthday Nazia Hassan!

— Qurat-ul-ain Zaidi (@annyzaidi) April 3, 2020
A true queen at everything she did!
Nazia hassan introduced pop music in the subcontinent. ❤✌ she is not only the Queen of pop she is also the Queen of hearts and she will always be the Queen of hearts. Happy Birthday ❤❤MAY ALLAH GIVE HER A HIGH RANK IN JANNAT UL FIRDOUS AMEEN #naziahassan pic.twitter.com/r1I0Jlfuao

— Reda E Fatema (@RedaEFatema11) April 3, 2020
She achieved so much in so little time:
Renowned Pakistani Singer NAZIA HASSAN Known As 'Queen Of Pop' Of South Asia. Seen Here Receiving The Filmfare Award For Song "Aap Jaisa Koi Mere Zindagi Mein Aaye" From Raj Kapoor. pic.twitter.com/bI6WrIKMmg

— Subhash Shirdhonkar (@4331Subhash) April 3, 2020

A great loss, indeed:
Besides singing Nazia Hassan was a lawyer, political analyst and Philanthropist. She did LL.B from London University. In 1991 she was appointed as the cultural Ambassador of UNICEF. She died of lung cancer in London on 13-08-2000 at the age of 35 Pakistan lost a gem #NaziaHassan pic.twitter.com/idZ1AtNzAc

— THIS IS PAKISTAN (@PakistanThis) April 3, 2020
People were sharing their favourite lyrics:
In honour of Nazia Hassan, iconic words:
"Me jawaan, me haseen. Mere pass kiya nahi?"

— Anne of Pak Cables (@Sarakasara17) April 2, 2020
Her life wasn't an easy one:
8/ In 1995, Nazia married the businessman Mirza Ishtiaq Baig and the couple had a son, Arez Hassan, who was born on 7 April, 1997. The marriage ended in a divorce ten days before Nazia's death. pic.twitter.com/dVB3uHKMnU

— Cinemaazi (@cinemaazi) April 3, 2020
Her achievements speak volumes about her talent:
There were singers, legends, trendsetters, and there was Nazia Hassan. ❤️https://t.co/ygbppCiecw

— Chaitanya. (@illusionistChai) April 3, 2020
Ooof ❤
"Jab se mein ne dekha tjhe, phr chaain aya nahi, zindagi hai tere beghair jis trah ajnabi"
A beautiful smile, a glowing face and a very mesmerizing voice. I cannot forget her and cannot live a single day without listening to her tracks.#NaziaHassan pic.twitter.com/gPyy91U9KU

— Reda E Fatema (@RedaEFatema11) April 2, 2020
Her lyrics still hitting us right in the feels:
When Nazia Hassan said "Talli de utay boor, mera mahi methon door" every single cell of my body felt it.

— The Woman (@nostalgicgypsy) April 2, 2020
Aameen!
Today's the Birthday of Nazia Hassan.Queen of Pop music.
May ALLAH SWT Grant her a high place in Jannaa. pic.twitter.com/QzUPxB43x1

— Khuram Shahzad (@Khuram401) April 3, 2020
What are your fondest memories of Nazia Hassan? Let us know in the comments below!