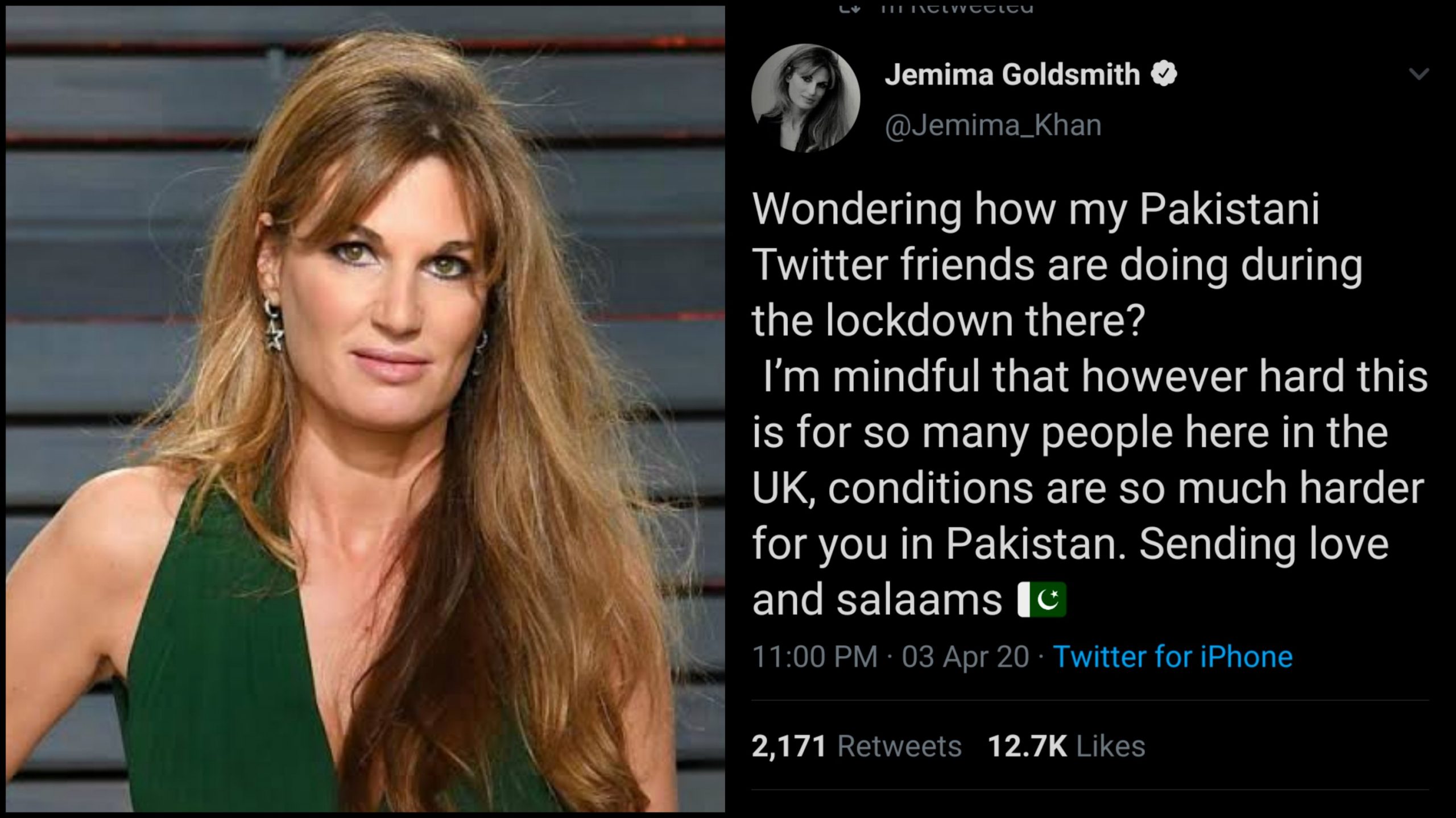 Pakistanis and their obsession with Diana and Jemima is an equation that most won't get, people love them more than they love their own people, they're literally every desi mum's favourite women!
As the World is hit by the corona pandemic, Jemima tweeted out to check on how Pakistan and its people we're doing amidst the outbreak in a heart warming tweet:
Wondering how my Pakistani Twitter friends are doing during the lockdown there?
I'm mindful that however hard this is for so many people here in the UK, conditions are so much harder for you in Pakistan. Sending love and salaams 🇵🇰

— Jemima Goldsmith (@Jemima_Khan) April 3, 2020
And yahan Pakistanis pighhal gaye!
Matt kia karein hamare dil ke saath ye. ❤️

— Sheema Mehkar 🐾 (@SheemaMehkar) April 3, 2020
People reassured her how PM Imran Khan was working for their welfare:
It is hard for the daily wagers, but Kaptaan has a soft corner for the poor and needy people. We are positive and hoping Allah will help him get us through this. Salam and duas for you and the boys ❤️

— Ramlah (@RamlahSeraj) April 3, 2020
😚🤗thank you lady. We appreciate your concerns and assure you our leader is taking right decisions to sail us out of this calamity. Ma Assalam https://t.co/95DhX5sW6H

— Yousuf Naqui (@CheekoYnaqui) April 3, 2020
Samina Peerzada sent Jemima her blessings:
Stay safe stay blessed.

— Samina Peerzada (@SaminaSays) April 3, 2020
Some actually showed her how they were doing with videos:
We are doing well
😂😂😂😂😂😂 pic.twitter.com/4f1HipCaX2

— 🥀 Aurang اورنگ🥀 khan 🥀🇿🇦 (@aurangk_khan) April 3, 2020
Her tweet also triggered some Indians 😂
Unfollowing you👎

— परम अज्ञानी (@ADDY_ANIL) April 3, 2020
Some were thanking her for remembering Pakistan:
T H A N K Y O U D E A R J E M I M A

— Shani jaan (@muhamma57785912) April 3, 2020
Thank you for this great gesture https://t.co/wWzeEh8aYm

— ℑ𝔪𝔯𝔞𝔫 𝔑𝔞𝔰𝔦𝔯 𝔨𝔥𝔞𝔫 (@imrannasir124) April 3, 2020
Thanks from a Pakistani living in UK. You are an inspiration https://t.co/5I5ymPq5td

— ArshadMalik (@ColonelSahib) April 3, 2020
❤❤
Her love for pakistan and pakistanis is unquestionable.
A gem ❤ https://t.co/noldiyjCsZ

— tired (@emjuneday) April 3, 2020
People were sharing how they were hoping for the best:
Thank you so much for your prayers means a lot and Insha Allah this nation will face this whole thing with bravery and unity. https://t.co/YSFUETIEJk

— Tauseef Ahmed (@Sharpthnkr) April 3, 2020
Some were comparing her to Reham Khan:
After seeing what Reham Khan is doing, Pakistani people are respecting you more and loving you more than ever. Stat blessed and safe. May Allah swt keep our khan's family blessed and under his social protection. https://t.co/gEZRdQHwdn

— majid_jan (@majid_jan) April 3, 2020
People were loving the gesture:
How good it is that you still care for people of Pakistan. Lot of Love, Respect and Prayers for you as well https://t.co/h1koKi5h1h

— Muhammad Khan (@MKC_95) April 3, 2020
Could she?
Could she "be" more loving? 😍 https://t.co/VvZhNx8HQ6

— Valar Dohaeris (@partisanofKhan1) April 3, 2020
Haha, isn't that the case with everything that Jemima tweets?
without even looking i can safely assume the replies under this would be old Ik-jemima pics and miss you bhabi ! https://t.co/vhwAWVeZxs

— Mubashir Iqbal (@xmubashir) April 3, 2020
The amount of times we've read this:
In world fullof Rehams ,be Jemamia https://t.co/a5KyZYAg3G

— searchingsoul (@Sa20_15) April 3, 2020
Clearly!
Hayeeee, Half of the Pakistani's will be drolling over this beautiful tweet & gesture from you👏🏼. https://t.co/cMP2xyNzWt

— Bilal Abbasi (@BeingAbbasi10) April 3, 2020
People agreed how this was a heart warming tweet in trying times:
What a heartwarming message dear lady …likewise best wishes to all of you out there . Tough times 🙏 https://t.co/J96ItX40AQ

— Beena Raza-🇵🇰🇨🇦 (@razabeena) April 3, 2020
Baat toh sach hai:
Aww, nation's favourite ex-bhabi https://t.co/4enfev2QIF

— Flatten the curv if u can, but FGS not the economy (@javedhassan) April 3, 2020
People were wishing for an ex like hers, ummm?
If I ever have an ex, may she be like Jemima 🥺🥺 https://t.co/m5wvQb7hUH

— ٰ (@Aneeq___) April 3, 2020
Some thought she was the best thing to happen to Imran Khan:
She is the best thing that has ever happened to Imran khan

— Saad Bin Tariq (@SaadTariqb) April 3, 2020
What even?
Bhabhi please marry Imran Khan

— Akrama (@AkramaMianoor) April 3, 2020
Umm, invasive much?
Do you still love imran khan ? https://t.co/jfnUwadSQw

— Maryam 💆 (@Maryamstopit) April 3, 2020
WaalaikumSalm,
But please tell me, do you still love #ImranKhan 🙁👀 https://t.co/aFYhN9tPdA

— Dr.Çalypso (@harmioneeeee) April 3, 2020
What do you think about Jemima's tweet and the way Pakistanis reacted to it? Let us know in the comments below!