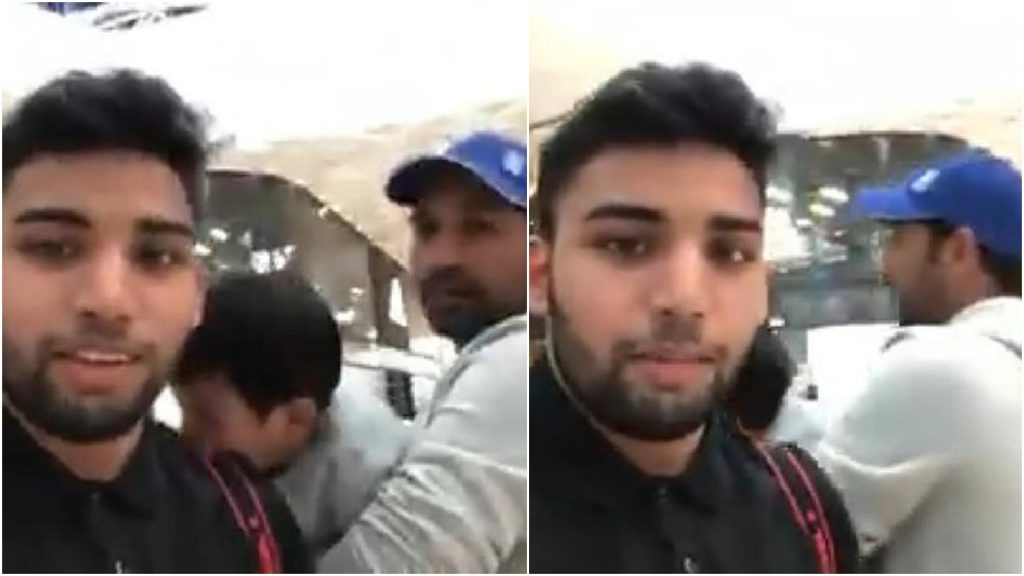 After the poor performance of the Pakistani team in the World Cup matches, people have been furious over the fitness of the team. One man however, went a little too far after he filmed himself calling Sarfaraz 'fat like a pig' and that too when Sarfaraz was out in public with his son:
Now this is disgraceful! Two years back you were celebrating and dancing on the roads because of them #ct17 and today you are treating them like this. You may comment on their performance and fitness but this is not the way! #CWC19 #PAKvSA #WeHaveWeWill pic.twitter.com/8Ney8VSlSU

— Faizan Najeeb Danawala (@danawalafaizan) June 21, 2019
After the video went viral, it angered a ton people because of the way this guy was hurling abuses at Sarfaraz, harassing him and invading his privacy. People expressed their disappointment over social media:
This video is making me mad, Sarfaraz is with his son ffs. Twitter do your thing & find the asshole in video, lets make an example out of him, so no cricketer is every harassed or abused on the streets https://t.co/zvqRKFdX9r

— Osama. (@ashaqeens) June 21, 2019
Not right, at all!
lets just find this guy and let him know who the real suar is. We all feel bad that our team is not performing but disrespecting them alongside their family or without family is just bot right. they have not committed a fucking crime its a game you win or lose. https://t.co/oMjCEiBs1n

— Naveer.ai (@NaveerBinRazi) June 21, 2019
No right to humiliate!
Full of idiocy, He for sure deserve a big slap by Sarfraz, He is just a player not a god who decided to win or lose the game but you have no right to humiliate him in front of his family. https://t.co/zMeSu4JBJx

— Husnain shah (@Husnainaday) June 21, 2019
Many demanded that he be arrested for harassing the captain:
Dear @metpoliceuk this man is harrassing and bullying the Pakistani cricket captain @SarfarazA_54. It looks like this incident took place in Westfield Shopping Centre. Police must trace this man and arrest him for harrassment and bullying! Please take action! pic.twitter.com/mbPX1zBNwx

— S M Tabish Tariq (@SMTabishTariq) June 21, 2019
We don't:
Pathetic. Sarfraz himself said Pakistani fans love this game and they'd never insult a player.

Nope. We don't deserve the cup. https://t.co/JY5EhVwv5i

— Roha Nadeem (@RohaNadym) June 21, 2019
Would have served him right:
Imagine if Sarfaraz turned around and smacked him. He's with the kid and this guy is going on abusing him. 🤦🏼‍♂️ pic.twitter.com/aCj0tSSfM0

— Ragi Mudde Vinay (@semperfiutd) June 21, 2019
People said it was very low of this man to disrespect Sarfaraz like this:
I am totally against Sarfraz's captaincy and his performance but what the fuck is this? Sarfaraz was out with his son and this so called "patriotic Pakistani" who is residing in the UK stopped Sarfaraz and said "Bhai ap suar jaisay motay kyun ho?" So low and pathetic. pic.twitter.com/Z4szPH3GAP

— Sir Saith Abdullah (@SaithAbdullah99) June 21, 2019
People were disappointed:
WHAT THE FUCK IS THIS??? HOW CAN A PERSON BE THIS PATHETIC WHAT THE FUCK https://t.co/Mpa9861THW

— Adnan (@MrBubbyy) June 21, 2019
Absolutely no need!
That was extremely insulting and rude, esp when Sarfraz was with his child, There is a proper procedure for accountability and removing cricketers from team, and there is no need to hurl such abuses. #weStandwithSarfaraz

— حسین حور (@HasinHoor) June 21, 2019
People were furious!
this has really pissed me off i know i get angry during matches but this is uncalled for sarfraz is with his kid as well someone needs to slap this fucking cunt https://t.co/igh81uYF1a

— Asam (@Asam__A) June 21, 2019
And while there was this guy, another guy shared a clip of encouraging the captain to.win the next matches and its the cutest thing you'll see today!
we need to viral this guy except him..❤ https://t.co/g1Yisu9ykj pic.twitter.com/sjVhhMwLj3

— Brown Panther (@22Log1) June 21, 2019
People were lauding Sarfaraz for being a well behaved man and not losing his temper:
As you grow up you realize who was raised properly. Sarfraz Ser, u won in the department of well raised man! pic.twitter.com/Z8TWCbvjyl

— ammara saleem (@ammarasaleem111) June 21, 2019
People praised Sarfaraz for keeping his cool:
The way Sarfraz Ahmed kept his cool over being called pig in front of his son is just amazing. However, I personally think that he should have kicked his ass in the public. How low we can stoop just in the name of patriotism and cricket?
Shameful and Disgusting pic.twitter.com/c27fKn8ZHR

— Adil (@IAmAdilMughal) June 21, 2019
They were proud of their captain for his patience:
I need a 'Sabr' like Sarfraz Ahmed , a foolish man called a 'suar' in front of his child. Sarfraz gave no reaction.
Sarfraz bhai u r our real captain , hats off.

— 🌻 (@SibghatDahiLaDo) June 21, 2019
People said how body shaming Sarfaraz was what led to this:
Every person who fat shamed Sarfraz Ahmed in the name of physical fitness is responsible for this.
As for this filthy bastard who is filming this video, I request UK desis to hunt him down, shame him and post it's video the same way this fucktard has done so.

— Saadi-fy (@theironicirony) June 21, 2019
Many agreed how there was no justification for this:
1) Even of Sarfaraz was not with any kid.
2) Even if Sarfraz was with a kid not his own.3) Even if Sarfaraz was not Hafiz

Still there is no justification for the abuse this guy caused to Sarfraz.

— Luxury Unfolded (@luxuryunfolded) June 21, 2019
People pointed out how we need be less of cyber vigilantes and more of a human to show basic ethics:
That's awful… we've lost compassion and grace. Invading someone's privacy and body-shaming someone isn't cool. He has apologised and I think we also need to be careful about not becoming cyber vigilantes. Let's wait for Sarfraz to decide how he wants to proceed on this.

— Dureen (@ConfusciousDee) June 21, 2019
After receiving a ton of backlash from the netizens, the man then released an apology video
Power of Social Media, The guy who misbehaved with Sarfaraz Ahmed, makes an apology. Thank you @WaseemBadami @javerias @WasayJalil @AamirLiaquat @AhmedRazaQadri @Mustafa_Chdry @newspaperwallah @saurabh_42 for helping me in spreading this video. Should he be forgiven now? pic.twitter.com/vGAbT742ds

— Syed Raza Mehdi (@SyedRezaMehdi) June 21, 2019
In the video, the man can be seen saying that he didn't know how the video circulated on the internet. He also mentioned that he didn't know that Sarfaraz was with his son and that he was a Haafiz-e-Quran. But people were still angry:
Afcourse..,now u know since u will be held accountable for your act; u had to come up with apologies..
So If the child Sarfaraz is carrying was not his and if he was not an 'Hafze Quran' you think you had the right to use those words after stopping him at an public point…??? https://t.co/9l9QNNcMmf

— Samina Shahid (@Samina_S2) June 21, 2019
People found his apology to be half hearted:
That bloke (not going to give him cheap publicity by sharing his distasteful video) has issued a fake and half-hearted apology in response to social media outrage. Renewed respect for Sarfaraz for ignoring not only him but countless others like him. (2/2)

— Zainub Razvi (@zainubrazvi) June 21, 2019
Many had the view that this guy should be made an example for misbehaving, so that others don't do the same:
Just apology isn't enough my boy.
You should pay for what you did and be an example for others.
otherwise this harassing trend will not stop. pic.twitter.com/aCOg44EseA

— حبیبی (@itsofficialJJ) June 21, 2019
Some thought he should have a harassment case filed against him:
Guy deserves to have a harassment case filed against him!! Kudos to Sarfaraz for not reacting to this guy who clearly hasnt been taught by his parents any manners. A video apology from ur home does not correct how you ridiculed him in public!

— Abeer Butt (@abeer_uk) June 22, 2019
Many said he only apologized because he got caught:
What this ass hole did with Sarfaraz is fucking low life scum. Pata nehe Queen inko Nationality kese day deti he!!
and then he came with apology MUJJAY PAATAA NEHE THA AISA HOGA AND MENE DELETE KRDI!!
DUDE YOU CALLED HIM SUAR!! Bhenchod phir stadium bhe mat jaya kro kanjaro.

— Syed Taha Aijaz (@RoccoTDon) June 21, 2019
Many said they didn't find his apology to be sincere:
He only apologised for the video being uploaded. No shame or regret or apology for doing it. Deleting is not the same, unfortunately. If anything, he should have added an apology in the video to Sarfaraz Ahmed as well!

— Safa Usman (Safa Nadeem) (@misspakistan10) June 21, 2019
People were mad because he was trying to justify his poor behavior rather than admitting it was wrong behavior regardless of Sarfaraz being with family or haafiz-e-Quran:
Listen to his apology, he's sorry that everyone is mad..
He says he doesn't know how it got uploaded
He is anxious bcs so many ppl saw it..
He didn't realize Sarfaraz is Hafiz Al Quran
He didn't know there will be consequences..

How about sorry for doing what's wrong & unjust.

— Sicily (@NadiaPTI) June 21, 2019
Many pointed out how he was being unreasonable for saying that he didn't know how the video made its way to the internet:
Poor excuse for an apology. Sarfaraz should ask him to contribute to some charity if his apology is sincere & if the police is not taking action. There must be consequences.
And you weren't born yesterday to not know how your video got uploaded to social media. Spare us the BS! https://t.co/1Ujafxj2MJ

— tubz (@rwpexpress14) June 21, 2019
No matter how poorly the team performs, no one has the right to harass and humiliate the team members like this. We condemn this toxic approach and hope better sense prevails, we stand with you Sarfaraz and team Pakistan!