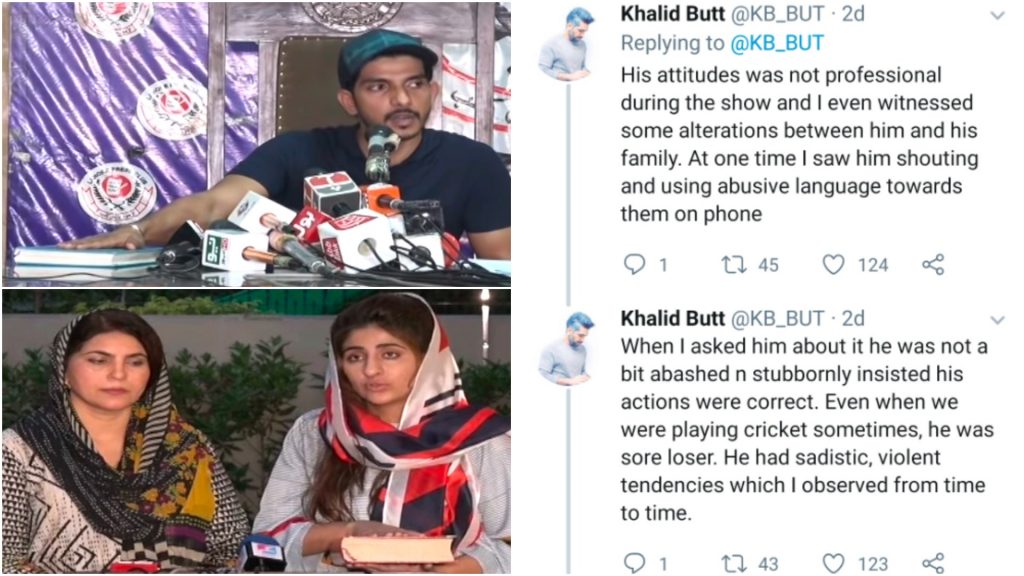 Mohsin Abbas Haider has been in hot waters ever since his wife Fatema Sohail accused him of domestic violence and cheating. Both did press conferences of their own swearing on the Holy book.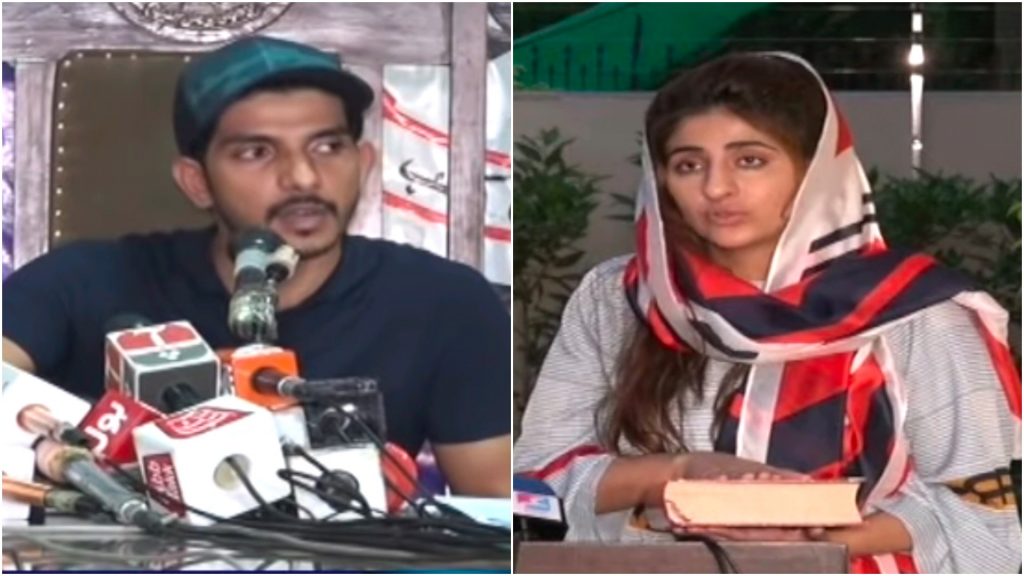 However people have been really furious over Dunya News still having Mohsin in the Mazaq Raat episodes being aired on TV and demanded that they immediately fire Mohsin.
محسن عباس پر مقدمے کے اندراج کے بعد دنیا ٹی وی کا اعلان لاتعلقی https://t.co/HPlTplk088 pic.twitter.com/wvNha5Pmbz

— Dunya News (@DunyaNews) July 23, 2019
However, the episodes being aired that have Mohsin Abbas Haider are pre-recorded:
Dunya news has said that mohsin abbas isn't allowed to be on mazaqraat until he proves himself innocent. The shows which are being telecasted were pre-recorded, hence they are being aired.

— Meph⚓ (@UnitedsFreak) July 23, 2019
And people have been appreciating the step:
Duniya News is firing Mohsin Abbas Haider from "Mazaqraat".They need to be appreciated for this initiative.They've taken action against him even though they know that he was their all-rounder entertainer and he brought about the show ratings.

— Uswah (@AaluChholay) July 23, 2019
People were lauding Dunya News:
Good decision by @DunyaNews to sack #MohsinAbbasHaider from #MazaqRaat 😊

— Salman Hassan (@ImSalmanHssan) July 23, 2019
Well done #DunyaNews
This is an excellent step you took. https://t.co/thPnQ4msoW

— GODSENT (@godsent67) July 23, 2019
Many were thankful:
Alhamdulillah these monsters should be paid like this. #MohsinAbbassHaider fired from mazaq raat

— PANIC! AT THE DISCO AND IN MY LIFE🧛🏻 (@whytakenalready) July 23, 2019
People were living for it:
Yaar wese Mazaq Raat ka Kya Hoga?
He's not part of the show anymore right?
Good riddance, faltu gaane the uske wese bhi.

— Zain (@thepaklife) July 23, 2019
Ooooh!
Agar aap mazaqraat ki jagga apni biwi say muzaqraat kar laitay tou aaj itni baizti nahi hoti #mohsinabbashaider #MeToo

— inam I S B (@inamisb) July 22, 2019
But some fans were bitter!
#DunyaNews provided base for another wrong trend.They could say that we don't support Mohsin but he'll continue working with us till verdict of court.Ifproven guilty,he'll be fired and that will be enough for calming people. Just observed media's weak side.Really disappointed

— Huda (@Huda75787890) July 23, 2019
There were some who thought Fatema had played the woman card really well:
Well done people take a bow..#MohsinAbbasHaidar has been fired from #Mazaqraat Career/future of this self made guy from mediocre background destroyed—only the manipulative woman could do that fully aware of playing #womenCard to her advantage & man..she played it too well tbh👍🏽👏🏽 pic.twitter.com/bGRmdWMTux

— Shamama Abbasi (@shamama_abbasi) July 23, 2019
Many thought it was an unfair decision:
Dunya channel's show mazaq raat is also like a family, if family don't know Mohsin fully or they left Him on the basis of Accusations, i think they should kick him after Court declare him culprit but leaving him is like you leave someone when he is in problem

— Raja Taha Shahzad (RTS) (@Egbert30996512) July 23, 2019
Some have decided to boycott the show:
#MohsinAbbasHaidar #FatimaSohail we are boycotting Mazaqraat until firing of Mohsin AbIbas, please note @DunyaNews @roznamadunya …

— Naser-Ahmed (عاجز۔ درویش۔معصوم ابن آدم) (@f9pakistani) July 23, 2019
Ummmmm???
Fuck off Mazaq Raat now. Firing #MohsinAbbasHaider out of show was never a solution. I already have unsubscribed ur YouTube channel.

— محمد مامون (@Mashori66) July 23, 2019
What's not to understand here?
Just heard, Duniya News has fired Mohsin Abbas Haider from their show "Mazakraat". I cannot understand our media and our people#BetiyanALLAHkiRehmat #RespectWomen #MohsinAbbasHaiderIssue #MohsinAbbasHaider #domesticviolence #MohsinAbbasHaidar #MohsinAbbasHaider #FatimaSohail

— Waqas Ahmed Ansari (@WaqasAhmedAns10) July 24, 2019
Lol, inki baat suno zara:
Just heard @DunyaNews fired #MohsinAbbasHaider.. tbh i didn't get why ppl mixing someone's professional life with his personal one…if he did something wrong he should be punished by the court….

— faizi (@faizicma) July 23, 2019
Many wanted him to be in the show:
Yar es larkey ko mazaq raat se mut nikalo he was a good entertainer #MohsinAbbasHaidar

— hassan aqeel ⛳ (@hassanaqeel2) July 22, 2019
The media fraternity too stood united against Mohsin Abbas Haider to prove that there's zero tolerance for domestic abuse:
The last few weeks have been a shit show when it comes to Pakistani men in the media. But I'm glad it's all coming out, that women are speaking up without shame or fear of retribution. That there is a supportive community of both women and men who stand by them.

— adnanmalik (@adnanmalik) July 21, 2019
After listening this heartless creature and a jhoot ki dukan putting hand on Quran makes me feel like crying out loud or laugh out loud what a ghatiya soul #MohsinAbbasHaider Allah ko tu jawab do gay na ?

— HUMAIMA MALICK (@HumaimaMalick) July 22, 2019
Dear men,
Before you even think abt hitting your women, JUST DONT.
There is no excuse, no validation, nothing u can offer that in ANY way makes this okay.
We are stronger than we look & we will fight back.
Silence is not, was not & never will be an option.

— manshapasha (@manshapasha) July 21, 2019
Last year when Mohsin wrote abt his depression i called him up to check on him. Gave him my sisters number who is a psychiatrist in UK.
So wrong to use depression and suicide as a tactic to deflect from who you truly are: an abuser. Horrifying. #fatemasohail we all stand with u!

— manshapasha (@manshapasha) July 21, 2019
After watching Fatema Sohail's press conference: Is domestic violence really not criminalized/clearly defined in our constitution? Don't we have a Domestic Violence (Prevention and Protection) Act and PPVWA?

— Osman Khalid Butt (@aClockworkObi) July 23, 2019
Sick to my stomach. What gives anybody the right to raise their hand on anyone? Nothing. No excuse.
For eons now we have normalised abuse (of all kinds) and for the sake of our children this needs to stop.

— Mahira Khan (@TheMahiraKhan) July 21, 2019
What #MohsinAbbasHaider has done is despicable. Domestic abuse is a crime and perpetrators should face the full wrath of the law. We can't tolerate this in our society. BUT we are also to blame for turning a blind eye for so long even though we see it happening … 1/2

— Mehwish Hayat TI (@MehwishHayat) July 21, 2019
Some were unhappy on both parties using Quran as a prop:
Stop using the #Quran as a prop to gain people's sympathy. It's simply sad & disappointing. My humble request to both #FatimaSohail and #MohsinAbbasHaider take the matter to the court and let the law decide but don't disrespect the holy book. #disappointed #StopDomesticViolence

— Ahmad Ali Butt (@ahmedaliB) July 22, 2019
But their concerns were answered:
So far the police station isnt even registering the FIR against the abuser quoting the need for medical reports although by law one does not need medical reports to register FIR. https://t.co/w25xhJWcD3

— manshapasha (@manshapasha) July 23, 2019
Khalid Butt, the man who had introduced Mohsin to the industry and had worked with him for 6 years, spoke over the matter as well:
I worked with Mohsin Abbas Haider for six years straight. I will shed some light on his personality which I closely observed working with him during these six years. I was the one who introduced him on television in my show as a reporter Kashmir Singh, as Kashmir Singh

— Khalid Butt (@KB_BUT) July 21, 2019
His attitudes was not professional during the show and I even witnessed some alterations between him and his family. At one time I saw him shouting and using abusive language towards them on phone

— Khalid Butt (@KB_BUT) July 21, 2019
When I asked him about it he was not a bit abashed n stubbornly insisted his actions were correct. Even when we were playing cricket sometimes, he was sore loser. He had sadistic, violent tendencies which I observed from time to time.

— Khalid Butt (@KB_BUT) July 21, 2019
I don't know the whole story and don't even know his wife but he is the kind of person who could stoop this low as to hit a pregnant female.

— Khalid Butt (@KB_BUT) July 21, 2019
It's already very hard for a Pakistani female to come forward about domestic violence. There's whole society she has to answer to. I think we should all stand by not only her but all the women going through this painful experience.

— Khalid Butt (@KB_BUT) July 21, 2019
Mirza Gohar Rasheed actually made an appearance on a news channel
#justiceforfatima #standagainstdomesticviolence
(Part – 1) pic.twitter.com/AdqO0VzzGn

— Mirza Gohar Rasheed (@GoharRsd) July 22, 2019
He also answered the reason he kept quiet on the issue:
#justiceforfatima #standagainstdomesticviolence
(Part – 2) pic.twitter.com/PZzpjhQFVd

— Mirza Gohar Rasheed (@GoharRsd) July 22, 2019
And extended his support for Fatema hoping that Mohsin is made an example of:
#justiceforfatima #standagainstdomesticviolence
(Part – 3) pic.twitter.com/3mVQ8eeHRt

— Mirza Gohar Rasheed (@GoharRsd) July 23, 2019
What do you think about Dunya TV's decision to fire Mohsin Abbas Haider? Let us know in the comments below