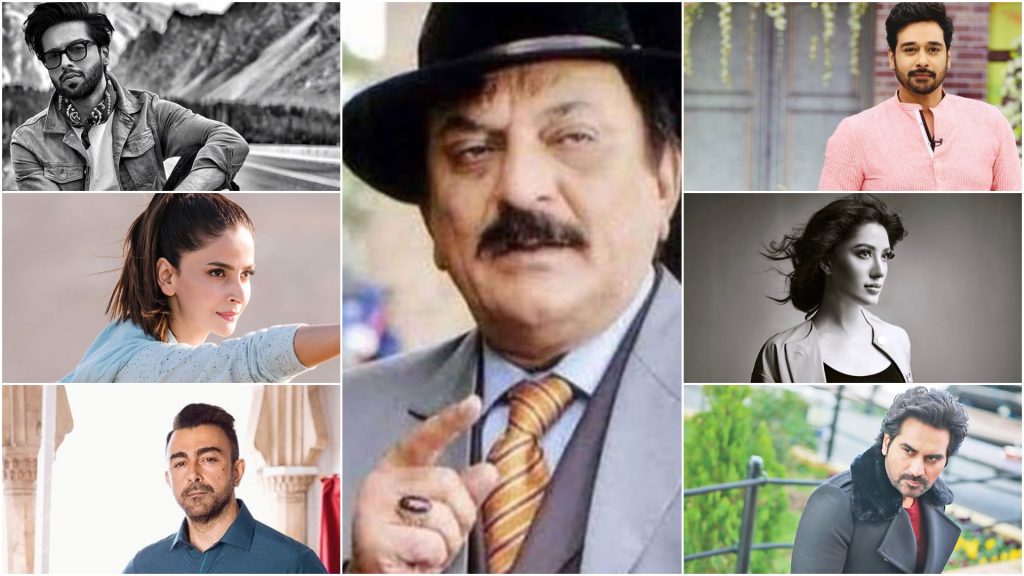 Veteran actor Abid Ali passed away last night, the news was made public by his daughter Rahma Ali on Instagram: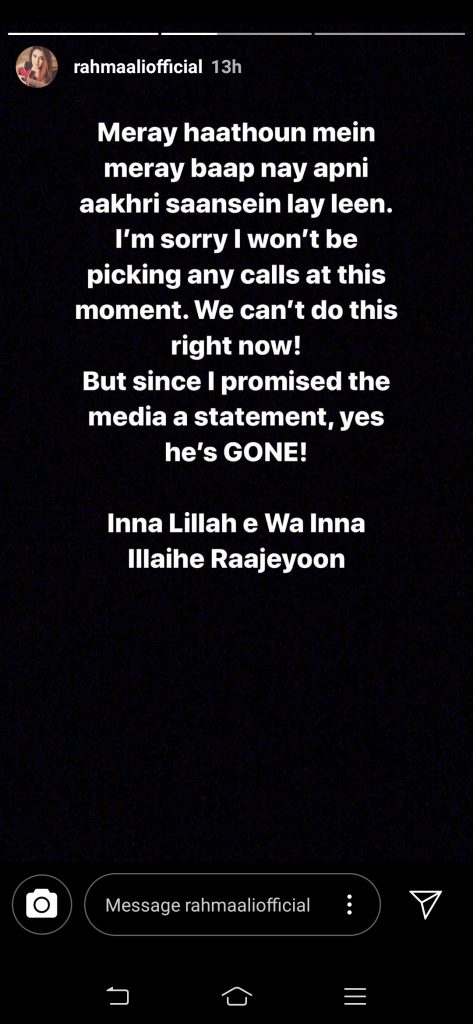 Iman Ali also shared the details of the Namaz-e-Janazah to be held today:
As the news broke, the industry came out to show condolences to the family of the departed and mourned the loss of such a great asset in the industry, Saba Qamar tweeted how the industry has lost a gem with Abid Ali passing away:
Today our industry lost a gem. Words can surely not express the loss of Abid Ali Sir. Working with him in Bunty I love you was an unforgettable experience. He always brought so much light to everyone around him. Such a legend. You'll be missed Sir #AbidAli #RestInPeaceAbidSir 💔 pic.twitter.com/UIta7c0als

— Saba Qamar (@s_qamarzaman) September 5, 2019
Humayun Saeed shared how big of a loss this was:
Deeply saddened to hear about Abid Ali sahab's death. A legendary actor and a man with a heart of gold. May Allah bless him with jannat and give his family, fans and our industry the strength to bear this tremendous loss. We will miss you sir and your work will never be forgotten pic.twitter.com/nEKr3HYDO8

— Humayun Saeed (@iamhumayunsaeed) September 5, 2019
Singer Adnan Sami came forward to pay his respect to the veteran actor:
Extremely saddened to learn of the passing away of Abid Ali sahib.
He was an incredibly powerful actor, great talent & a beautiful soul from Pakistan. Will miss him..

إِنَّا لِلّهِ وَإِنَّـا إِلَيْهِ رَاجِعون

May Allah SWT bless his soul in Jannat-ul-Firdaus.🤲🖤 pic.twitter.com/Y9uE1ucIFu

— Adnan Sami (@AdnanSamiLive) September 5, 2019
Mehwish Hayat shared how she had fond memories of him: https://twitter.com/MehwishHayat/status/1169695846662889472?s=19
Fahad Mustafa shared how Abid Ali will be missed:
You will be remembered.#RIP #AbidAli pic.twitter.com/St4qmSarIu

— Fahad Mustafa (@fahadmustafa26) September 5, 2019
Faysal Quraishi mourned the loss:
Our very dear and senior actor and friend ABID ALI sahab has passed away. Inna lillahe wa inna ilaehe rajioon.
May Allah bless his soul and reward him a place in jannat, aameen
This is a sad moment for us.

— Faysal Quraishi (@faysalquraishi) September 5, 2019
Shaan Shahid tweeted out how the industry lost a hero:
#Legendspk Abid ali sb .. the nation has lost one of its cultural hero's. an artist who served with his art and craft and made permanent space in our hearts &mind . Our last salute to you sir may you rest in peace .🇵🇰♥️⭐️

— Shaan Shahid (@mshaanshahid) September 5, 2019
Armeena Khan talked about what a legendary actor he was:
R.I.P #AbidAli sir. You were a legend, you are a legend and you will forever be a shining star of the industry. 💫

— Armeena Khan (@ArmeenaRK) September 5, 2019
Ali Zafar shared how Abid Ali was in a league of his own:
Ayesha Omar thanked him for everything he taught her:
Osman Khalid Butt also shared how the loss is unfathomable:
Feroze Khan too, shared how the actor will always be remembered:
Abid Sahab will be remembered ! Praying for him and his loved ones. Inallahe wa inna ilayhe rajeoun.

— Feroze Khan (@ferozekhaan) September 5, 2019
Hareem Farooq shared how we can never thank him enough for his contribution:
left us too soon! My heart aches to say goodbye to a legend today! May Allah grant him the highest of ranks in jannat! Ameen #abidali sir we can't thank u enough for ur contributions to this industry, to this country You're an institution,Ur legacy lives💔

— Hareem Farooq (@FarooqHareem) September 5, 2019
Ali Rehman Khan shared pictures of the two together, remembering him in his prayers:
Mawra Hocane sent her condolences to the family:
Our industry lost a Legend today. #AbidAli Sir , May you rest in eternal peace. Your talent shall live on!
Deepest condolences to the entire family.
Inna lillah wa inna eleyhe rajioon.

— MAWRA HOCANE (@MawraHocane) September 5, 2019
Zahid Ahmed bid farewell to him and sent prayers his way:
Humaima Malick shared how he will be missed:
Abid Ali will be missed . Inna Lillahi wa inna ilayhi raji'un ! Prayers for him and pray Sabr for his family

— HUMAIMA MALICK (@HumaimaMalick) September 5, 2019
Sanam Baloch too sent prayers for him:
May his soul rest in peace. #AbidAli pic.twitter.com/fhNeZ3IlNZ

— Sanam Baloch (@SanamBalochfans) September 5, 2019
Hira Tareen tweeted how Abid Ali's work will live with us forever:
Extremely saddened to hear about the loss of legendary actor #AbidAli. Lots of prayers going out to family and friends. He may no longer be with us but his breakthrough performances and contribution to Pakistani television industry will live on forever.

— Hira (@hiratareen) September 5, 2019
Zhalay Sarhadi recalled how gentle of a man he was:
He was a gentle soul. I worked with him very seldom but he was always kind and fatherly. My heart breaks with this news of his passing. You shall always remain in our hearts. RIP #abidali pic.twitter.com/m8VH79ZSO4

— zhalay sarhadi (@Xxhalay) September 6, 2019
Vasay Chaudhry sent prayers his way:
May Allah bless the Soul of Abid Ali Saheb
RIP Sir.

— vasay chaudhry (@vasaych) September 5, 2019
Cricketer Wahab Riaz expressed grief as he learnt about the news:
Deeply saddened to hear about the death of veteran actor Abid Ali Sahab. May his soul rest in peace.

— Wahab Riaz (@WahabViki) September 5, 2019
Nadia Hussain tweeted out about the loss:
No doubt we have lost a legend!! There can be no replacement of the power of his presence!! RIP Abid Ali sahab pic.twitter.com/0YR9EBmanv

— NADIA HUSSAIN (@NADIAHUSSAIN_NH) September 5, 2019
Shaista Lodhi shared how this was an irreplaceable loss:
From dilawar in waris to agha jaan in diyar e dil and many more, Abid Ali was/is/will always remain the superior of his craft. Life is so uncertain, can't help my heart to believe this. May Allah elevate his ranks in Jannah and grants him maghfirah.This is a irreplaceable loss. pic.twitter.com/XYqppjdxup

— Dr. Shaista Lodhi (@IamShaistaLodhi) September 5, 2019
Team Diva sends their condolences to the family and prays that Abid Ali rests in the highest status of Jannah, Aameen.