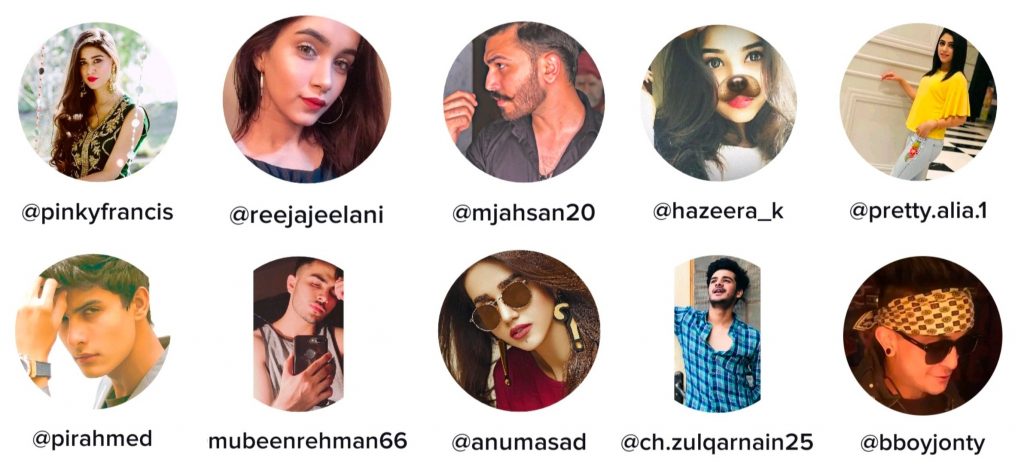 Tik Tok has taken Pakistan with storm and when the entertainment starved nation meets tik tok, the results are wildly creative! Today, we bring you the most followed Pakistani Tik Tok stars who are loved by millions!
Pinky Francis – @pinkyfrancis
The tik tok star who reigns by sitting at 2.5M is Pinky Francis and honestly her comic personality and spot on lip sync videos will win you over!
Pretty Alia – @pretty.alia.1
If you love fun and chirpy tik tok videos then Alia is your girl to follow!
Buggs Bunny @mjahsan20
With his acting so intense, you will love the content that Bunny has to offer on his account!
Reeja Jeelani – @reejajeelani
If you think you've seen this gorgeous woman before, you're right, not only is she the queen on Tik Tok but she's also been popular on Instagram being an influencer and was also very popular on Dubsmah back in the days
Pir Ahmed – @pirahmed
Sitting at 469.4K followers Pir Ahmed will give you the much needed dose of laughter any time you need it!
Hazeera @hazeera_k
Known for her expressive eyes, Hazeera is everything you could wish for! She's funny, she's stunning and she's got a great personality that is reflected in her videos!
Nouman Rizwan Khan – @bboyjonty
We love a man who knows his music and Nouman is exactly that! He uses songs to explain the plot in his videos and is almost always working with songs in his videos!
Mubeen Rehman – @mubeenrehman66
Mubeen is yet another man who has everything from heart break to humor and friendship to offer in his videos!
Ch. Zulqarnain @ch.zulqarnain25
Zulqarnain is on a mission to tickle every funny bone in your body with his hilarious little videos!
Anum Asad – @anumasad
Anum is full of love and life and it clearly shines through in her tik tok videos with spot on lip syncs and expressions so cute, they'll melt your heart!

Did your favorite tik tok star make it to the list? Let us know in the comments below!