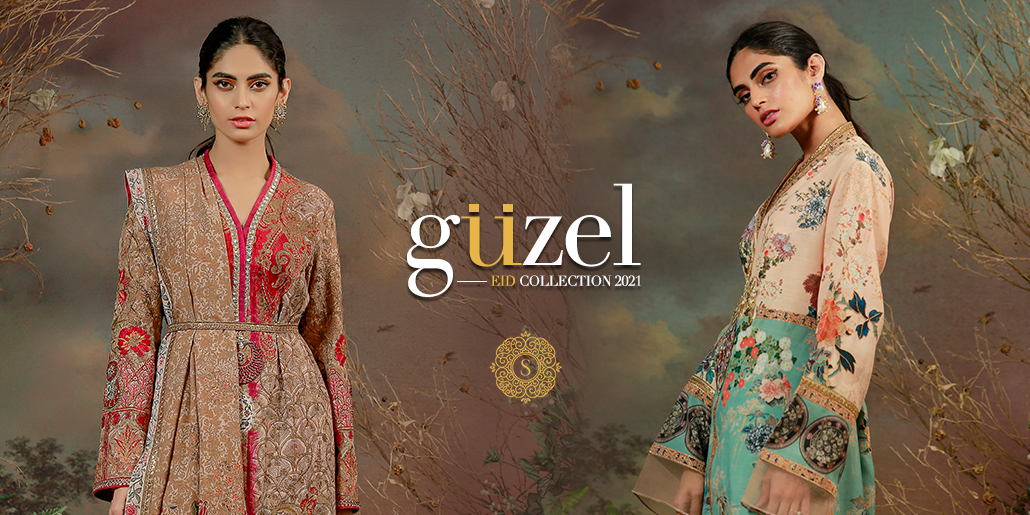 It would not be unfair to say that Shameel is the high priestess of Pakistani fashion. A Shamaeel outfit is an investment, almost like a piece of art that may be handed down over generations. As you enter her small atelier, tucked away in a quiet corner of the city, the outfits greet you with a sense of quiet confidence and you cannot help but pay attention.
While we may be staying in this Eid, this is the perfect time to treat yourself to a piece of the House of Shamaeel. With it's rich fabrics and detailed embroidery, each of the outfits in the Eid Collection are versatile enough to be worn to any formal occasion.
The Guzel Collection features pure silk, unique prints and intricate tila threadwork along with kundan, zardozi, pearl and stone embellishments.But perhaps what stands out the most is the immense detailing in each element of the outfit. Carrying South Asian and Central Asian elements, the collection may be considered fusion for its versatility.
We picked some of our favorites from the Guzel Eid Collection.
A signature Shamaeel silhouette, this pure silk ensemble boasts traditional tila threadwork to compliment the original print. The threadwork on this piece is so delicate and delicate that it seems like a 'print' at first sight, such is the finesse. The neckline is embellished with handcrafted kundan and zardozi. You can add on trousers too and the outfit is available in sizes XS to XL.
This might be the 'one' for us. The unique Shamaeel print on pure silk is so beautifully unique. It's breezy cut make it's the perfect summer Eid look that is simple yet decadent. The pearl detail on the black organza collar is further elevated by the kundan and zardozi work.
This one is truly one for the ages. The royal Ferozi notes and Ottoman-inspired patterns are befitting for a queen. The pop of red on the outfit draws one even closer to the exquisite detailing of the antique tila threadwork. The contrasting borders are created with a combination of resham, ari, zardozi and tika threadwork. The pearls and stones on the neckline bring it all together to complete the regal feel of the ensemble.
The House of Shamael's Eid Collection 'Guzel' is a reminder of everything that makes the brand so effortlessly timeless. Using pure fabrics, rich colors and incredible detailing, each outfit is unique and commands its own space in a room. These ensembles are crafted for a woman who is not afraid to be the center of attention. Guzel, with its pure fabrics and exquisite detailing is not just a collection that will make the wearer the center of attention this Eid, but for an Eid a generation later too.