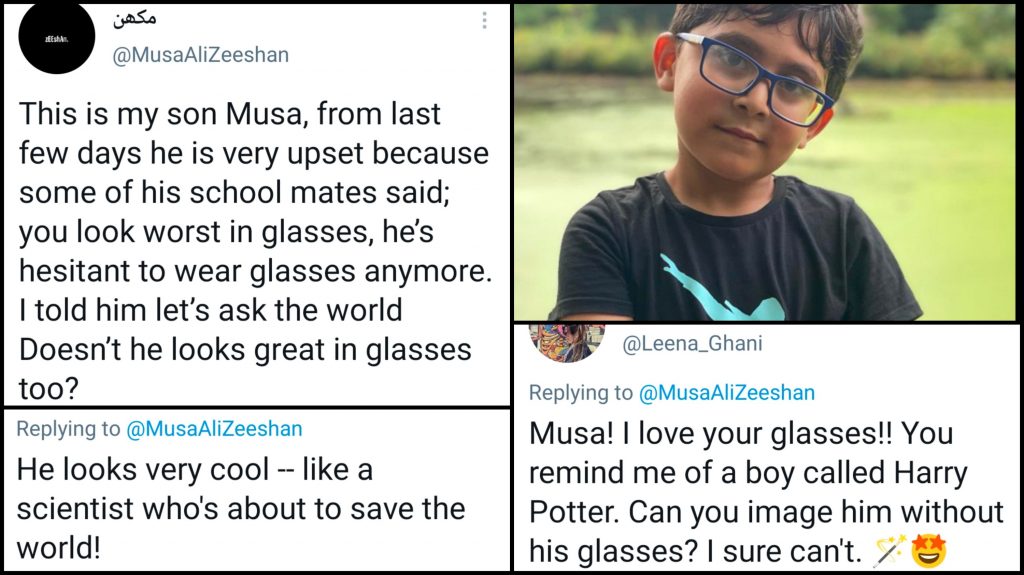 School's a hard time for everyone and honestly we get its you're surrounded by all sorts of people, some who lift you up and some who bring you down.
Little Musa wore his prescription glasses to school and was bullied into thinking that he doesn't look good with them, worried, one of his parents took to Twitter to comfort the little boy:
This is my son Musa, from last few days he is very upset because some of his school mates said; you look worst in glasses, he's hesitant to wear glasses anymore.
I told him let's ask the world
Doesn't he looks great in glasses too? pic.twitter.com/wT0jfcVUkf

— مکھن (@MusaAliZeeshan) April 30, 2021
Within no time, Musa became the top trend on twitter as he gathered lots of love, words of encouragement and praise from netizens!
My eldest son Jamal also wear glasses. He says being diff is cool !!! Please tell Musa not to fall for this. He looks so good wearing eye sight glasses. https://t.co/aCMj2kmGXt pic.twitter.com/3hqMQY1bli

— Ali Haider Gilani (@ahaidergilani86) April 30, 2021
Comedian Ali Gul Pir came to support the little one:
You look great Musa! People with glasses are cool and extra handsome. Just look at me 😋😎 #killinit https://t.co/8yBC0GzCtz pic.twitter.com/5ajktGHsh8

— Ali Gul Pir (@Aligulpir) April 30, 2021
The tweet even crossed the border and got a reply from Derek O'Brien among others:
Hey Musa. I have been wearing specs since I was in class 3. I was 8 years old. I am now 60😇you look too cool

— Derek O'Brien | ডেরেক ও'ব্রায়েন (@derekobrienmp) April 30, 2021
Handsome lad!

— Shiv Aroor (@ShivAroor) April 30, 2021
He looks very cool — like a scientist who's about to save the world!

— Rosie Roti (@supriyan) April 30, 2021
Absolutely!
As one speccy to another all I can tell Musa is that glasses 👓 are cool, it's his mates who are losing out by not having glasses to wear 😀

— Omar Abdullah (@OmarAbdullah) April 30, 2021
Exactly, the most handsome!
Innocent things in these stressful times 🙂

Been wearing glasses since X class. Gotten so used to it, that never went for lasik surgery.

You look handsome Musa & never let people tell you what to wear or think. https://t.co/x2QzQ38zEl

— Ishkaran Singh Bhandari (@ishkarnBHANDARI) April 30, 2021
Yaaas!
Musa you are star … world's most successful men wear glasses .. show him these pics pic.twitter.com/UnnOIpP0O8

— Rehan Alavi (@AlaviRehan) April 30, 2021
We agree!
Hey Musa, the color of the glasses and shape really compliments your face and match your personality.  Have you picked out the glasses yourself? If yes what a good job you have done 👏🏾

— Nighat Dad (@nighatdad) April 30, 2021
We can't either!
Musa! I love your glasses!! You remind me of a boy called Harry Potter. Can you image him without his glasses? I sure can't. 🪄🤩

— Leena (@Leena_Ghani) April 30, 2021
👀
shush 🤫. Just so that, you know only. pic.twitter.com/FHxkBHoBMw

— The Profèssórie (@Alamgir77) April 30, 2021
We do!
If you could please pass this on to Musa –
Hi buddy! The same happened to me when I got glasses in school. I was in the 6th grade. People kept making fun of me but I liked wearing my glasses anyway. When we wear glasses, we actually get super powers. We can see! pic.twitter.com/agHDmtKuTZ

— S. Akeira Reddy (@AkeiraReddy) April 30, 2021
Block them haters with those glasses:
Musa, the are all jealous because you look so, so cool in those amazing specs. Ignore them.

— Abbas Nasir (@abbasnasir59) April 30, 2021
Can't argue with that!
Hey Musa, I am wearing glasses since grade 3 and I think we both look pretty awesome. You are rocking the frames, young man.

Go deaf on your mates cuz eyes are far more important ❣

— Bano (@BanoBee) April 30, 2021
Yes!
Musa, you're a handsome looking young man with the coolest frames!! Don't let anyone tell you otherwise

— Manal (@meemelif) April 30, 2021
People shared pictures of their loved ones wearing glasses:
😂😂And this is my grandson Musa in his mom's specs. Tell him all Musa's look great in specs. pic.twitter.com/IToh0wHOyc

— Tariq O. Rehman (@TORehman) April 30, 2021
Musa, both my kids started wearing specs when they were your age. You guys have a huge club and you all are so cool 😎 pic.twitter.com/cWYIffBGCo

— The Twelver (@S_Xaidee) April 30, 2021
My baby also wear glasses from his age 2 but he is still cute pic.twitter.com/N4GEbPW4Gf

— Hiba karm (@Hibakarm) April 30, 2021
See your friend also wears glasees pic.twitter.com/RFd5JjjrZj

— SABIR AHAMED (@sabirahamedgd) April 30, 2021
My son's been wearing very high power glasses since he was two and a half.

I'd taught him to teach those eho tried to say anything.

"It's hypermetropia and amblyopia of my right eye, thank you"

Your son is handsome and will grow to be handsome as well pic.twitter.com/C3Djpz5Qho

— Alo Pal (@AloPal) April 30, 2021
There were praises left and right:
He looks so Handsome. Musa, you look like rockstar

— Swaroop Rawal (@YoSwaroop) April 30, 2021
The tweet went international!
Iron Man wears glasses too. You look great, Musa. pic.twitter.com/BZyuVJt9q1

— Jackie Leonard (@JackieLeonard01) April 30, 2021
We love this!
Hello Musa jaan, you look fantastic in glasses. Intelligent, comprehensive & kind. People often told me I looked like a librarian in glasses & I loved it. I spent most of my life buried in books & writing which made me a better person. We've a power to change our looks! That's me pic.twitter.com/fpNlcGwIzh

— زري (@PoltclCassandra) April 30, 2021
Yep:
Musa you look great and very handsome in glasses. Don't think what your mates think about you. Just chill ! ❤️ https://t.co/wQDb6OSEA9

— Hina Parvez Butt (@hinaparvezbutt) April 30, 2021
Aameen!
Its fucking sad such an adorable and winsome kid has to endure bullying for having myopia. Such a handsome lad I wish he goes on to achieve big things in life. https://t.co/KsD1i158C7

— Squirtle FC 😔👊🏽💔 (@mayankfucknows) April 30, 2021
We do too!
This kinda positivity on Social Media! I love the energy of this Father ! @MusaAliZeeshan https://t.co/BGONspxbn8

— Not me being ME! Exactly it shouldn't make sense. (@izath_manal) April 30, 2021
Us too 😭
This whole thread is so cute I'm crying https://t.co/zO5KFlS9yI

— Kal (@oka_byee) April 30, 2021
With all the love and support our lad has gotten, we're here to personally tell you that you look amazing Musa! Have anything to add to the story? Do it in the comments below!