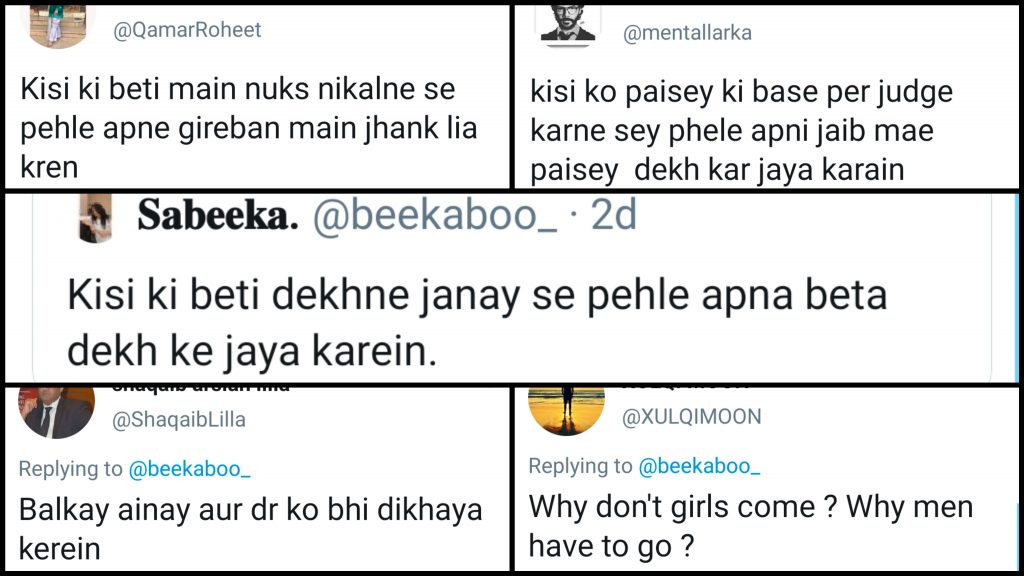 We live in a society where the rishta hunting process is already a problematic affair, both the genders are thoroughly scrutinized, some for their looks, some for their complexion, some for their salary and what not.
Having had enough of women being judged, this girl thinks that parents should also take a good look at their sons when scrutinizing women:
Kisi ki beti dekhne janay se pehle apna beta dekh ke jaya karein.

— 𝐒𝐚𝐛𝐞𝐞𝐤𝐚. (@beekaboo_) August 14, 2020
And people had a lot to add!
Why don't girls come ? Why men have to go ?

— XULQI MOON (@XULQIMOON) August 15, 2020
Jo baat hai!
Balkay ainay aur dr ko bhi dikhaya kerein

— shaqaib arslan lilla (@ShaqaibLilla) August 15, 2020
Some argued how problematic this was:
Langoor ke lye hoor lene jatay hain

— zainab (@zainib_zamir) August 15, 2020
Others fired back shots:
Langoor ka paisa dekh k angoor dedete hain

— Naqash Latif (@ifwededuce) August 15, 2020
JEEEE!
Kisi ki beti main nuks nikalne se pehle apne gireban main jhank lia kren https://t.co/JBdBuMSp7v

— Roheet Qamar (@QamarRoheet) August 15, 2020
Some gave hope!
My dad said na ghr ghr ja kr larkiyan dehkni ha na her koi hamaary ghr aye ga.. we just went to 1 home for my brother n no one visited our house except for my in laws things were finalized b4 visits.

— Devilish Angel(Stay At Home) (@DAngel987) August 15, 2020
We need more people like your brother!
While baba was discussing my rishty, bhai said "aain daikh k jain or pasand hy tou theek hy. ni pasand tou na krain lkn agr jaty hoy is py koi negative comment kr k gay my ny usi wqt baghair lihaz key munh tood daina hy" and bhai thank you for saying this. https://t.co/T2RlKUM5AK

— Rabia Butt (@_RabiaButt) August 15, 2020
People agreed how this practice should be discouraged:
Ths one is bcmng tradition in our society whch is immensely bad! We shuld discourge it more nd more☝

— Usman Ali (@UsmanAl80498781) August 15, 2020
Okay!
Jtna kojja…. utni pretty…
Jtna badkarr…utni pakbaaz….
Jtna nakama…utni saleeqa mand…
Jtna gawar….utni manners wali…
Jtna Bay rozgar….utni rozgar wali…

— ……… (@SoniHaddi) August 15, 2020
And mums be wanting chand si bahu for them:
He's always chand ka tukra no matter what.

— Nusrat Zahra (@nusrat_xahra) August 15, 2020
Exactly!
💯💯. Fuck this judgemental rishta culture. Its not a car market where you choose partners on conditions, its a matter of understanding between 2 people who want to spend their life together, let those have the decision and STOP JUDGING. https://t.co/lhgONjHWMJ

— saffi (@saffiaziz) August 15, 2020
Men too pitched in their 2 cents:
kisi ko paisey ki base per judge karne sey phele apni jaib mae paisey dekh kar jaya karain https://t.co/8D70VHSnZc

— A K Mental (@mentallarka) August 15, 2020
What do you think about the rishta hunting culture? Let us know in the comments below!