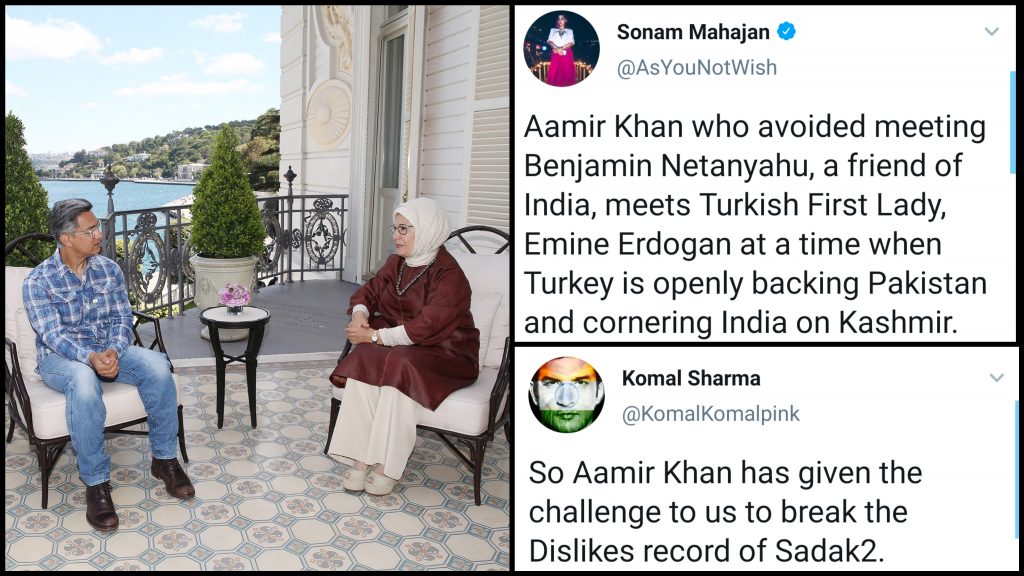 One of the reigning kings of Bollywood, Aamir Khan, who is in Turkey to shoot his upcoming film Laal Singh Chaddha, met First Lady of Turkey, Emine Erdogan.
I had the great pleasure of meeting @aamir_khan, the world-renowned Indian actor, filmmaker, and director, in Istanbul. I was happy to learn that Aamir decided to wrap up the shooting of his latest movie 'Laal Singh Chaddha' in different parts of Turkey. I look forward to it! pic.twitter.com/3rSCMmAOMW

— Emine Erdoğan (@EmineErdogan) August 15, 2020
The first lady received Aamir Khan at the presidential residence, but the news itself was not well received by the Indians:
Aamir Khan who avoided meeting Benjamin Netanyahu, a friend of India, meets Turkish First Lady, Emine Erdogan at a time when Turkey is openly backing Pakistan and cornering India on Kashmir.

Reportedly, Aamir sought the meeting. If true, he has made a very loud statement.

— Sonam Mahajan (@AsYouNotWish) August 16, 2020
People were calling him a fake nationalist:
#AamirKhan Meeting First Lady of Turkey. He had better shift his acting career there coz after this Anti National stunt it shows where EXACTLY he stands. He is a BIG FAKE who portrays nationalism in movies BUT does exact OPPOSITE in REAL LIFE #BoycottLaalSinghChaddha pic.twitter.com/DyOY9nhiHk

— Rosy (@rose_k01) August 17, 2020
Indians were all set to make the trailers of his movie the most disliked video on YouTube:
Aamir Khan has given the challenge to us to break the Dislikes record of Sadak2 for #LalSinghChaddha

And Indian audience accept it with whole heart. 🙏

Now Indian audience to #AmirKhan 🤣😁 pic.twitter.com/qyIp0luHn2

— Shivam yadav (@Shivamy93527382) August 17, 2020
People really did have a lot to say:
The audacity of #AamirKhan to meet with #Erdogan & family shows the extent to which #Turkey owns him#Turkey has made investments across NGOs, SC lawyers, mosque networks, PFI and universities like AMU and Jamia

Indian intel is sleeping pic.twitter.com/skSfSp1ry1

— Chayan Chatterjee (@Satyanewshi) August 16, 2020
There was a long list of accusations:
#aamirkhan SSR was your CO StAR in PK – No tweet/No condolence message from you – you made video for Chinese people for COVId because they watch your movie and these Chinese killed our Army people – turkey supports Pakistan and they also kill our army – Shame in you-I think u got pic.twitter.com/v3Gmrjrbsh

— Nilotpal Mrinal (@nilotpalm3) August 17, 2020
Shots were fired:
The likes of #AamirKhan can go ahead and meet the top most leaders of Turkey, a nation which is now very friendly with the enemies of our country, is because they fear zero retaliation from citizens of this country.

Many went ahead and even watched Dangal.

Each one teach one…

— Ashu (@muglikar_) August 16, 2020
People were calling a 'fall':
What a fall seriously. #AamirKhan pic.twitter.com/qULwLhfewj

— Pradeep Bhandari(प्रदीप भंडारी) (@pradip103) August 17, 2020
Ummmm?
#AamirKhan Even if a person is born a hundred times, he does not become good indian pic.twitter.com/IkMUSbLtqb

— Rishika (@Rishika18956536) August 17, 2020
Indians wanted him to leave the country:
He is the same guy who felt insecure in india 5 years ago and now he is meeting with Anti – India country Turkey and its president's wife. He should leave this country. SHAME ON YOU #AamirKhan#तुर्की_भाग_आमिर_खान pic.twitter.com/GV5ov7oF3f

— jack (@_ItsHD) August 18, 2020
People were calling him more dangerous than terrorists:
#तुर्की_भाग_आमिर_खान#AamirKhan is a fake Indian, he never support india . He is more dangerous than Islamic terrorists.
We need to think before watching the movie of Aamir .now ,this is time to boycott movies of terrorist supporters including #Aamir. 😡😡 pic.twitter.com/UJNlIKOfOe

— saurabh raj🇮🇳 (@saurabhRajIndia) August 18, 2020
Okay there:
The problem is not what Aamir Khan does.
The problem is who Aamir Khan is.

— Arfa Khanum Sherwani (@khanumarfa) August 17, 2020
And while the actor faced a lot of flak from his countrymen, Pakistanis were all praise for the man:
The way #AamirKhan greeted her ❤ pic.twitter.com/rvEhHCdvoc

— Basit (@Cometics_) August 17, 2020
They didn't see any problem:
I don't understand the outrage on meeting of #AamirKhan with #Erdogan wife

He was shooting in turkey, every actor visits head of state where they are shooting to get ease in approvals

Those who r showing unnecessary outrage how they see meeting with Musharraf of Sudhir pic.twitter.com/nXvo60cBYc

— Fahad Ahmad (@FahadBombay) August 16, 2020
Well…
#AamirKhan met the Turkish first lady yesterday to raise water awareness, not realizing water was raising inches away behind him ~#MondayMood #Water pic.twitter.com/fOYg2YX7UM

— mukesh vig (@vigmukesh) August 17, 2020
People had questions:
We, as a country, have never spoken anything against Turkey's verbal aggression against India. We as a govt haven't lowered any diplomatic ties despite their repeated alignment with Pakistan. But we expect #AamirKhan to do all this and more on behalf of the govt? And India?

— Sanket Upadhyay संकेत उपाध्याय (@sanket) August 17, 2020
Others didn't really get the outrage:
He is a shrewd businessman first, actor and artist second, for him business comes first. He did what he felt was right. To each his own. #AamirKhan

— Manish Mundra (@ManMundra) August 17, 2020
Some were comparing his situation to that of Saba Qamar's:
#SabaQamar here and #AamirKhan on other side of the border – facing trolls for "woh baat saare fasane mein jis ka zikr na tha" @javeednusrat @aniqnaji

— Ahmed Pasha (@GeniusPasha) August 17, 2020
What do you think about the flak the actor has been receiving? Let us know in the comments below!