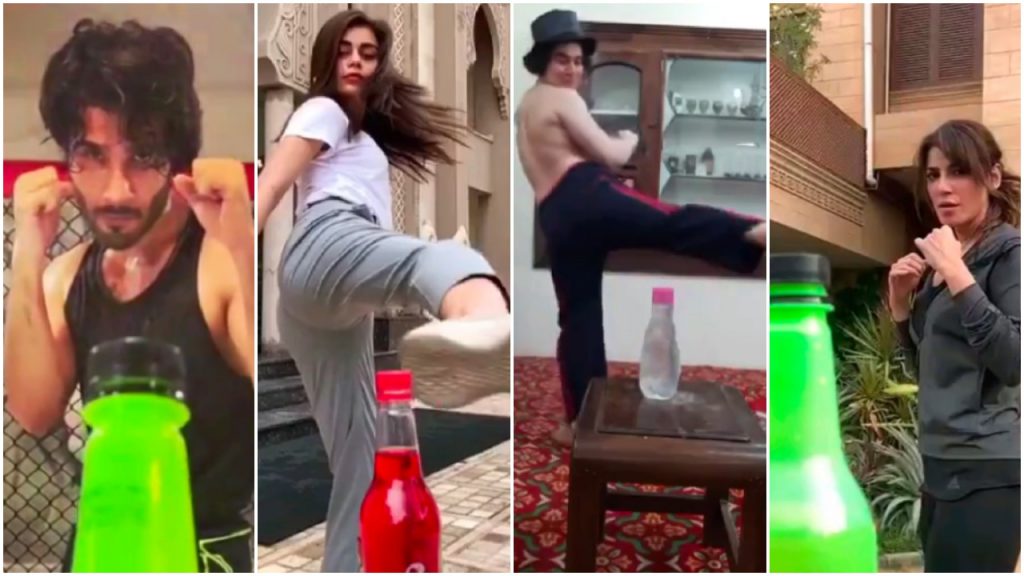 If you haven't seen celebrities open a bottle cap with a roundhouse kick then you're probably living under a rock! The newest challenge that has taken the internet by storm is the bottle cap challenge and if you're wondering if your favorite celebrity has done it, then keep reading because we have a list!
Mehwish Hayat
Done like a true boss, Mehwish Hayat absolutely nailed the challenge!
Sadaf Kanwal
We're yet to see a diva who has done the challenge as effortlessly as Sadaf Kanwal!
Feroze Khan
https://www.instagram.com/p/BzyWcxkhBXF/?igshid=9dlzh8fk9py2
The challenge looks like a piece of cake for Feroze Khan!
Shahzad Noor
Model Shahzad Noor too took the challenge and aced it like the pro he is!
Navin Waqar
Navin came, she saw and she conquered!
Aamna Ilyas
We haven't seen a diva look as fierce as Aamna!
Hasan Rizvi
Hasan Rizvi took the bottle cap challenge to a whole new level by doing the challenge with a blindfold on and we're absolutely shook!
Yasir Hussain's dog!
Yes you read that right, we're not talking about Yasir Hussain but his dog who did the challenge, and that too successfully!
Usman Mukhtar
Usman Mukhtar thought the roundhouse kick had become pretty mainstream, so he decided to invent a challenge of his own!
Nasir Khan Jan
Ladies and gentlemen, we have a winner! Nasir Khan Jan shows us what we all would look like attempting the bottle cap challenge at home 😂 😂 😂
What do you think about celebrities doing the bottle cap challenge? Who did you like the best? Let us know in the comments below!