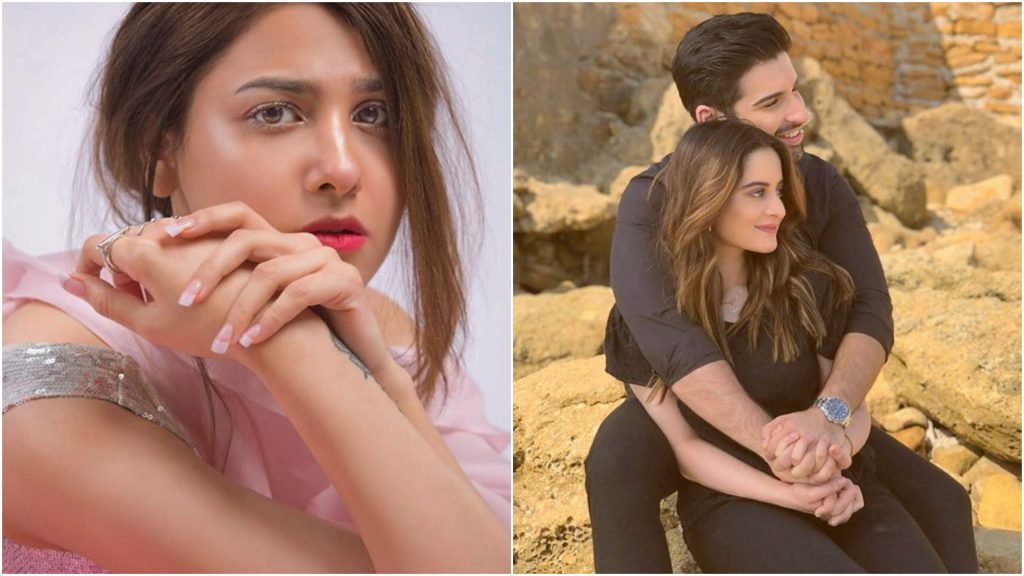 In a recent interview, actress Hina Altaf took a shady dig at Muneeb Butt when asked who was the actor that doesn't know acting but pretends like he's an amazing actor:
Hina Altaf answered that it was Muneeb Butt, the host then struggled remembering who Muneeb Butt was 👀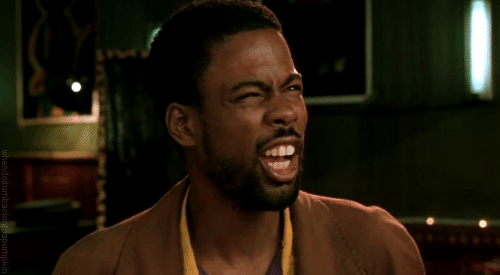 And to remind him, Hina mentioned the hashtag #AineebKiShadi. After which the host threw shade at Aiman too for posting a photo with the 'jaheiz khori band karo' sticker a day after her extravagant wedding.
Fans on social media too gave their verdict, some thought Hina was right and some thought Hina shouldn't have taken names:
Muneeb Butt isn't my fav par Hina Altaf ka apni sasti acting ke baad kisi ko kuch kehna banta nai.

— Naima (@BlahBleh_) July 12, 2019
People shared their love for Muneeb:




People compared Hina's acting to Muneeb's:
Hina Altaf who herself is an average actress commenting on Muneeb Butt's acting..irony!
P.s: I like Muneeb's acting. He's much better than Hina at least.

— Kiran (@KiranRaza01) July 12, 2019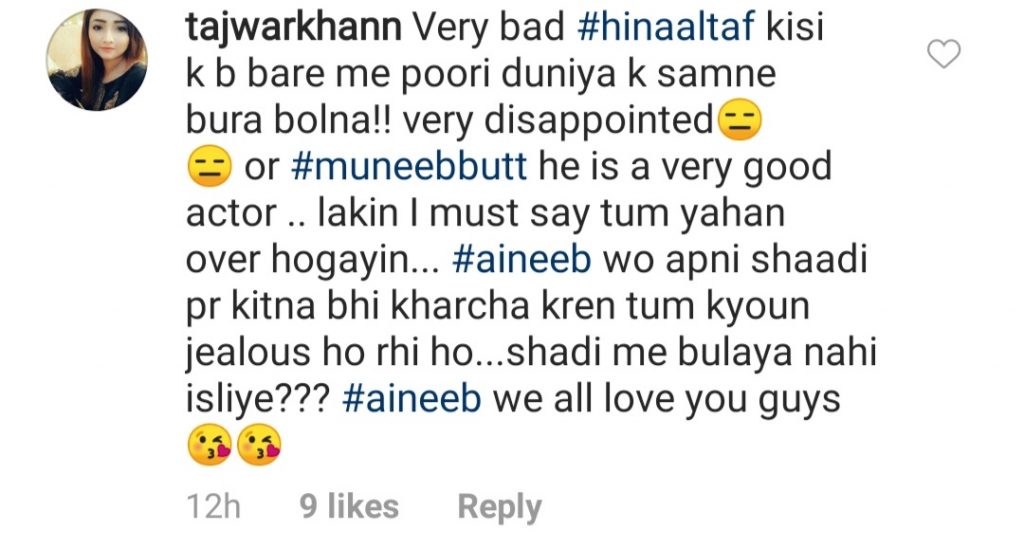 People from across the border came forward to support Muneeb too:
One should not laugh and make fun over fellow actors acting, As far as acting is concern I would say #MubeebButt is a brilliant actor I worked with him for zee tv Middle East production with our neighbourhood actors they also praised Muneeb Butt a fine young actor from Pakistan.

— Faiza Khan (@TheFaizakhan) July 12, 2019
People mentioned some of his best work to date: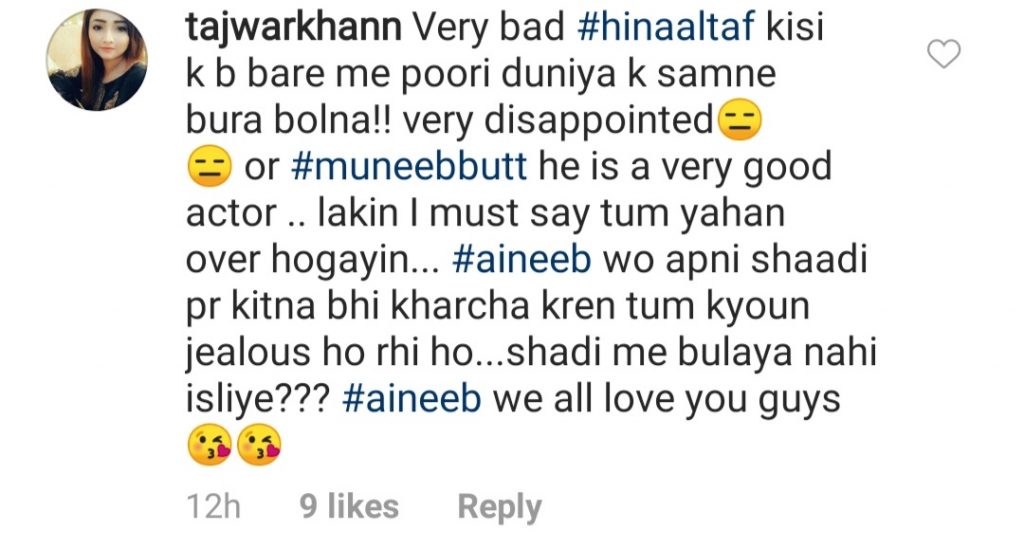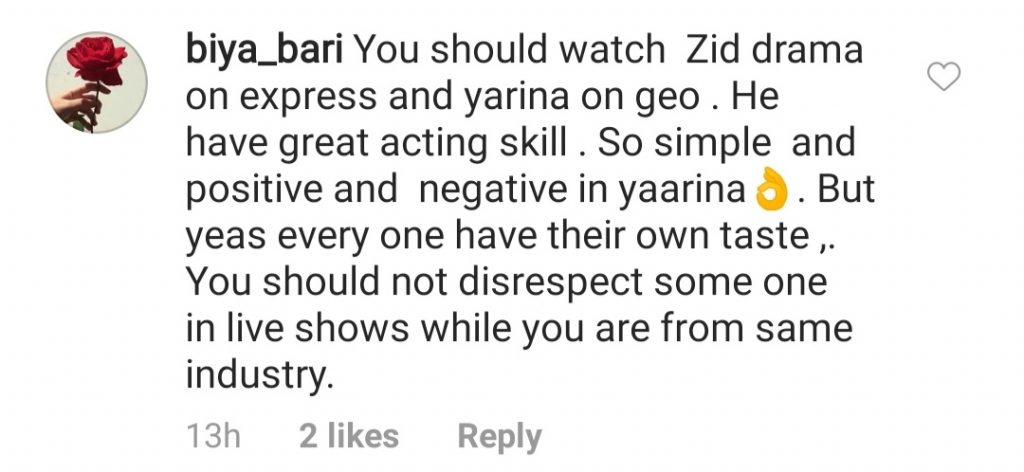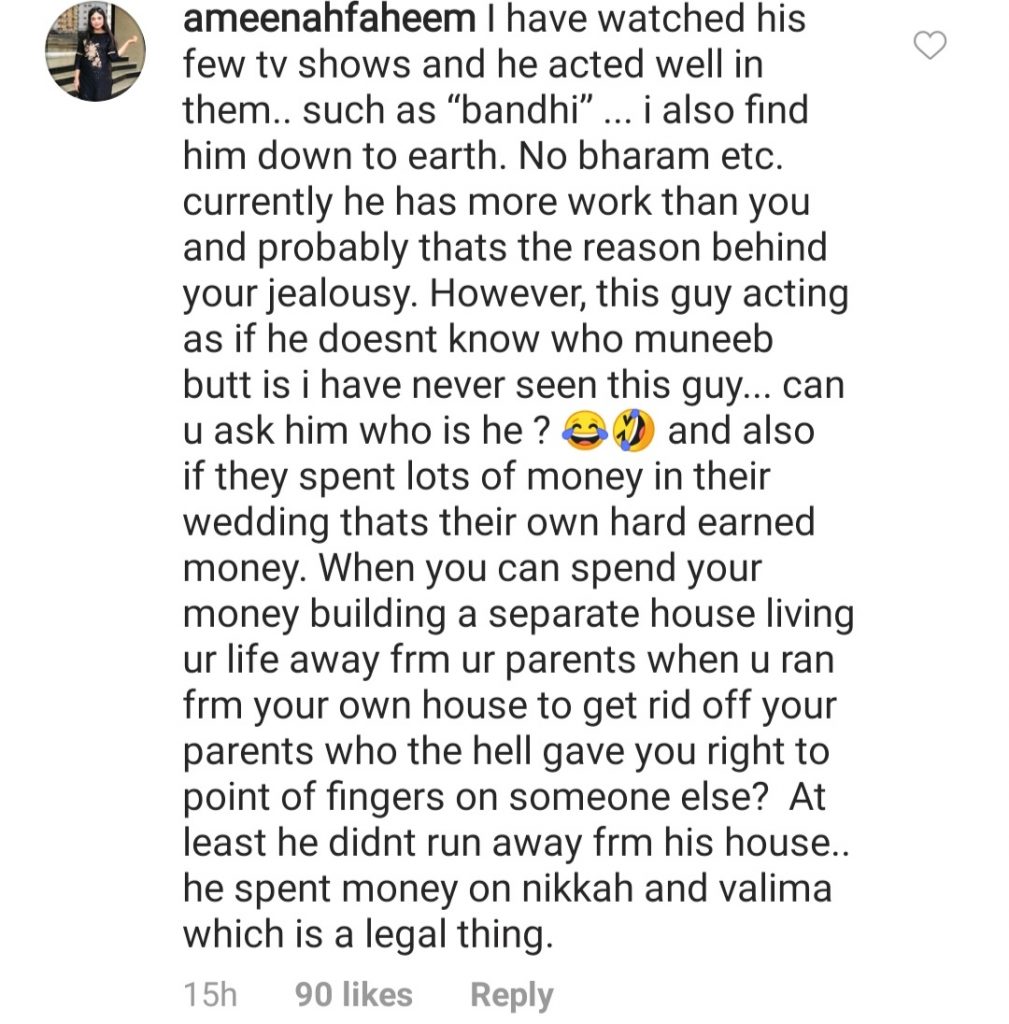 And while people were bashing Hina, there were many who defended her:

Many argued how she had the right to express her opinion:






Many agreed with her: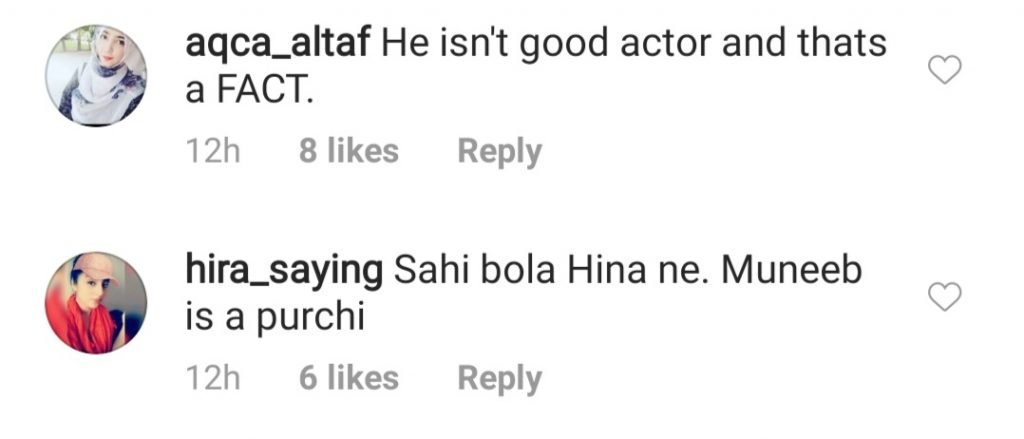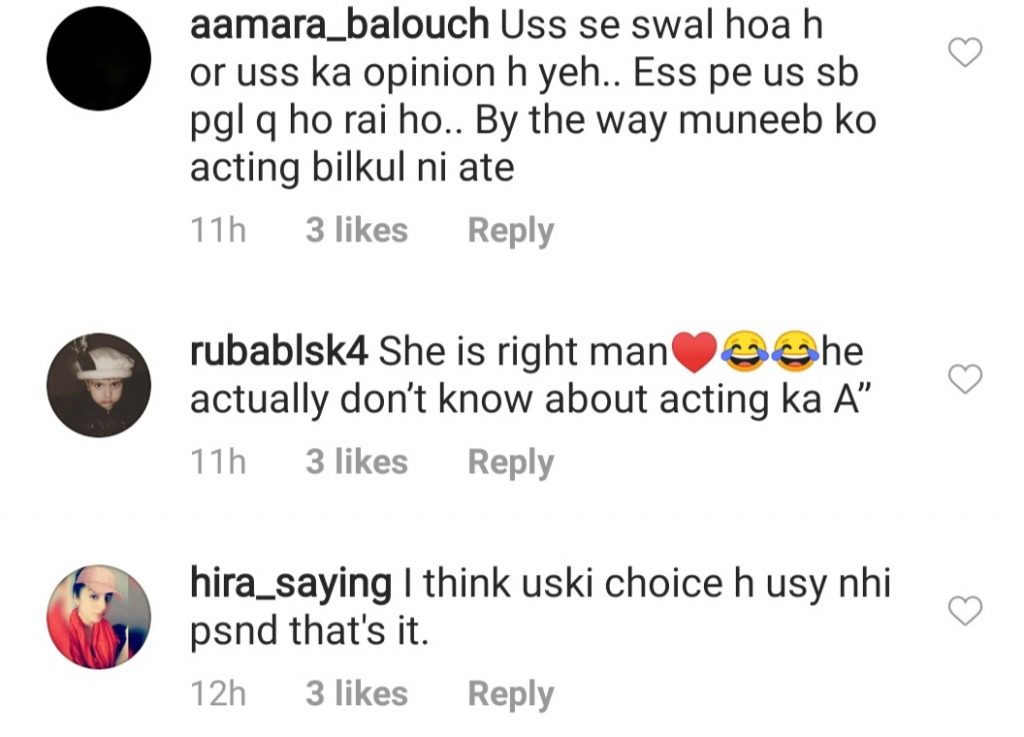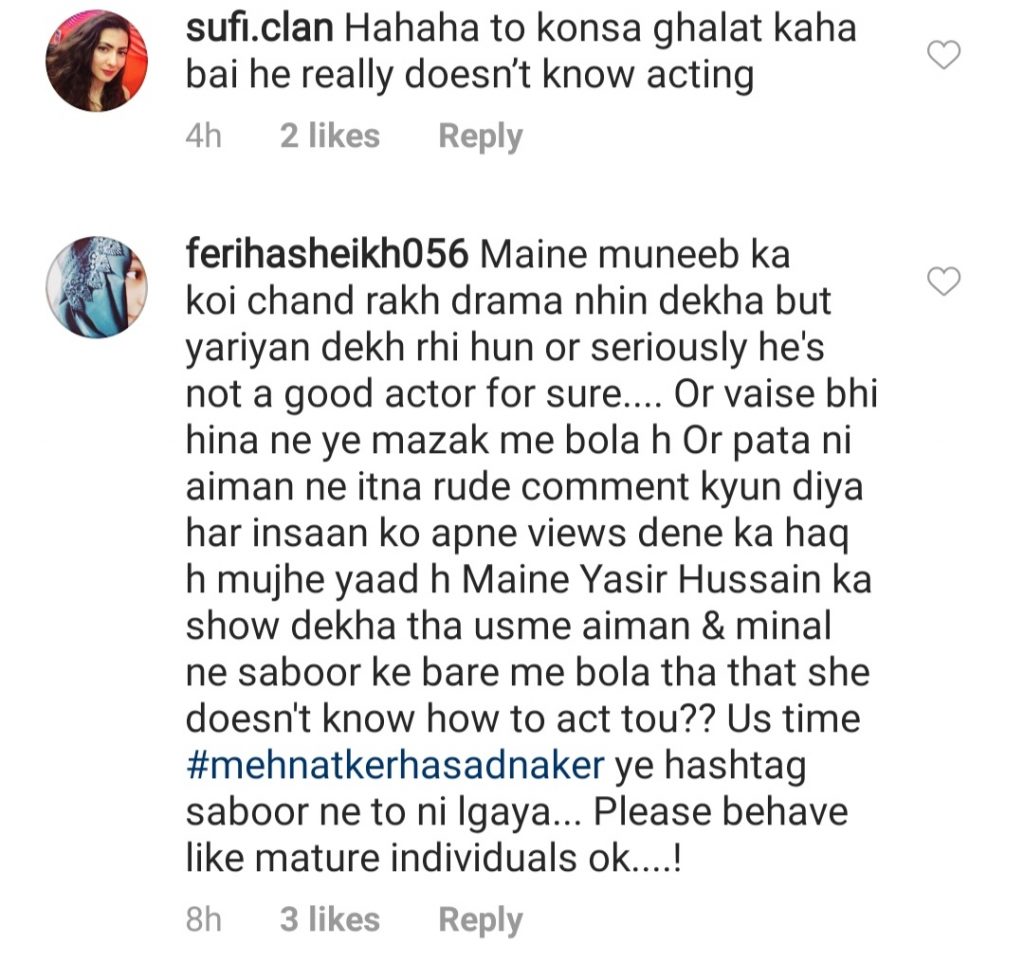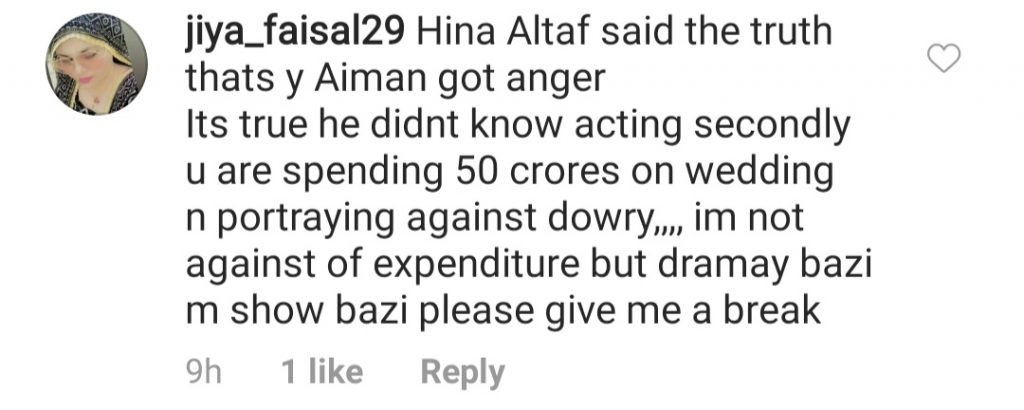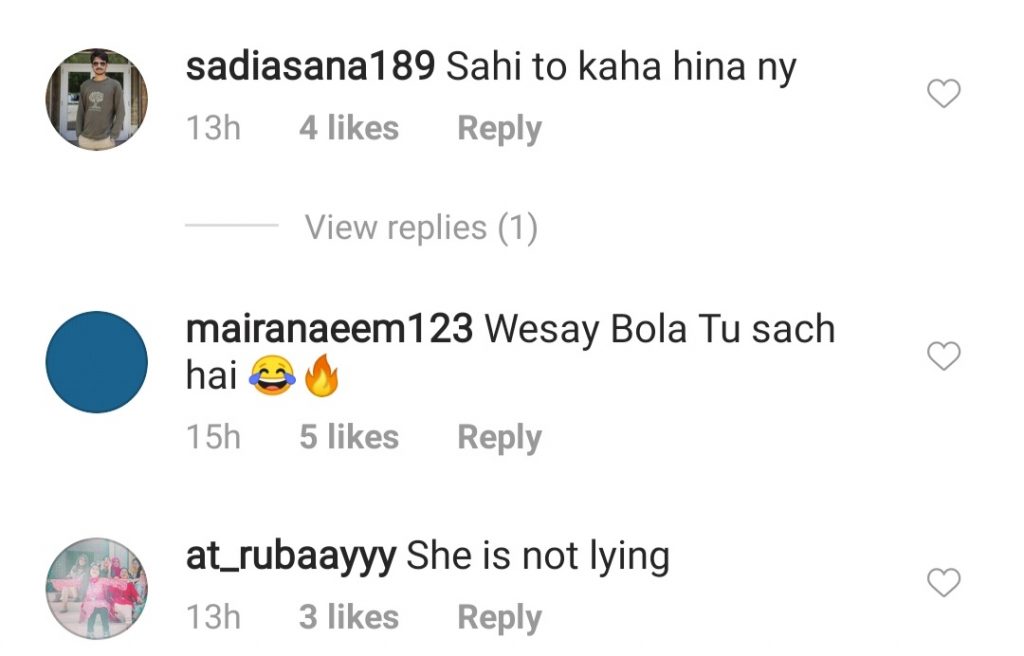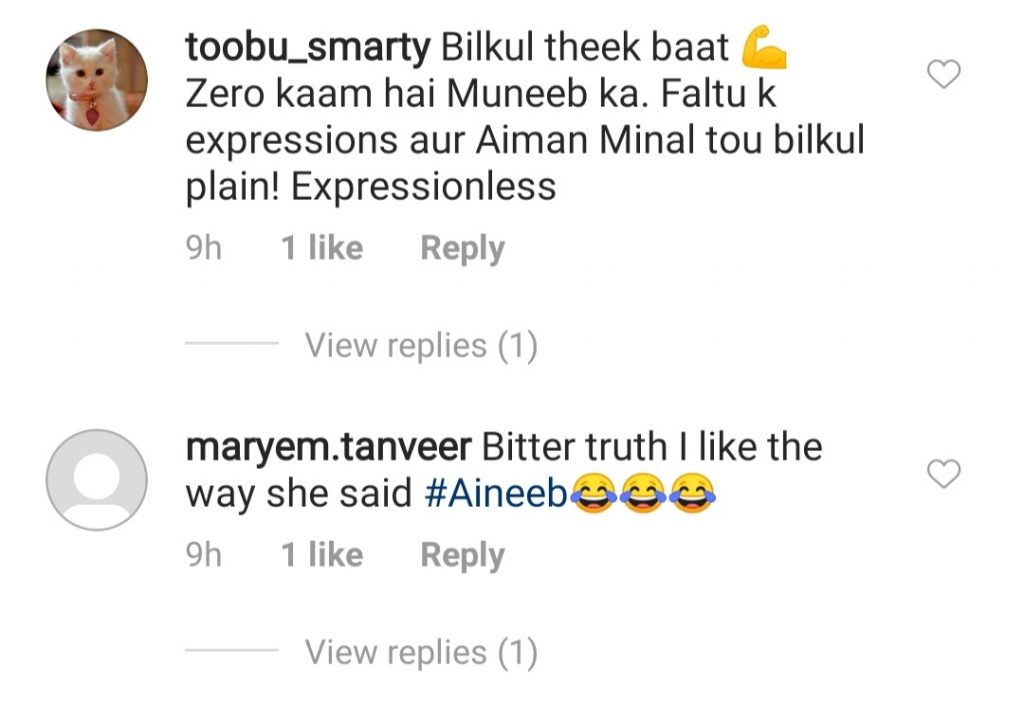 As the clip surfaced the internet, Muneeb Butt took to his Instagram stories to share a quote with the hastag 'Say No To Negativity'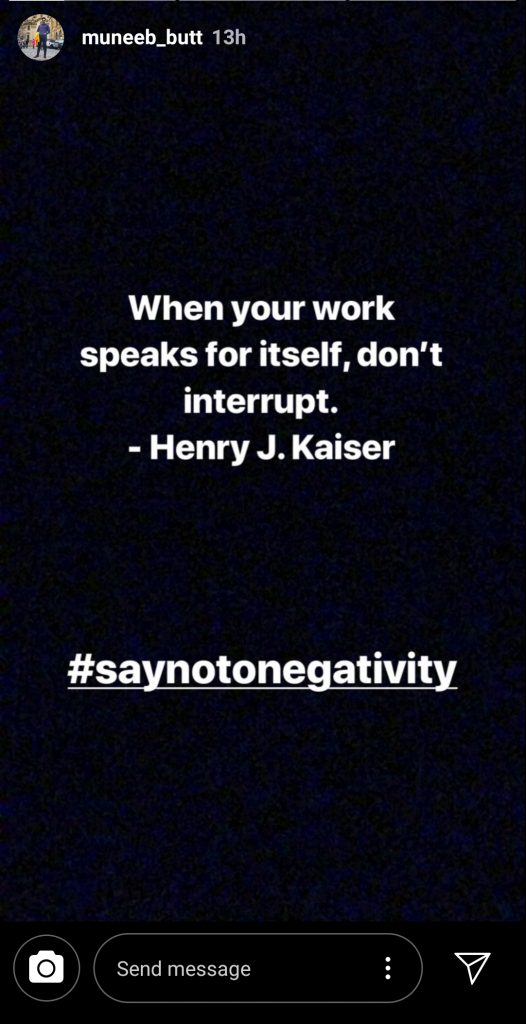 His wife Aiman too posted a status on her stories attacking Hina and the host for bringing Muneeb down and called them 'uneducated,' ouch!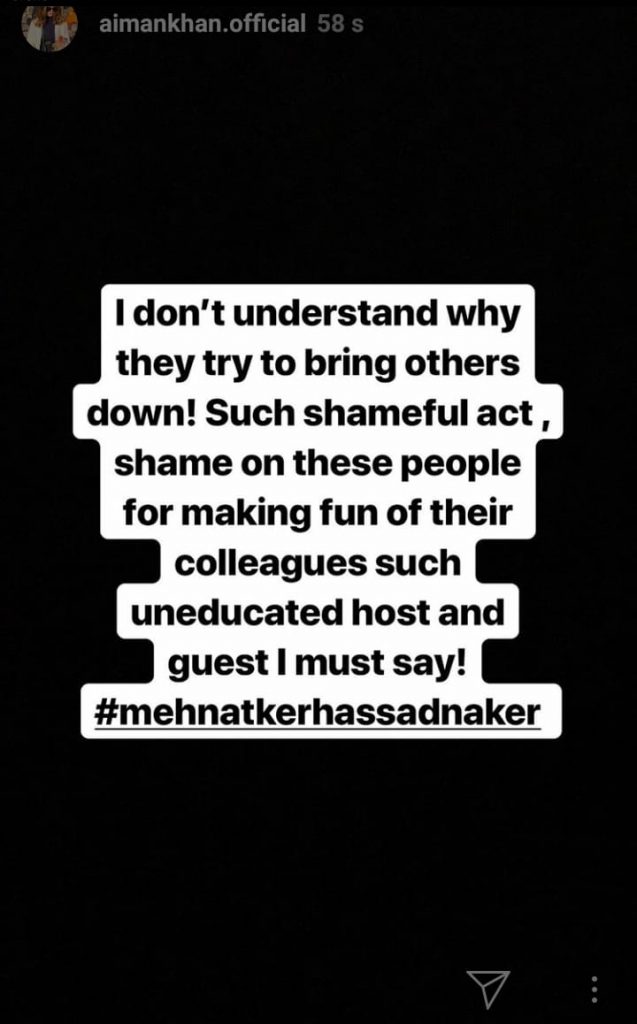 Aiman concluded her status with the hashtag #MehnatKarHassadNaKar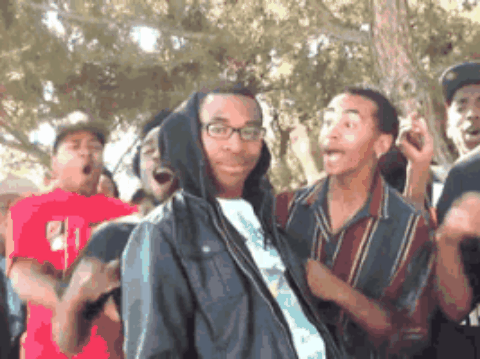 In a world filled with hatred already, the last thing we need is the people in our industry putting each other down, whatever happened to the 'let's help each other grow notion?' With that being said, I think Hina Altaf could have been a little more careful with her words trying to mock Muneeb. The host too should have been a little more informed and updated with the people in this industry and shouldn't have dragged his wife Aiman into the conversation because it was unnecessary. We also think that celebrities should not be put in such difficult situations with these silly questions, if you're going to interview a celebrity, get creative and come up with questions of substance.
What do you think about this little tiff between Aiman, Muneeb and Hina Altaf? Let us know in the comments below!