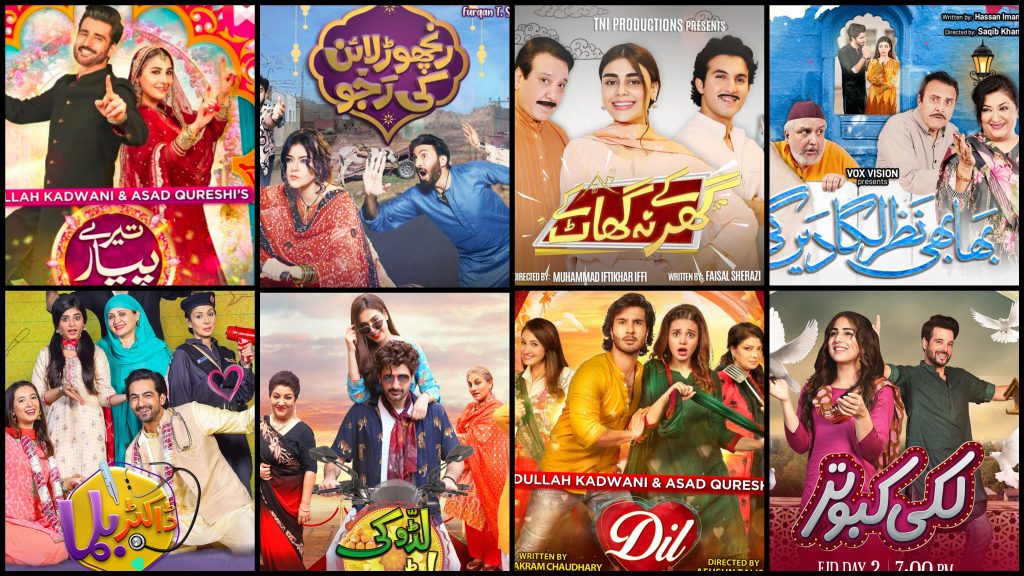 After a long day of qurbaani and sorting out meat, you can count on your favourite channels to help you unwind with Eid exclusive content that you won't get to see any other time, and here's everything we're excited for!
1. Ghar Ke Na Ghaat Ke – ARY Digital
Featuring the newly weds Shehroz Sabzwari and Sadaf Kanwal in pivotal roles, ARY has you covered for good hearty laughs!
2. Teray Pyar Mai – GEO
Bringing yet another real life couple to your screens under the direction of Suno Chanda's famed Aehsun Talish featuring Hina Altaf and Agha Ali!
3. Dr. Balma – HumTV
You know you'll be on the floor laughing when it comes to Ali Safina acting under Danish Nawaz! Featuring Komal Aziz as the leading lady, this telefilm is guaranteed to leave you in stitches!
4. Dil Tera Hogaya – GEO
Bringing to life a couple we could only imagine together, Feroze Khan and Zara Noor Abbas, Dil Tera Hogaya will hit you right in the feels!
5. Bhabhi Nazar Lagadeingeen – ARY Digital
Featuring a cast so stellar and talented, the trailer itself is enough to have us sold!
6. Laddu Ki Lady – HumTV
If you're into rom-com, Laddu Ki Lady is the telefilm for you!
7. Ranchhorline Ki Rajjo – ARY Digital
You know you'll be in fits of laughter when Aijaz Aslam and Maria Wasti are paired opposite each other! This telefilm is one you definitely shouldn't sleep on!
8. Hum Dou Humare Saw – ARY Digital
With Hira Mani and Faysal Qureshi in pivotal roles, Hum Dou Humare Saw will take you on a hilarious journey!
9. Lucky Kabootar
With Ushna Shah and Mikaal Zulfiqar in the leading roles, Lucky Kabootar is everything you'll need to unwind!
MOVIES:
With the recent pandemic having cinemas shut down, you don't have to fret when you can watch blockbuster movies sitting at home, make sure to buy lots of popcorn because you don't want to miss any of these!
1. Parey Hut Love – ARY Digital
2. Parwaaz Hai Junoon – HumTV
3. Donkey King – GEO
4. Sherdil – ARY Digital
5. Namaloom Afraad 2 – ARY Digital
6. Punjab Nahi Jaungi – ARY Digital
What are you excited for? Let us know in the comments below!