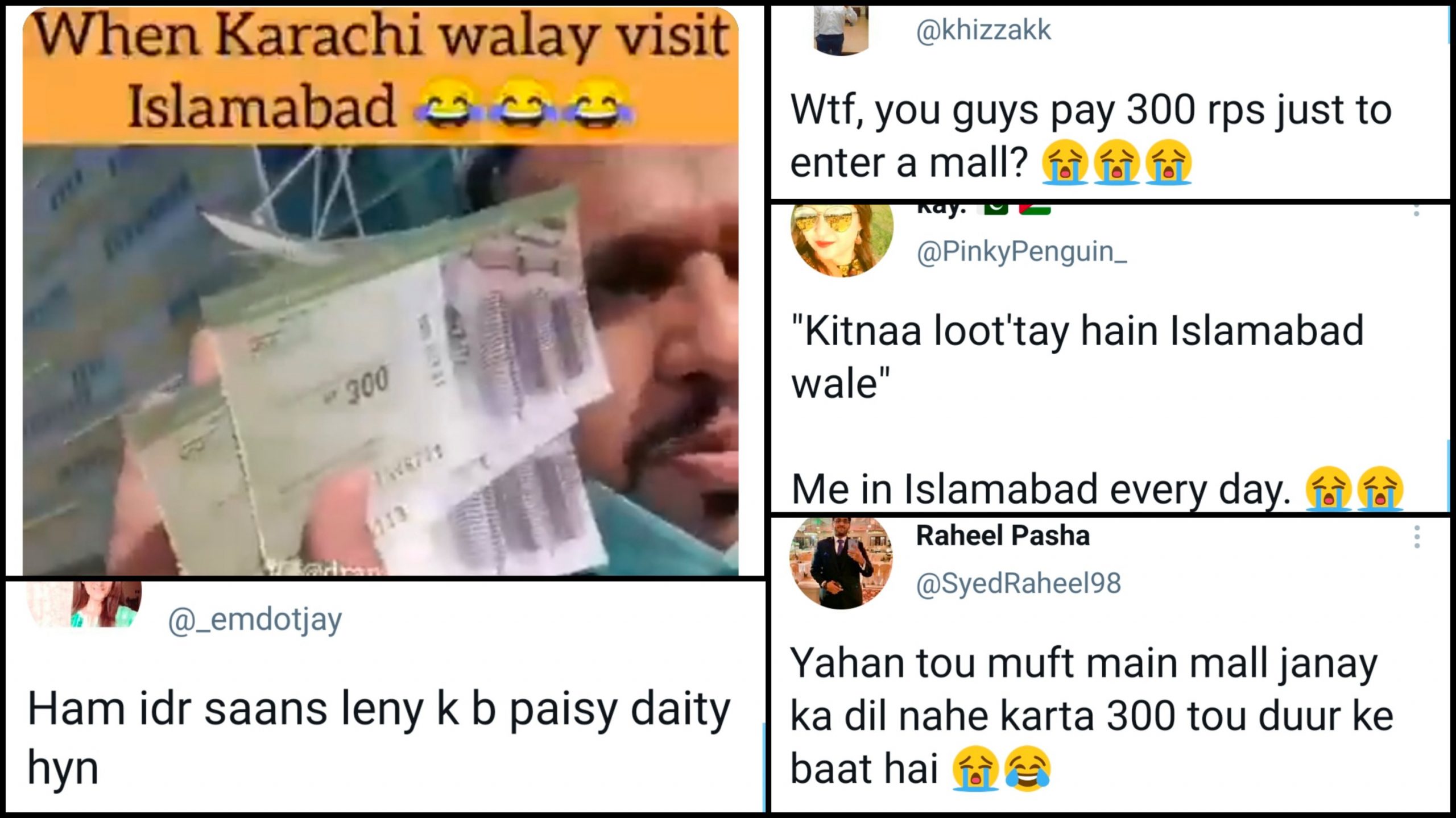 Karachi, Islamabad and Lahore are cities that are worlds apart despite being in the same country. And when people visit these cities, their reactions are always priceless!
Visiting Islamabad and one of its malls, these Karachiites were shocked when they had to pay a fee just to enter the mall. Feeling scammed, the two decided to share their dukh-bhari dastan with the internet:
😭😭😭😭😭😂 pic.twitter.com/tMXkiP6Vnj

— Shahroz Qureshi 🇵🇰 (@GhabranaNahiHay) June 9, 2021
And the netizens are way too amused!
I got to know this today and im surprised by this.

I mean is a mall new concept to you people? and you actually pay to enter a place that is actually meant for you to enter and spend money.

honestly bhai
luckyone, dolmen, atrium, millenium, rj zindabad https://t.co/9OujuVfkjU

— Naveer Bin Razi 🇵🇸 (@NaveerBinRazi) June 9, 2021
Nahi!
karachi k malls mei entry fees ni hoti?

— gul (@rantzon3) June 9, 2021
People from across the border were shook too!
You guys have ''entry fees'' for Malls in Pakistan? pic.twitter.com/c0lHDYTtwn

— AMRITSAR Updates (@UpdatesAmritsar) June 9, 2021
Hahaha, yes!
Its the "loteray hain saray'' that get me everytime 😭😭😭😭😭😭😭😂😂😂😂😂 https://t.co/4zBD0OdrkI

— 🌻 (@xyzmariaa) June 9, 2021
Y'alls rich!
Wtf, you guys pay 300 rps just to enter a mall? 😭😭😭 https://t.co/aaWhPjVMrM

— . (@khizzakk) June 9, 2021
❤
I have been to Lahore , i have lived in Islamabad now living in Pindi but
Karachi Karachi hai ..
sb se mehnga wahan sirf 50 rup ka bhutta hi bus ❤️ https://t.co/HrH8xWZYaF

— U R O O J 🇵🇰🇵🇰 (@Damndelusional) June 9, 2021
Facts!
without a doubt karachi karachi he bhae 🔥😎 https://t.co/JDRVfMiJAq

— babayaga (@babayag75523164) June 10, 2021
😂
You guys pay 300rs just to enter in mall 😭😭 https://t.co/CVaLLbFse4 pic.twitter.com/u64WVgW9VO

— Aimen (@itzzmeaimen) June 9, 2021
People were comparing Lucky One and Centaurus:
I swear this is so true and also I would never pay rs 300 to enter such a mediocre mall. Centaurus is so blegh in front of our luckyone but Islamabadis aren't ready to talk about it. https://t.co/R8CRCmC4it

— Irsa. 🇵🇸 (@badgirlriru) June 9, 2021
Agreed!
Jbh Lucky One/dolmen >>>>> Centaurus https://t.co/5WqlKvFeOl

— HS (@IceM1ce) June 9, 2021
Hahaha!
Yahan tou muft main mall janay ka dil nahe karta 300 tou duur ke baat hai 😭😂 https://t.co/GQuBQiP9IL

— Raheel Pasha (@SyedRaheel98) June 9, 2021
🙈🙈🙈
Andr jaa kr papiyan na krte tou aaj ye halaat na hotay https://t.co/gZdeZZyoGk

— Disappointment (@friesladoyaar) June 9, 2021
🤣🤣
Ham idr saans leny k b paisy daity hyn https://t.co/vxc3V55oee

— M. (@_emdotjay) June 9, 2021
Lol 😂
"Kitnaa loot'tay hain Islamabad wale"

Me in Islamabad every day. 😭😭😭😭 https://t.co/IrjzsasmEw

— kay. 🇵🇰 🇵🇸 (@PinkyPenguin_) June 9, 2021
Yeh bhi hai!
Itni dair karachi mei mobile nikal k video bna k dekhaye. 😬😂 https://t.co/lWXCNxLJMN

— Rashid Malik (@TheRashooAwan) June 9, 2021
And while some people had their reservation on why there was an entry fee, others explained why:
You go out ONCE in Pakistan as the only guy with the women of your family and you realise why this ticket actually makes so much sense. https://t.co/gl4jKppriv

— TJ (@97continuum) June 9, 2021
As far as I remember Sunday used to be family day at lucky one mall Karachi paise de k b nai ja skte the. All these malls have made rules to create safe environment for families. Unfortunate and shameful as a society for us https://t.co/1eDOYNZAml

— Saad (@OverLord_Xd) June 9, 2021
People were suggesting that they charge an entry fee at Karachi's Lucky One mall too:
nvm this ticket thing should be implemented at lucky one too https://t.co/xVXpAoDvK4

— Jiya Ali Hussain (@grumpyzany) June 9, 2021
People were also sharing how the amount can be used inside:
The 300 rs ticket can be used as coupons for shopping inside. Kisi ko kuch ni pta 🤦🏻‍♂️🤦🏻‍♂️ https://t.co/wRBG4qzOUH

— Shujaat 🇵🇸 (@shujaatblogs) June 10, 2021
True!
The fee was installed after bus loads of single men would show up to harass women. Centaurus became almost impossible for women to shop. And businesses lost paying customers to those who wanted to come harass women. I think a fee is more than justified to keep women safe.

— 🇵🇸✊🏽🇵🇸 La Chienne Slap✋🏼 (@cereal_twit) June 10, 2021
Life hack!
Me who asks the random aunty or girl to let me enter with her acting as her relative https://t.co/BRP6vgqXqp pic.twitter.com/iqOAoSqWJt

— Molana space wale (@Heavy_maamlat) June 9, 2021
O yar apne hath ne kisi brand ka bag leke jao ander koi bhi kameez daal ke aur kaho mene change karani hai. https://t.co/DnzYRsSuaJ

— Hasham (@TheHashu) June 9, 2021
What do you think of their reaction? Let us know in the comments below!