Did you know 25% of Pakistan's population is either overweight or obese? Stop blaming yourself because unlike popular belief, obesity is not one's 'fault' and food is not the only cause. In fact, it is now widely recognized that obesity is a chronic "disease" just like diabetes or hypertension. It is a result of a multitude of factors influencing us in the modern lifestyle. To understand more about obesity, we connected with some of the best professionals the country has to offer – renowned Bariatric Surgeon, Dr. Mumtaz Maher's team at South City Hospital.
WHAT IS OBESITY REALLY?
In simpler terms, obesity is a chronic treatable "disease" caused by an excess amount of fat in the body. Obesity predisposes to various health problems which can be life threatening such as
• Diabetes Mellitus (Sugar)
• Heart problems
• Joint pain and destruction (arthritis)
• Psychological problems
• Infertility (PCO)
• Gall stones
• Certain cancers
• Hypertension (High blood pressure)
• Stroke
• Breathing problem (Obstructive sleep apnoea)
• Back and neck pain (spine and disc problems)
• Social problems (lack of job/marriage, etc)
• Fatty liver and cirrhosis
• Blood clots in the veins/lungs
WHAT IS BMI?
BMI (body mass index) is a simple measure of one's weight relative to their height. It is calculated as BMI = weight (kg) divided by your height (m2). One can still be at risk of developing obesity related diseases if their waist circumference is too high, even if their BMI is within healthy/overweight range. According to research, men with waist circumference higher than 40 inches and women with waist circumference higher than 35 inches are more inclined to have heart problems.
WHAT CAUSES ONE TO BE OBESE?
Like we mentioned earlier, obesity can be a result of a multitude of factors influencing us in the modern lifestyle. 'Calories' is the amount of energy contained in food. Body tends to store excess calories above its requirement as 'fat'. These can accumulate over time to give one obesity.
"The size of your stomach is the biggest problem. You eat but then by the time you feel full, you've already overeaten." – Dr Mumtaz Maher, bariatric surgeon, South City Hospital
HOW DOES ONE AVOID OBESITY ASSOCIATED HEALTH RISKS?
Quite simply by losing weight. So far, we know that obesity is not just a cosmetic problem but poses serious health risks and psychosocial problems. The good news is that losing even modest amount of weight can not only improve your physical appearance and self-esteem but also greatly reduce your health risk and often even cure your obesity related health problems. You will feel much better, making day to day tasks such as household, child care and walking will become much easier. However, weight loss is a difficult undertaking. Maintaining weight loss is even more difficult!
"It is easier to cut 1,000 calories from a bloated diet than to burn 1,000 calories with exercise."  – Dr Mumtaz Maher, bariatric surgeon, South City Hospital
WHAT SHOULD I DO? WHAT IS THE MODERN APPROACH TO WEIGHT LOSS?
Weight loss is no more an art. It is a science. Research has shown the efficacy of a multidisciplinary team approach in losing and maintaining weight loss. Pakistan's leading healthcare provider South City Hospital has successfully been helping people lose excess weight for the past 12 years. This is affected through a very specialized team including bariatric nurse, dietician, psychologist, endocrinologist, anaesthetist and surgeon. Every patient is carefully and individually assessed and investigated for any underlying endocrine disorder/nutritional problem, followed by correction of the same. Specialized dietary advice is provided and psychological support given. Throughout patient support is provided and communication is maintained by the specialist bariatric nurse at South City Hospital.
"Losing weight takes time. It's not happening in a week. If you said you wanted to build muscle in a month, that would take time. Give yourself time." – Dr Mumtaz Maher, bariatric surgeon, South City Hospital
WHAT IS THE ROLE OF BARIATRIC SURGERY (weight loss surgery)?
Surgery is the only treatment proven to be effective in losing excess weight and maintaining weight loss in the long term. Bariatric surgery is so effective that it can save one life out of three from obesity related diseases. It is also a very safe procedure. A laparoscopic (key hole) approach is used causing minimal pain and scarring and speeding up the recovery. Thousands of patients have benefitted already. So why miss the chance of leading a healthy life?
Important to note that in addition to weight loss, gastric bypass surgery may improve or resolve conditions often related to being overweight, including:
• Heart disease
• High blood pressure
• Obstructive sleep apnea
• Type 2 diabetes
• Nonalcoholic fatty liver disease (NAFLD) or nonalcoholic steatohepatitis (NASH)
• Gastroesophageal reflux disease (GERD)
• Osteoarthritis (joint pain)
MORE ABOUT DR. MUMTAZ MAHER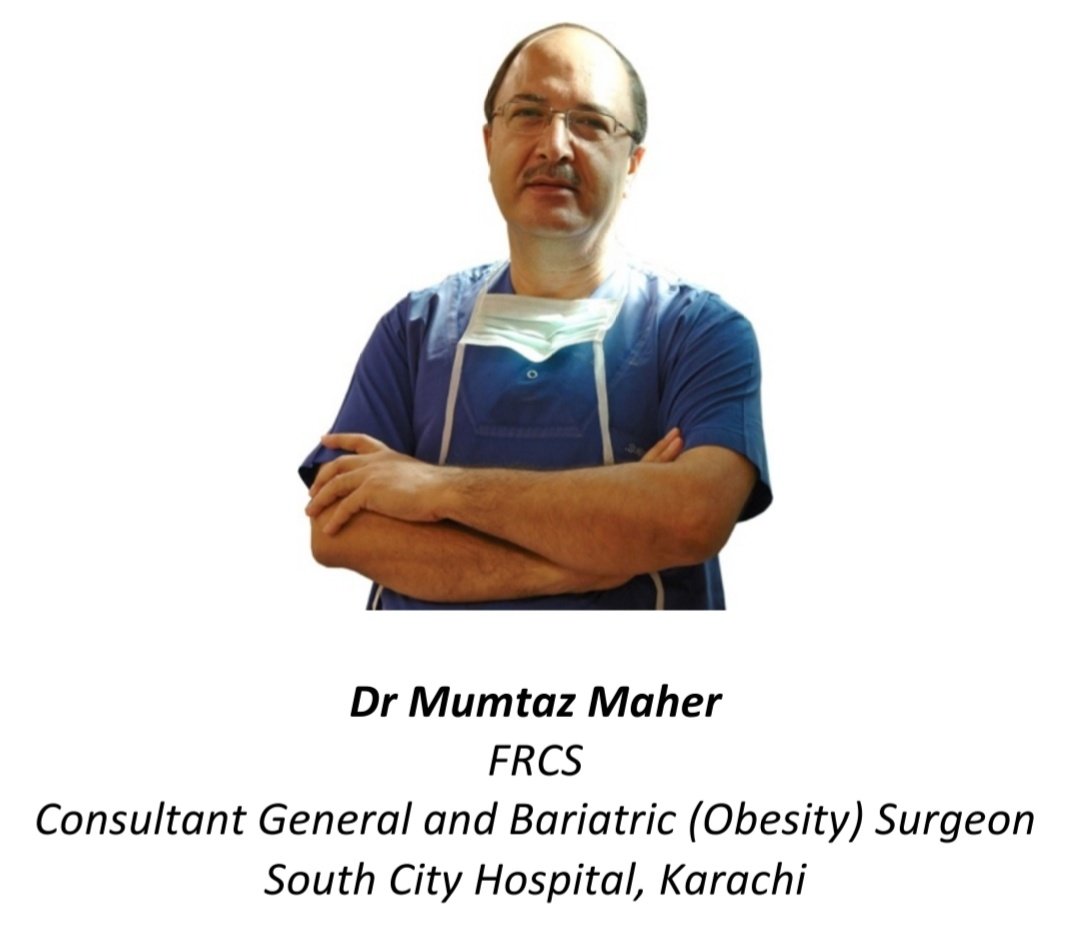 Dr Maher is the pioneer ofblaparoscopic or key-hole surgery in Pakistan and he performed the first laparoscopic cholecystectomy to remove a gall bladder in the country in August 1991. Since then, he has left his mark in the field of laparoscopic surgery by performing advanced procedures for the treatment of hernias, colorectal diseases and obesity.
As the chief of Surgery at South City Hospital, Dr Maher introduced Bariatric (Obesity) Surgery and the first Obesity Clinic was launched in November 2008. Obesity surgery started with gastric banding in June 2007, followed by laparoscopic sleeve gastrectomies in May 2008. South City Hospital is one of the few centres in the country that offers complex pancreatic and biliary procedures such as pancreatico-duodenectomy (Whipple's) and surgeries for cholangiocarcinoma as well under his supervision.