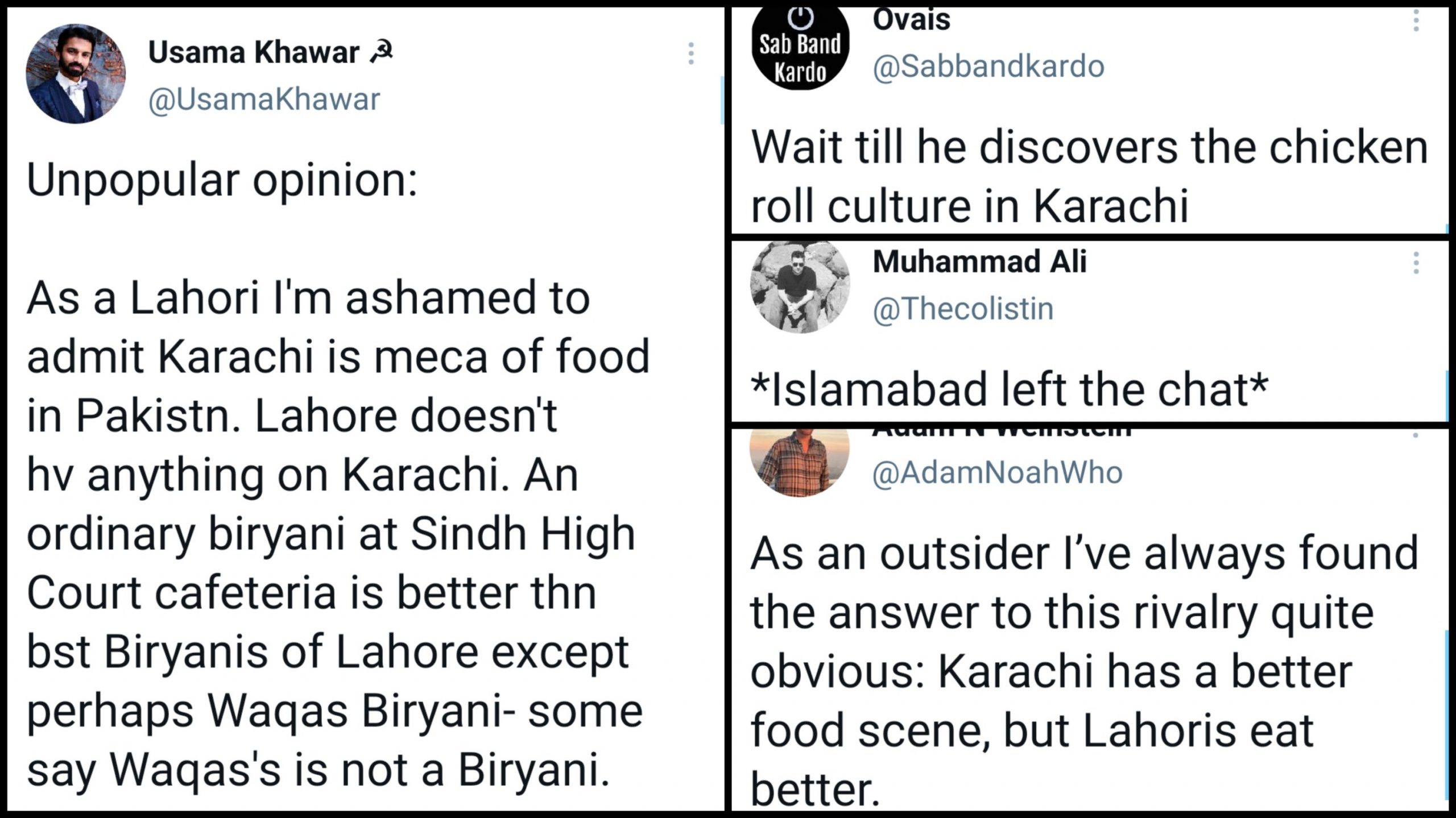 Whenever it comes to the most promising cities in terms of food, people are often found debating between Karachi and Lahore! Some people think Lahore is the food capital of Pakistan while others believe it's Karachi, and Twitter is at it yet again, trying to settle the debate:
Unpopular opinion:

As a Lahori I'm ashamed to admit Karachi is meca of food in Pakistn. Lahore doesn't hv anything on Karachi. An ordinary biryani at Sindh High Court cafeteria is better thn bst Biryanis of Lahore except perhaps Waqas Biryani- some say Waqas's is not a Biryani. pic.twitter.com/8DMMspvxz5

— Usama Khawar ☭ (@UsamaKhawar) July 7, 2021
Difficult to accept that Lahori food is inferior! Please don't rub it in my face!

P.S. Lahoris are master propagandists – Goebbels level – for ages Lahori have successfully sold their silly food as the best in country.

— Usama Khawar ☭ (@UsamaKhawar) July 7, 2021
The tweet has sparked way too much debate and here's what people have to say!
Karachi has people from all ethnic backgrounds of the country. They bring in their rich food, cultures along with them. Karachiites also enjoy experimenting with new food and since for a very long time we had no other recreational activities, we put our heart and soul in food.

— Politically Incorrect (@tshirazz) July 7, 2021
Jo baat hai!
Rule of thumb: if it's the best in Karachi, it's the best in Pakistan. No two thoughts. https://t.co/Svc0os2Edm

— Ariba Shahid (@AribaShahid) July 7, 2021
Hahaha!
*Islamabad left the chat* https://t.co/tH0IKPO9ZV

— Muhammad Ali (@Thecolistin) July 7, 2021
People were unanimously agreeing!
I've only been to Karachi a handful of times and this is in fact true. I had malai boti in kolachi and for the first time I understood why it's called malai boti https://t.co/ubbHdANolo

— M.S 🪁🌲🌳🌴🚴🚉🏙 (@ShaykShack) July 7, 2021
Yes. One can't find #Karachi taste & diversity anywhere else.
AND
I know a few lahoris who have admitted it & now propagating it as well. https://t.co/wpyon0XDoE

— Faisal Subzwari (@faisalsubzwari) July 7, 2021
I second this as a Lahori https://t.co/dSXWPM7nCm

— Abdullah Sultan (@abdullahsultan) July 7, 2021
Islamabadis showed themselves out 😭
so glad i live in isb where i don't have to deal w this. just the same 3 variations of pasta everywhere https://t.co/YuKqhyrzXq

— amna (@crackhaver) July 7, 2021
Even the foreigners had their say:
As an outsider I've always found the answer to this rivalry quite obvious: Karachi has a better food scene, but Lahoris eat better. https://t.co/wqvSeDCe5I

— Adam N Weinstein (@AdamNoahWho) July 7, 2021
Be our guest!
The fact that I almost had a fight with someone saying the exact same thing. Kinda wanna try Karachi's food now. 😐 https://t.co/MztQ73x9fN

— Habibi 🦋 (@Notyouryaaar) July 7, 2021
It's a whole new world!
Wait till he discovers the chicken roll culture in Karachi https://t.co/3Nwmiij2qH

— Ovais (@Sabbandkardo) July 7, 2021
Exactly, biryani has feelings too!
You can appreciate one's briyani without degrading the other. https://t.co/pZnc6zUw5Z

— Zain't (@zainwastaken) July 7, 2021
Shots were fired!
Finally someone speaking facts. Lahoris are so delusional to think they have the best food in Pakistan😭😭😭 https://t.co/V5sjq4mzzE

— N• (@ItsAllBakwas) July 7, 2021
Yeh bhi theek hai:
Bhai this isn't an unpopular opinion. https://t.co/kHPrEb30Jz

— Jibby (@JibbyD) July 7, 2021
End of debate 😌 https://t.co/QqWkXOWAdM

— Anzish Randhawa (@AnzishRandhawa) July 7, 2021
Some Lahoris did have differing opinions:
Yeah maybe but firstly stop being dramatic there is nothing to be ashamed of, ffs it's just a plate of biryani
Secondly I'd never want to go a fucked up city of Pakistan just to have good food.
Live in lahore and eat pulao>>>>> https://t.co/3VcZhDaUri

— Mariam Bari (@bari_mariam) July 7, 2021
True:
As far as Biryani is concerned, no other city can match Karachi in Biryani. I have never tasted like that since I came back to Punjab. But, if you talk about whole food items, every city has its own specialities whether its Lahore, Karachi, Peshawar, Quetta & rest all. https://t.co/b59c7Ji46S

— Obaid Bhatti (@Obibhatti) July 7, 2021
Enough with the donkey meat jokes please:
Honesty deserves to be applauded!
And most importantly it's halal meat that's served in Karachi unlike Lahore 😁😁😁 https://t.co/78AocTfjfJ

— سحر خان (@Digoxin_06) July 7, 2021
💯
karachi food will forever be superior https://t.co/KXN8ofWWSA

— -ㅅ- (@discokookie) July 7, 2021
Sach se kab tak bhaag saktay hain?
Karachi is the food capital of Pakistan but Lahoris are not ready to accept it lol. It's a good thing that you are speaking the truth. https://t.co/FHVACFQg6S

— Shahroz Qureshi 🇵🇰 (@GhabranaNahiHay) July 7, 2021
Some were convinced that the two can't be compared:
Both are different. Its like wasim vs waqar https://t.co/jjc9Mq7Onn

— Sheikh Ehsan (@ehsantituu) July 7, 2021
Biryani is Karachi thing as Karahi is Lahore. People should stop comparing apple and oranges 🙂 https://t.co/J5PDtxa3Wl

— Muhammad Waqas Iqrar (@wqs) July 7, 2021
People were appalled at so much truth in one tweet:
Itna saara Such ek hi tweet mae https://t.co/vUXp6xdDFu

— Usaid Zahid (@iusaidzahid) July 7, 2021
بہت دنوں بعد کسی کو اتنا سچ بولتے دیکھا… https://t.co/A5t67oAmE7

— Adeel Azhar (@adeel_azhar) July 7, 2021
Han, batao!
Tum log ye city wars se baahir nikal k Pakistani kyun nai bantay? https://t.co/dYMkw2qEOZ

— I want uncut Harry Potter Movies 🇵🇸 🍥 (@harrypotter_pak) July 7, 2021
Which city do you think is the Mecca of food in Pakistan? Let us know in the comments below!