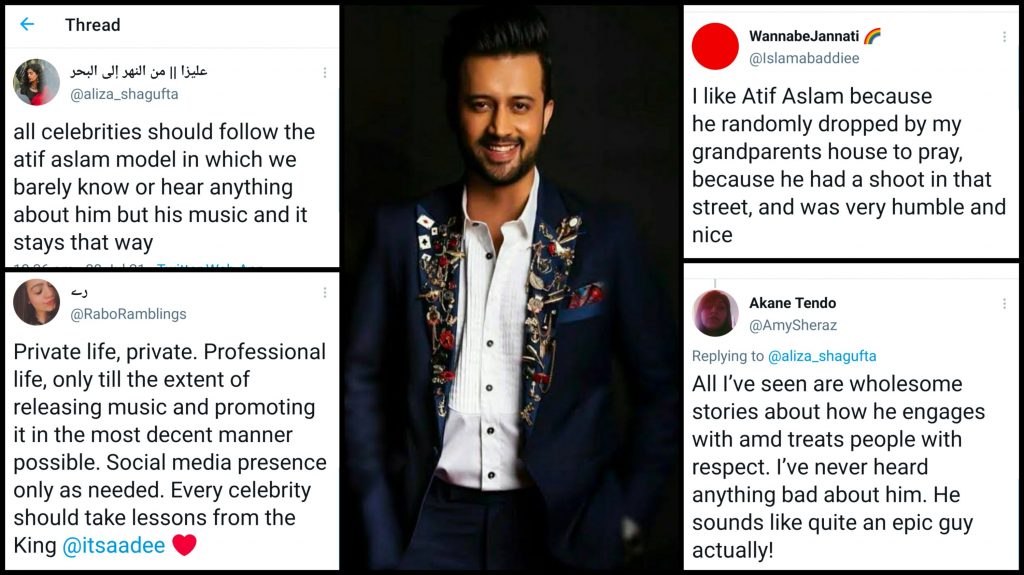 Anytime there's a mention of Atif Aslam, people only have good things to say, be it his music, his kind and humble exchange with fans or his professional work ethic, the man keeps to himself and stays out of trouble.
all celebrities should follow the atif aslam model in which we barely know or hear anything about him but his music and it stays that way

— عليزا || من النهر إلى البحر (@aliza_shagufta) July 8, 2021
After a twitter user shared her take on celebrities trying to become like Atif Aslam, fans have come forward to share their pleasant exchanges with the singer and it's heartwarming!
we saw him in dec 2017 at dxb airport. my mom randomly said "mr.aslam?" And he turned around with the biggest smile. i was on the way to my nani's funeral and that warmed my heart so much 🥰

— lms (@punjabisamosa) July 8, 2021
Love this!
Attended a charity concert a few years back. After his performance he waited back stage for what must have been 30+ minutes for people to take pictures with him. Not hasty selfies. He would let you stand next to him and take proper posed pictures!

— Bari Phupo (@bariphupo) July 8, 2021
🥺
Once I was on duty in my hospital and went to see another patient in another ward and came back and my interns told me that Atif Aslam just came and gave food to all poor patients. Later I found out that it happened quite often.

— Gauhar Mahmood Azeem (@gauharoo) July 8, 2021
Omggg!
I remember when I was flying to US with my daddi. Atif Aslam was in it. The inflight entertainment had poker where you could play with other passengers. So i had 2-3 matches which i lost 2.

After that went to get his autograph. He said 'you play nice poker – Atif'

— Hamza M 👨🏽‍💻 (@mahmooyo) July 8, 2021
He is!
All I've seen are wholesome stories about how he engages with amd treats people with respect. I've never heard anything bad about him. He sounds like quite an epic guy actually!

— Akane Tendo (@AmySheraz) July 8, 2021
Yeah, that's the man we stan!
I like Atif Aslam because he randomly dropped by my grandparents house to pray, because he had a shoot in that street, and was very humble and nice https://t.co/CRvuVjKjaF

— WannabeJannati 🌈 (@Islamabaddiee) July 8, 2021
Little gestures of love ❤️
I saw him at the Dubai airport as I walked into an elevator and instantly made eye contact but I didn't recognize him, so I turned back around. took me few seconds to realize it was him& when I turned back around he was just smiling bc he knew I realized

— farwah 🥀 (@vaasshappeniin) July 8, 2021
Like ALL celebs should do!
Ikr? Like he literally stays out of trouble and minds his own business.

— zeeee 🥰 (@zeynabbxo) July 8, 2021
The King we stan!
Once in Ramadan, he was in a foreign country. He went out at 3 am looking for a halal food joint, when he cud easily have sent his team.

Also he got the news of his wife's miscarriage, half an hour before a concert. He still performed and afterwards disappeared to sm mosque

— 2 x seventh alphabet (@QDMPOH) July 8, 2021
Yes please!
*Recites Ayat ul Kursi and blows it on Atif Aslam.*

Let's not jinx it. https://t.co/MFUkyZtfRL

— 🇵🇸 (@lOwlcoholic) July 8, 2021
We would have cried too 😭
This one time I saw him outside Y block Jalal Sons and we both were in our cars and I freaked out and he smiled and waved and places his hand on his chest as a way of saying Salam and I cried omg https://t.co/MgGB51yuoD

— 🇵🇸 (@theflickerfaded) July 9, 2021
Jo baat hai!
Private life, private. Professional life, only till the extent of releasing music and promoting it in the most decent manner possible. Social media presence only as needed. Every celebrity should take lessons from the King @itsaadee ❤️ https://t.co/ZK9JXvP1nO

— رے (@RaboRamblings) July 9, 2021
No way!
Bro simply dropped by and had an impromptu concert in the middle of the night on the extended khokha pavement, fall 2018 was amazing. https://t.co/rO9hYiIfKB

— submarines can't fly (@azkaaaa99) July 8, 2021
True!
Pakistani Keanu Reeves. No one knows anything about him. He randomly pops up in different places. Once I saw him stop outside my local khoka. https://t.co/KBd3rSA9li

— Ismail (@thehalfspaces) July 8, 2021
Yes, that too!
The only thing i've heard of him was when he stopped a man from assaulting a woman mid concert and also girls threw dupattay at him https://t.co/XAgqDFMbsx

— based muslim (@00violet0) July 8, 2021
Add Fawad Khan to the list too and you have three unproblematic kings!
I prefer shehzad roy model but yeh bhi chaleyga https://t.co/duzdVwtVBD

— Lilith (@01101100A) July 8, 2021
We love an unproblematic king 👑 https://t.co/A9lxKFRCi4

— Tayy🥀🇵🇸 (@ahmad_tayyiba) July 8, 2021
We have never seen a single person hate Atif Aslam:
Imagine hating Atif Aslam, a guy with zero controversy. Pakistani celebs should learn from him https://t.co/i2rxgFAUkU

— Ahmed (@AhmedDamn) July 8, 2021
Have you ever run into Atif Aslam? Let us know in the comments below!