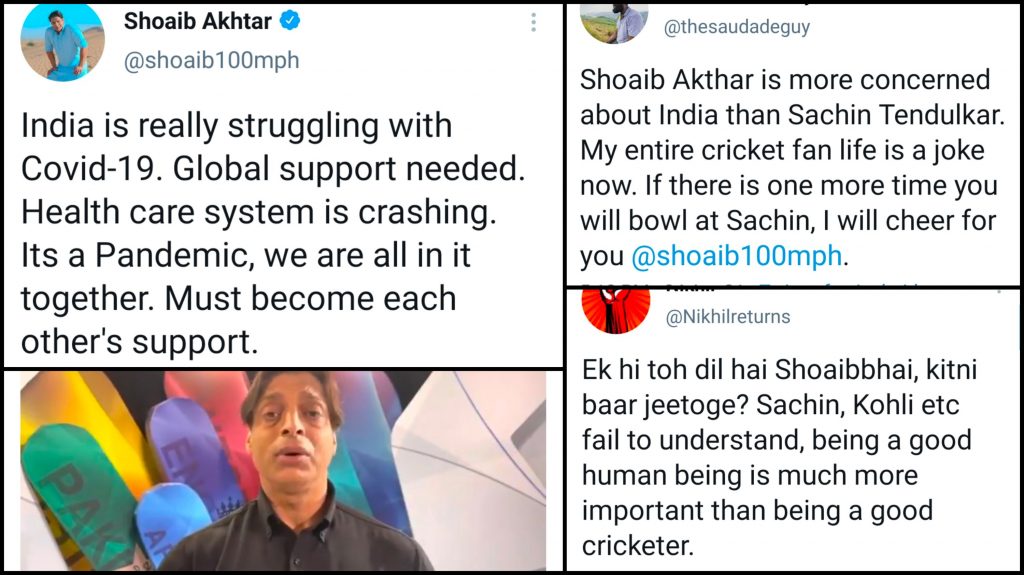 Engulfed by the third wave of COVID19, India has been reporting the highest number of cases ever since the pandemic began. With almost 344,000 cases today, the country's healthcare system is collapsing as they suffer from oxygen shortages and hospitals being overbooked countrywide.
During these trying times, Indians have been waiting for the privileged lot to step in and stand by their side, but unfortunately no one has come forward yet, except people from across the border like Faisal Edhi who offered medical assistance to the country earlier. And now it's Shoaib Akhtar who has been appealing to the government and the citizens to help and raise funds for India:
India is really struggling with Covid-19. Global support needed. Health care system is crashing. Its a Pandemic, we are all in it together. Must become each other's support.
Full video: https://t.co/XmNp5oTBQ2#IndiaNeedsOxygen #COVID19 pic.twitter.com/vX1FCSlQjs

— Shoaib Akhtar (@shoaib100mph) April 23, 2021
His kind gesture has won him thousands of hearts across the border and people are truly grateful to him:
Thank you Shoib Akhtar ji for the kind words and gesture of humanity! Deeply appreciated 🙏🏽🙏🏽💙💙 https://t.co/YT7onzdR6b

— Swara Bhasker (@ReallySwara) April 24, 2021
People were thanking him for being a supportive and compassionate neighbour:
Thank you for being such a compassionate and supportive neighbour💕 https://t.co/igUm6edWsb

— Sayema (@_sayema) April 24, 2021
Thank you ❤️ https://t.co/rNenmknjSU

— TheRichaChadha (@RichaChadha) April 24, 2021
Thank you for this gesture of solidarity. https://t.co/LYZTy3QuWP

— naresh fernandes (@tajmahalfoxtrot) April 24, 2021
Indian journalist Swati Chaturvedi thanked the cricketer for his gesture and shared what the situation would have been if the roles were reversed:
Thank you. If this had been an Indian cricketer he would have had Bjp trolls/spokies trying to beat him up, doing demonstrations. A case of sedition at the bare minimum & snark attacks from Jaishankar https://t.co/x9IlqOFGG1

— Swati Chaturvedi (@bainjal) April 24, 2021
People were waiting for their legends to wake up:
This REAL legend has spoken MORE than our so called legends

Respect🙏 https://t.co/z2Ps7m9H7G

— 𝕱𝖆𝖊𝖖𝖚𝖊 | فائق | फ़ाएक़ (@Fa__ek) April 24, 2021
❤❤
Thank you lovelies from Pakistan. So much love to all of you. Thank you for not being hateful jerks like the majority of us. 💗 https://t.co/0LvYoqzT7i

— Swarnim ⚧ (@Ofeeeliaaaa) April 24, 2021
People had questions:
heartening to see ❤ now, where are our own celebs? why are they not raising their voices and amplifying the needs/resources for the common man? https://t.co/Hqaxf55pRC

— pri⁷🦋💫 (@mukhdamini) April 24, 2021
People were throwing shade at their own celebrities:
Bravo @shoaib100mph! May our Indian celebrities find your heart and your spine. https://t.co/BfVGNru2oq

— Pritha Chatterjee (@Pritha88) April 24, 2021
True:
If an Indian celebrity had spoken on the same lines for Pakistan, avalanche of boycott calls and sedition cases would have occurred by now. https://t.co/E1zIRf71gR

— GK Zhimomi (@gkzhimomi) April 24, 2021
We're in this together ❤
Thank you @shoaib100mph
Mr.Shoaib Akthar for standing by us in our need of hour.
Strongly shows Some emotions transcends and cuts across boundaries.
Pray you people stay safe.
God Bless https://t.co/8LkRm03ags

— Suraj Hegde (@SurajMNHegde) April 24, 2021
Jo baat hai!
Real sportsmanship. ❤

Thank you, for this gesture of solidarity. https://t.co/em2FD46Ubh

— Advaid അദ്വൈത് (@Advaidism) April 24, 2021
Indians were disappointed in their celebrities!
Did we see any Indian cricketers do this? The Kohli, Tendulkar, Dhoni? https://t.co/1BOEAClrg7

— Hoopoe (@hoopoe_is_here) April 24, 2021
Pakistani Celebs being louder than Indian ones, this is embarrassing 😭 https://t.co/ZqNqwJWjIe

— Anushka (@Anushkannot) April 24, 2021
Can any Indian celebrity dare to be so compassionate to an enemy country? It's humanity. Let humanity wins. Thanks Shoaib Akhtar. https://t.co/6I1Nvimb2G

— Kedar Mishra (@MishraKedar1) April 24, 2021
People were moved by his gesture:
Ek hi toh dil hai Shoaibbhai, kitni baar jeetoge? Sachin, Kohli etc fail to understand, being a good human being is much more important than being a good cricketer. https://t.co/LdCjyxhQLo

— Nikhil (@Nikhilreturns) April 24, 2021
Can we expect same thing from BOLLYWOOD & TOLLYWOOD. Thanks Shoaib Akhtar🙏🙏🙏 https://t.co/NkGARFhBRC

— Shakuntalaputra raghavendra 🇮🇳(O+ve) (@Raghvarma) April 24, 2021
Even the people who normally disagreed with his views were lauding him:
Most of the time I disagree with you over u'r comments on the cricket analysis but not this time. Being a decent human being with empathy & compassion is far greater than anything else. Pakistanis like u are leading the way & bringing civility into the discourse.Thanks champion. https://t.co/BA9WvS2Ffw

— احسن خان (@ahsankh_1) April 24, 2021
I strongly disagree with most of his analysis on cricket. But listen to this man urging the government of Pakistan and the people of Pakistan to pray and help Indian "brothers and sisters" in need. Should serve as a moral lesson to spineless Indian cricketers. https://t.co/Gnp59mQeE0

— Basharat Ali (@BasharatAl_i) April 24, 2021
We hope India gets a grasp on the situation and gathers enough resources to provide the necessary medical attention. What are your thoughts?