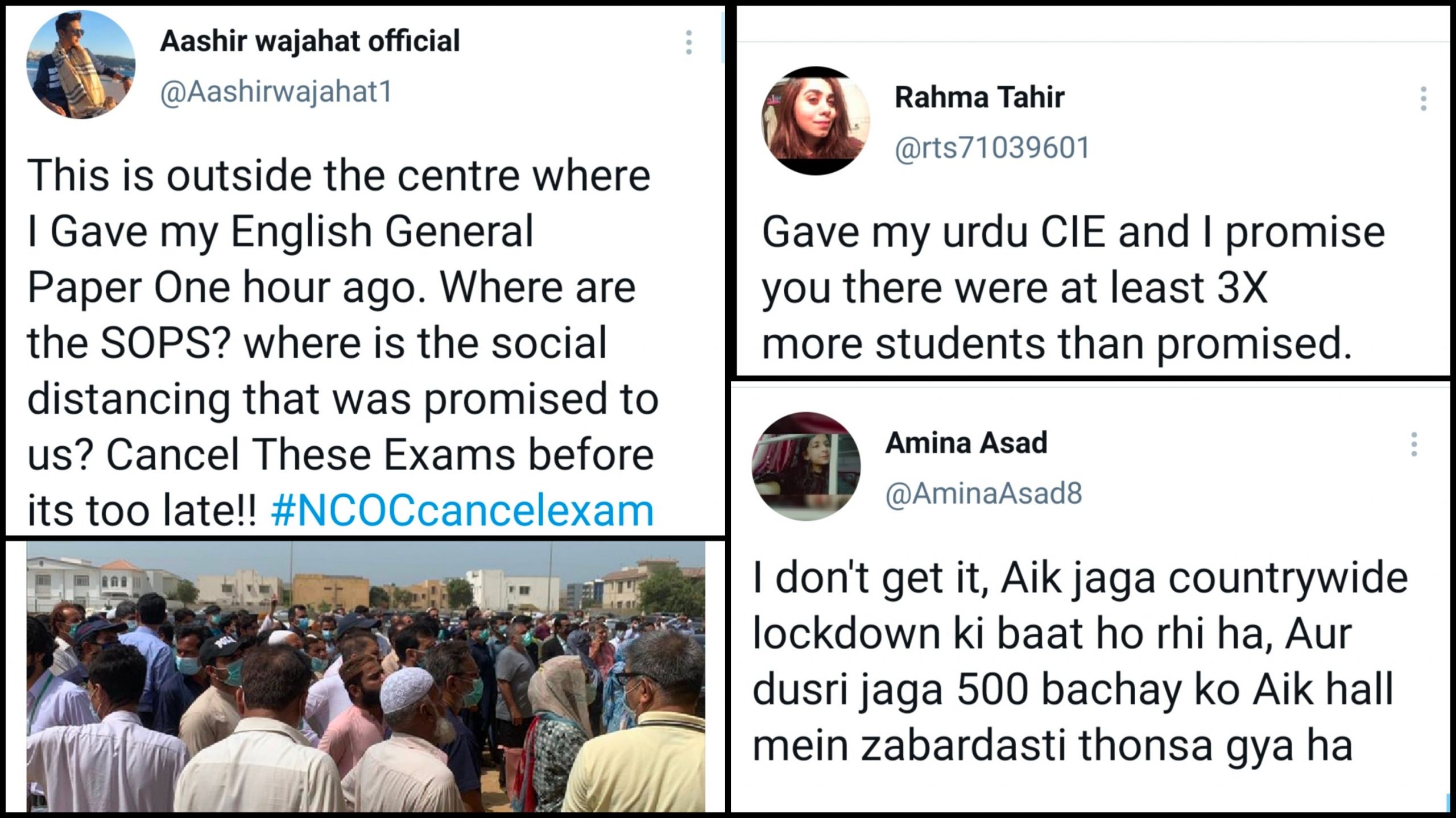 As the third wave of COVID19 picks up its pace in Pakistan, the Cambridge O and A-Level exams have begun today and will end on June 11.
Despite several student protests to postpone the exams, thousands of students collectively appeared for their examination today and have taken to twitter to share the scenes at the exam venues, most of which the Education Minister thinks are fake:
I feel sorry for the students who have to give exam tomorrow. I feel sorry for every single student in Pakistan.! We tried our best. I still can't digest the fact that throwing youth in fire is such an easy task for this government. Ya Allah rehem💔#NCOCcancelexam pic.twitter.com/ZrQiFrtGNN

— Minahil_Sleeps (@minahiltweets0) April 25, 2021
Wajahat Rauf's son Aaahir Wajahat who took his first exam today also shared what the situation was like:
This is outside the centre where I Gave my English General Paper One hour ago. Where are the SOPS? where is the social distancing that was promised to us? Cancel These Exams before its too late!! #NCOCcancelexam @mubasherlucman @MJibranNasir pic.twitter.com/KuJySOdQMb

— Aashir wajahat official (@Aashirwajahat1) April 26, 2021
Waqar Zaka also jumped in to save the students:
I told you @Shafqat_Mahmood , I will not back out , Exams cancel tu karna hoga whether Cambridge, Matric , inter AB soch lo Izzat Sey students ki Sun lo warna is Tweet Sey tum ko pata tu chal geay hoga ab kon kon cancel karwney aye ga Exams. https://t.co/XgzvWe2pwB

— Waqar Zaka (@ZakaWaqar) April 26, 2021
Students were quick to post what was happening:
This St. Joseph College Karachi.#NCOCcancelexams#ShafqatMahmood pic.twitter.com/yG0iaUJL9q

— zayad tarik (@zayad_tarik) April 26, 2021
🤷‍♀️
sops pic.twitter.com/xBsDiW3vma

— Imran Javed (@ImranJa94575900) April 26, 2021
Students had questions:
So these are the sop's following outside the centre the of exam? @Shafqat_Mahmood where are the sop's now? For just 300 million dollars you guys playing with 60 to 80 lack lives and their future too?#NCOCcancelexams #cancelexamspakistan2021 #CancelExamsSaveStudents pic.twitter.com/kF8CsgKnYg

— 𝐀𝐡𝐬𝐚𝐧 (@_ahsankhosa) April 26, 2021
Videos were being shared all over social media:
#NCOCcancelexams the same bodies responsible to ensure sops aren't following social distancing measures ? What do you expect from the candidates then????! pic.twitter.com/nSvH4OUkYj

— CANCELCIES2021 (@Cancelciez21) April 26, 2021
Students shared how the word was not kept:
Gave my urdu CIE and I promise you there were at least 3X more students than promised. @Shafqat_Mahmood is a shallow personality and I hope that you suffer. You have proven your incompetence in many ways and I hope karma hits when you're least expecting it. #NCOCcancelexams

— Rahma Tahir (@rts71039601) April 26, 2021
We feel you!
I will go study respiration now, eventhough I won't be able to respire if exams happen. Praise be to the lord who created IRONY 🥲 #NCOCcancelexam

— notbilli (@catshittt666) April 26, 2021
People just weren't having it!
I don't get it, Aik jaga countrywide lockdown ki baat ho rhi ha, Aur dusri jaga 500 bachay ko Aik hall mein zabardasti thonsa gya ha#NCOCcancelexam

— Amina Asad (@AminaAsad8) April 26, 2021
seems like a real video to me pic.twitter.com/LoEvIOJyqG

— 〰️Arish〰️you should be studying (@heckarish) April 26, 2021
👀
Sops??? @Shafqat_Mahmood pic.twitter.com/OaaKVlcLtO

— cancelcie2021 (@cancelcie20212) April 26, 2021
There was a full on meme report representing the situation:
Last week highlights 😂✌#ncoccancelexams#StudentsRejectPTI #ShafqatMahmood pic.twitter.com/D3Y3ACkDmc

— Memes By Zayn 🥶 (@MemesByZayn) April 25, 2021
Celebrities came all out in support of students:
I am not fully aware of the technicalities but would like to request/urge the government to reconsider exams in the current Covid scenario. Students are under great stress.

— Ali Zafar (@AliZafarsays) April 25, 2021
This isn't fair on the students.

This isn't fair on the parents.

This isn't fair on an already overburdened system. #NCOCcancelexams #Covid_19 #Pakistan

— Hania Aamir (@realhaniahehe) April 25, 2021
Why are you doing this @Shafqat_Mahmood ? https://t.co/NZc7HftE2d

— MEESHA SHAFI (@itsmeeshashafi) April 26, 2021
And while students have been pleading for help, others think that the exams should be taken as per the scheduled timetable:
Y'all are dumb 💀
You aren't two month old babies that the government will make you follow sops
That's on you
Poora saal burning brownie me parties karte ho phir jump on twitter to say
"Omg cases are increasing" https://t.co/LpCHzmcFrq

— Michelle (@TinyPistachiou) April 26, 2021
People also threw shade at Aashir Wajahat:
Before these exams, this kid was taking the SOPs very seriously. Bad from the government! pic.twitter.com/bd7xoSeLV8

— Sualeh Nauman (@Sualeh_N) April 26, 2021
I know he is a kid with a point but boy what were you upto before the exams?
Cancel exams and give these celebrity kids some perspective in life.#CancelExamsSaveStudents pic.twitter.com/3dk5ocdeCa

— Rafay Mahmood (@Rafay_Mahmood) April 26, 2021
What are your thoughts on this matter? Let us know in the comments below!