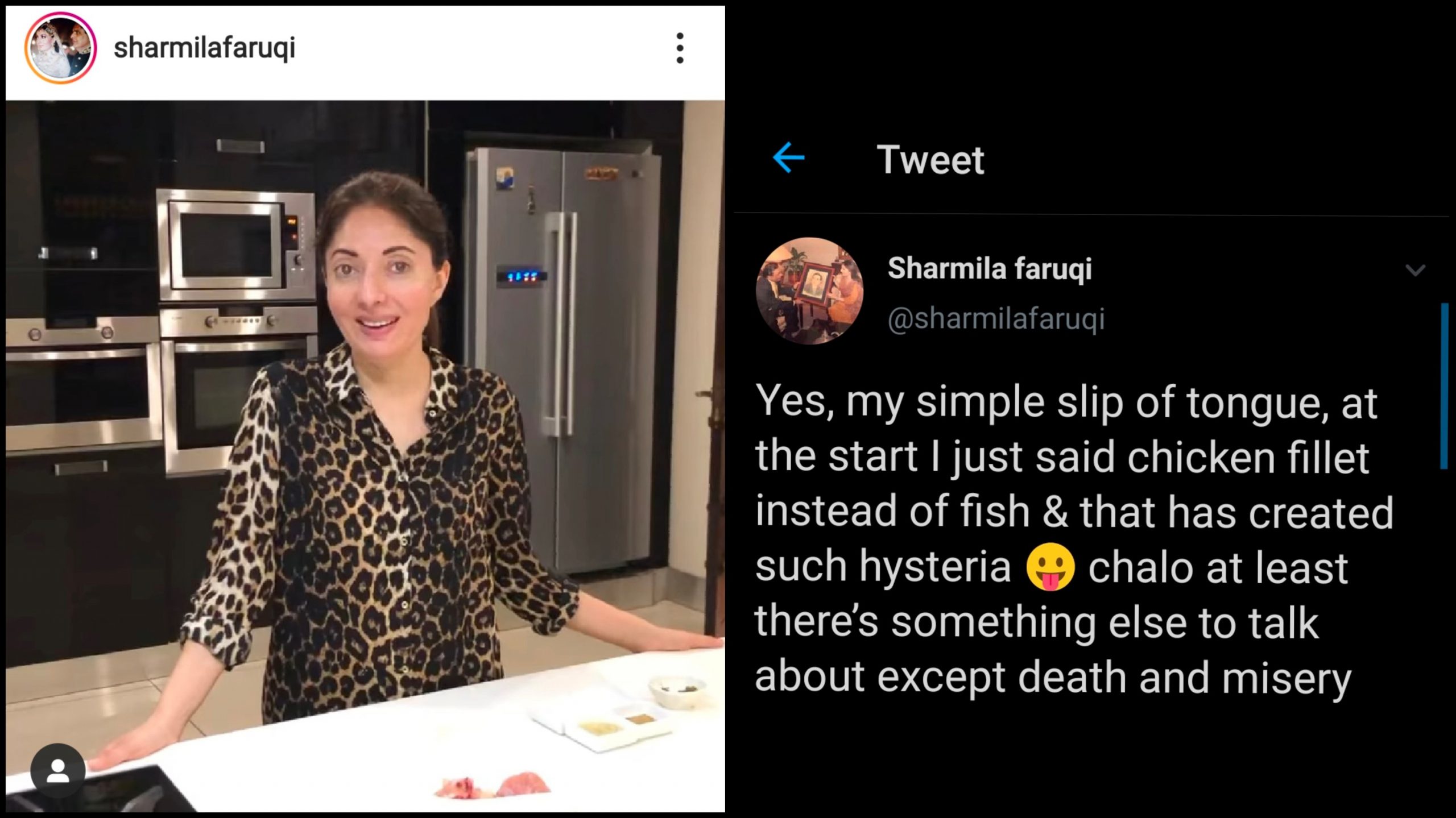 With majority of us being confined to our houses during the country wide lockdown, celebrities from all walks of life have been giving us inspiration on the things we can do while in quarantine. And Sharmila Faruqui too piqued the interest of many by sharing videos of her cooking.
However, she was trolled heavily for a mere slip of tongue where she called the red snapper fillet a 'chicken fillet,' not wanting to record the entire video again, Sharmila uploaded it to her Instagram account thinking that people will understand the obvious slip of tongue, but that didn't happen. She in fact became meme fodder for the entertainment starved nation and people were not kind to say the least.
She begins by telling us she's making chicken fillets. For this recipe she's using red snapper/white fish?? What?? 😂 pic.twitter.com/5x85pRasEj

— Adil Ray OBE (@adilray) April 2, 2020
People found the video to be hilarious!
Aaj ham Chicken Fillet banaengay, Chicken kay 2 piece karkay uski dumm kaatdi ha. Ye Red Snapper ha, White Fish 😂😂😂😂 Sabse Pehlay iski "garnishing" karengay. Hahahhaha Thankyou @sharmilafaruqi don't remember the last time I laughed on a video like that.

— Rabia Anum Obaid (@RabiaAnumm) April 2, 2020
Some actually found the particular fillet Sharmila recommended!
Quarantine day 20: chicken fillet lia hai maine aur uski maine dum kaat di yeh hai red snapper white fish hai aur bohat tasty hai pic.twitter.com/qjdCB1Oosl

— o (@intellectroll) April 2, 2020
The exposè of the year:
Quarantine day 13: realising you can simply cut the tail of chicken fillet to make red snapper, these stupid restaurants have been charging us so much for bare minimum

— Osama. (@ashaqeens) April 2, 2020
Some were very observant!
Sure. Y'all are focusing on chicken fillet dressed as red snapper, but did you notice the garnishing before the seasoning?

— Amber Rahim Shamsi (@AmberRShamsi) April 2, 2020
Some actually turned it into a pick up line, whoa!
You are my red snapper chicken filet come let me garnish you

— OhChiefestAndGreatestOfCalamities (@mustyoumustard) April 2, 2020
At least you have a decent meal to eat:
Chicken Fillet Red Snapper with Lemon Butter Sauce pic.twitter.com/apothfKmpd

— Bernie Bro (@BernieBro202O) April 2, 2020
Quoting an article that called her slip of tongue rather 'bizarre,' she went on to explain how the video had blown out of proportion:
Sharmila shared how the trolling had her feeling all sorts of ways, from being shocked to being amused and then being happy, she was glad that she provided some comic relief. Sharmila then put the trolls back in their place by posting yet another video calling her fillet 'a chicken red snapper fillet' followed by her contagious laughter!
And the internet is loving the shade!

Quarantine blues who?
Snapping us out of Quarantine Blues @sharmilafaruqi 🤣❤️🙈

— Aleena Farooq Sheikh (@FarooqAleena) April 2, 2020
Most definitely!

Some believed in 'meri chicken, meri marzi:'
Haha good one .. bhe humari chicken humari marzi hum snipper Bolain ya Hen😍😘😛

— Atika Mirza (@atika_mirza) April 2, 2020
People wanted her to keep them videos coming!

Yeh cheez:
Koi bat nhi senirita choty choty sharo may ase bare bare baten hoty rahte hy 😜 chill

— آزاد پنچھی (@Ommiyar) April 2, 2020
Facts!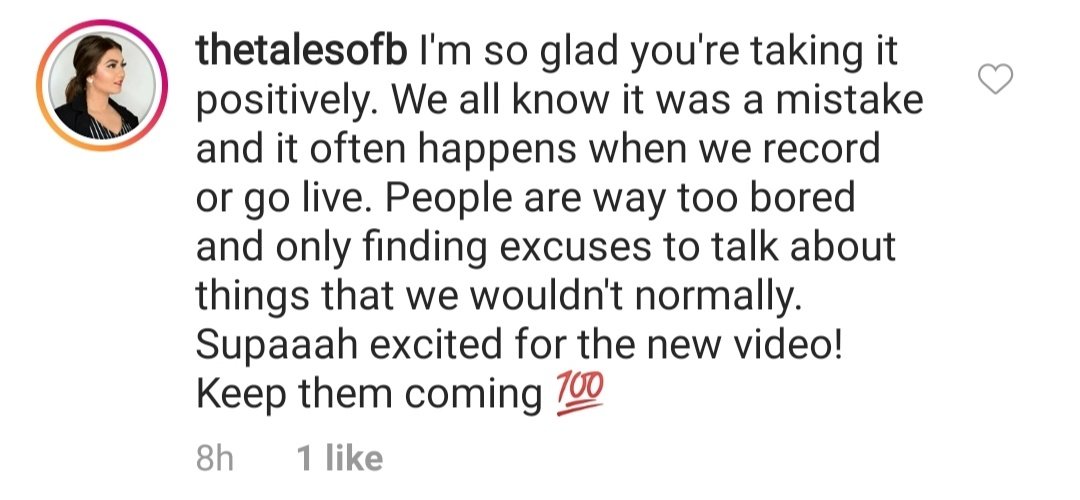 True that:
Ridiculous how @sharmilafaruqi is being trolled for a harmless and quite a funny mistake. Everyone is a bit too faarigh these days.

— Maham Ali (@Mahamali05) April 2, 2020
People were sending her love!

What do you think about Sharmila's kind and yet savage comeback? Let us know in the comments below!