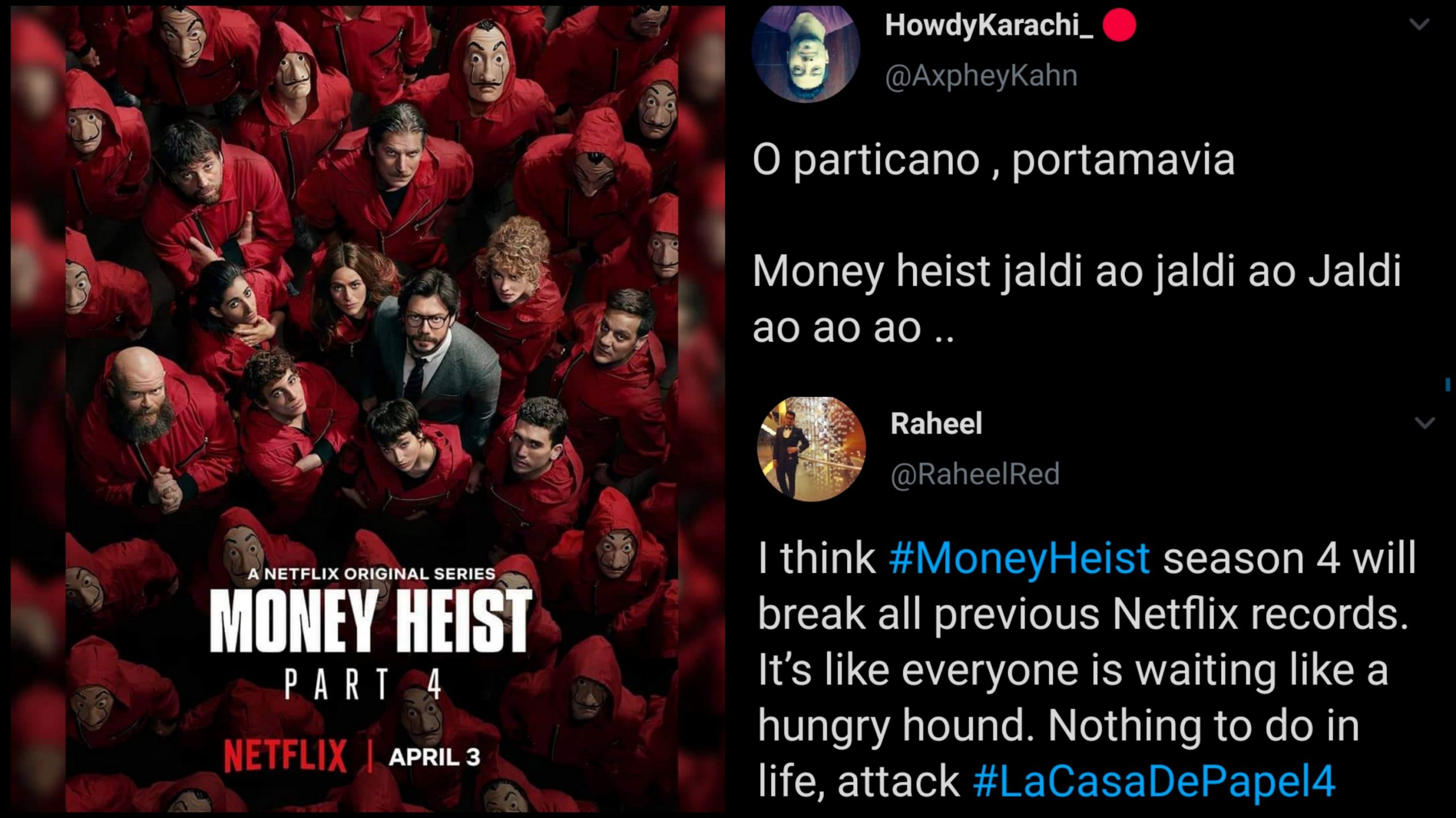 If there's one series that every Pakistani recommends on Netflix, it's Money Heist! Over the years the series has gathered a massive fan following in Pakistan which only seems to increase every passing day.
And while we're in quarantine, nothing stands between us and the fourth season of Money Heist which is all set to release tomorrow and people are way too excited and impatient!
O particano , portamavia

Money heist jaldi ao jaldi ao Jaldi ao ao ao ..#QurantineAndChill #MoneyHeist

— HowdyKarachi_ 🔴 (@AxpheyKahn) March 28, 2020
To everyone in our lives:
Everyone – no talk to me tomorrow ok? I wanna watch Money Heist in peace

— TS (@tasnimshah_) April 2, 2020
Kab ayega 😭
Me waiting for money heist like 😎🎭 pic.twitter.com/1Uotg4JZ1c

— Uthman (@MrSlow__) April 2, 2020
When twitter turns into spoilers ka samandar:
Money heist shuru hone wala hy mtlb spoilers hi spoilers

— Ephroh. (@Ephroh) March 30, 2020
Kuch toh milega kerne ko:
cant wait for #MoneyHeist so this quarantine gets better, aik din dekhne aur hafta discuss krne me nikal jana

— anastipu (@teepusahab) March 31, 2020
I can't wait for money heist season 4. Kch to naya hoga life mei

— Tooba Khan (@tooba_khan20) March 30, 2020
Some were absolutely on point:
#MoneyHeist4 will be out this Sat and I just want all the fans to keep in mind that the circumstances we're in rn aren't the same as b4
We are in a midst of a deadly pandemic and now will not be a good time to storm NADRA offices to replace ur dad's name with Berlin or Professor.

— Rameez Kazi (@RameezKazi8) March 30, 2020
YES WE ARE!
"This is no longer a heist, we're taking down the system" #LetTheChaosBegin♥ can't wait for season 4 🔥 #MoneyHeist4 #LaCasaDePapel4 pic.twitter.com/DU0XBvRHBD

— Ramsha Xyedh (@ramshaxyedh) April 2, 2020
Many thought that this season will break all previous records:
I think #MoneyHeist season 4 will break all previous Netflix records. It's like everyone is waiting like a hungry hound. Nothing to do in life, attack #LaCasaDePapel4

— Raheel (@RaheelRed) April 1, 2020
And never stop:
#MoneyHeist pic.twitter.com/axUg0cJaQ4

— itssaad (@SaadWaqar77) March 29, 2020
Oh, the pain!
Haan tou bhai scenes ye hain Money Heist se 2 din pehle hamara Netflix chala gaya..

— Dah (@HafsaEdhi) April 1, 2020
Baat toh sach hai:
Money Heist fens are enjoying this isolation more than us

— AADIL (@notgoodto) March 29, 2020
Days before the release, this cover by an 8 year old girl has been winning the internet:
8 Years Old Pakistani Girl Singing Bella Ciao #MoneyHeist #LaCasaDePapel pic.twitter.com/iFCOB2lN21

— AYESHA!! (@ayeshaabbas_) April 1, 2020
Abhi kerdein release, please?
Money Heist should be released early. We are depressed we need this kind of happiness before we die from Corona!!

— Hiba K. (@_Hybalicious_) March 26, 2020
Kaali zubaan 🙄
-Jo log Money Heist k season 4 k asre main bethe hain k 2 din baad ajayega aisa na ho k April fool bana dein wo humein 🌚#MoneyHeist4 #AprilFoolsDay

— Shahzad Baloch ♨ 🍰Choti ka 🎂 5 Apr🧁🍩 (@DevilOverAngels) April 1, 2020
Hayeee 😍
Ouuff#MoneyHeist #LaCasaDePapel pic.twitter.com/k64jdPtuwD

— Salman (@syedsalman97) March 30, 2020
Some just weren't ready for it:
Money heist aa raha hai ab Pakistani shokhay hoyege posts share kr kr ke

— Ebad (@whoisebad) April 1, 2020
Lo bhaee:
Sirf money heist k lye koi netflix dede

— Uzaif N. (@iz_uzzi) April 1, 2020
Some added a twist of their own 😂
Islamabad, black corolla, red bull, cigarettes, gun and an obedient wife; he was living a life.#MoneyHeist #MoneyHeist4 #LaCasaDePapel pic.twitter.com/kevxl0gJFU

— Jazib Sheikh (@JazibSheikh21) April 2, 2020
Well, rewatch it!
I'm already mad bc I know I'll finish money heist in a day
Then what? pic.twitter.com/mDwjj3ob3L

— msherry🌹 (@Gasheriii1) April 1, 2020
Some were asking the right questions:
One day into Money heist, where can we Stream it? And at what time?

— Husnain Farooq Alvi (@ihusnainfarooq) April 2, 2020
DON'T JINX IT BEHEN!
Y'all getting hyped up about Money heist season 4, you do remember what happened to GoT season 8 right? I am just sayin'

— 🌻🌻 (@afoodiemugglee) March 31, 2020
And while many were impatiently waiting for the new season, some had just started watching the show:
i started watching money heist 🥺

— Alina (@AlinaManiar) April 1, 2020
Haha, that's the beauty of it!
my sister's watching money heist and i hear a "OMGGG" and "SHITTT" every 2 secs

— simra (@saucelessslut) April 1, 2020
Yes you very well did:
Did I just see Islamabad Pakistan in money Heist sthjjdgjshs what goes on

— 🔅 (@syntaxerrorhehe) April 1, 2020
Are you excited about the 4th season? Let us know in the comments below!