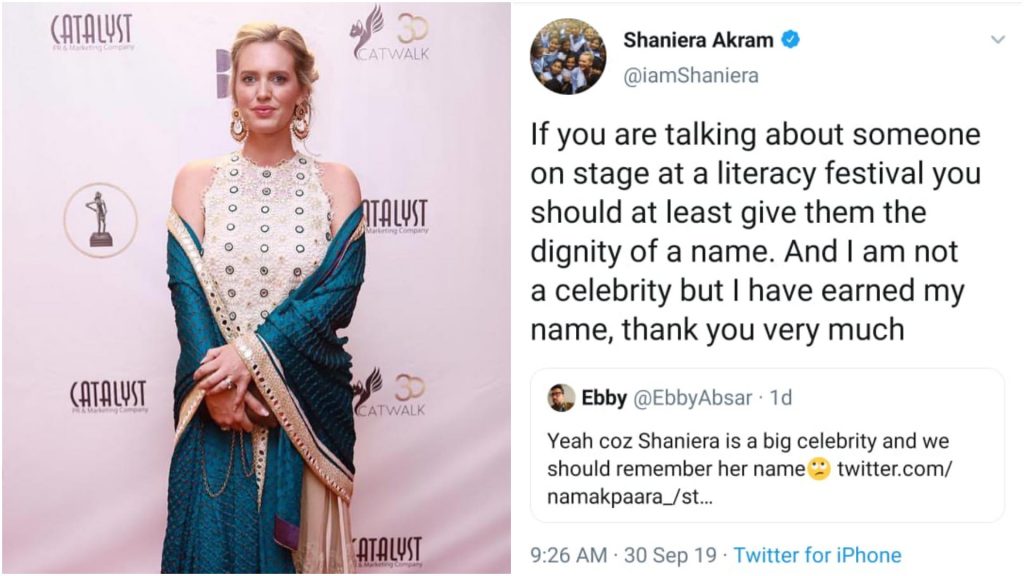 The 6th Islamabad Literature Festival, gathered the attention of many! At one of the panels where Fasi Zaka, George Fulton, Ali Aftab Saeed and Nadeem F. Paracha were present, Nadeem kept referring to Shaniera Akram and the wife of Wasim Akram rather than addressing her with her name. And in that moment, someone from the audience yelled that 'she has a name.'
@aliaftabsaeed @fasi_zaka @NadeemfParacha @GeorgeFulton1 hilarious and lovely panel #ilf2019 pic.twitter.com/fKnaA74nmp

— Nilofer Afridi Qazi (@ninoqazi) September 29, 2019
The clip reached Shaniera in no time and she lauded the woman for speaking up:
Who is this amazing woman. I just love you #SheHasAName You go Girl 👏🏼💪🤗 https://t.co/4KHd1qDewE

— Shaniera Akram (@iamShaniera) September 30, 2019
The woman was lauded by many:
Nadeem F. Paracha kept referring to Shaniera Akram as Waseem Akram's wife and this woman yelled "She has a name!!" This woman is my hero.

— نوال (@namakpaara_) September 29, 2019
People shared how it was actually uncomfortable listening to Shaniera being addressed as Wasim's wife:
It was so uncomfortable listening 'wasim akrams wife' multiple times. She did the right thing 👍

— Tahir Aziz Beyg (@baig_982) September 29, 2019
And while some argued that her fame came through Wasim, they agreed that she should have been called by her name:
I think all her agency in the local media is because of Wasim Akram. But yes, should be referred to by her name only.

— ab121287 (@abstruggler) September 29, 2019
The director content of Patari too commented on the situation:
Yeah coz Shaniera is a big celebrity and we should remember her name🙄 https://t.co/uN6YfPHcgM

— Ebby (@EbbyAbsar) September 29, 2019
To which Shaniera gave a befitting reply:
If you are talking about someone on stage at a literacy festival you should at least give them the dignity of a name. And I am not a celebrity but I have earned my name, thank you very much https://t.co/pCNz7CGBQL

— Shaniera Akram (@iamShaniera) September 30, 2019
And her reply caught the attention of many:
😅😆😅😅. Good reply Bhabhi.

— shaheen (@shaheenmissile) September 30, 2019
Ali Gul Pir gave a subtle round of applause:
— Ali Gul Pir (@Aligulpir) September 30, 2019
People agreed how everyone has their own identities:
Everyone has their own identities. Why to identify anyone with their any relationship

— Nayab (@bonafide_glam) September 30, 2019
People were praising her for earning the name:
You came to us as a foreigner and you stayed with us like true Pakistani.

— Umer Zafar (@UmerZaf36166982) September 30, 2019
Whole Pakistan remembers your name, you're a celebrity. We are grateful to you for working for the betterment of our country.

— Ubaid (@UbaidQureshi93) September 30, 2019
Bhabhi your thinking make you legend in front of us you think better for pakistani public rether than any other legend🇵🇰😍

— Fazal Baloch (@FazalBa88062460) September 30, 2019
Naam toh suna hoga!
Dear World – Shaniera Akram naam toh suna hoga 🤩

— Rahim Dharani (@i_m_RD) September 30, 2019
Shaniera naam hi kafi hai isn't ☺️

— savage (@innocent_savage) September 30, 2019
People were lauding her efforts for the social betterment of the country:
Socially You have done way more in Pakistan Shaniera Your a Hero
If Wasim Akram has a Great legacy in Cricket your creating a Great Legacy with Your social Work …
Many issues Were never addressed or solved before
GOOD WISHES #shaneiraisourhero #itisShaneira

— Moon (@superstarmoon_) September 30, 2019
Being an Australian born the love, pain and care you always showed and feel about Pakistan and its people that's makes the difference and that's why we all love you and respect you 🙌

— abdulwahhabofficial (@rjabdulwahhab) September 30, 2019
Some shared how they'd never refer to her with her name out of respect:
You're not just @wasimakramlive 's wife, you're not just Shaniera Akram. You ARE BHABHI! Of a whole nation! But even i might never call you or refer to you by your name out of respect because the title of Bhabhi has its own significance. #Bhabhi

— Abdul Majeed Bhutto (@d33DzTeR) September 30, 2019
What do you think about this situation? Let us know in the comments below!