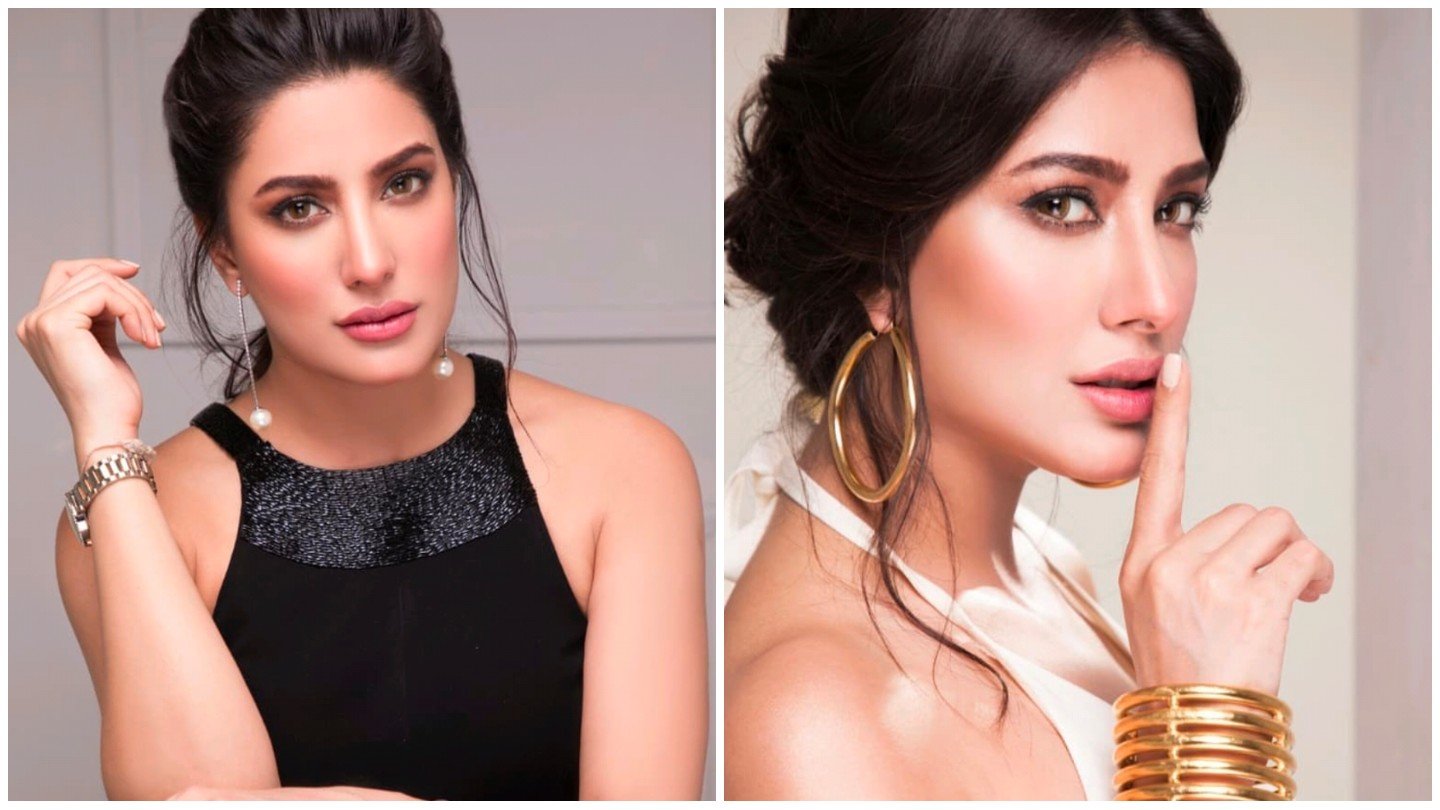 Mehwish Hayat is a diva we stan 24/7 and when it comes to replying the haters and trolls, no one can do it better than Mehwish!
A few days back, a is constructed clip from an event went viral where Mehwish was speaking for the children around the world. And people immediately started bashing Mehwish for not speaking about the children in Kashmir. And Mehwish immediately addressed the situation:
The leaked video is being taken out of context. I've been the most vocal on #Kashmir issue globally & will continue to do so. I have big plans for next steps. This was a charity event & was requested by the PR not to be political &not distract from the orphans I was there to help

— Mehwish Hayat TI (@MehwishHayat) September 29, 2019
Fellow celebrities too came out to support Mehwish, including Mehr Tarar:
Leave Mehwish Hayat alone. Stop taking bits from videos & ascribing your own meanings. This obsession with sensationalism..

Try to be rational once in a while, it doesn't hurt: if Mehwish had been asked by God-knows-who to not talk about Kashmir, would she reveal that on camera?

— Mehr Tarar (@MehrTarar) September 29, 2019
Iqrar ul Hassan too came to her defense:
It's a dream of every Pakistani Artist to work in Bollywood but recently Mehwish Hayat proved by criticising Indian Policies that she loves her Country more than her Career… We all know she has always been vocal about Kashmir and Indian policies 👍 https://t.co/QsXlVsxerp

— Iqrar ul Hassan Syed (@iqrarulhassan) September 29, 2019
Shehzad Roy shared how proud he was:
The way you articulated the human rights violation in Kashmir and passionately promoted pakistan and the way it was reported in the international media, makes me a proud Pakistani. As Colleagues we are behind you. You don't have to give clarifications for any leaked video https://t.co/gljW5ZDqJn

— Shehzad Roy (@ShehzadRoy) September 29, 2019
And then came an eye witness who further added that Mehwish was telling the truth:
I was at this PR event and @MehwishHayat is telling the truth. We had been asked to stick to questions related to the charity strictly. Slow clap for media that beats its standards down itself. Disgusting. https://t.co/paZjOBiOym

— Jabeen (@whyjabeen) September 30, 2019
But the internet just wasn't ready to believe Mehwish:
Ye Konse charity hai jo is issue per baat karna bhe passand na kare is ko band karna chaye Pakistan main jo #kashmir per baat na karsake

— Syed Zubair (@syedzubair055) October 1, 2019
Many questioned the choice of her words:
So Kashmir is just a political issue and not a humanitarian issue for you?

— جہانزیب حسین قریشی (@JahanzebHQ) September 29, 2019
Many even accused Mehwish of paying people to support her, what even?
How true is that or you have been approached for a favour by @MehwishHayat in exchange of some hefty dollars.

— Azam Ali Mohammed محمد اعظم علی (@AzamNiftyrider) October 1, 2019
Many thought of her as a hypocrite:
— Fa6ma ♕ (@Breezy_Breeze10) September 30, 2019
Some thought she was only interested in her personal gains:
You are concerned to nothing, but your personal gains.

— ilyas hussain (@ilyashu46989287) October 1, 2019
Some suggested better ways to dodge the question:
Perhaps you should have been very precise in declining to comment . Something to the effect of " this is for orphans everywhere and I don't wish to distract from the focus "

— Rabee'a Abrar ربیعہ (@rubiaabrar) September 29, 2019
And of course there were PC fans in the house:
You couldn't answer at a charity event but Priyanka Chopra should answer at a beauty event. Hypocrite 🙃 pic.twitter.com/KWgnhsi7Lr

— Oluwatofunmi.#TheSkyIsPink (@Oluwatofunmi01) September 30, 2019
Having had enough of the hate and trolling, Mehwish finally decided to come back at the haters. And that too with a solid proof!
Not that any clarification is needed. But here are clips frm the same event as the leaked video where I think I am talking abt Kashmir – there are several others as well. Before defaming me in future – look at the whole picture first. Tarnishing my image in this way will not..1/2 pic.twitter.com/VVYEIoU4qn

— Mehwish Hayat TI (@MehwishHayat) October 1, 2019
She then continued to say that tarnishing her image will not stop her from fighting against injustice:
2/2… Tarnishing my image in this way will not stop me from fighting for the Kashmiri cause as I have been. I am humbled by the fact that my opinion means so much. I see it as a responsibility and will not shy away for fighting for injustices where ever I see them.

— Mehwish Hayat TI (@MehwishHayat) October 1, 2019
And her replies gathered immense love from her fans who might have been misguided via the misconstructed video:
Nothing can tarnish your image for you are one of the voices for Kashmir and recognised ambassador. Stay Blessed – onwards and upwards.

— Inti 🏴󠁧󠁢󠁥󠁮󠁧󠁿🇵🇰🇹🇷🇨🇳 (@Sami__Blue) October 1, 2019
People were proud of her:
Don't need to give explanation to anyone, logo say khud to kuch hota nahi aur jo kar raha hota hai us ki bhi tang khinchtay. We all known you doing great job and we are so proud of you. You are a true ambassador of Pakistan. 👍👍
Keep it up and don't look back. 👌👌

— Imran Rizvi (@ImranRizvi404) October 1, 2019
Couldn't have put it in better words, we indeed are a charged bunch:
Mehwish, there was a dire need to post this video. Good you did it.

Don't forget that we are an emotionally charged bunch who are quick to condemn others and forget in a jiffy about previous positive contributions.

Sadly that's our national character!

— Hassan Aslam Shad (@HassShad) October 1, 2019
People were disappointed how Mehwish still had to prove herself with actual evidence to show her patriotism:
Its a shame that one has to give so many clarifications/evidences for being patriotic- even after representing the homeland honorably and defending its positive image globally. I dont understand how eductaed social media users can make an issue outa nothing. Sad

— Usman Ghani (@usmanghani81) October 1, 2019
People expressed how social media and media in general has become very unreliable and irresponsible:
I think this social media is becoming extremely unreliable source where out of context things shared and ppl started believing it without confirming its authenticity and ignoring celebrities image at stake due to just non sensical thinking that they speak what they are paid 4

— Faiza Khan (@faizagulkhan) October 1, 2019
Some fans even apologized for judging her too soon and honestly we love it!
I apologize Mehwish that without knowing the full story, i also thrashed at you..But let's tackle these bad bloods who twist around the stories for their own benefits…Let's find and bash them…Their mouths should be shut ASAP…Anyhow Stay Happy and keep Blossoming…👍

— AR7@AliRaza🇵🇰 (@AliRazaUET129) October 1, 2019
She even got love from IOK:
We respect you for the way you have been speaking over Kashmir issue before and for the people of Kashmir…

Our prayers are with you and with Pak.

May Allah swt bless you all.

Love from IOK

— Peerzada Burhan (@peerzada007) October 1, 2019
People also took it as an opportunity to express what triggered such reaction:
no one doubt your intentions mehwish At least i don't but always be cautious when you speak on the media you are celebrity the way you were avoiding question about kashmir it irked people even if you were there you would've felt it same.

— Malik Qasim (@qasimbinnaseer) October 1, 2019
Exactly!
You have always spoken eloquently about Pakistan and defended it . No body can question your intentions. There are always going to be people who are jealous or ignorant. You are a true ambassador. You make us proud . Stay strong and positive. Truth shall set you free .

— Fuad Ahmed (@FuadAhm49341817) October 1, 2019
And that's exactly how misconstructed news is put to an end! What do you think about this situation? Let us know in the come ts below!