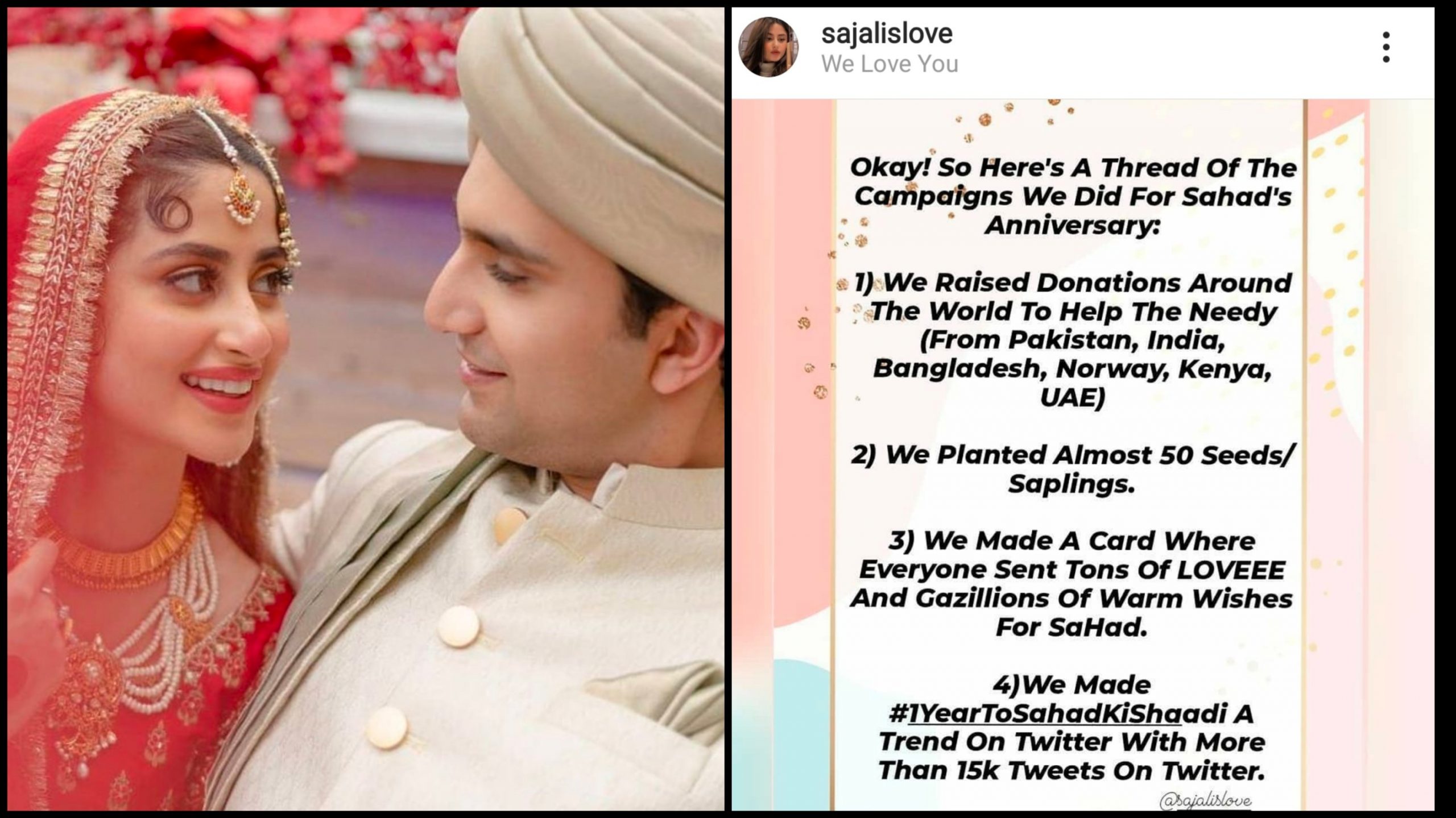 On 14th March last year, internet's favourite couple Sajal Aly and Ahad Raza Mir tied the knot and Sahad fans were over the moon!
A year later on their anniversary, Sahad fans went all out to show their love for the couple by raising generous donations to help the needy and planting saplings in their name as a token of love:
Fans also took twitter by storm as they made to top trends in Pakistan collecting over 15,000 tweets under the hashtag #1YearToSaHadKiShadi and their efforts were lauded and loved by Ahad Raza Mir himself: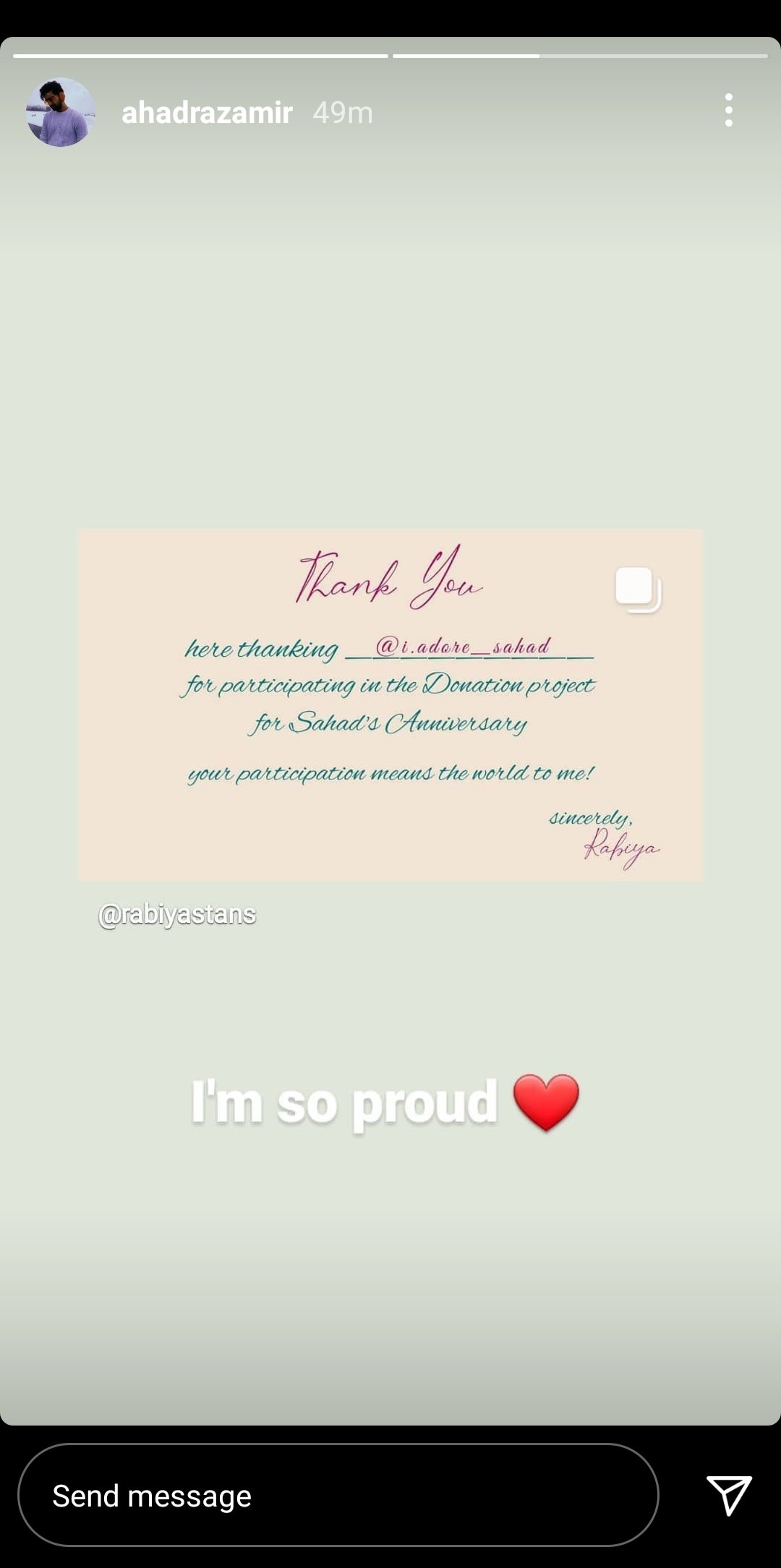 And all this goes on to show that you just can't beat the SaHad fandom!

Undefeated!

Some fans were upset that they missed the opportunity:

❤

Fans also shared a throwback to Sajal's excitement for the wedding:
Sajal's excitement leading to her marriage was endearing and the contented feeling of this girl finally getting the happiness and love she deserves with the right person🧿🧿#SaHad#1YearToSahadKiShaadi pic.twitter.com/QFqHiZIS7H

— Ankitta! 🧐 (@MystifiedBean) March 13, 2021
Fans were utterly grateful to Ahad for noticing their efforts:
The fact that ahad knows abt our projects he is proud of us & he has put up a story for the world to see makes me sooo happy & sooo emotional 😭😭😭@ahadrazamir @Iamsajalali for the amount of happiness you guys spread this was the bare minimum. THE FANDOM LOVES YOU TO BITS🤧❤

— laiba ♡ SaHad (@ItzMissL_) March 16, 2021
Best return gift ever. 💃💃
Congratulations Sahad / Ahad Fandom. ❤️#ahadrazamir #sahad pic.twitter.com/uJL9ON6PGk

— titli.ahadfan🇧🇩 (@titliahad) March 16, 2021
OMGGGGGGGGGGGGG HE REPOSTED MY POSTTTTT OMGGGGG AHADDDDD! 😭💘😭💘#SaHad #AhadRazaMir #SajalAhadMir pic.twitter.com/r3eGOtHsjB

— sajalislove (@sajalislove) March 16, 2021
It sure is:
We may fight over the stupidest of things but Sahad fd is one precious fd. Hugs to all of you 😭❤

— Norah Bing🌸 (@BingNorah) March 16, 2021
Fans also came forward to clarify that they planted around 90 saplings:
But we planted 91 sapling 50 kyun likha 😭😭😭

— laiba ♡ SaHad (@ItzMissL_) March 16, 2021
We miss!
Throwback to the time when Ehd e wafa, Alif and Yeh dil mera were airing and Sahad, Sajal and Ahad fans were having the time of their lives cause they were getting content from everywhere on-screen and off-screen >>>>>>

— 𝕚𝕟𝕒.𝕞𝕚𝕟𝕒.𝕕𝕚𝕜𝕒 🌸 (@that_south_girl) March 16, 2021
How time flies!
I AM WATCHING 5TH HUM AWARDS IN WHICH SAHAD BEARLY KNOW EACH OTHER
AND LOOK AT THEM NOWWW#1YearToSaHadKiShaadi

— Rabiya. (@rabiyaisamess) March 14, 2021
Sahad fans are now excitedly waiting for Dhoop Ki Deewar which is all set to air very soon on Zee5! Are you excited? Let us know in the comments below!