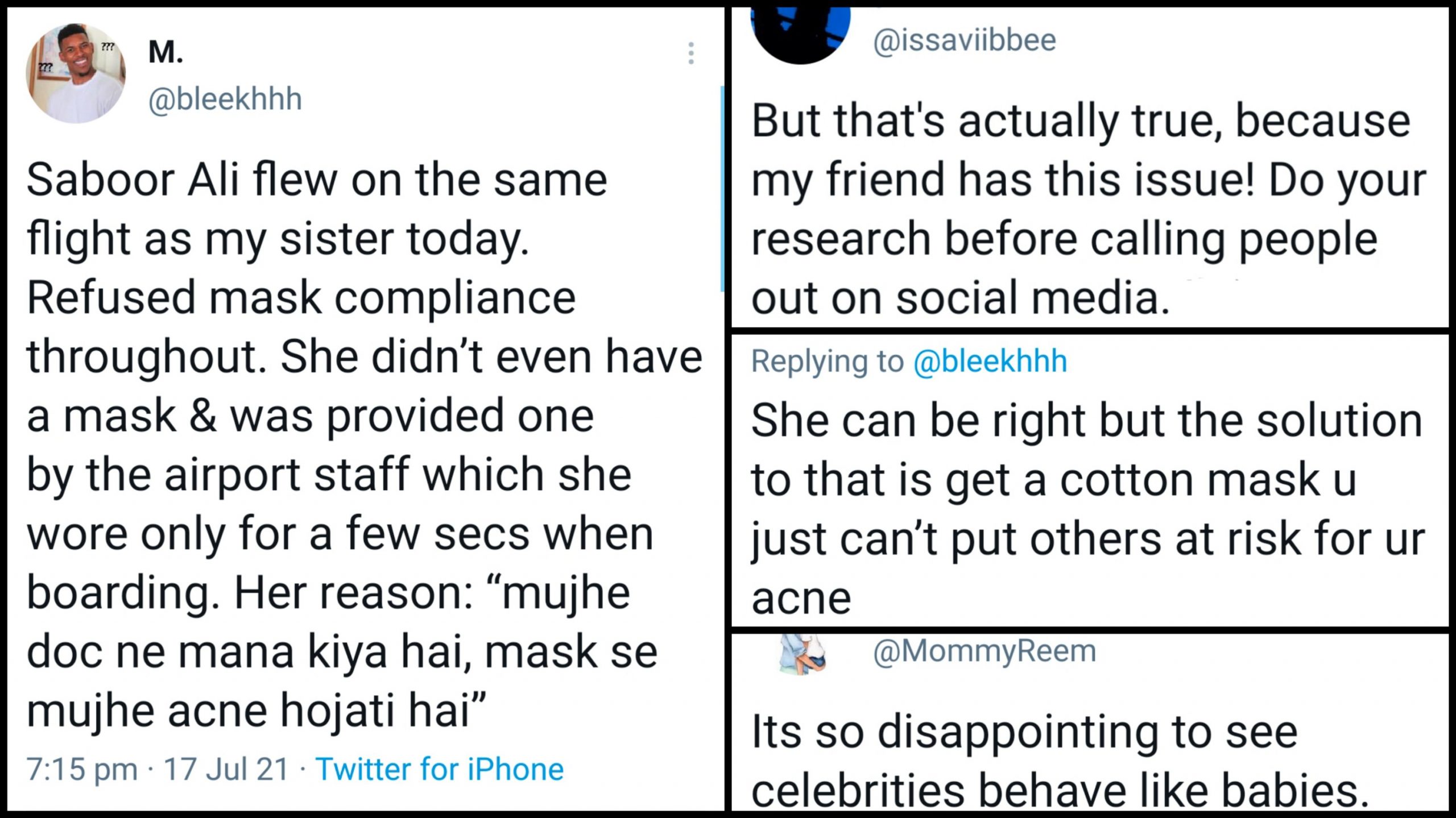 As Pakistan witnesses the fourth wave of COVID-19 with the delta variant on the rise, smart lockdowns and revised SOPs have been advised to control the spread of this deadly variant.
Someone on Twitter shared their sister's first hand experience travelling with Saboor Aly amid the fourth wave, who completely refused to wear a mask saying that her doctor has asked her not to wear a mask to avoid acne:
Saboor Ali flew on the same flight as my sister today. Refused mask compliance throughout. She didn't even have a mask & was provided one by the airport staff which she wore only for a few secs when boarding. Her reason: "mujhe doc ne mana kiya hai, mask se mujhe acne hojati hai"

— M. (@bleekhhh) July 17, 2021
You don't give a shit about your own health, fine by us. But don't go parading in public places then, putting other people at risk! @Saboor__Aly

— M. (@bleekhhh) July 17, 2021
And netizens are just not having it:
Go through her social media and you'll see shes out partying every other day. No social distancing no masks

Maskne is valid. There are work arounds. Cotton masks, changing your surgical masks frequently. Literally so much you can do to keep yourself +more importantly others safe https://t.co/bnxSzzfg46

— Ariba Shahid (@AribaShahid) July 17, 2021
People shared how there are ways to control maskne:
She can be right but the solution to that is get a cotton mask u just can't put others at risk for ur acne

— kaiser hameed (@kaiserhameed) July 17, 2021
People weren't surprised:
i mean her group was partying in peak covid days, what else can you expect from her?🥱 https://t.co/KTiJwehbVp

— F. || Free Palestine (@solostanhere) July 18, 2021
People were disappointed:
Its so disappointing to see celebrities behave like babies. https://t.co/KsT3dTbEHa

— Umm Dua (@MommyReem) July 17, 2021
Wasn't expecting this from Saboor. That's really disappointing!!! https://t.co/crQzb4tHnk

— Misbah • Dhoop Ki Deewar (@amaanspiano) July 18, 2021
People were sharing how the priorities were clear:
Acne is clearly a bigger problem than what COVID does. https://t.co/rX7t8HLs7q

— Nuzhat S. Siddiqi (@guldaar) July 18, 2021
People were loving how social media exposes everyone:
I love how social media is exposing these pretty faces۔ literally I used to love these entertainment personalities and now I have realized how mediocre they are۔ https://t.co/F7NqO7p0zp

— … (@ryukshinigami_x) July 18, 2021
People were sharing their own experiences with masks and acne:
just wear a cotton mask atleast. nhi hogi aapko acne. I used to wear mask for 5 to 6 hours while being in school, it would get so difficult but safety comes first!
Please stop with this shit behaviour https://t.co/SA77ktcOxA

— esh. (@shininggstaar) July 17, 2021
I get slight rashes on the sides of my cheekbones but I still wear double mask whenever I go out. This is so damn pathetic. 🤢 https://t.co/l3nIJV5308

— . (@AimmySays) July 17, 2021
I sweat so much on my face and my face feels so itchy and I get pimples, but i still keep my mask on during my classes no matter how hot it gets. This is pathetic. Apna khayal hi nhi to dosron ka ahsaas kese kr skte hein hum 🥲🤌🏼 https://t.co/3Y0LdLgrCt

— 𝓪𝔂𝓻𝓪 (@fictophilicgirl) July 18, 2021
🤷‍♀️🤷‍♀️🤷‍♀️
LMAOOOOOO PLZZZZ cz getting acne is worse than getting or transmitting covid 💀💀💀 https://t.co/mkHlRo2n05

— ~ (@LavzKhan) July 18, 2021
People really wanted to know why she was allowed to fly with no mask:
The state of these celebs! 😠 Why was she allowed to have her way? Why wasn't she kicked off the plane? https://t.co/A0cGV8jaqD

— Saba S. Sheikh (@sabassheikh) July 18, 2021
She should have been prevented from flying. End of. @fawadchaudhry https://t.co/VIzxJccPUq

— Adam (@munch1201819) July 18, 2021
People shared how she should fire her doctor and aesthetician:
Super Spreader Saboor. That sounds so nice. Even if she was vaccinated, it's necessary to wear a mask. So! She needs to fire her both her doctor and aesthetician considering they did not tell her to wear a cotton mask and double it with a surgical mask. https://t.co/dkOvyjbs5x

— Saad سعد (@saad_durrani) July 17, 2021
People shared how she has no sense of social responsibility:
What is this behaviour? Well then what do you expect from such uneducated people who have no sense of social responsibility in them.
It doesn't matter how much million followers you have on Instagram becaus dude we know how insane you celebrities are in your actual life. https://t.co/boHxqQKAdU

— I stand with Palestine! (@deejzx) July 18, 2021
People were recommending getting a private jet:
?????? she's so dumb pls if ur acne is such big of a problem buy a private jet or smthg🤨 https://t.co/RU7X4qXv3W

— ًnidhi (@asfiyadiaries) July 19, 2021
People were also calling her a desi Karen:
Ugh. These desi Karens! 🙄 https://t.co/7zM16YJA9G

— AR🌹 (@AnamRathor) July 18, 2021
People were calling CAA out on their failure to have the passengers comply:
Wah @officialsaboora way to be entitled.
Sure: your skin is more important than the.x hundred passengers who you may infecting if you are COVID positive.

And what a failure of airline and CAA to not enforce wearing masks https://t.co/IgLtZu5ZYm

— Unberryin Heather (@ambreenhaider01) July 18, 2021
Clown-brities!
just 2021 exposing how dumb celebrities are irl 🤡 https://t.co/22QWrygoGh

— Zoya (@Xx_MaNan) July 19, 2021
People were throwing shade at her:
Ummm.. https://t.co/9efbhVPo7I pic.twitter.com/NUAZgG06Y0

— S A M I A (Babar stan)✨🇵🇰 (@itzzSamiya) July 18, 2021
And while others were disappointed there were people who understood her reasons:
If mask further make situation worse, more than COVID then she did it right. Sit down. https://t.co/pwwe1UYSyA

— Khattak Zad (@KhattakZad) July 18, 2021
People were sharing real life experiences:
But that's actually true, because my friend has this issue! Do your research before calling people out on social media. Ik insan ke na pehne se dunia ko corona nhi hojaega, ap apna distance maintain karen simply??? Ajeeb chussein marne ke liye acha platform hai yeh. https://t.co/P6a6wDqgnd

— 💭 (@issaviibbee) July 18, 2021
People were sharing how WHO has allowed fully vaccinated people to roam without a mask:
According to WHO fully vaccinated people can travel and roam around freely without mask.

— Nisar Ahmad Bhittani (@Nisarbtni) July 18, 2021
What do you think about Saboor's reasoning for not wearing a mask? Let us know in the comments below!