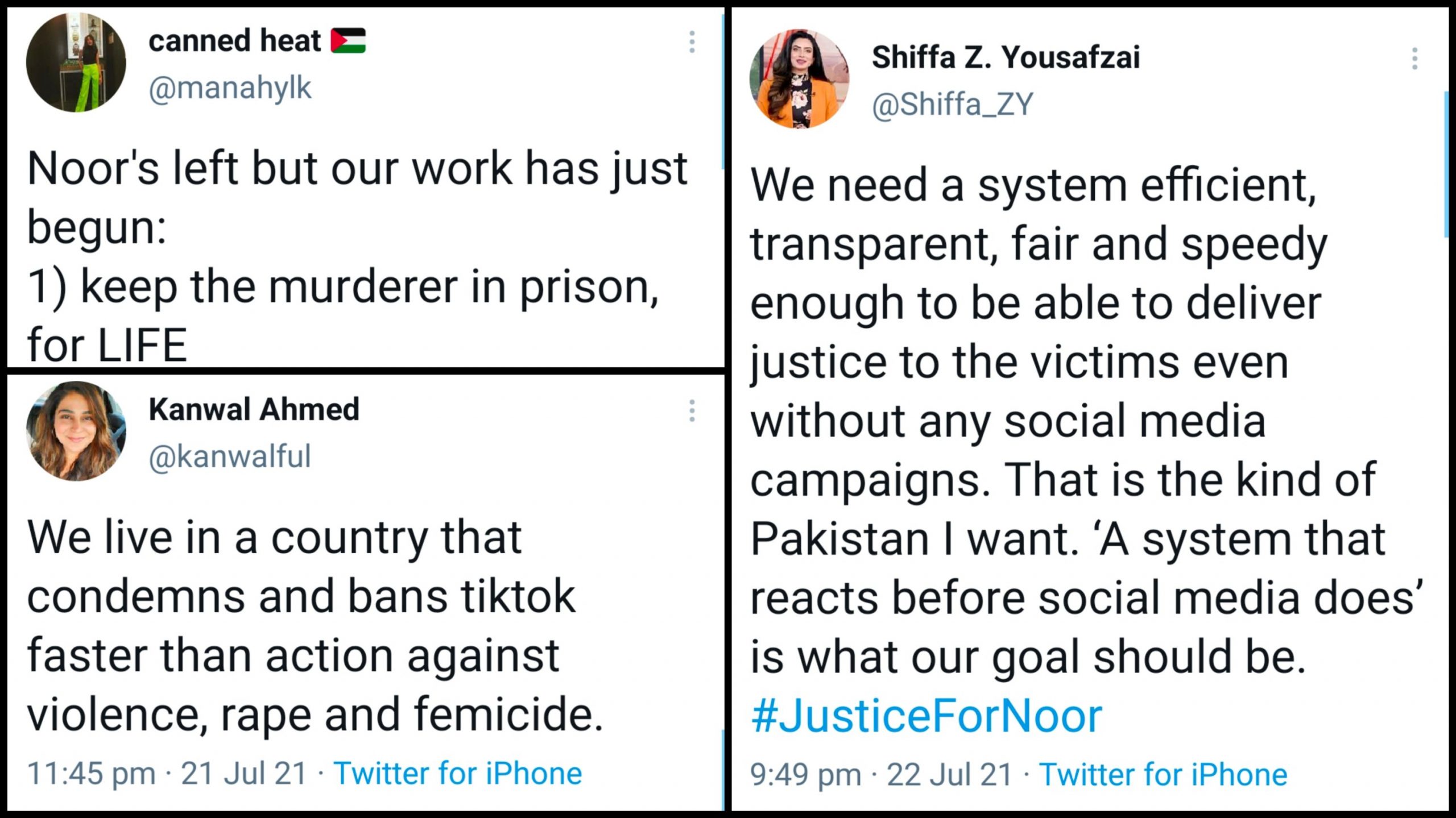 The last couple of days have been particularly heavy on the nation, with one hashtag after another, asking for justice over and over again for the women of this country suffering at the hands of men. First, it was Usman Mirza who barged onto a couple and recorded them, then it was Saima who was tortured to death, then Qurat ul Ain who lost her life to her husband's temper in front of her kids and then while we prepared for Eid, Noor Mukaddam was shot and beheaded by Zahir Jaffar.
And the nation is angry, upset and yet so helpless as they grieve:
It terrifies me that every woman (myself included) is one man's "bad day" or "anger let loose" away from becoming a hashtag – if that.

— Sajeer (@sajeershaikh) July 22, 2021
People wanted a system that reacts before social media:
We need a system efficient, transparent, fair and speedy enough to be able to deliver justice to the victims even without any social media campaigns. That is the kind of Pakistan I want. 'A system that reacts before social media does' is what our goal should be. #JusticeForNoor

— Shiffa Z. Yousafzai (@Shiffa_ZY) July 22, 2021
Yes, please!
Noor's left but our work has just begun:
1) keep the murderer in prison, for LIFE
2) shut down Therapy Works and hold them FULLY accountable
3) pass the domestic violence bill NOW

— canned heat 🇵🇸 (@manahylk) July 22, 2021
Shocked but not surprised:
What I fail to understand is that how is Zahir's family still standing behind him and supporting him through trial? Families disown and honour kill their women for much lesser "crimes."
Ab kya banna izzat ka? Rapist aur harasser aur murderer betain izzat ko nahi uchaal sakte?

— sofa imran (@notsafaimran) July 22, 2021
A divorced daughter is better than a dead daughter:
Every case that I have dealt with where a male partner has murdered his female partner, there has been a history of abuse/assaults. The victim had complained either to her parents, or friends that the relationship is abusive, always.

— Amna Baig (@amnaappi) July 21, 2021
What kind of messed up love is this?
A couple of months ago British Pakistani Mahira Zulfiqar was murdered by her boyfriend, and now Noor. Before that Quratulain by her husband. These are the men who supposedly 'loved' these women.

— Sabahat Zakariya (@sabizak) July 21, 2021
Please 🙏
I am so tired. I don't want anything less from this country. Bijli nai hai? We'll manage. Public transport shit hai? We'll manage. Entertainment venues nai hain? We'll manage. Just let us live. Bas sirf hammay jeenay doh. That's all we women ask. Please. Khuda ka wasta

— Bissmah Mehmud (@bissmahmehmud) July 21, 2021
Facts!
We live in a country that condemns and bans tiktok faster than action against violence, rape and femicide.

— Kanwal Ahmed (@kanwalful) July 21, 2021
This!
It's really shameful that people are focusing on sharing gossip and stories. A henious crime took place. Focus on applying public pressure to ensure justice is served. Focus on pressuring the Gov to pass the women's protection bill. Have a debate on regulating psychologists.

— BuffetKhor (@BuffetKh0r) July 22, 2021
People were utterly disappointed with the PM they'd elected:
Women are being murdered left, right and center but @ImranKhanPTI would rather send the domestic violence bill to CII first. He will go down in history, for his apathy towards Pakistani women. Also, I hope all PTI supporters, especially women, can finally see him for who he is.

— ufatima (@uswalalalala) July 21, 2021
Women are NOT rehabilitation centres for spoiled men:
"Shadi kerdo larka theek ho jai ga" k chakar mein betiyan mer jati han larkay theek nahe hotay.

— AR🥊 (@ARfrom1947) July 21, 2021
True:
if your response to the beheading of a 27 year old girl is "keep your daughters at home," you are enabling a culture that punishes women for the behavior of men

— sohni (@sohnianika) July 21, 2021
It terrifies me:
Female tragedy has been reduced to a justice hashtag in this country. For Quratulain. For Noor. For Saima. The trend picks up every few days and dies down. Till the next tragedy. Till the next act of violence. The lack of debate and action on this matter is enraging. Horrifying.

— Qasim Farooq (@MangoLassC) July 21, 2021
Never realised this until today:
the problem with the national discourse on gender-based violence is that we only take the stories of "good-enough victims" — that is, women who are now dead as a result of the violence/abuse they experienced — seriously.

— Zoya Rehman (@pind_wave) July 22, 2021
Makes sense:
to think Pakistan was always like this, misogyny, rape, child labour, child marriages and all these crimes infested country and as a norm too, it's just that everyone got internet now.

— Ather (@Levistanacc) July 23, 2021
😔
Another day. Another woman brutally killed. Another hashtag. Another trauma. Another (likely) unsolved case. Another trigger. Another fear fest. Another rage roar. Another eid.

'Protection of women' bill oppose kernay walon ko mubarik. #JusticeForNoor

— MEESHA SHAFI (@itsmeeshashafi) July 21, 2021
People believed we need a stronger party for women and their rights:
Just read about the horrific and brutal murder of Noor Mukadam by #ZahirJaffer. Unbelievable, shocking, and revolting. We need a strong women's movement in Pakistan. Murders and violence against women has to be brought to an end.

— Taimur Rahman (@Taimur_Laal) July 22, 2021
Exactly!
The domestic violence bill was seen as a threat to families though no one could concrete say why: if your family foundation is built on your mother's bruises and blood, and hearing that's wrong makes walks with Baba uncomfortable, maybe you need to come to terms with that

— Sabah Malik (@sabahbanomalik) July 23, 2021
Yes, please, PLEASE!
Women, reach out to each other right now. Don't isolate yourselves. Men, reach out to the women in your lives & let them know you support them. Hold each other close.

— Nida Kirmani (@NidaKirmani) July 23, 2021
People wanted nothing but justice:
idc how this sounds – i want him to feel the fear he made her feel. and i want this to apply to every single man who has made any woman feel unsafe. i pray the fear you brought to us finds its way back to you 100 times over #JusticeForNoor

— Mehar (@curlistani) July 22, 2021
LOUDER!
Repeat after me … Misogyny, male entitlement, and ego are not mental health issues. Stop excusing criminal behaviour as illness. #JusticeForNoor

— T a z e e n (@tazeen) July 21, 2021
Unfortunate:
The more I grow up,the more I realise why my father is a strict man. It's not me, it's the world my father never trusts his daughter with. It's the world he has seen and is not comfortable exposing his daughter to.#justicefornoor

— alyshba (@overthinkingpos) July 20, 2021
Here's hoping that justice is served and drastic measures are taken to protect the women in the country. What do you think can be done? Share with us in the comments below.