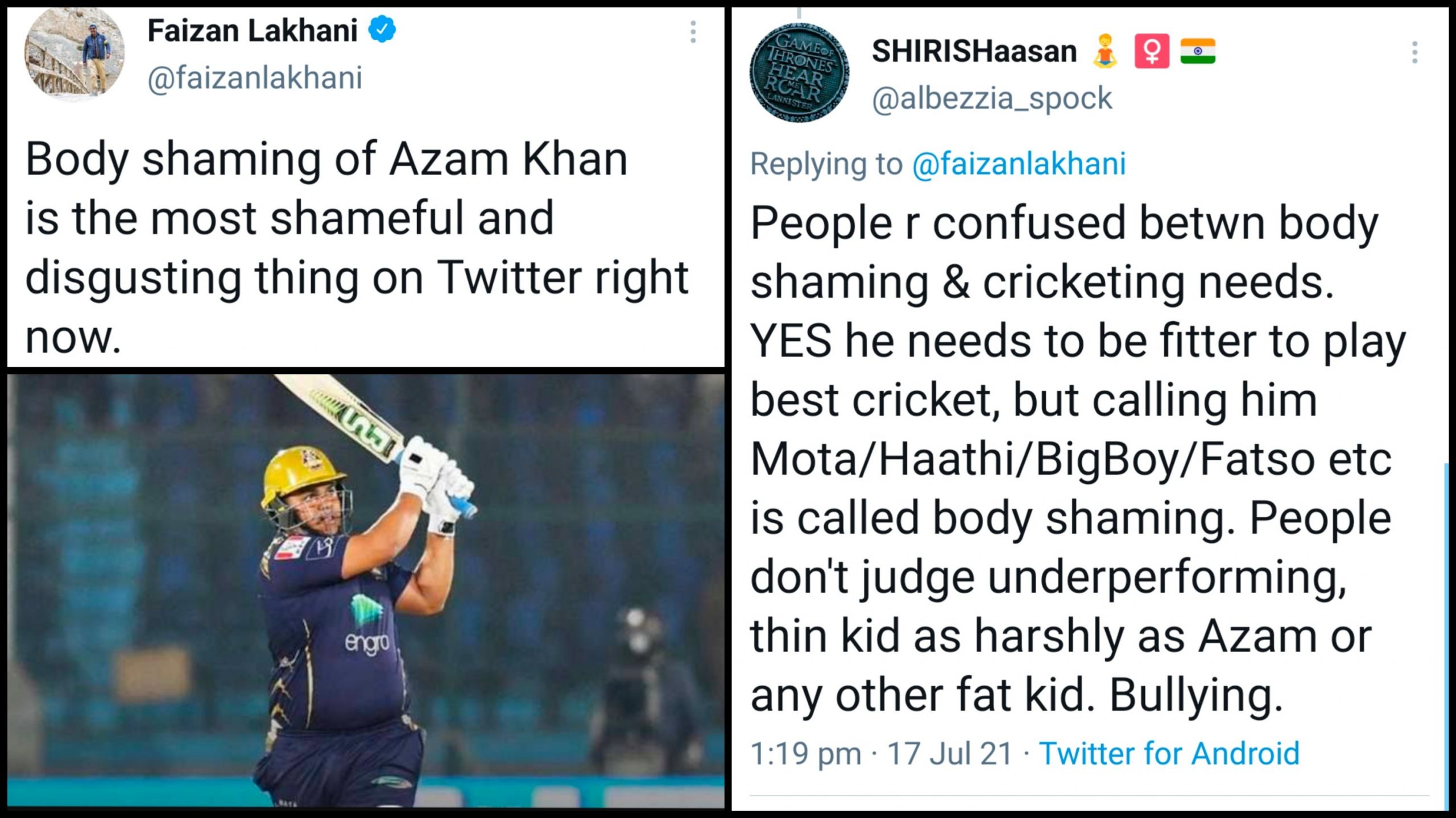 Scoring a great win against England last night Pakistani Twitter experienced way too many emotions altogether! And one of them was witnessing Azam Khan being body-shamed throughout the series:
Body shaming of Azam Khan is the most shameful and disgusting thing on Twitter right now.

— Faizan Lakhani (@faizanlakhani) July 16, 2021
And people are divided, some downright disgusted with the blatant body shaming and some sharing how they have all the right to question the fitness of the players who play for the country. Needless to say, there are a lot of opinions!
With all due respect Faizan bhai, questioning someone's fitness is not body shaming. We were told Azam Khan has been working for his fitness in order to get a spot in the team but I see no change. Goodluck to him today tho

— Taimurlfc (@Taimurlfc) July 16, 2021
People were sharing how his other players who spend hours in the gym would be discouraged:
Don't you think his body/fitness must be giving discouragement to many domestic players with better records..and who spend hours in gyms

— Saifan Khan (@SaifanKhan) July 16, 2021
People were sharing how fitness and body shaming are two different things:
Body shaming and fitness are two different things. Awam ko confuse na kren. Fitness ke bary mein pochna body shaming ni hai

— Imran Zafar 🏏 (@lazy_imran) July 16, 2021
Some didn't think being overweight was a problem as long as they were performing well:
Nothing wrong in being overweight if you can perform.. pic.twitter.com/npk3f3MZtV

— A (@Aamer_Naseer_) July 16, 2021
The sanest take we've read on the matter:
People r confused betwn body shaming & cricketing needs. YES he needs to be fitter to play best cricket, but calling him Mota/Haathi/BigBoy/Fatso etc is called body shaming. People don't judge underperforming, thin kid as harshly as Azam or any other fat kid. Bullying.

— SHIRISHaasan 🧘 ♀️ 🇮🇳 (@albezzia_spock) July 17, 2021
Shots were fired!
They can na they all are tweeting with six packs banta ha 😑

— Muhammad Abdullah Hashmi (@PhantomriderxX) July 16, 2021
People were calling him unfit to be in the team:
He's unfit. It's as simple as that.
Its not about body shaming. But what he has to offer to the team. https://t.co/3mD8cbKx03

— Essa Hassan (@ItsSalahMate) July 16, 2021
Some believed that certain standards should be met for everyone who joins the team:
No. He's a professional athlete. He should achieve the fitness standards required by players of the sport. https://t.co/XFmkwmDDRL

— ظلِ الہٰی (@XilleIlahi) July 16, 2021
True!
Mental fitness & skill is equally important otherwise Chris Gayle wouldn't hv ruled the T20 World! Good luck to Azam Khan. https://t.co/itwnrjd1st

— Aalia Rasheed (@aaliaaaliya) July 16, 2021
People were sharing how this body-shaming will probably affect his psychological health:
Bodyshaming is just like a crime it has worst psychological impacts https://t.co/7qjaPrzdSX

— Arslan Jutt (@ArslanJutt43) July 16, 2021
People were demanding that the cricketers who play internationally be wary of their fitness:
When u train for a sport u have to attain a certain physique by going to the gym and through training itself. Any school level cricket player faces some changes within a month of training so our top level players should be at peak level to play no? Plus lean physiques run faster. https://t.co/szGoxGsyti

— Famia (@flyingchittar) July 16, 2021
Some believed the body shaming is a 100% justified:
He is a professional athlete who's paid to be fit . Body shaming of athlete is 100% justified . https://t.co/s3xEaaIzmV

— Maaz 🇵🇸 (@mrsidd07) July 16, 2021
Some believed that it's the performance that matters:
Till he performs
It won't matter https://t.co/7lvoi1wvMa

— Delta Bey (@Fittaymuh) July 16, 2021
Some found themselves in the middle, wanting him to up his fitness game without being body-shamed for it:
lol as fans we have all the rights to question his fitness as he's been selected from millions of people so he should take care of his fitness, fat shaming is definitely wrong and we don't support that https://t.co/x6Qbowi8mU

— areeba. 🇵🇸 (@abayaaaar) July 16, 2021
People were questioning his selection:
How did @MAzamKhan45 even make it to the Pakistan National cricket team with that kind of fitness ? Are there any bare minimum standards at all? What example have we set for other young players who are maintaining their fitness unlike Azam? Kya wo sab bhi motay ho jayein? https://t.co/OFQJTXsA32

— Dr Atiqa (@Dr_Atiqa) July 16, 2021
Makes sense:
Making fun of his obesity is unacceptable but that doesn't mean the critcism is unacceptable. He is unfit and needs to improve a lot. https://t.co/x1WMjSYZU9

— Mudassir Anwar (@MuddassirAnwar) July 16, 2021
People wanted him to up his game for his own sake:
It's not right to shame someone for their weight but if you are an athlete, you are supposed to be fit. Often times fitness can be the determining factor between two teams; be it football, tennis, or cricket – there's no excuse for being this unfit. https://t.co/3qUsHnHzzX

— Zarar (@SportsWithZarar) July 16, 2021
What are your thoughts on this matter? Let us know in the comments below!