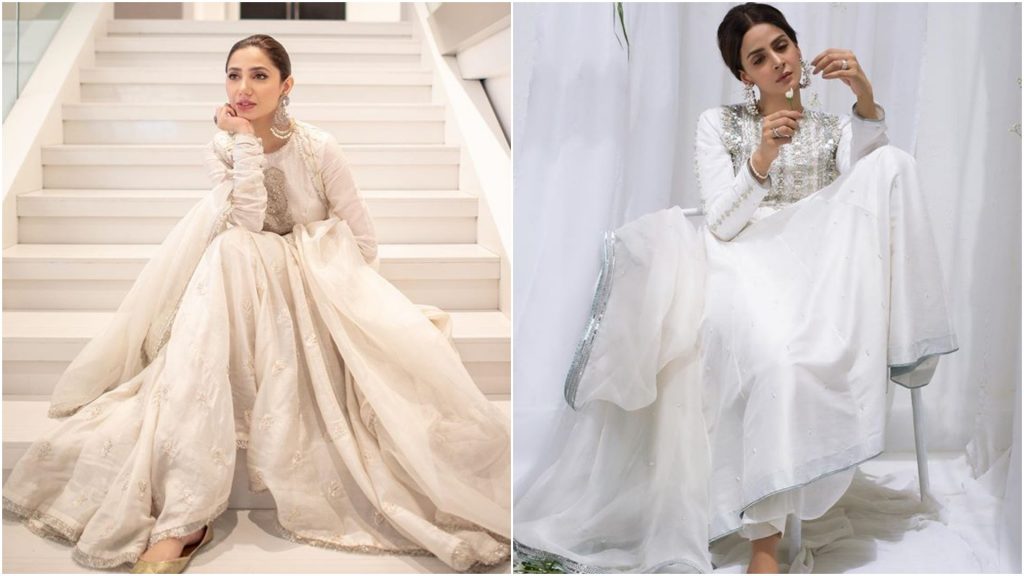 Everyday there's a new hashtag trending on Twitter. Yesterday it was #MahiraKhan and #FirdousJamal, today its #SabaQamar, but why? Keep reading to find out why!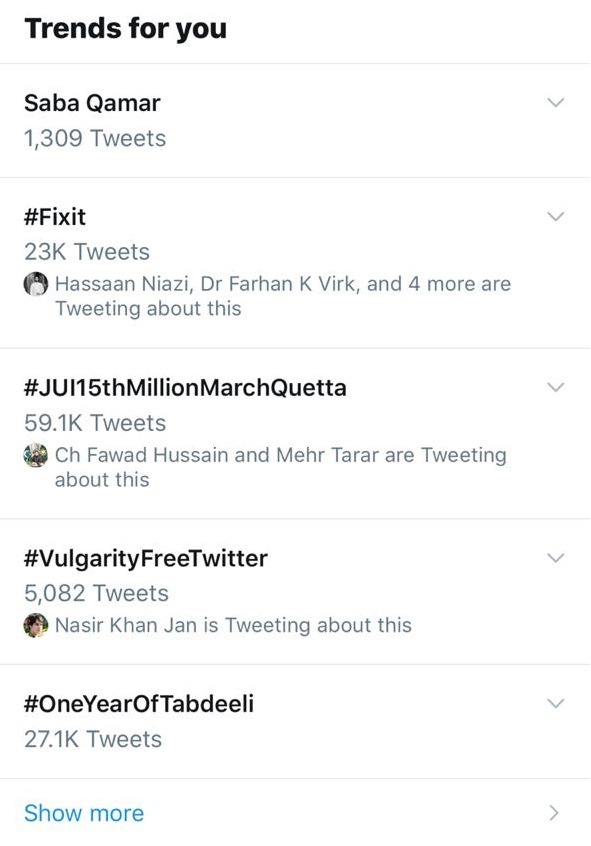 Saba Qamar and Mahira Khan are two of the greatest actresses the industry has right now and they're both special in their very own ways.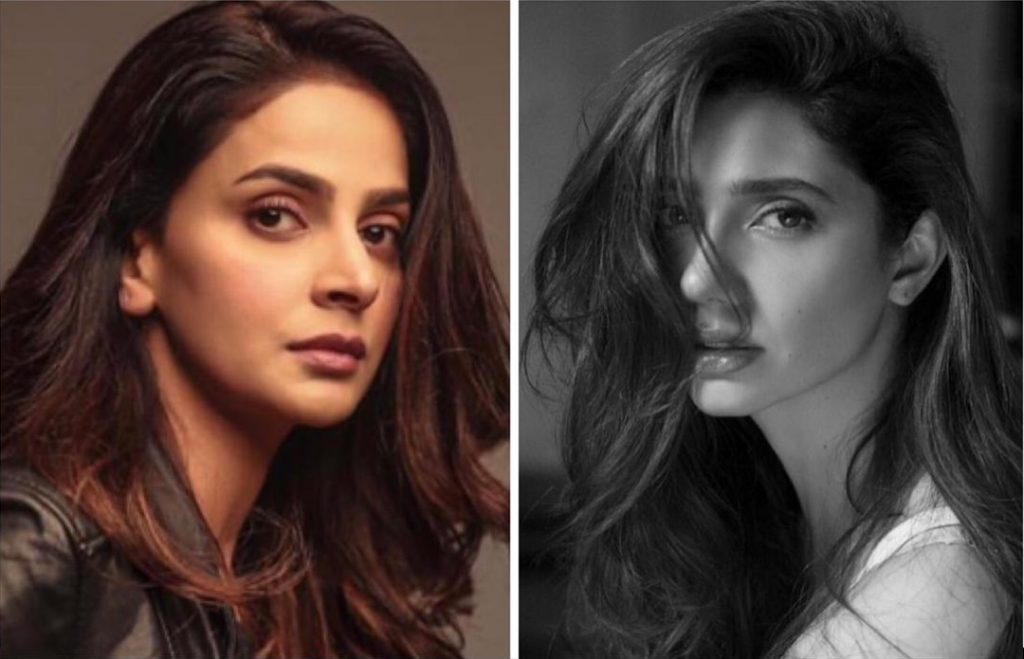 After the whole Firdous Jamal criticizing Mahira Khan fiasco, people stood with Mahira Khan sending her lots of love and support. And while there was this out-pour of love and support, some people took it out of context and started comparing Mahira Khan to Saba Qamar:
Mahira Khan or Saba Qamar? pic.twitter.com/xL0RgUdm5O

— Daffodil💫 (@From__Heavens) July 25, 2019
And people were torn between the two!
Mahira is our SUPERSTAR .
saba is our BEST ACTRESS .

— Bish, call me itta. (@planetofIttebaa) July 28, 2019
People were truly in awe of both the actresses:
Mahira had earned legacy and gone international. Saba Qasam is profound, talented actress. Mahira khan has class, Saba has given us most versatile characters. Both are love

— Sidra. (@sidraaa456) July 28, 2019
Yaaaas, queens who rule our heart!
Saba Qamar has played the roles which Mahira could never, and Mahira Khan as played the roles which Saba could never. No comparison. Both are my queens. https://t.co/mcj8GYv54M

— Ayesha (@Potterhead_Aish) July 28, 2019
Agreed, no room for comparison:
Ufff yawr yeh kia hai? Stop comparing Mahira Khan with Saba Qamar Zaman and Mehwish Hayat, She is a Superstar, Saba Qamar is an amazing actress and Mehwish is a best ever dancer. they all are far better in their own way.

— مریم (@maryambzzzz) July 27, 2019
Exactly, why?
Why are we even comparing the top actresses of the industry? Both have done a phenomenal job to represent Pakistan to the world. Mahira with Raees and Saba Qamar with Hindi Medium. Rest lots of Pakistani drama's with a worth watching story. https://t.co/K3nUKZSNtP

— Muhammad Mushiyyad (@Mushi_Sidd) July 28, 2019
Time is money, yo!
Stop the comparison between Mahira & Saba Qamar!! Both are equally good at what they do, yes Saba is better in terms of acting but Mahira has a great on screen presence too. Stop wasting your time trying to compare the two!
#CancerFreeTwitter

— Naima Nasir (@feminist_inprog) July 28, 2019
Like we said, they're both special in their own ways:
Honestly there's no comparison in their acting. Mahira khan does look gorgeous and I really like her as a person..but Saba Qamar's acting is next level. https://t.co/2jzNukLOPX

— zay (@recluse_zay) July 28, 2019
I think both are doing great in their own way. So please stop comparing them!
Saba qamar #MahirahKhan

— ♥ (@Arayyyyyyyyyyy) July 27, 2019
Confidence ho toh aisa 😂
Jo maan jae

— Saad 🇵🇰 (@saadjaved882) July 28, 2019
Yaaaas, girl!
Saba Qamar is the real queen of Pakistan media industry thats it

— Jaweria (@jawismm) July 27, 2019
And while Mahira Khan had her share of praise yesterday, people are all praise for Saba now:
Saba Qamar hands down.. watch the murder scene of Baghi and you'd be impressed forever https://t.co/WaUJ8q1Q8j

— Sherry (@CherieDamour_) July 28, 2019
People showed their immense love for Saba:
Comparisons karna achi baat nahi but I'm sorry, Saba Qamar is literally incomparable to anyone out there. This woman is an ABSOLUTE queen; a total legend. What Saba Qamar is, I'm sorry but for me, no one can reach that level in Pakistan. 🔥🔥❤️ https://t.co/ym5Pjz0hkN

— R. Mazhar (@Robosamm) July 28, 2019
Saba Qamar has a league of her own for some:
One is a queen the other is Saba qamar https://t.co/BvXPYaO8R8

— saad. (@Sxxxdi_) July 29, 2019
saba qamar is on a WHOLE new level

— rimsssss (@_ki11mep1s) July 28, 2019
Saba Qamar for her top-notch acting skills and the struggle.

— Najma (@NajmaSu90793627) July 29, 2019
So much love:
Hands down Saba Qamar's acting is worth it. Worth an award. Worth all the hype. Worth all the appreciation ❤❤❤❤❤❤❤❤

— Kainat (@KaiNaToOo) July 28, 2019
RANI!
The bold girl proved her mettle onscreen so many times 🙏
So she is an undisputed queen of Pakistan's showbiz industry.
Saba Qamar 😍❤ pic.twitter.com/H0v9vHuUif

— Osaمa Muhaمad Ansaرi (@Farma_ceutico) July 28, 2019
Saba Qamar deserves all the love and respect for being such a queen 👑

— Zoro (@zoroswordwork) July 28, 2019
Yeh cheez:
I dont know whats going on and I dont watch a lot of dramas.. but the bits and pieces that i have..

Saba Qamar is easily the best actress of the Pakistani industry by miles.. https://t.co/Hr5sgcxhnj

— Salman Sheikh (@salmansheikh09) July 28, 2019
Duhhhh!
THERE IS NO COMPARISON WITH SABA QAMAR. She is talented as hell, nobody in industry can compete with her, i mean she is da real queeen duh https://t.co/AJ5RpJXu2Y

— 🥀 (@ellipsiszm) July 28, 2019
More power and lots of love:
Saba Qamar is bold,talnted & an amazng actres while Mahira Khan is versatile, elegant & iconic star, its not necesry to compare thm. Thy both R supremly talented in their respctve places. More power to our indstry.@TheMahiraKhan #SabaQamar

— Ali Ahsan (@aliahsan0304) July 28, 2019
Truly:
Saba Qamar is the sign of excellence 🔥🔥 #bhagi #Cheekh pic.twitter.com/EqCTzQVDJ1

— Fariya butt (@Fariyak08203689) July 28, 2019
There can only be one Saba Qamar:
It is nonsense to compare Saba Qamar with any one.There is no comparison to begin with.Saba is the Queen. Saba is the actual SUPERSTAR (pun intended). Saba is unbeliveably talented and there will never be another Saba Qamar.Period #MahiraKhan #SabaQamar pic.twitter.com/3HYQIZiwRA

— Mohtaram Idaray (@elevated_spirit) July 28, 2019
There will never be another Saba Qamar 🔥🔥🔥 pic.twitter.com/rtvE9DpmE2

— AsfiYa (@AsfiYaHum) July 27, 2019
Some thought Saba's acting skills have been ignored, absolutely not:
Saba Qamar is the best actress in Pakistan right now. Her acting skills have been ignored just because of some overrated celebs. Otherwise she is 10/10 https://t.co/s05Bw60Ddg

— Rabia Bro (@rabiaaaaa98) July 28, 2019
Umm 👀
Everybody stanned mahira till somebody compared her to Saba Qamar

— ◆_◆ (@TheFakeSafi) July 28, 2019
But thanks to India that we get to see Saba more often in our dramas:
Saba Qamar is too good an actress to be doing small screen. Unfortunately, Pak cinema isn't as good as their drama industry. She deserves the big screen. She's an elite actress and deserves few bollywood project but……..

— Anas Khan (@AnasMagnificent) July 27, 2019
Some were clearly on a different page, lol, cheers for Sallu bhai:
Na Saba Qamar, Na Mahira Khan.
Only #SalmanKhan https://t.co/uHO86JTTwd pic.twitter.com/PLEOE0kXuj

— Fareeha Khawaja (@KhawajaFareeha) July 28, 2019
Hmmm, there was an honorable mention of an ex 👀
Saba Qamar is a superb actress. PERIOD
and she looks like my ex. #SabaQamar #best

— Ahsan Zarif Husain (@ahsan_zhusain) July 28, 2019
And while people were comparing the two, there were some harsh comments:
It's like comparing khichdi to karachi ki full spicy Biryani
Saba has done more acting in one episode of Baaghi than Mahira has in her whole career https://t.co/TlT10QVs82

— Ayeshay (@champagne_lassi) July 28, 2019
The fact that Humsafar is still remembered speaks volume of the kind of play it was and will always be:
Humsafar Baaghi
Humsafar Digest Writer
Humsafar Bunty I love
you
Humsafar Bey Sharam
Humsafar Maat https://t.co/IAqmPTQwrI

— Fareeha (@SabMayaHai_) July 28, 2019
This! Credit should be given where it's due:
While I LOVE Saba Qamar, how are you going to write off Shehr E Zaat, Sadqay Tumhare and Bin Roye like that? 🤔🤔🤔 https://t.co/LF5ulebHhe

— SophiaQ (@SophiaAQ) July 28, 2019
Agreed, there's absolutely no comparison:
Humsafar
Sadqay tumharay
Bin roye
Shehr-e-zaat
Ho mann jahan
She's a superstar and Saba Qamar is indeed a best actress..
But the thing is why u guyz are comparing one actress to another? Why so much negativity?? https://t.co/lDyZ1CEmgn

— Naina (@I_fighter_) July 28, 2019
And as the debate was going on with Saba Qamar trending at number one, people missed the political trends, lol:
I thought political trends were upsetting but these showbiz trends are mind wrenching!

Saba Qamar
#FirdousJamal
Mahira Khan

Nai chahiyen bhai ye
hamen hamary Imran Maryam Bilawal he theek hen 😅

— احساس مقدم (@chenab_de_kol) July 27, 2019
And while we respect everyone's choice, why is it that we feel the need to put others down when appreciating someone? Why can't we appreciate the two without putting one of them down? Be it Mahira or Saba, they're both great in their own ways and do things very differently which sets them apart from one another, it's what makes them THEM!